this is the best way to provide proper vacuum at idle and WOT. some may say "I just run strait off TIP vacuum" but that will only cause lack of vacuum at idle and has in some 1.8t's lead to smoking at idle. and will cause acid to build up in your oil and damage your engine.
this is the best way to install a Catch-Can SYS on your 1.8t. (revised)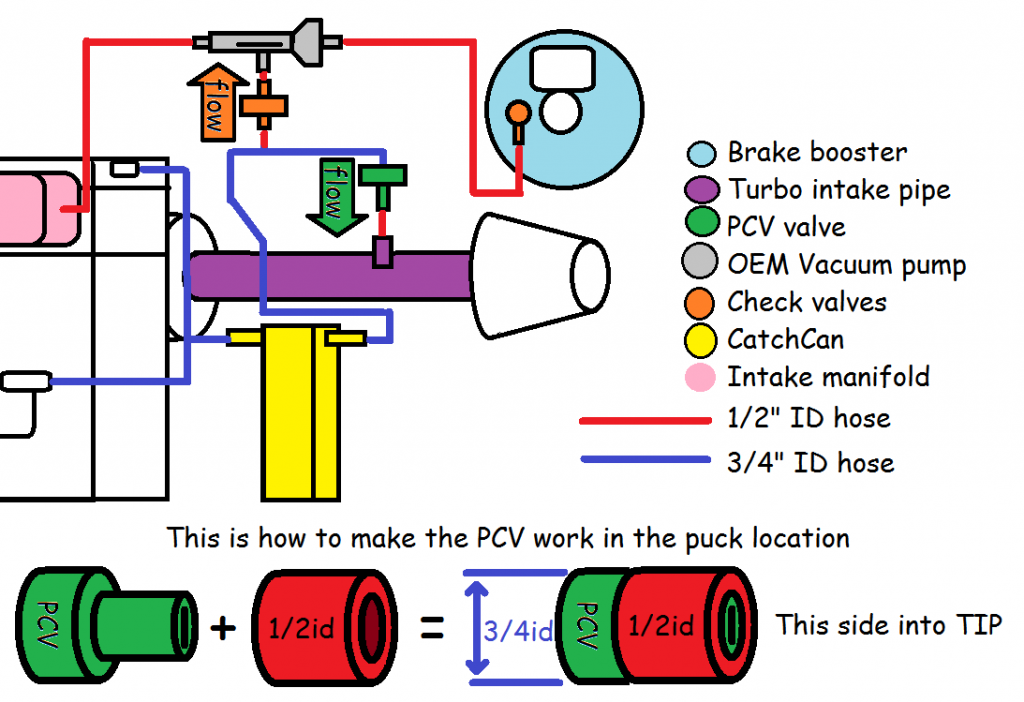 the vacuum pump you need: I would recomend a new one there are soft rubber check valves and small holes that can be clogged in old ones.
http://www.ecstuning.com/Search/SiteSearch/ES1884320/ES1884320/
this is the check valve i used: (you could use a second PCV valve in this location for more reliability.)
http://www.ecstuning.com/Search/SiteSearch/0004313507/ES2597284/
and this is the PCV valve I used:
the puck: IMO a PCV valve works better. But if you want OEM crank case vacuum just leave the puck in the original position. It will still be better then current catch can setups.
the PCV valve: "its not a perfect fit, it has to be installed with the fat end in the hose and the skinny part into the TIP. Its working well for me, but i would like to find a larger one.
http://www.ecstuning.com/Search/SiteSearch/035103245G/ES7771/
THE PUMP
I have made a NEW diagram to end all questions :banghead:
Here is a 1.8T Vacuum diagram :sly:
here is that same system only showing the just the PCV and color matched to my diagram on how to properly install a CC system on a 1.8t.
here is the same diagram modified to my system as you can see it does not affect function but allows you to run a CC and have a factory PCV system.
if you want more vacuum in your PCV system, give the PCV Valve/Check Valve a try in place of the Puck. its up to you. :thumbup:
If you want to argue this go talk to AUG. :laugh: I'm just sharing what figured out. it was not that hard to do
and I'm not looking for any compensation/credit just sharing information.
eace:
Seeing is believing...