Discussion Starter
·
#1
·
Tl;dr
I bid on a Type R as a lark, and won. Then I ran over myself with a truck. A year went by. Then I fixed some stuff on the Type R.
So back in late summer of 2020, I was at my desk and saw a listing pop up for a Mercedes wagon on Cars & Bids. I watched it and considered throwing in a bid, but thankfully it went while I was otherwise occupied. However, while I was there, I noticed a scruffy black ITR that was ending shortly.
It was in California, I was in Nebraska, and it was obviously not in great condition. I saw pretty poor paint and a bit of interior wear, and it had about 130k miles.
Without doing a lot of research, I figured it would probably go for somewhere in the low 20's. After months of watching prices climb on interesting cars, I was convinced that it could be an opportune moment, like the one I capitalized on for my air-cooled 911SC. I bought it when you could still get a nice one in the high teens, and got out when the market had climbed to the point that a nice one was $40-50k, because it meant that my driver-quality modified mutt was worth mid-20s. I also rebuilt the engine during my ownership, so I didn't exactly make a bunch of money, but I got to own a classic, put money into it, enjoy it, and still come out a little ahead after a few years. I figured it was a time where I could do the same with an ITR - if the blue chip cars started going up to $50-80k, a driver-quality one might pull up from the 20s to the 30s.
So, I sent a fateful text to my buddy, full of pre-auction-close FOMO. This is obviously a dangerous emotional state to be in during an auction.
I threw in a couple of bids, mostly as a lark, and was immediately outbid. The the FOMO got me. I started thinking about how much I'd kick myself later if it actually sold for the current high bid. What could it hurt to throw in another? I'd just get outbid again, and that way I wouldn't regret not tossing my hat in.
The timer clicked down, and I kept waiting for someone to outbid me.
Uh, oh.
I really didn't need another car. I really didn't have a place to put another car. I had the money, but it's not like it wasn't a big swing to take without even mentioning it to my wife. Obviously, while I was still feeling a little sick from the shock, my phone rings, and it's my wife. The credit card company has called her to ask about the large charge from "cars and bids", and if it's legit. Well, here we go.
...So I survived my encounter with my wife, and made plans to head out around Labor day weekend for a 3,000 mile road trip to drive out and tow the Type R back with my old Escalade, which had only 225,000 miles on it or so at the time. I was prepping it for the trip by changing the transmission fluid, when cutting too many corners nearly cost me my life and
I ran over myself with the Cadillac
.
Recovery was slow, and it was clear that I couldn't handle a cross-country road trip. Then my wife ended up with a 5-day hospital stay, and I ended up back in the hospital for emergency abscess surgery. It was a rough couple of months. I probably could have used this, or the fact that the out-of-pocket medical bills were adding up to more than the cost of the car, as a reasonable excuse to back out of the deal. But I didn't. It's just not how I want to operate, and I don't feel it's the way God wants me to operate. So I contracted Intercity to transport the car, which other than being what seemed like very expensive at the time ($1700 or so, which i suppose wouldn't get a u-haul out of California now), was a flawless experience.
However, with a bum shoulder and a slowly-healing incision in my butt, I couldn't even sit down without a donut pillow, let alone drive and shift in a car that required something of the driver. So it got stashed for the winter, and the spring, and a bit more…
When I finally did get physically to the point where I could drive it and tinker on it a bit, I really wanted to give it some of the rehab it needed to just feel like a clean, solid, stock ITR.
It was pretty obvious in the auction pictures, even to someone who didn't research the car properly, that it had a bunch of small dents, some bad paint, and other cosmetic wear. No rust on the underbody, and overall a pretty straight car, but one that has obviously had some mediocre-quality paint work in the past and just hadn't really been cared for.
Overall I found the car in person to be pretty accurately represented by the pictures. Not a basket case, just tired and in need of some TLC.
Because I'm making videos, I'm even worse than usual at taking pictures along the way. So here's the bullet points of what I did in the first couple of rounds of mechanical rehab just to "stage zero" the car. It looks like a long list, and I guess it is, but it's important to note that this car ran great, smooth and strong before the work, and didn't have any really obvious mechanical issues other than a leaky oil pan gasket. It's only once I started diving in a bit that I saw how much deferred maintenance needed to be dealt with.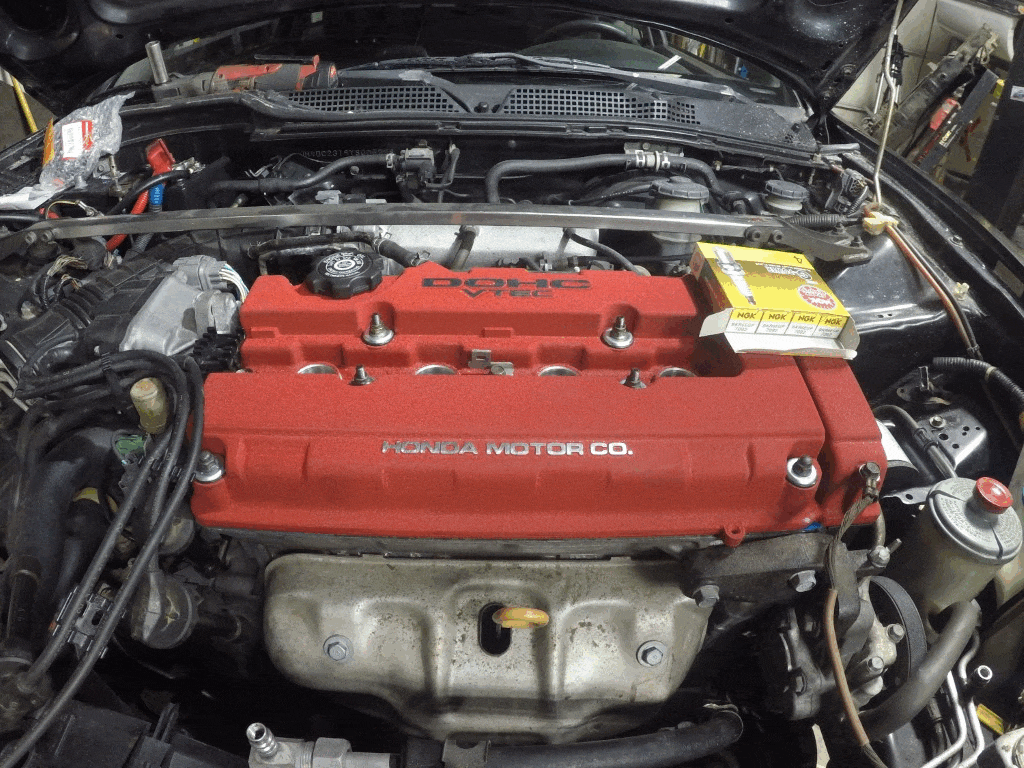 New thermostat - the car wasn't warming up fully
New timing belt, water pump, and belts - did this just based on age, but glad I did, as the water pump was weeping and the tensioner wasn't tightened down!
New spark plugs, valve cover gasket - the valve cover gasket leak into the spark plug holes was the worst I've ever seen, and the car ran great! The plug wells were literally ¾ full of oil. It was insane.
New engine mounts - old ones were torn
New oil pan gasket - it was leaking profusely
New distributor cap & rotor - it had a small crack

Coming up - lots of cosmetic and little functional items, like getting rid of this awesome-feeling but horrifically-ugly steering wheel, fixing a bunch of little things that don't work, and hopefully
DRIVING IT
.