To make the longest story ever kinda shorter, but still probably too long:
My Caliber SRT4 got totalled and I had to get a new car, but didn't want a payment and needed something that A) was bulletproof and B) was readily available, i.e. I didn't have to drive a thousand miles to find one in good shape with low mileage.
I wanted a Matrix XRS, because I'm a hatchback kind of guy but I'm not quite dead yet. However, that didn't fulfill requirement B, and the only one I could find was a manual. I was all set to throw it in her, but my wife freaked out and guilt-tripped me because she can't drive a manual, and what if the kids had to go to the ER in the middle of the night and I for some reason wasn't there and she were forced to drive my car. How could I live with that? I suggested to her that it would probably take her half an hour to learn how to drive the car. This was met with the traditional wife eye roll, as if that was the stupidest thing she'd ever heard and I was the stupidest human person to ever walk the earth.
So, I settled on a 2013 "Special Edition" Corolla S in the only color that car came in, which is orange. It's automatic, naturally. It has ~34K miles and the Carfax was cleaner than your grandpappy's church shoes. So here I am. I thought to myself "Hey, it's orange, you don't see too many orange Corollas so I won't at least look like every other mindless clone in a Corolla." Then I went on the typical midnight milk/bread run and saw two others in the grocery store parking lot. They supposedly only made 2200 of them but there are three in my town. Go figure.
At least because it's orange and has a spoiler, body kit and big wheels, she's sort of embarrassed at how comically garish it is and won't ever voluntarily try to drive it, AKA treat it like her own personal trash dumpster. Iif you saw the inside of her RAV4, you would be horrified, it looks like the trash compactor on the Death Star, and I'm pretty sure one of those big worms is probably growing in there somewhere amongst the half empty Starbucks cups, year old french fries and dirty baby diapers, because who has 12 seconds to walk to an actual trash can?
Anyway, here's a pic of my tarted-up Corolla. I did get it for about 2,500 under market price. She'll do for the next couple years, at which point I'll either A.) get myself a BRZ or similar, or B.) Accept the inevitable and submit to the beige Camry.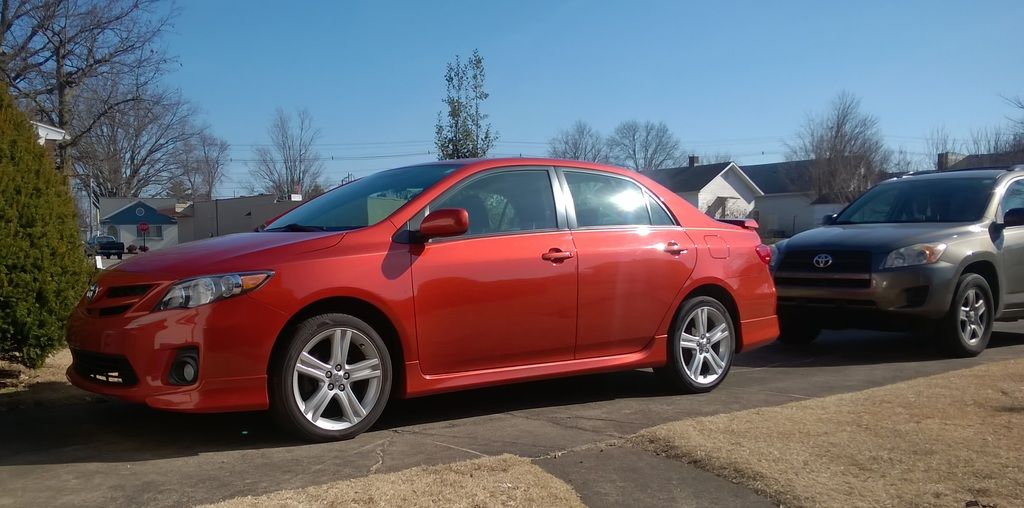 It's not a bad ride. I can see why they sold flajibbilitybillion of them. Pros: Revs real smooth, has decent power, steers very easily and accurately. Interior is nicely laid out and looks pretty good, at least to me. The steering wheel, turn signal/wiper stalks/cruise control stalks, radio and a/c controls all are nice and solid with the right amount of heft and click. The factory touchscreen stereo/nav system is cool and has pretty good voice recognition software, if I say "Play The Sword, Fire Lances of the Ancient Hyperzepherians" or "Destination, Big Beaver Lick, Kentucky," it somehow understands through my hicky accent and does what I ask.
Cons: It has little squeaks and rattles, and obvious signs of corner cutting. Nothing major or worth getting too riled up about, but some of these things even my old Nissan Versa would have called kinda shoddy. But that's really about it. It'll probably run for 20 years and still be getting 30 mpg when the body finally disintegrates from rust.