Discussion Starter
·
#1
·
The people down the street just took delivery of his and hers matching blue Impreza WRX STi's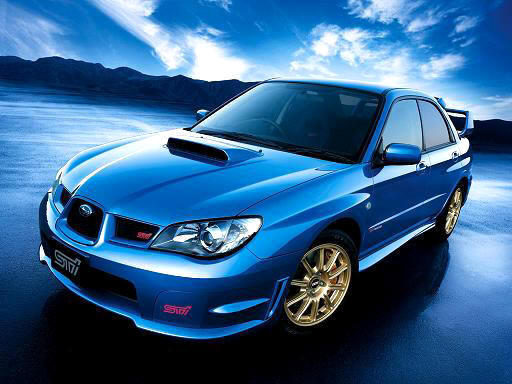 Identical to this. Cute.
While on the subject, it seems like everyone was taking advantage of the nice weather to get their nice cars out in and around my subdivision.
A yellow F355 went howling past me while I was driving home from the hardware store in the Volvo.
There are 2 neighbors down the street, one with a hawt purple 1996 Vette, and the other with an equally hawt 240Z with flares and gold basketweaves, and both were giving their cars some detailing/lovin' before tucking them away for winter.
On the main road leading into the subdivision is a guy with an 80s 911 Turbo and a 944. Both were on the driveway, and the owner appeared to be in the process of winterizing them.
The guy with the cocaine-era white Corvette was working on his engine.
There's another guy with 2 garages (containing 3 1960s Corvettes and a triple-5 convertible) who appeared to be washing/waxing his cars one after the other, as well as his brand new GTO. His wife's 1987 Pulsar and his 1997 Blazer looked filthy and crappy as usual.
The guy around the corner appeared to be doing a little bodywork on his 1940s
something
project. I haven't figured out what it is yet because it's nothing but a chassis with part of a body in a garage.
The dingus with the black Mini was tearing ass around the neighborhood again. I don't know what possess him to do this, but every so often he comes around and zooms around the neighborhood for a few minutes. I still haven't figured out which house he lives in. Oh, and when I say Mini, I mean a proper 60s Mini...black with white stripes, fat minilites, and some ridiculous rally lights.
I envy my neighbors
I think I need to find a better car. Junk like I drive was acceptable when I lived in a neighborhood where everybody drove rusted heaps and the most interesting cars were a rusted out G-body Cutlass and a mini-squadron of white CRXs with big mexican flags on them.
I'm also embarassed to admit that I didn't notice most of this stuff until fairly recently, even though I've lived here for almost a year now. I must be incredibly oblivious. So, have people tucked away their enthusiast/classics for winter in your area, or are they still oot and aboot?
Modified by tehAndy at 5:38 PM 11-25-2006