Well, I still hate plastic parts, as I have had to replace yet another outlet flange on my car......Good thing I buy spares....
But wait there is more.
From a thread that Ron did many years ago I remembered it and finally started to investigate.
It is now safe to say that I have gotten rid of the farging fecking(irish) plastic outlet flanges on my Digifant car.
I don't have pics of it but I can tell you what I did.
I came to the conclusion that the vibration of the upper radiator hose over time weakened the plastic mount ears, lets face it, the dam thing is under engine torque vibration all the frigging time. It is an accident waiting to happen a plastic time bomb.
I ordered 2 of the new improved metal t-stat covers.
I replaced the drivers side outlet flanges ages ago, got them off a old Diesel Rabbit. The front upper radiator outlet flange stumped me....
Now I have the answer Thanks Ron......
From this: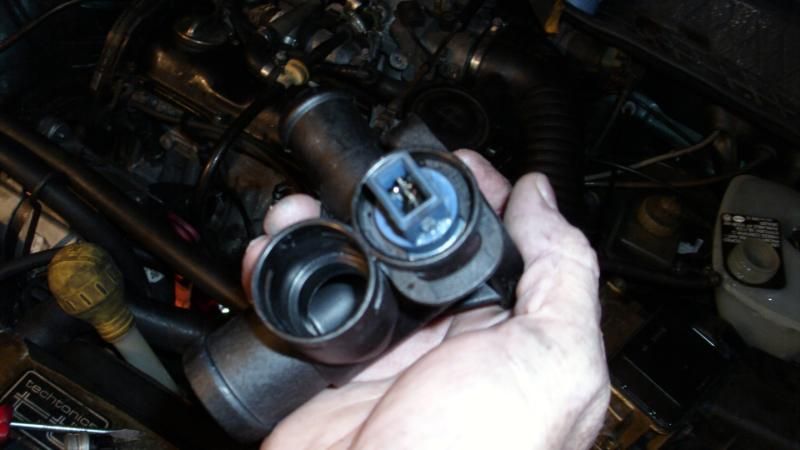 To this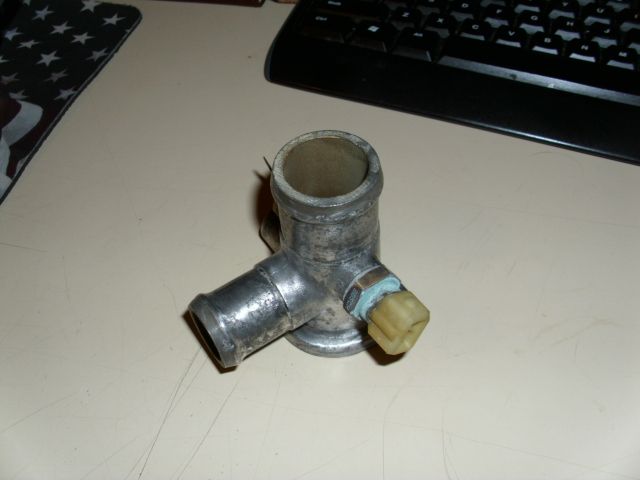 There are 2 styles of flanges that I found at the "yard" one was off a 87 FOX with no drilled bung for a thermo run switch, and the other off a 89
Cabriolet that had the drilled bung for a thermo run.
Look for the ones that don't have the oil cooler, or you will have to plug it off too.


You will need a new o-ring.
You will need an oil pressure/coolant temp sender.
You will need a CTS sensor off a 16V golf engine.
This CTS sensor is the same electrically as the blue CTS sensor, so it will perform the same, and the connector end will be there.
You only have to reverse how they are installed, as you want the CTS to be on top of the flange so vibration and gravity do not cause it to come off.
After you connect the new flange to the engine do not fully tighten you will have to modify the coolant temp sender (black) to single pin.
You cut off the old connector, and replace the yellow/red wire with a male spad connector. You will take the brown ground wire, and place a
ring connector on it that will fit on the flange bolt (ring or open end spad will work).
Attach the ring connector over the bolt and fully tighten the flange bolts to 87 in/lbs.
Connect your Blue CTS connector to the new CTS switch.... and presto.
Along with the heater hose brass barbed fitting, you have replaced most of all the farging feckin plastic parts on a digi that are prone to breakage.
Hope this helps folks in the future.
Now, they make a metal heater valve and it is available at Summit racing.. So you can eliminate 75 percent of all plastic parts with only the Radiator, Heater core, and Expansion jug left.