PG 1 - Timeline, and Before and after pictures. Majority of progress pictures (2010)
PG 6 - VF Mounts
PG 8 - 2010 H20
PG 10 - Teardown begins. Interior gutting..
pg 12 - removed wiring
pg 13 - B+M shifter, ecu mounted
pg 16 - Custom gauge panel
pg 18 - Roll bar received, dash and harness
pg 19 - Motor back in, sound deadening, dash assembled
PG 21 - Rota Grids Purchased
PG 22 - CF sunroof
pg 24 - Sparcos in
PG 34 - WIRE TUCK DIAGRAMS
PG 38 - TAROX BBK installed
PG 42 - Lowered and finally on Grids
PG 46 - Our journey ends
:heart:
History:
The following thread has been a long time coming and I finally started writing it up now that the last things are coming together. I had every intention of making a thread and posting pics as progress took place, but I was working on this car every weekend after coming from school and working at a weekend job too, so at the end of the day, the last thing I wanted to do was take pictures, upload them, and throw it up on the tex. Plus, because of the attention span of vortex, I figured posting one thread with pictures from start to finish would be better.
Shortly after I got her. I know….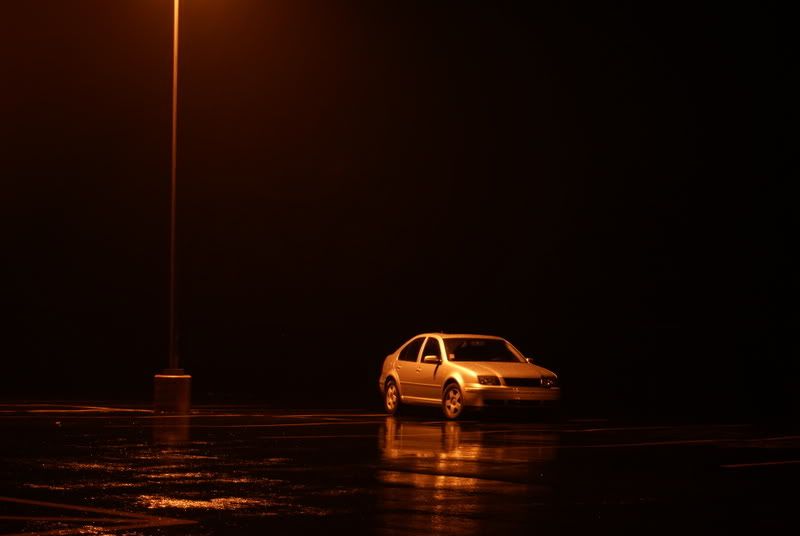 I bought my car stock, a virgin, in the fall of 08. I had my stage of typical no-no mods and hiccups, but after meeting my g/f, and spending more time learning some things, Id like to think It began to clean itself up. I originally modded the ko3s, then went on to ko4 setup. My ko4 setup and a faulty catch can line ended up costing me the turbo seals, blown valve guides, and blown rings. SO I dropped in rods and ARP hardware, got a hybrid wheel for the turbo and decided to do my first wire tuck. I ran the wires through the tray and under the rail, and deleted a lot of stuff. This is where the bug started. I made a little over 250whp and close to 280 wtq on the ko4-02x setup and loved it. But the setup was not at its full potential and I was about to pay for custom software in order to get more out of it. Why bother I said.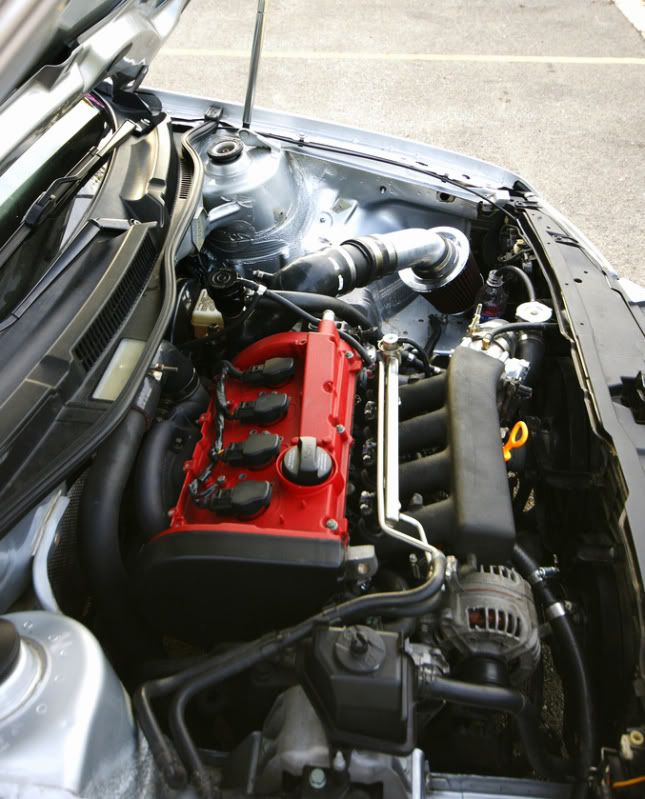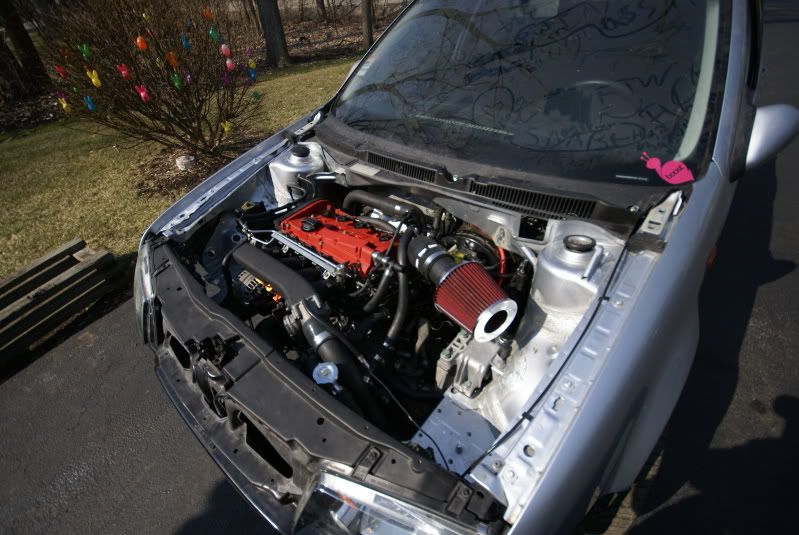 It was my first big build, that I did with suspension, LSD, full 42DD exhaust, etc. I went to h20 last fall with no intentions of doing anything to my car, at least major, ever again. Until I saw a gti 50 trim take off from a light. The sound, the speed, the intimidation, was everything I wanted. I don't know whose car it was, but THANK YOU haha. I decided that after all I had learned and done with the car, it was time to take the plunge into a shaved bay project/bt build for my car. I sold the ko4 kit and went back to k03s for a while to save up and gather parts. The ko4 kit was enough to buy my 3076 .63 and after that, everything followed as my weekend job slowly got me parts. I had a lot to learn about BT builds, parts etc, and I spent the next few months doing my homework on what turbo to get, int/ext gated, etc.
There's the history, on to the cooler stuff and of course more pictures.
People:
Before I continue, I need to thank everyone who helped me with this.. First and foremost are my friends. Charlie, Page, Jake, Pat, Ryan, Keenan and of course, Doms. All of you had put COUNTLESS hours of help into my car and guided my decisions and methods, and provided enormous support. I will never forget i.. My dad too, for putting up with the air compressor, grinder, trailer, parts, welder, tools and dirty garage for about 2-3 months haha. Finally, the Doppke family whom let me borrow their 04 jetta 1.8t for thre months so I could get to and from school
Also many forum contributors were a great help,
Andrew M for parts and service :thumbup:
Corradogirlie for tech advice and loads of help.
Rich/prokchop for the ecu, and lots of question answering
Elvir, Savvvvv, Rogue, turbowolf, and others for wiretuck/bayshave info
Tommy, (ted Brogan) for parts, tools, and advice.
Ed and Steve from FFE, you guys- are honestly amazing- we need more Vendors like FFE
Arnold at PagParts
Guys at Mobileone
There are plenty more, but thanks to anyone I forgot, this build wouldn't have happened without you.
The plan:
A stylish/clean shaved bay, wire tuck and bay clean-up that would also be functional and not too showy. Each component would serve a purpose and look good at the same time. My rule was that the disassembly of this car (ie motor being pulled) should take no longer than 2 hrs, and that the hood could be opened at a show, track day and be impressive to others but yet the car could still perform. I wasn't about to put a 30r on the car and have no intentions of driving the car hard.
For weeks, as I gathered parts and knowledge, I began to plan what was now my second wire tuck on the car, and like a diseased addict I made MS paint diagrams at school, drew schematics in class, and wrote out lists of parts I needed and how wires would be routed. I took inspiration from cars online and then tried to improve, twist, and build on what I had seen/learned.
There were stages to the build. Disassembly, wiring removal and dash removal, wire tuck and re routing. Bay stripping welding/shaping. Then motor cleaning painting, and part assembly. Each stage began to blend, and after the car came back from paint, the fine tuning and wiring took place along with motor install and the first drive. The weeks following consisted of expected troubleshooting, 2 broken axles, overheating., oil leaks and noises, but it's a vw soooo.
This build was a lot of fun and a huge learning experience, but time consuming, expensive, and hard work. I wouldn't of had it any other way than doing it all with my friends. The only thing we did not plan and execute would have been the painting, which I can thank Dannr auto body for in Fox River Grove, IL. :thumbup:
The Timeline:
Part picture- All the parts started accumulating in the basement
Before teardown- the night before I started, mmm Chicago winter salt spray
Motor almost out!
See ya stage one clutch
Organization!
Dash off- will this go back on smoothly?
Wiring pictures-
Custom velour door cards baby
Loose wiring- wont be needing this!
Frame rail holes
Battery wire through fender rail
Wires go through rail, out behind pedals
Ecu on top of oem power supply block
From the top
Harness- Ahh finally
All cleaned up!
The motorz
Manifold welding- nothing says sexy like argon fumes,
Bay shaving- **grinder noise** dusty, small fires etc
Priming block and trans, then paint
Fuseblock in raintray
Clutch install (that's me in the green)
On the way to the body shop!
At the body shop, notch filled and fenders shaved, bay primed
Powdercoated parts came in
The finished product!
Doms was driving?
What to do now? I still need to dyno the car and make some power, race axles and a few other mods. But the car even on WG pressure is outstanding. Just driving the car around at this stage is enough to make me happy. I have even beat a few cars like mach 1, exo X, some bug eyes etc Open dump sounds great and is a real eye opener. I've had this thing up to 23-24 psi and I cant describe how amazing the 30r is, way more than I anticipated and I haven't even touched the tune yet. Never before have I seen 80+ so fast, and acceleration so intense in my little jetta haha
Well, as most people may know, I try to spread what I know and help out where I can. And I usually talk way too much, or more than needed when it comes to it. But any questions about anything feel free to ask me, wire tuck, power mods, etc, and ill do all I can to shed some light. Thanks for reading this epic novel and I hope you enjoyed the pictures. I plan on updating THIS thread from here on out with pictures, new ideas, product additions etc.
Thank you
-Devin
Dom and a huge dog
H20i 2010 Updates
(also on page 8) :thumbup:
Idk where to put these without making a new thread that has zero mk4 content sooo...here are a few of our highlights from h20 weekend in pictumature form. Dev and I had a great time so thank you to everyone who helped make it as memorable as it was
Dev in charge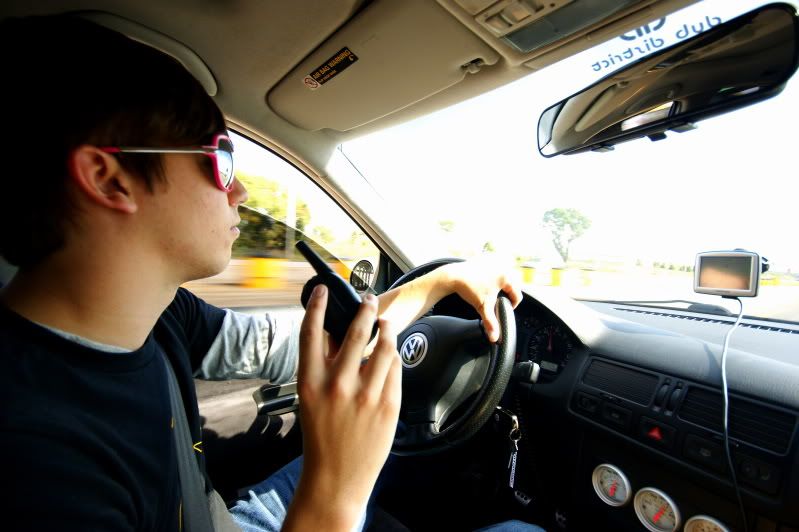 La la la, im dom and i heart my multicolored sunglasses!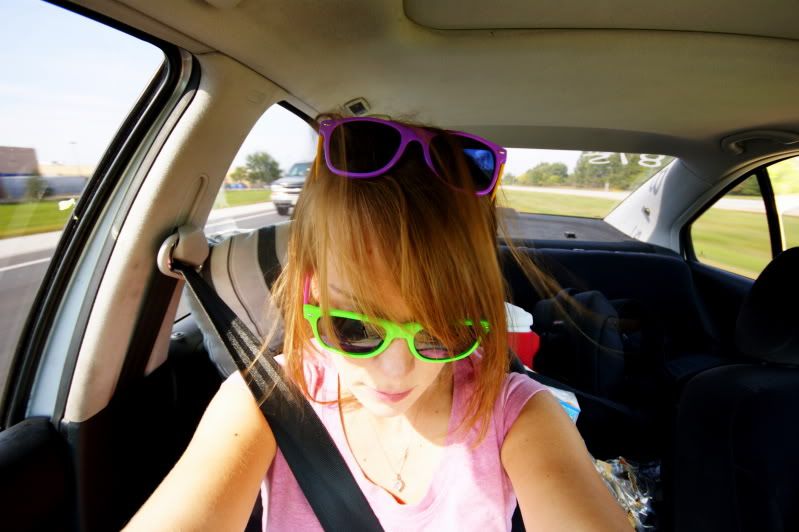 MPSquared
DBVeeDB + Megaa Sparks
Internet breakfast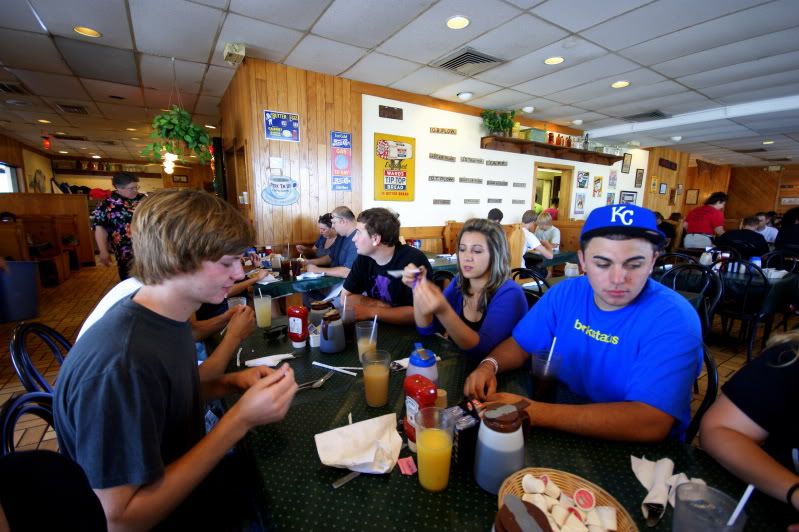 Cell phone tower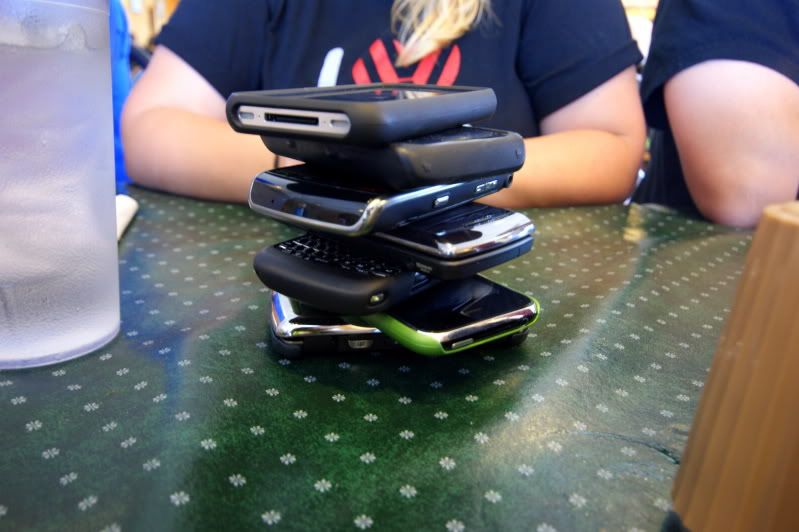 Kiddie is amused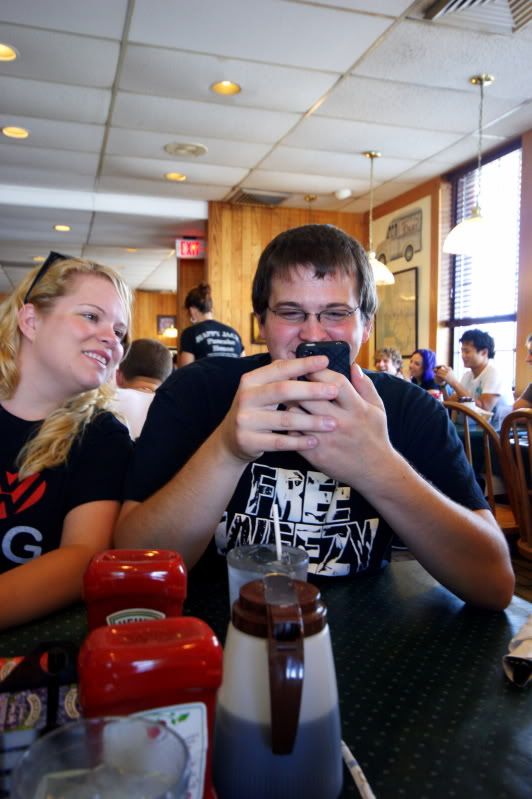 Seafood dinner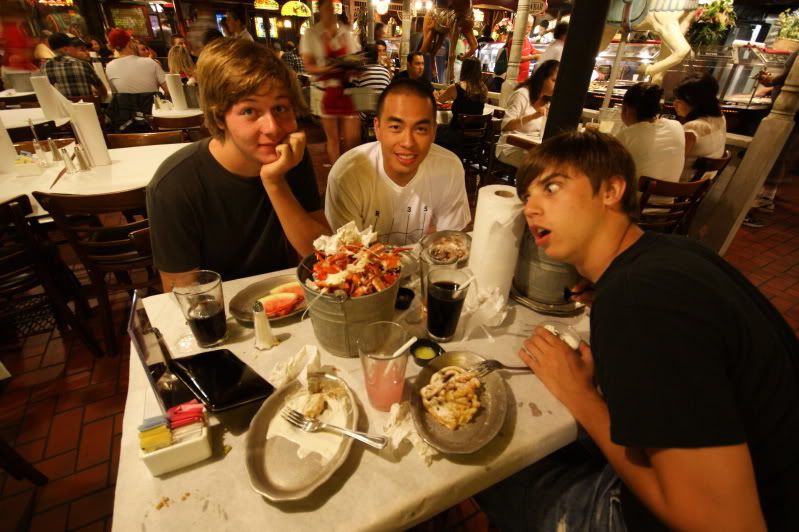 Familia
NEWNESS AS OF 04-08-2011:
New Wheels - White Rota Grids, 18x9.5 et 38 all around.