Discussion Starter
·
#1
·
I thought I'd put all MkIV strut tool info in one place for the FAQ. I will gladly add other suggestions to the list. Many of the tools will work on other cars as well but the focus is MkIV
Now thats a tool!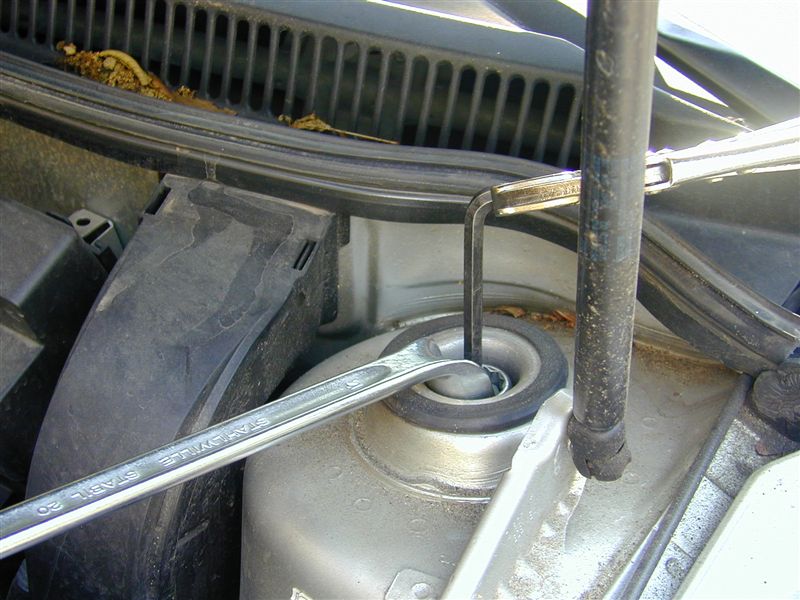 Background
# You need to hold the inner shaft stationary while applying torque to the strut nuts. If you don't hold the shaft, it'll just spin and you won't get anywhere. The nuts are either 21mm or 22mm depending on model year and strut manufacturer.
# The spreader tool is used to spread the big metal clamp that is integrated into the spindle/knuckly assembly. This clamp holds the bottom of the strut in place. You need to insert something into the clamp and spread it open to get the strut out - hence the term "spreader". Lots of items laying around the shop will work, but I have given the best examples here.
# When re-assembling the strut, you need to tighten the inner strut nut (also called a strut bushing??? in the Bentley shop manual) with the spring compressed. You do not want to tighten this nut against the force of the spring, otherwise you won't get th eproper torque setting and you may damage the strut bearing on re-install. So use a spring compressor to make your life easier, or get a friend to hold the spring compressed while you torque that inner nut.
# Don't use an impact gun to tighten anything unless you can adjust the torque. You will damage the strut bearing with over-torquing.
Strut nut tools part 1 - grab your nuts
# 13/16" long spark plug socket 1/2" drive with rubber insert removed and inside edges filed down ($5-10)
# 7/8" Split Oxygen sensor Socket from zdmak/Sears ($8)
# 21 or 22mm deep socket 1/2" drive with top outer portion filed down slightly, so it can be gripped by an adjustable wrench or vise-grip pliers($3)
# Metalnerd combo strut tool ($40)
# Parts4vws Schley strut nut tool ($28)
# OR you may simply use a 13/16"/21mm, or 7/8"/22mm deep offset wrench from Sears/Stahlwille/Hazet ($20)
Strut nut tools part 2 - don't spin your shaft:
# OEM & Bilstein struts: 7mm allen/hex key (optional: add vise grip pliers for extra leverage)($5)
# Koni - instead of 7mm hex key, - use an
11mm socket on a long extension
# KYB struts - you need some weird non-standard adapter to prevent the strut from spinning by grabbing a little nub. You might be able to use an adjustable wrench to grip the protruding nub, or you can use an impact gun.
Notes on Strut nut tools
# All above strut nut options except for the deep offset wrench will also require one of the following: torque wrench/ratchet with crowfoot wrench head, adjustable wrench, or vice-grip style wrench. ($10-100)
# Bilstein and some Koni struts ship with 22mm outer nuts, so you may need both 21mm and 22mm tools for your suspension job
# Air tools and impact wrenches work great for removing strut nuts but its hard to set the torque on the nuts accurately. Overtorquing can crack the strut bearings. Also you cannot prevent the inner strut shaft from spinning and excessive spinning can lead to broken seals. Finally, these big power tools are expensive to buy and maintain. Stick to hand tools wherever possible and do the job right.
Spreader tools:
# 8mm or 5/16" extra long allen/hex wrench with four sides filed down into an ovalish shape - leave two opposite sides flat so that the bit doesn't spin under pressure ($3-5) (aka
traffic's ghetto spreader
)
# metalnerd or autotech brand spreader bits ($15)
# big slot screwdriver and mallet - other items laying around the toolbox
Spring compressors:
# cheap ebay or sears strut spring compressors ($20-75)
Other helpful tools
# Bottle jack - in addition to a regular jack, a bottle jack makes it a lot easier to position the LCA and compress the strut spring while still installed on the car
Where to buy:
#
Sears
#
Snap-on
#
ZDMak
#
Ebay
#
Stahlwille
#
Metalnerd
#
Autotech
#
Parts4VWs
#
German Auto Parts
#
Hazet
References:
#
http://forums.vwvortex.com/zerothread?id=1646838
#
http://www.nclh.org/car/coilover_howto
/
#
http://peterpyce.com/Shine/Sap...1.jpg