I just brought home my dad's 87 16v. I'm going to attempt to get it up and running this winter.
7/21/2013 EDIT:
New photos on page 5 of the running car.
9/10/13 EDIT:
Added more info on the car's history:
This car played a pretty substantial role in my family. Back in early 1992 I was a senior in high school. Sitting in our driveway were some fine examples of 80's era GM metal. Having 4 children between the ages of 2 and 18, my dad had two Olds Cutlass Ciera station wagons, and a 1980 Pontiac Sunbird that his mother handed down to us. These cars were all in various states of disrepair and it felt like one of them was always in the shop. I'm not sure if dad was going through a midlife crisis, or the crushing realization that he was a dad again at age 46, but he spotted a bright red Scirocco 16V at a local used car lot and INSTANTLY fell in love. Now if you knew my dad, he may very well be the most practical buyer ever and
never
buys on heart or spontaneously. He saw this car on Friday, went back and looked at it on Saturday, then on Sunday, and left work early to test drive it on Monday. Unfortunately, the car had sold. I have never seen my dad heartbroken before. He moped for days.
Two weeks later, my brother and I spotted an identical red Scirocco 16V at the local VW dealer. It actually had less miles and tinted windows. My dad test drove it within a day or two. I actually remember folding myself into the backseat for the test drive. At one point, my dad turned to my mom in the passenger seat and said "Guess how fast we're going?" He was cruising at 75MPH in a 55 zone. The car was rock solid. I was amazed: all our GMs shook/shimmied at anything more than 50 and I had never seen my dad speed before. Having 4 kids, one starting college in fall, my dad just couldn't justify buying it, but the salesman really tried. We drove home in a relatively quiet car, saddened that a bright red sports car wouldn't be sitting in our driveway. As we were walking in the door, the phone was ringing; the dealer really wanted to make a sale. My dad lowballed and they took his offer and deposit over the phone. I think he paid $3800 for the car, but my memory may be hazy. My brother and I were shocked! This was my dad's first German car (except for a minor stint with a 74 Super Beetle in the late 80s that had MANY problems), and he LOVED it.
Not only was this our first German car, it was the first manual car in our house that I could remember. While I understood
how
a clutched transmission worked, I had ZERO experience with one. The 74 Super Beetle had been an auto stick, so even that car didn't have a third pedal. Being a senior in high school I had visions of driving this bright red car to school and to movies and, well, everywhere. Nevermind it was my dad's car; I thought for sure it would be mine to use any time. I nagged and nagged him to teach me stick. Finally, we took a short drive to a giant open parking lot, I got behind the wheel certain that I'd master this immediately. After 10 minutes of stalling and bucking and swearing and sweating, dad got too nervous and my first lesson ended in failure. A week later, another 10 minute lesson ended in failure. As did one last lesson a few days later. A fourth lesson never happened. I'm not sure why we never tried again, but I didn't learn stick until a year or two later, but I was already out of the house and living on my own, so dad's car wasn't even available to me. Silverspeedbuggy as an 18 year old HATED that he couldn't drive this car. Silverspeedbuggy as an almost 40 year old is GRATEFUL that his dad didn't get him proficient at manual transmission driving. I'm convinced my brother or I would have dented/wrecked/totaled this car.
Within 6 months of ownership, dad traded all our cars in on VWs. In addition to this Scirocco, he picked me up a 1984 Quantum GL5 sedan to commute to college in, and then he found a 1987 Quantum wagon (the big headlight model, but not a Synchro) for my mom. Later he'd also have a MK III Jetta (his first brand-new car since 1979), an Audi A4 2.8 5 speed, and mom also had a Golf Cabrio, and New Beetle convertible. Unfortunately he's gone back to American cars and is currently in a Mercury Milan. Mom doesn't drive anymore, and my little brother, the 2 year old in the story above, is now driving her 2003 New Beetle convertible (he hates it BTW, but it's a 'free' car).
In the mid 90's dad drove his Scirocco daily. Later in the 90's the 'Rocco became a weekend/fun car only. Dad would tool around in the car around town on short drives. Being driven daily in Cleveland; the liberal use of salt on our roads had taken its toll on the car, so he had it repainted once. After a short drive one day, the car overheated. Dad parked it in the garage, and with the exception of moving it once or twice, it sat in the garage. Then, when dad wanted to park their 'real' cars in the garage, so the 'Rocco moved to the driveway. It sat there for at least 3 years. Probably 4. Maybe even 5.
So that leads us to this thread. This story picks up with the pictures below. Mom and dad were preparing to downsize to a ranch home, and my childhood home was about to be put on the market. Dad knew he had to sell/get rid of the only sports car he'd ever owned, and so he passed it off to me. As of writing this edit of my original post, the car is now 100% mechanically sound and I've been driving it most of the summer of 2013. The weather here in Cleveland has not been cooperative as our normally hot and somewhat humid summer has actually been cold and rainy. We had 16 straight days of rain in July. Many days temps never got above 55. It's now early September and we're finally having summer weather (low 90s today!) so I'm trying to get as many drives in as I can before the snow flies. I've never really worked on a car before, and I surprised myself on how much work I took on with this car. My dad is really impressed, and told me how proud he is with the work I've done.
So below is the most recent 'story' on the car. Enjoy the ride if you read all the posts. I know I did.
Major info:
Dad bought it used in 1992, he was only the second owner
Drove it mostly on nice days
It saw a few winters while he had it
Has been repainted once (decent job too)
Sat for 3 years outside on the driveway
144,000-ish miles (odo spins freely)
NOT running, needs
- coolant work (overheats, tow driver smelled coolant on drive)
- brakes including BLOWN brake line (made a mess of his flatbed)
- gas siphoned and fresh fuel added
- oil change
- spark plugs (might as well)
- two engine mounts
- new struts
- new tires
- a few rust spots
My plans:
- Keep it bone stock
- Fix the above
- Get it running by the spring
- Eventually have rust addressed and a respray
- Get teardrops refinished
On to the pics!
As it sat on dad's driveway yesterday: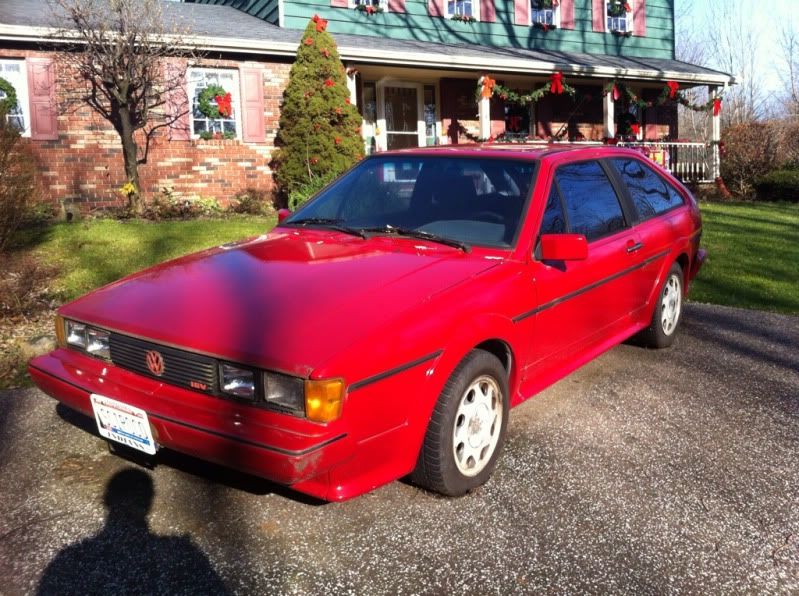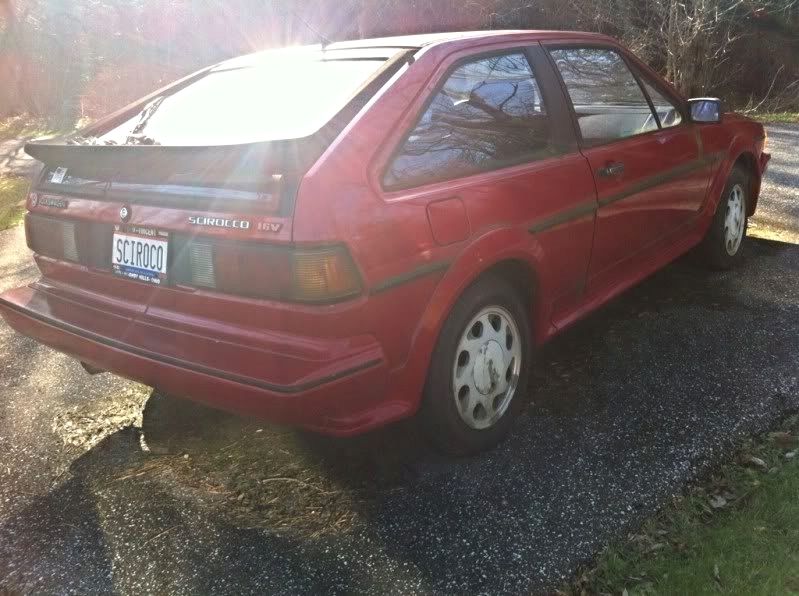 Rust: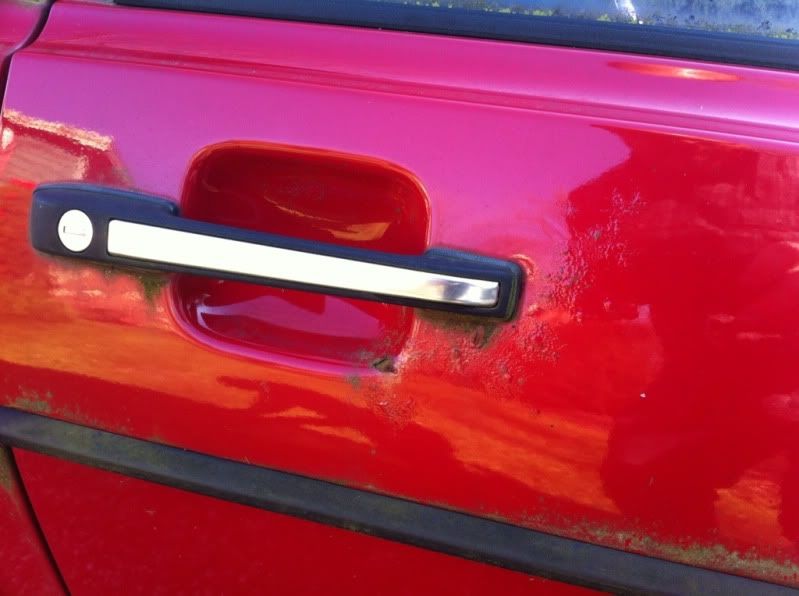 Sunroof seal is shot: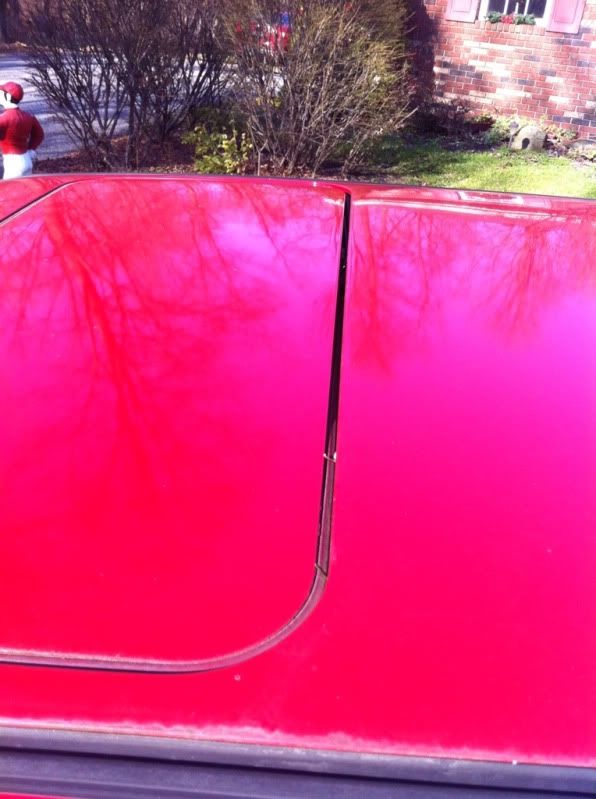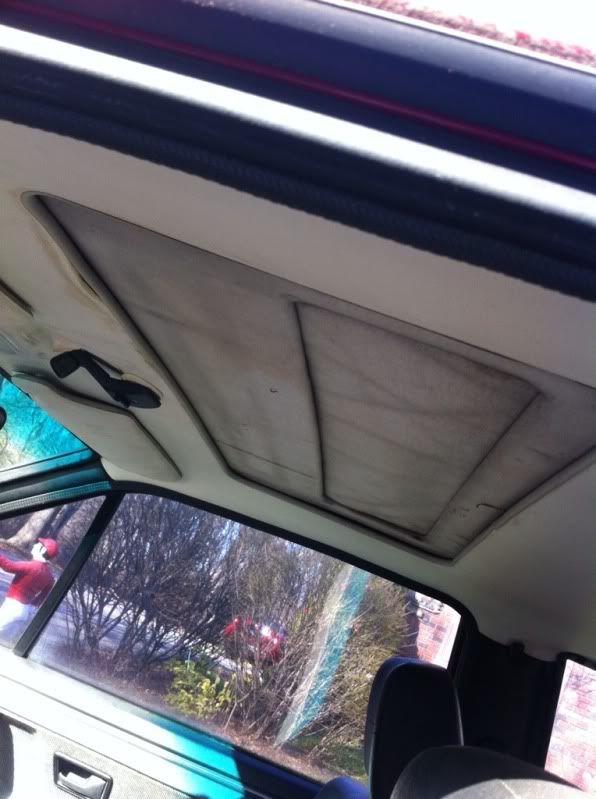 Getting towed: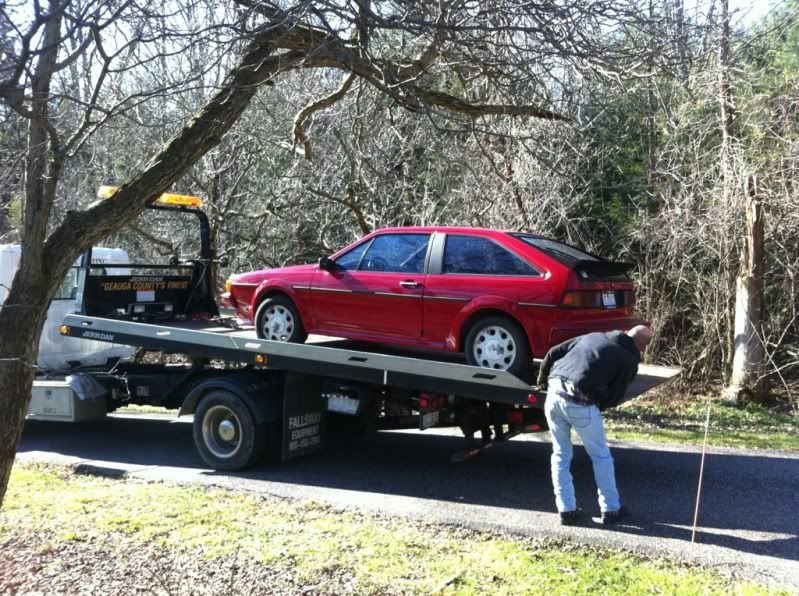 Brakes were locked up, but freed when winched onto the truck. Notice the brake fluid under the rear passenger tire; brake line blew when I mashed it.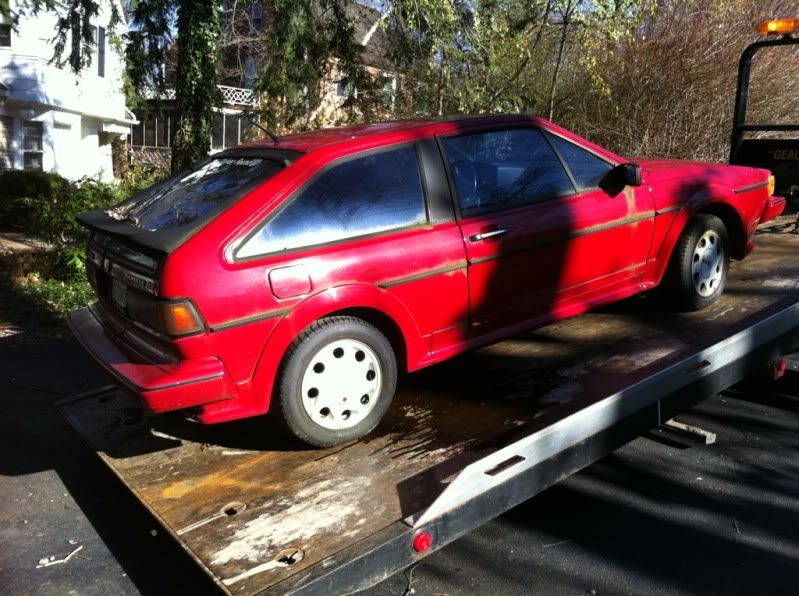 Parked in my driveway, time to really assess the car: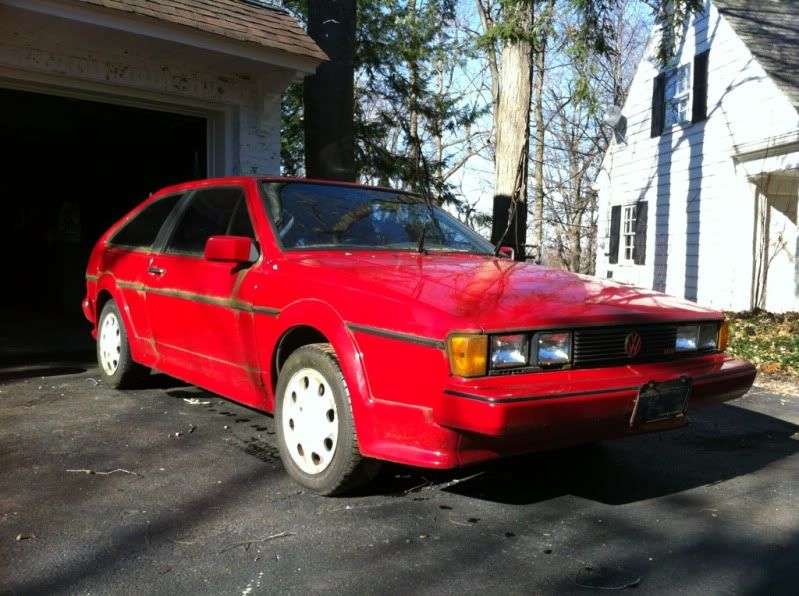 More rust: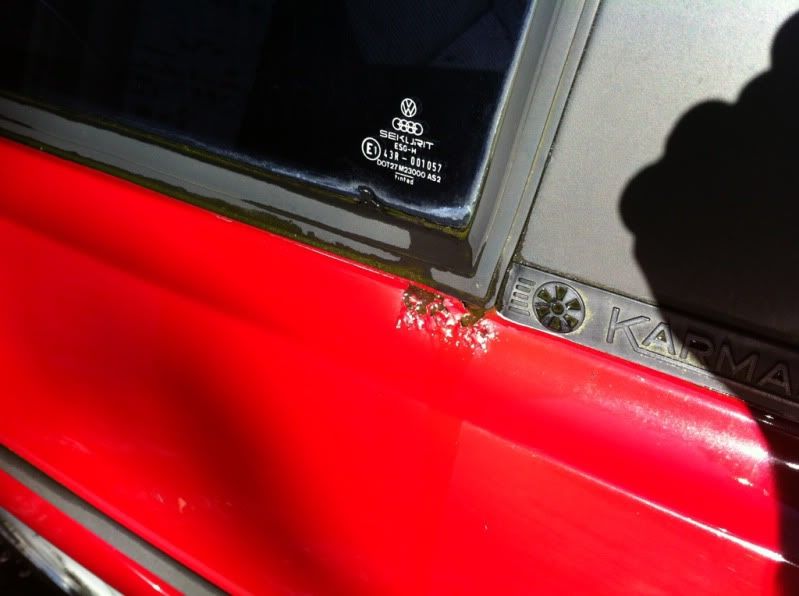 Hood is shot: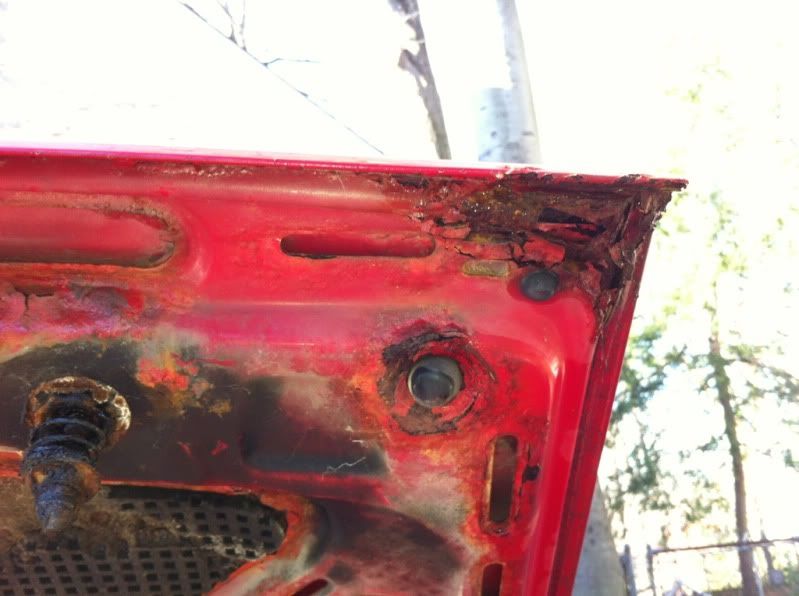 Not bad for 144,000 miles: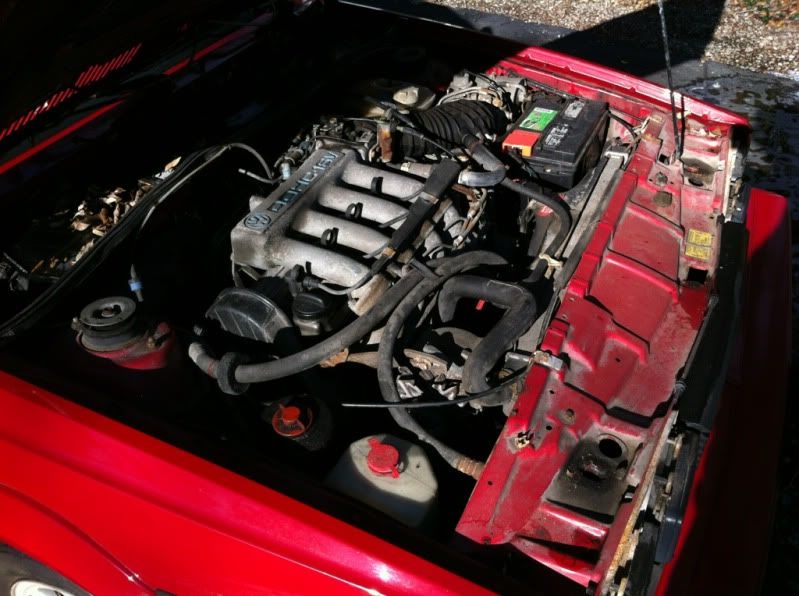 Both strut towers are good: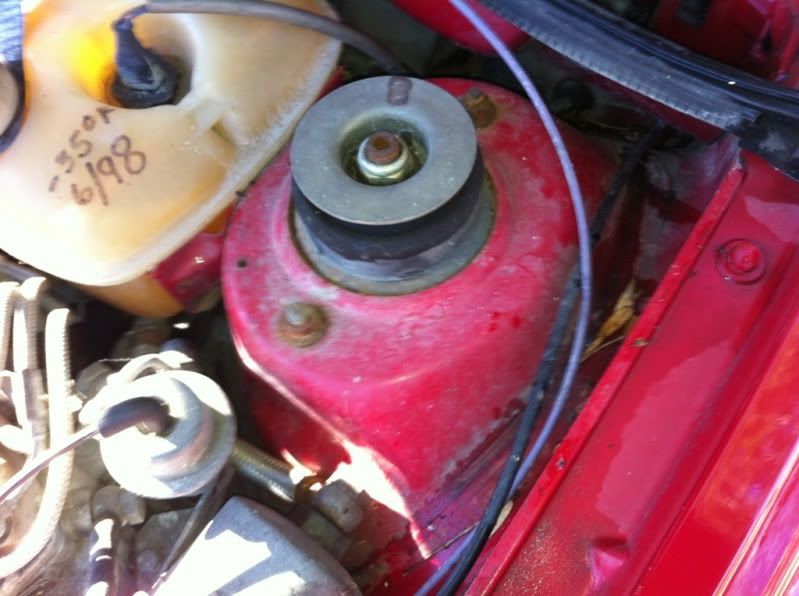 Something was living in it;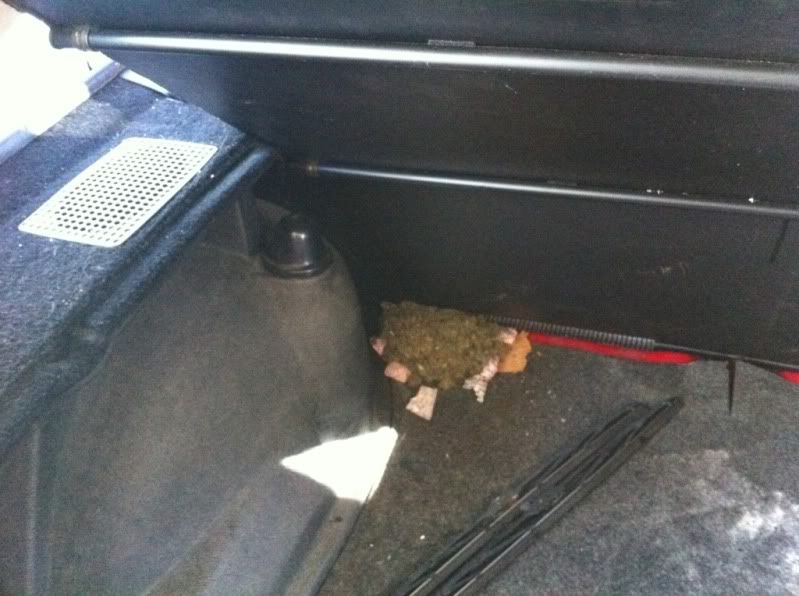 Found the shift knob for mom and dad's old 74 Super Beetle!
Some wear on the bolster: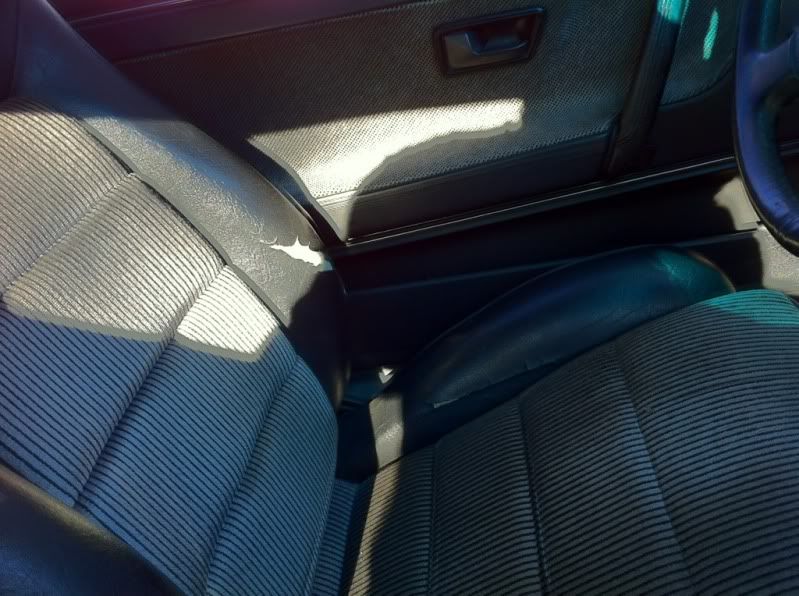 No rust: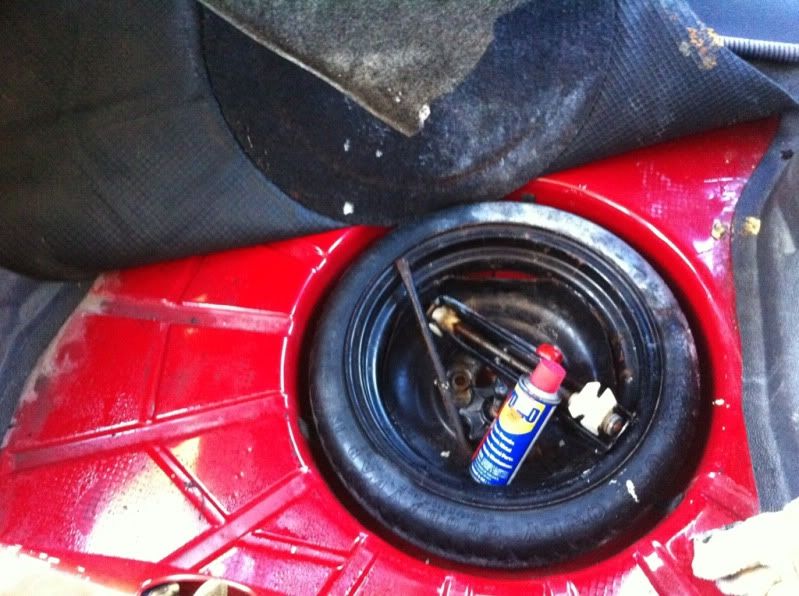 Some rust on the hatch: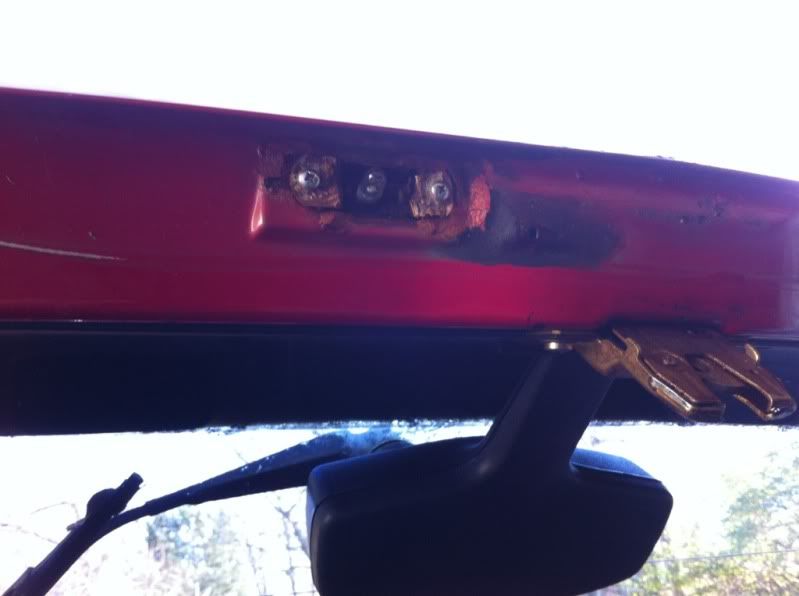 Must be some rust on the bottom edge of the doors under the bodykit molding; the strip on the door is peeling up: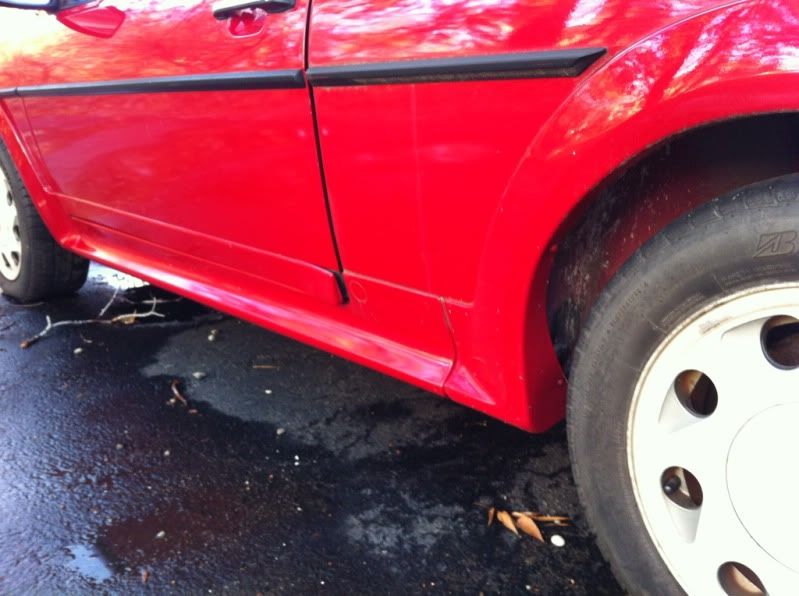 Cleaned up the interior: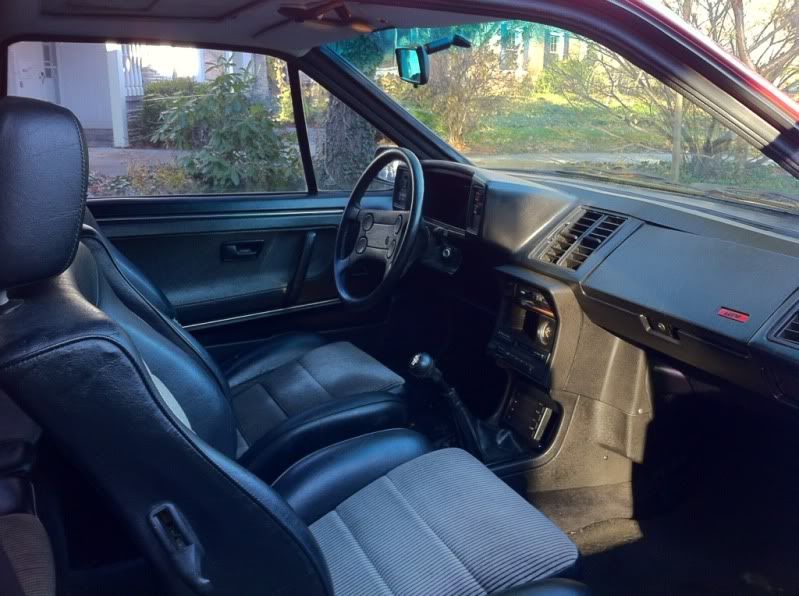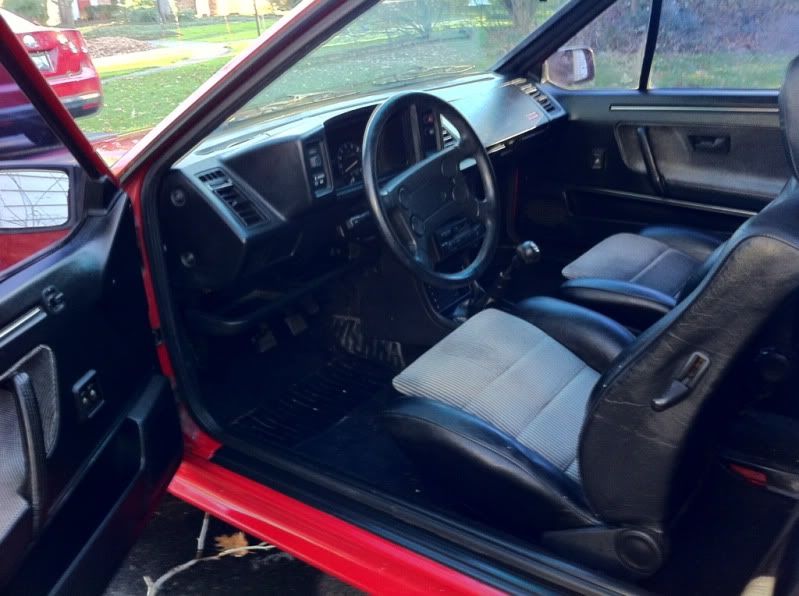 Gave it the first bath it's had in 3 years: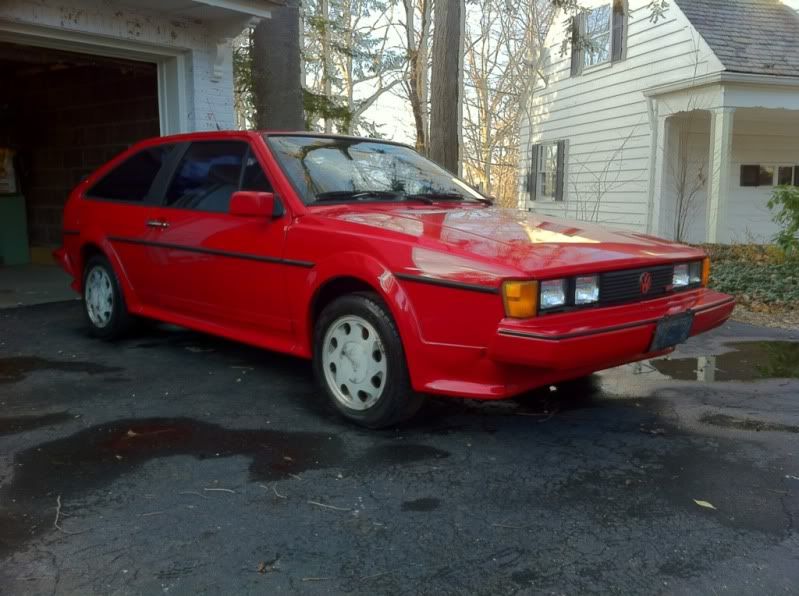 Noticed this tube (for the airbox?) under the battery is cracked:
At some point I may need to have this fender replaced. I guess my now-deceased grandfather backed into the car. It's tough to really see the problem though: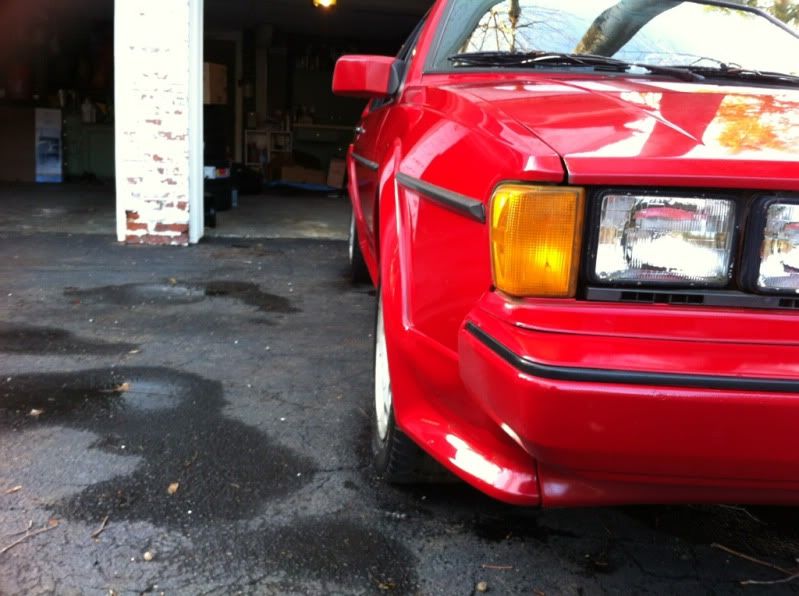 Overall I am VERY excited to get this car running again. Dad bought it my senior year of high school and I had visions of driving all over the place in it. After three failed stick shift lessons (lasting 10 minutes each), dad's nerves were shot. I think he also realized if me or my brother didn't know how to drive stick then we couldn't mess up his car. I'm betting it wouldn't be sitting in my driveway right now if he had suceeded in teaching us how to manipulate a clutch. The 18 year old me hated that I didn't know how to drive it. The 37 year old me is incredibly glad I didn't know how to drive it.