Installing Alpine ILX-007 CarPlay head unit into the TT + custom ashtray dock for iPhone 5, 5s, SE, 6, 6s and the new iPhone 7
My Audi TT Mk2 (8J) is from 2010, has Bose and steering wheel control, as well as RNS-E navigation, Audi Music Interface (AMI) and Bluetooth.
I also own an iPhone 6 and wanted to change this old setup for various reasons, mainly because selecting a destination through GPS was from another age and, despite AMI, scrolling long playlists or reach artists in the second half of the alphabet was really a pain in the ass with the RNS-E. Any modern head unit includes GPS, Bluetooth and smartphone connection, so both the RNS-E, Audi Bluetooth module and Audi Music Interface module would become obsolete with a new head unit.
I chose the CarPlay-compatible
Alpine ILX-007
(named ILX-700 in Europe) for its bigger 7" resistive touchscreen, over the 6.2" screen of the Pioneer AppRadio 4, and because I didn't want the -IMHO cluttered and somewhat dated- dual interface proposed by the more expensive Pioneer NEX or new Kenwood models. Whatever, to each his own taste, especially as those are compatible with Apple CarPlay as well as Android Auto
eace: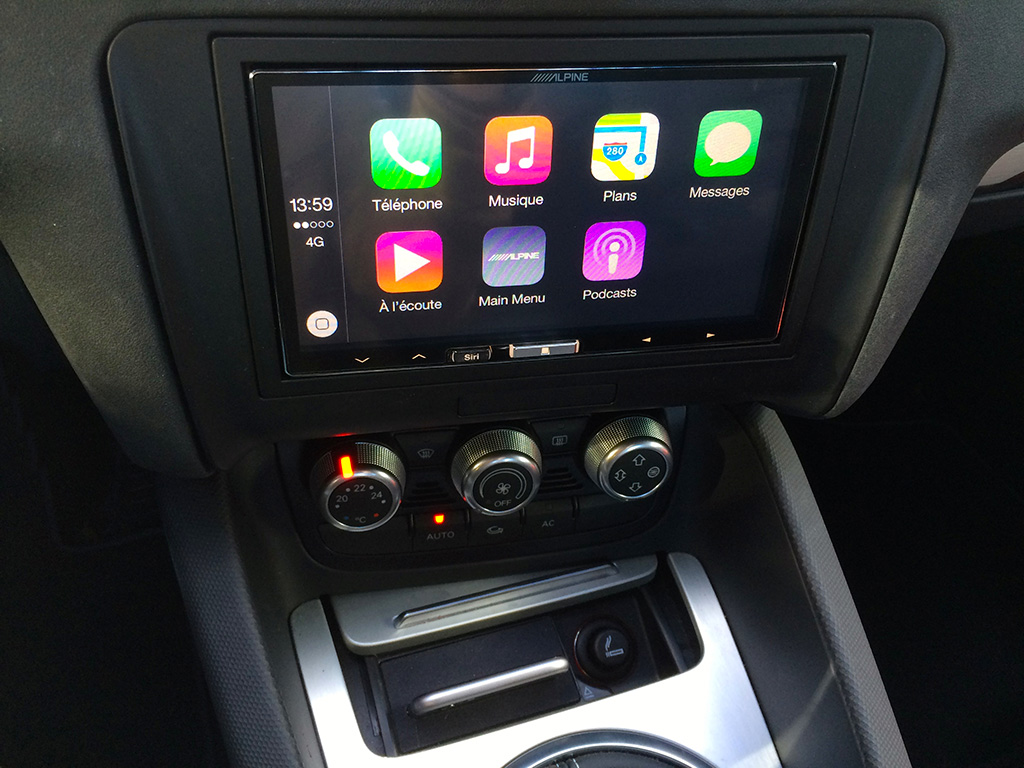 AT first, if you don't already know what is the Alpine ILX-007 and what it can do, here are two detailed reviews:
The following guide is quite similar to a previous one (
Installing Pioneer AVIC-8000NEX into the TTRS
) with a more recent head unit and cables. But it should work with any head unit from
Pioneer
,
Kenwood
or
Parrot
. I'll also show you a custom dock to easily connect the iPhone, and how to fit additional USB ports into the glovebox for different purposes.
I won't cover here how to remove the RNS-E from the dashboard nor the AMI from the glovebox, as it is quite trivial to do so and already well explained in various forums. I will focus on the new devices.
To connect this new Alpine head unit to my car, I chose
Enfig Car Stereo
, sponsor of the VWvortex forum, for the quality and reliability of its products:
Enfig SRWH-AUD3-HILO ($114.99) with digital turn on (add $50, so total is $164.99) cable harness compatible with Audi TT >2009+Bose. It fixes the very low rear and low sub audio amplification on some Audi cars. Search for Audi low rear audio on Google if you are not aware of this issue.
<strike>Enfig PNP-ALP007 ($19.99) custom plug and play adapter to connect the Alpine HU to the cable harness.</strike> *YOU DON'T NEED THIS ONE* Alpine already provides a similar cable in the box, with the same required leads and ISO connectors.
Enfig SWCL-ALP ($9.99) steering wheel control lead for Alpine. Actually Enfig upgraded this one to the excellent programmable PAC SWI-CP5 because it is currently the only interface that could trigger Siri (PAC still needs to make a firmware update though. I asked their technical support who answered they are indeed working on a FW update for SWI-CP5, providing this specific feature).
Enfig AAA-VWAUD5 ($19.99) dual amplified antenna adapter to connect the dual Fakra radio cable.
Connects2 CT23AU05A dash kit. This fascia is good looking with a soft rubber feeling, and a metal cage plus mounting brackets and screws to attach your head unit. You can grab it on eBay. EDIT 03/2015: Thanks to Christian at Enfig I also could test the custom dash kit made by Enfig for the TT (fascia + metal cage + mounting brackets + screws) ref. RMK5-TT2. For a bargain $49.99 you get an even better looking version in my opinion. It is as dark but slightly rougher (in a very subtle way) than Connects2 dash kit, feeling more like the dashboard of the TT. Perfect finish! Go for it folks Pictures below, comparing Connects2 CT23AU05A vs Enfig RMK5-TT2 in details so you can judge for yourself.
<strike>Parking brake switch bypass (about $20 on eBay)</strike> to access all settings on screen (especially the complete list of contacts and the keyboard in Maps, more convenient to enter an address that Siri does not understand) that you could not usually see while driving because you would need to be on the brake otherwise. *YOU DON'T NEED THIS ONE NEITHER* Just connect the parking brake lead of the head unit to the ground lead of the main harness, and all settings will be permanently available.
4 Audi radio stereo removal tool keys, to remove the factory RNS-E ($2 to $8 on eBay).
The Alpine head unit is currently (Early 2015) priced at $599 (and €599 here in Europe, a bit more expensive due to the conversion rate) to which you must add about $250 for interface cables and dash kit. You could also pay someone to install all items in your car but the labor will of course make the price higher. Enfig makes compatible and plug & play cables (for example, the most complicated connections between the harness and the steering wheel control cables come already connected together). They are not the cheapest, but you'll easily install them into your car in a few minutes with no cutting nor drilling.
All the cables: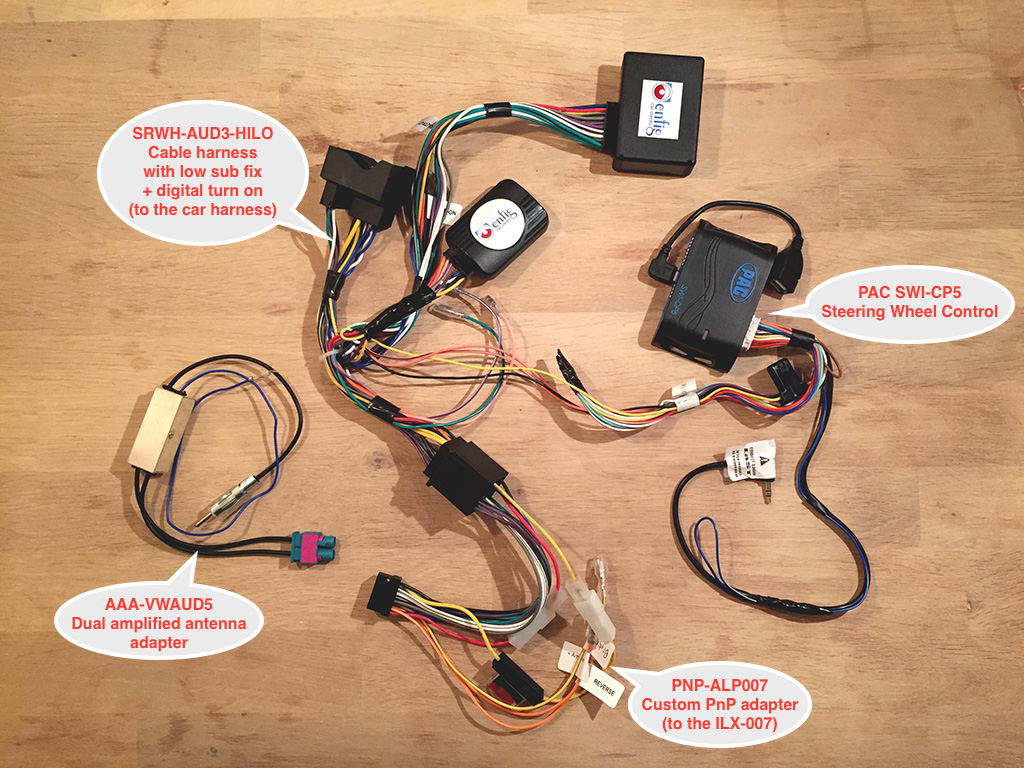 Picture of the dash kit before installation: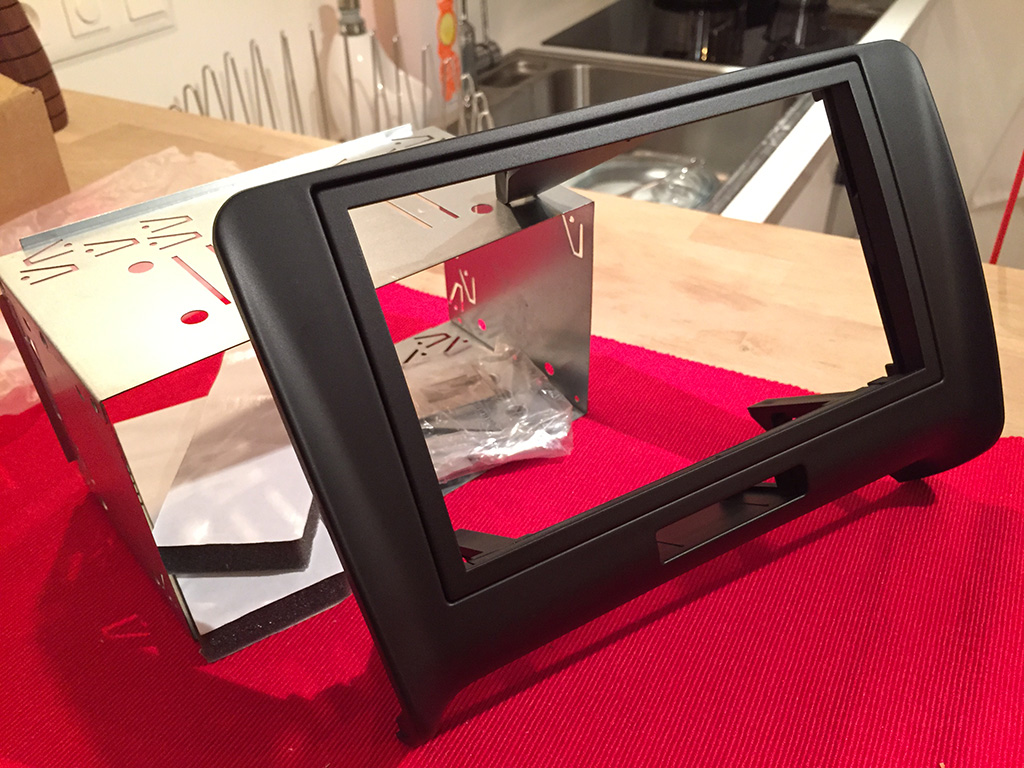 Comparison of the two dash kits,
Connects2 CT23AU05A
(smooth finish, left) vs
Enfig RMK5-TT2
(slightly grainier finish, right). As you can see the Connects2 seems more prone to scratches:
And finally detail on the Enfig RMK5-TT2 put in place:
The ILX-007 is Carplay-only so it needs to be connected to your iPhone each time you drive. And CarPlay asks your phone to be unlocked when plugged. I confess I was a bit annoyed each time I sat in the car to reach the glovebox, open it, take the cable, aim the iPhone connector, plug it, position this couple onto the AMI shelf, then close the glovebox, before I can start the car and chose my music and, oh wait… I forgot to unlock the phone.
So I asked myself: how could I improve the connection of my iPhone to the car for a better CarPlay experience?
At first I had a look at the
spec dock
, which I quickly disregarded for three main reasons: expensive for what is basically just a plastic plate ($129 without cable), too much stress on the iPhone Lightning connector while accelerating or braking, and the iPhone on it occults the air conditioning wheels.
Then I had a better idea: I designed a custom dock in a CAD software, where the iPhone could gently slide into and be firmly hold when undergoing g-forces: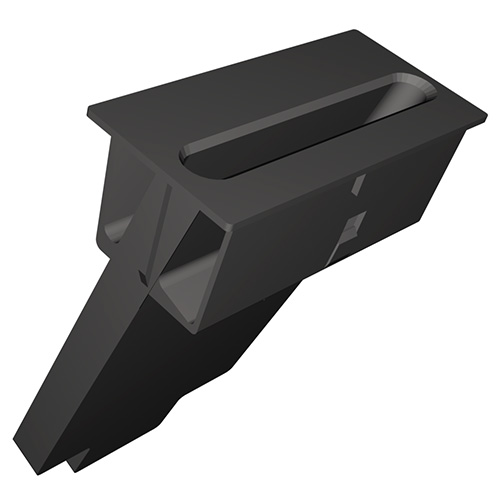 The dock would replace the ashtray ahead of the gearshift, and since the iPhone almost disappears when inserted into the dock, it would not occult the air conditioning controls. Then I 3D printed it. Now when I sit in my car, I unlock my phone and just pop it into the dock with one simple movement. Check this video:
Icing on the cake: it costs about half of the price of the spec dock
It is now available for every iPhone 6 and 6s [EDIT September 2016: also
compatible with the new iPhone 7
) and TT Mk2 owner
on Shapeways
: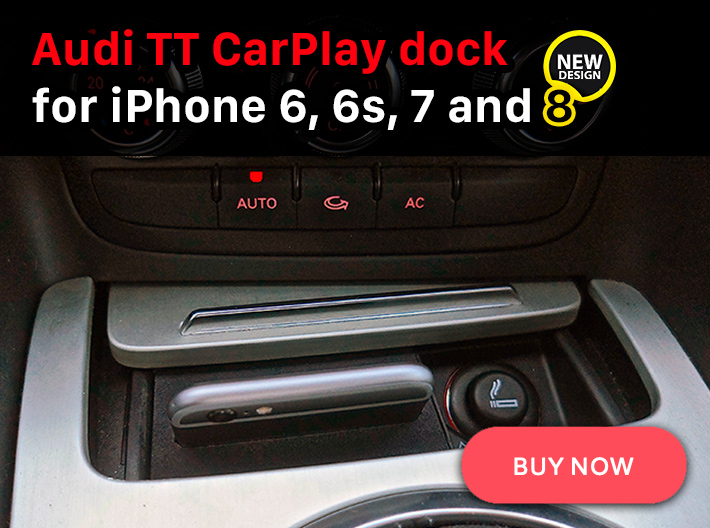 [
EDIT
] Another model is also available at the same price
for iPhone 5, iPhone 5s and iPhone SE
: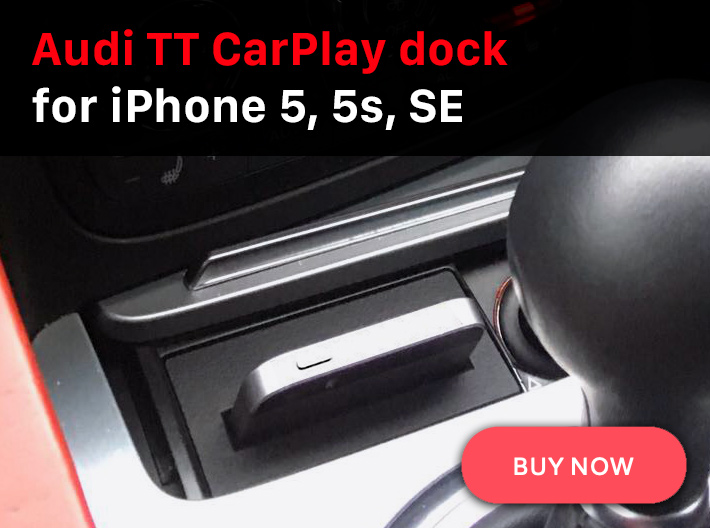 More details coming thereafter.