Discussion Starter
·
#1
·
Time to get serious with your plans, get your hotel rezzies(now!) unless you are camping, re-commit....the 1st Big Western R32 Get Together at the Bonneville Salt Flats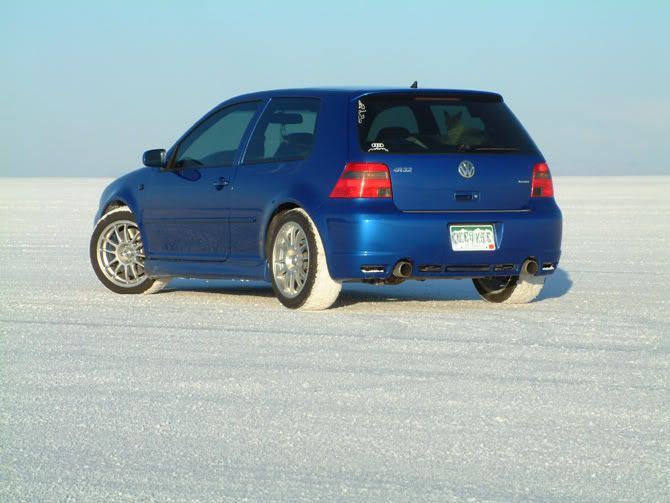 it's a big fun get-together in september, to be more specific, wednesday september 13th to saturday the 16th. . now, most won't be able to spend 4 days out there, we'll have to come to a concensus on a central date. they have told me thursday would not be the day. some of us will be there the whole time.
why would you want to come? because you'd have the opportunity to join the 130 MPH Club.
but this isn't some penny ante, five & dime, glorified quarter mile pansy club. no.
I will join, and beckon all my R32 brethren and sisteren to join, the Utah Salt Flats Racing Association. I ask you to join, and to meet me and kui at the Great Salt Desert at Bonneville Speedway, for the 2006 World of Speed.
this gives us a chance to officially have our names and cars recorded in the record books. I think there are only about 150 some odd members currently! I plan on adding my name to that list this september. what if a chunk of us were added this year? verily, i say to you, Dubwars George has committed, and Daemon Iantaneous has committed as far as he commits to anything, which means that he always seems to make the right decision, he just does it 10 minutes before zero hour, he now says he's not going, so i'll have to work on him. Kansas Mike has the coordinates entered but says he can't do this one. Dave knows about it, I think. Brother Ivan said he's coming, and I fully expect more Arizona mobsters to arrive with the Fabulous azSightsound Twins, the Chef, White Jeff, and please please come Henry, and anyone else from south, and Tejas, and the silent but deadly utah owners should surely be there. now for the soCal friends and relations, c'mon yous, SSTdavid, my mate, thanx to you, Eugene for showing interest and solid encouragement, the QBN army knife says he's coming, and Zagi, too. all the way cool lads and birds that I met up with at the soCal gtg. and hells bells, even the Washingtonian Throbakians. totally and fully, everyone else on this generous planet are wanted and desired, undocumented immigrants from south of the border, and folks from canadia, especially the marcellish ones that could maybe even go for the 150mph club(more rules for that club, tho). have I made it clear that I want each and every one of you all to come and have fun?
minimum, I guess, for most of us, it's a one day's drive to wendover, which is right on the utah nevada border, replete with hotel casinos, and yes, probably dancing nekkids and an abba imitator group. one day to make your official speedy passes. and a day to drive home. notice I said minimum. I'm going to stay at the motel 6 or econolodge in wendover with my cat, Kui, for the duration. then again I may camp a night or two, it's really beautiful and comfortable camping. the photo and video opportunities are going to be about as rare and pure as they come, on this planet. remember the advanced photographs we got from VoA, on this very forum, what maybe a year before we actually got our cars? this place is, ….well it's hard to describe what it feels like when you are out there. I am just back from a recon trip out there for the other biggie, 'speedweek'. most of you have seen that post:
http://forums.vwvortex.com/zerothread?id=2768114
I reckon we'll be spectatin' some amazing vehicles, there's some buck rogers funking **** out there on the salt for the world of speed.
I'm taking a shade canopy, cameras, my mtn bike, my yoga mat and some other stuff. I'm putting together a more detailed list of things for you all who are coming. little things I learned from my recent trip.
now close your eyes for a count of ten. really. breathe, and while they're closed picture your car in the middle of nowhere on the salt, perfectly detailed and shining in the sun, picture a bunch of us in ours, driving up, dancing around, then all driving off together at speed into the tapering perspective of the horizon, just off towards floating mountain. then breathe and open your eyes.
now, I said something about rules. here's the scoopage.
it'll cost you $130 for the event, plus your gas, your food, hotel room(unless you camp), car wash quarters, whatever you lose gambling, yadda, etc.
obviously I want yous to go to this link after you read this post and drink it all in
the Utah Salt Flats Racing Association
http://www.saltflats.com/index.html
you'll end up filling out 4 forms, usfra membership, 130mph club entry, liability release, and medical
and a few distilled points from the rules for the 130mph club certification
the tech inspection is very official and strictly enforced. there are zero exceptions.
¥á) a full face snell 2000 or 2005, SA or M helmet, yes, full face (and with shield I think?)
¥â) small fire extinguisher mounted in the cockpit, I'm working on a cheap non permanent solution, that could be shared between cars
¥ã) long sleeve shirt, pants, closed shoes
¥ä) many other small, but important details. here is the link to the complete rules, so eventually go to this link, and print it out for yourself. be a badass and make sure you've got every detail covered, and checked off before you leave home
http://www.saltflats.com/I30 Club.html
there will be at least a half a dozen of us there, I can just about guarantee it, and I hope a lot more, especially you. it will be a story.
it's less than a month away, now. set your plans, brace your families and invite them, put in your requests for time off, and look at maps and satellite images, and brew on this, it's going to be so rad.
roll call
the magnificent seven
1) boki
2) kui
3) dubwars' sweet george
4) Ivan the gentle
5) QBNR32
6) azsightsound, contingent
7) Zagovic 46, maybe
filling out the salty baker's dozen
8) dj sherif, maybe
9)
10)
11)
12)
13)
Modified by boki-san at 9:04 AM 9-1-2006