We would like to introduce users to our latest offering.
The unit is called a JB4 which is the name of our most advanced circuit board with CANbus connection (vehicle data network). It has been tried and tested over many BMW models and it is time for the evolution to start for the VW market.
Upgrade units for JB1 will be available soon.
Complete JB4 Beta units can be found at this link: http://www.burgertuning.com/vw_volkswagen_Group4_JB1_tuner.html
The JB4 is a true plug and play tune offering safe and adjustable gains.
The unit ships with a base setting in map 1 that increases the boost by +4.0psi over stock that is safe to be used with 91US octane. The typical power gains on this setting are 55hp and 60ft lb. Higher power levels are achievable using the various maps as seen lower down.
Install instructions:
Install instructions can be found here:
http://www.burgertuning.com/instructions/Group4_Install_Instructions_JB4.pdf
Connectivity:
To connect to the unit to make changes or do logs you have two options:
1. Laptop connection using our BMS Data Cable via free Windows and Mac software. (conventional serial cables will not work and possibly damage the board).
2. Via Bluetooth using our JB4 Connect kit that is IOS and Android compatible. The Bluetooth device replaces the need for our BMS Data Cable. On some Android devices users have has success connecting using our Data Cable. The App for the handset has a separate charge and can be found in the Google play store or App store as JB4 Connect.
The App can also be used for a gauge displaying showing true values, has shift light capability and acceleration times are being worked on.
JB4 connect link here:
http://www.burgertuning.com/bluetooth_jb4_connect_kit.html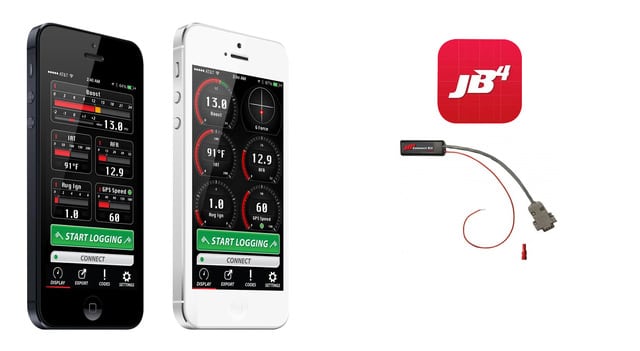 User interface software:
For users that have opted to purchase the optional but recommended for JB4 BMS Data Cable you will need to download and install the Windows user interface at this link
http://www.n54tech.com/flash_files/jb4_interface.zip
There is a 3rd Party Developed Mac interface that can also be used, download link can be found here at bottom of post 1
http://www.n54tech.com/forums/showthread.php?t=21742
Tutorial of how to install User interface software, connect to unit and make changes.
Directions on installing the interface and connecting to your JB can be found here
http://www.n54tech.com/forums/showpo...21&postcount=1
Firmware is what runs the JB4 unit. As we release updates or new firmware versions this can be uploaded to your unit free of charge.

Typical gains:
The unit ships with a base setting in map 1 that increases the boost by +4.0psi over stock that is safe to be used with 91US octane and 95 Euro.
Map 2 is set more aggressively and 93 is recommended as a minimum.
The largest gain is felt at high rpm. Torque can be increased though in map 6 to Stage 2 flash levels if users do not have a turbo longevity concern.
Post 2 will contain dyno graphs and results from customer cars with various states of tune.
Map selection:
In order to change the map in the picture below under the logging tab you can pick the required map. Under status the unit must show connected. This is done by clicking file and selecting connect.
Upon shipping the following maps are active:
Map 0: Stock with complete pass through i.e. the JB4 does nothing
Map 1: Tuned map with a average of 4.0psi over stock. This is the shipped map and is compatible for both 91 and 93 and can be used with cars on hardware.
Map 2: This map is a more aggressive map and adds 5.4psi over stock.
Map 4: This is a stock map but with JB4 logging ability. It is also the starter map for cars that are running flash tunes and are stacking the JB4. It will give the ability to log the car via the JB4. This is also the safety map, so in any circumstance the JB4 detects a unsafe condition regardless of map it will default to this map. This includes knock detection, lean AFR or the boost safety value being triggered due to lack of boost control.
Map 6: For both the 1.8T and GLI these are the recommended starting settings:
1.8T
1500 11
2000 12
2500 13
3000 13
3500 14
4000 15
4500 16
5000 15
5500 13
6000 13
6500 12
7000 12
GLI
1500 14
2000 16
2500 17
3000 18
3500 18
4000 18
4500 18
5000 17
5500 16
6000 16
6500 15
7000 15
User Adjustment page:
Below is a outline of settings that can be changed in the User adjustment page:
Map 6 (blue outline): as explained above
AFR Bias (red outline): This value is to be set across the range at 100. It is the parameter which adjust the AFR ratio. Unless otherwise advised by us its should be left alone. For cars using the JB4 over a flash tune this value will start of at 0 across the rpm range and working on logs we will advise the end user on the settings.
Boost safety (green outline): This value is a boost ceiling that user will set. It is recommended the value of this is 2psi over peak tuned map. i.e. if you hitting 24psi set this at 26psi. If for whatever reason the car overboost it will default straight to map 4 returning the car to the stock tune.
Fuel Open Loop (purple outline): This value is what controls the rail pressure to keep fuel trims in check. It is used to avoid having the ECU compensate fuel for the unseen boost. The unit ships with a 60 value. Upon logging some users with hardware may need to raise this value. The ceiling on most cars is 60. For users that are stacking the JB4 over a flash tune this value will be set to 0 initially and via logs we will see if it needs to be raised to compensate for the small boost add.
Max boost add (pink outline): These values represent the maximum boost allowed in each gear with the minimum value being the stock tunes value. If you are using boost add values in map 6 you will add the amount of add you want max. i.e. If your high rpm values are set at 5.5 and you do not want any boost in first you will set the value to .1. If you want only 2psi add over stock you will set it to 2. This is the methodology you will use if you running the JB4 over a flash tune as well. Future firmware updates will be able to remove boost even below the stock request.
For users that are entering absolute values and say your peak is 24psi, you will enter the lowest you want allowed. Stock is around 17psi so you can do first for stock, 19 for second and so forth.
Logging:
The JB4 now has full logging ability and all the parameters on the logging page are logged. The only three parameters to be added in the next firmware update is the oil temp, water temp and transmission temp.
Ign 1 represent overall timing with Ign 2-5 timing adaption and the rest are self explanatory. IAT is the value in F x10.
More on logging in post 2
The JB4 now has full logging ability and all the parameters on the logging page are logged. The only three parameters to be added in the next firmware update is the oil temp, water temp and transmission temp.
Ign 1 represent overall timing with Ign 2-5 timing adaption and the rest are self explanatory. IAT is the value in F x10.
Below a illustration of what a log will look like with a lot of parameters selected on display.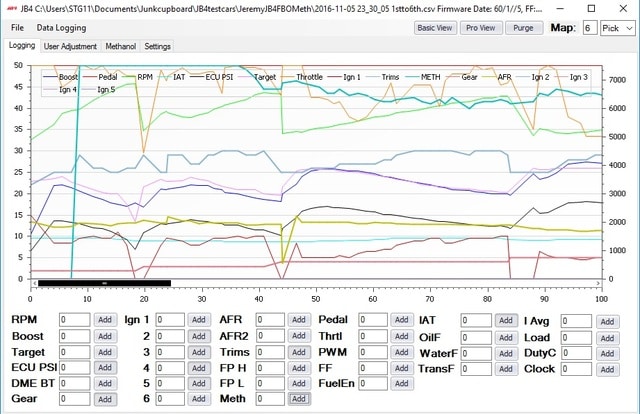 FAQ
:
Can I run the JB4 with another device connected to the CANbus?
No, any other device connected to the OBD port creates latency on the CANbus. The CANbus was designed to allow one device at a time and further data being pulled may create safety issues on the network as well as bad signal to the JB4
Will BMS release cluster display and steering wheel map switching?
At this stage cluster hijack has proven to be cost prohibitive due to the Gateway system used by VW. We are looking at getting cheaper solutions that may be affordable. Steering wheel map switching or in car map switching is something being worked on and will come in a future firmware update.
What future features will the JB4 have?
Currently we working on the code reading ability which will come as the first firmware update. Next in line is an Autotune map. Once we have gathered enough data we will be able to create a dynamic map that will self adjust on the fly maximizing performance regardless of conditions, mods and octane used.
Why is the JB4 released as Beta?
When we release units they stay in Beta for quite a while. Any updates done to the unit are firmware related so they get uploaded using the BMS Data Cable.
The JB1 stayed in Beta for a year with only one update when we opened map 6 use.
The JB4 will be ever evolving as we keep adding features to it relative to customer requests.
Will the JB4 remove my speed limiter?
At this point in time, no. The speed limiter affects many safety parameters and until we are certain there are no ill effects on this we will not have speed limiter removal available. The speed limit exceeded is also a trigger point logged in the ECU which may cause issues down the line for any form of claim.
Can launch control be added for a manual car?
No, at this stage this requires changes in the ECU structure which the JB4 does not access or tamper with. We have had success with this on other brands with add on hardware so its something we to intend down the line.
Can the JB4 support larger turbos?
At this stage it is a unknown. We have successfully tuned hybrid turbos and the IS38 when coupled with a flash tune as a backend which is called stacking.
How do I know if I can stack the JB4 over my flash tune and what is the process?
This varies on what the flash tune is requesting from the car and if there is room for improvement. If more hardware is used, higher octane or ethanol or meth has been added chances are there is a gain to be had. On stack tuned cars we work one on one with clients so we can understand the trend and get a better idea for the community where gains can be had.
Do I need a professional to custom tune my car if I want more power than the preset maps?
BMS is renowned for its customer service and we can assist any customer with setting his car up to optimize performance. A large online community exists as well where users share their findings. The device works in such a way that it is easy for first time enthusiasts to get a taste of self tuning.
Why does the JB4 read my Vin number and is it Vin locked?
The Vin is read for certain mapping purposes. The unit is not locked to the car which would be unethical and can be resold.
Why is the JB4 cheaper than other options yet more advanced?
The circuit board used in the VW product has been used over many other brands and developed over a period of time so the development cost is spread over many models.
For any questions feel free to post here or email me
[email protected]
for a faster response.