OK, I just bought a 2006 Jeep TJ with 65,000 miles a couple weeks ago. It's in great shape and test drove just fine. I didn't really like the wheels and tires that were on it at the used car lot and I wanted them switched with wheels tires from one of the others they were selling but the wife kinda liked these more and figured when new tires were needed we could sell the wheels we and get something better. Seemed OK to me.
Fast forward to about 15 miles from purchasing the Jeep, hit an area in the road with a bunch of not severe pothole patches and there it was. The dreaded Death Wobble! Had to slow down from about 45 to about 30 MPH do eliminate it. Made it home the next 30 miles no problem but it happened a few random times after that. Two or three times when crossing a small bridge over a small creek where leaving the bridge is like jumping off a step of about 2" or so.
This irritated the crap out of me. I knew it was possible and happens to various Jeeps all the time but 65,000 miles don't seem like alot.
I did some searches online and came up with everything from needing a new steering stabilizer or tires balanced ("yeah right," I initially said about both) to needing any number of various random suspension parts if not every part.
My son and I noticed the track bar having what looked like a ton of play on both ends. Well there's the problem we figured and swapped it out with one from Moog for $135. Others ranged in price from about $39.99 to over $200.00. The Moog (and most) were unadjustable. The first time it was driven the steering wheel was turned an 1/8th turn to go straight. OK we have something to adjust when we get back from this test drive. Well wouldn't you know what happened while "jumping" the little bridge, the Death Wobble.
Checking it out back at home there was still what seemed like too much play where the track bar mounted to the axle so we made sure it was tight enough, which it was. The track bar to frame had no play whatsoever. But we did notice that when turning the wheel back and forth the frame is pushed left to right about 1/8". The Jeep was not jacked up so that's why the frame was doing the moving instead of the axle. OMG! Do I have to replace every damn control arm or bushings at only 65,000 miles?
Well I made an appointment to take it to a repair shop that doesn't specifically work on Jeeps or anything specific for that matter, but they do work on everything. I trust them more than any shop. They even beat the dealer at fixing anything but if you want the warranty stuff done for free you have no choice.
Well last Wednesday afternoon in it went, after 3 or 4 episodes of Death Wobble just getting on a freeway that's under construction but not too bad surface-wise.
While talking to the shop owner, Jack, who used to work for a Chrysler/Dodge dealer, he said that about 15 years ago all the mechanics had a day long personal training by Chrysler engineers about "Death Wobble" mainly related to the 2500 and 3500 Dodge Rams. It seems to boil down to "scrub radius" which is where the centerline of the tire intersects the centerline created by the location of both upper and lower ball joints. They should intersect as close as possible on the road surface. IIRC the biggest problem on the trucks was that the factory wheels used a maximum backspace. This brings the intersection above the road surface. To fix that problem wheel spacers were installed to move the wheels out and the intersection down. Easy enough.
This brings the opposite issue, minimal backspaced wheels, usually aftermarket, to be causing the same problem, "Death Wobble". Minimal backspace puts the intersection below the road surface. Adding taller tires will move the intersection up but a lift kit may be needed to get tall enough tires to put the intersection where it should be.
After getting that information from him while they were setting the Jeep up for an alignment test, they checked all the suspension parts and felt that none were in need of replacement. OK, nice to hear that. Then they checked the "scrub radius" which the alignment machine doesn't. Checking it really just creates a rough estimate of what it is. Mine looked to have the two lines about 1 1/2" apart on the surface of the rack it was sitting on which puts the intersection about 2 1/2" to 3" below the surface. Thanks aftermarket wheels!
Next was checking the alignment, which started with toe in being manual checked with a tape measure showing about 1/2" toe in. Whoa! That seems like alot... because it is. The machine showed toe in as 1.16 degrees which works out to pretty darn close to the 1/2" measured.
Everything else was well within tolerance so toe in adjustment was all that was done. Adjusted to .24 degrees pretty darn close to the minimal requirement of .18 degrees. And even though the alignment machine doesn't check the steering wheel angle they straightened that up too.
Well I haven't had the jeep back on the freeway under construction but did "jump" the bridge and absolutely no "Death Wobble" there. I do randomly feel a second long or so minor shake of the steering wheel after hitting a slight pothole patch. I think may only happen when the right side hits the bump, not sure yet and it may be somewhat due to the backspacing of the aftermarket wheels.
Considering that the only adjustment that brought the alignment back in spec was the toe in and that nothing was replaced after the track bar, which may have helped but certainly didn't fix it, the problem causing "Death Wobble" on my Jeep was the toe in being almost 5 times higher than it should have been.
FWIW, I will be on that freeway again tomorrow, I'm pretty sure there won't be a problem there, man I hope not, but either way the results will be posted.
Jeep on alignment rack: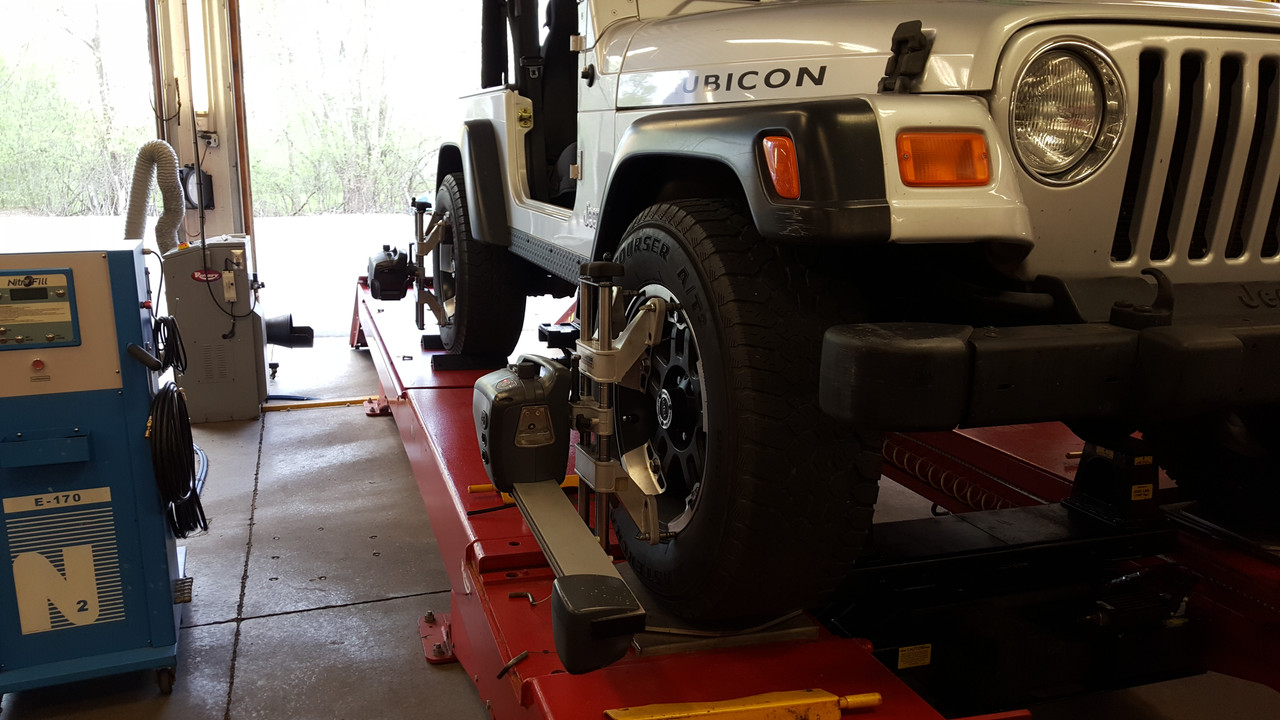 Wheels I really don't like even if they had original backspacing: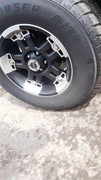 Wheels with new BF Goodrich ATF tires I should have asked for when buying Jeep: