Discussion Starter
·
#1
·
I've always loved the 70s concept cars, especially concept supercars. They manage to look somewhat modern, but in the end are usually just tacky representations of their era, usually with a few noteworthy features.
Here are 3 of my favorites:
The Bertone/Alfa-Romeo Carabo of 1968:
Link to huge pic.
Named after a small green beetle, this one represented Nuccio Bertone's vision of the sports car of the future. It went together very quickly, in just 10 weeks. Designed for use on the high-speed superhighways of Europe, this car was to blend interior space and comfort with excellent (?) aerodynamics and high speed. It only stands about 40 inches high, and entry/exit is helped by doors that swing upwards and forwards like on a more modern Lamborghini.
It's built on the Alfa-Romeo P33 Strada chassis, with the 2-liter Alfa V8 that produces 230hp, and can propel the car to 160mph. For 1968 it does boast some interesting features. It was one of the first cars to use lightweight anti-glare Glaverbel glass, it carries it's fuel in a rubber fuel-cell bladder, and it has bright fluorescent day-glo markings on it's front and rear (orange in the front, green in the back) to ensure visibility in even the worst weather. I really like the pointy 70s-ish wedge action of the design. It dates the car, but it still looks great. Those side windows remind me of the Subaru SVX
Next, from one of the other Italian design houses, The Pininfarina/Ferrari Modulo of 1970: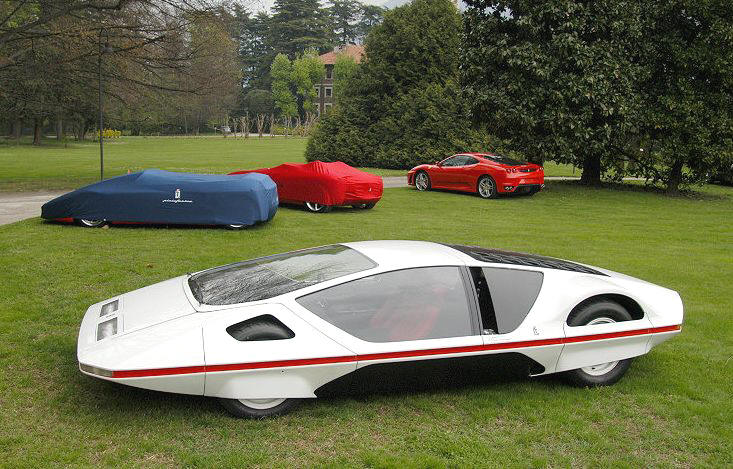 With the front opened up.
Pininfarina built this car on a Ferrari 512 chassis, if memory serves. The idea here was to build a 'modular' car that could be fitted out with different interior/engine setups without changing the body. In theory, one would've been able to specify a large powerful engine and 2 seats, or maybe 4 seats and a small 4-cylinder engine, similar to how the boating industry has done things for years.
Interior space and ease of entry were also on the minds of the designers. The largest section of the interior is centered right around the driver's seat, and the controls are adjustable via a spherical module to the driver's right, so he can put them at any angle and height he desires. There are no doors, as we can see in the pics above, but instead the whole front of the car slides forward so people can just walk in upright and seat themselves. It is supposedly a very roomy car, despite being 37 inches tall.
It's a fine slab of 70s funk, if you ask me.
Lastly, we come to this side of the pond and look at the 1973 GM XP-882 '4 rotor' concept car.
1976 version from several angles/
In 1970, GM did the first XP-882 chassis, basically as an expiremental design...I'm not even sure what engine it had. However, in 1973, it received a 420hp 4-rotor (probably just 2 of the 2-rotor GM wankels put together somehow) wankel engine. Unlike the somewhat blunt-nosed 1970 version, this car had a far more aggressive, Corvette-like nose. In 1976, GM just dropped a V8 and a 3-speed automatic in it, tossed out the Wankels, and it became the 1976 Aerovette concept car. Supposedly it came close to production around 1979, but obviously that never happened. From the side, you can't really tell if it's coming or going, but from above and from the front angles, I think it looks smashing. Corvette boffins will recognize the wheels from 1978 Corvettes
Post up any others you like!
Modified by tehAndy at 11:54 AM 2-6-2007