Discussion Starter
·
#1
·
I know there is already a Maestro thread as posted by
[email protected]
(Arnold) but that is 15pgs. worth of announcements, information, and armchair racing (not in that order), so I would like to have a dedicated user thread for specific information on self-flashing, tuning, logging, and other Eurodyne/Maestro experiences. Please post up anything that would help other Maestro users with their set-up (*cough* settings/hardware).
I am speaking as the owner of a 2003 BEA 225TT, which means ko4-022/3, VVT, and wideband o2 stock with 72k; I have a turboback, TIP, and Eurodyne Stg.1 flashtune (Tapp file necessary for any of this to work, obviously). All the specific info I included (the graphs/info shots) were from a full-throttle pull after shifting into third gear; it was about 50% humidity and 55°F.
The steps to being tuned:
- Get the Powertap unit and cord out of the box (smaller that I thought, not a bad thing); you must have it plugged in to use either the Maestro or Flash programs; the dongle is actually two pieces, it uses a proprietary printer USB cable to connect the cable to your computer. You have to install the driver file before you install any other software. You will also probably have to do a Windows update, that killed 45 mins. on my end
- You then e-mail Chris, and get your UN/PW
- Sign into Eurodyne to download the necessary software (which includes the Powertap driver). You have to download three programs, as each does a different thing:
1.
Maestro 7
– tuning suite, allows adjustment of all tune settings with 3D maps (adjustment through numerical settings, maps non-adjustable as of 10.19.2009)
--- Diagnostics (readiness)
--- Boost
--- Fuel
--- Spark
--- calculator
2.
Eurodyne Flash
– actual flashing program (first picture below)
--- Read + Write the ECU, get ECU info
--- "Log Data" takes you to a separate data logging screen, displays real-time data on many parameters (second picture below)
--- "Read settings" is sort of deceiving, it actually opens another separate screen which is basically V-tune/Lemmiwinks/Unisettings, though on mine boost isn't really adjustable, as it is currently at 100% but I only
maybe
spike at 21psi and taper to 19psi.
3. Log Viewer - allows you to analyze the entire log file; you can zoom to a specific section, print the graph, or save it as an image.
- Once you get the software installed and working, you have to Read ECU with the flash program; I would enable hi-speed since my connection crapped out with it unchecked (probably car dependant). Once you read/save the file, you'll e-mail this to Chris, and he will send you a tuned file. Barring any problems, you will be able to simply download the file, hook up your computer and flash your ECU. Here is a visual sequence:
Action pic:
Reading the ECU:
(…a few days/emails pass…)
Flashing the ECU: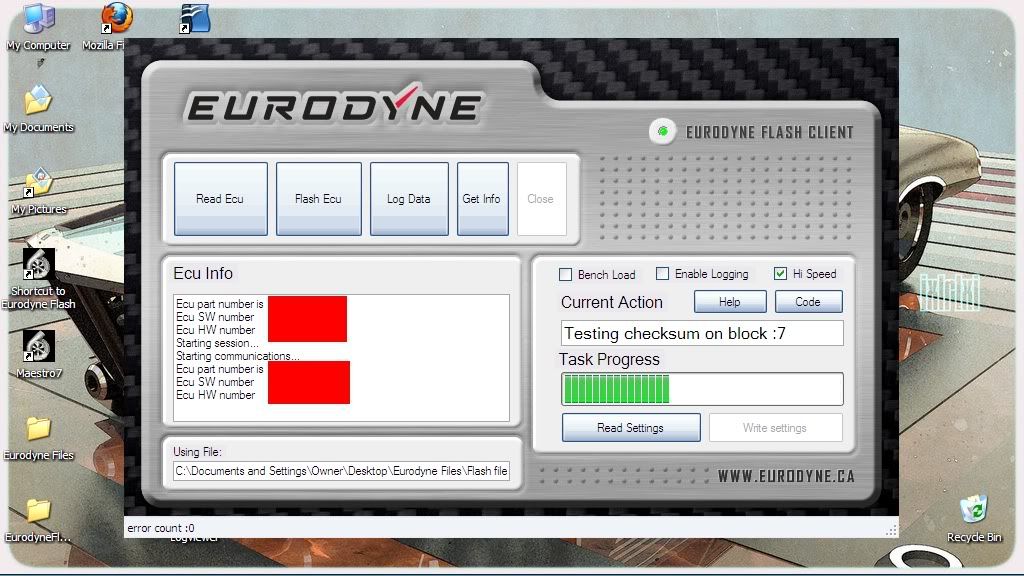 Time to play!!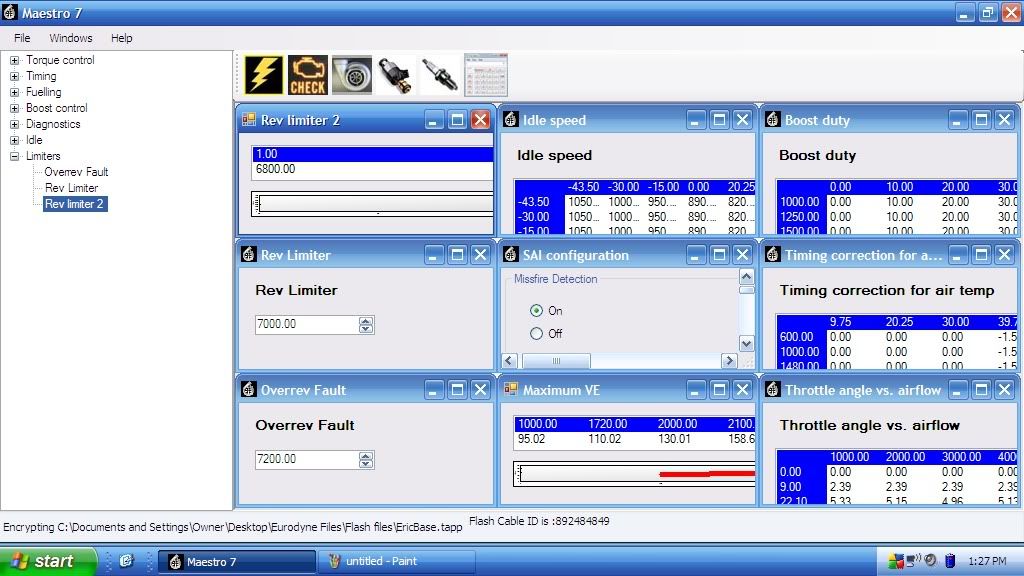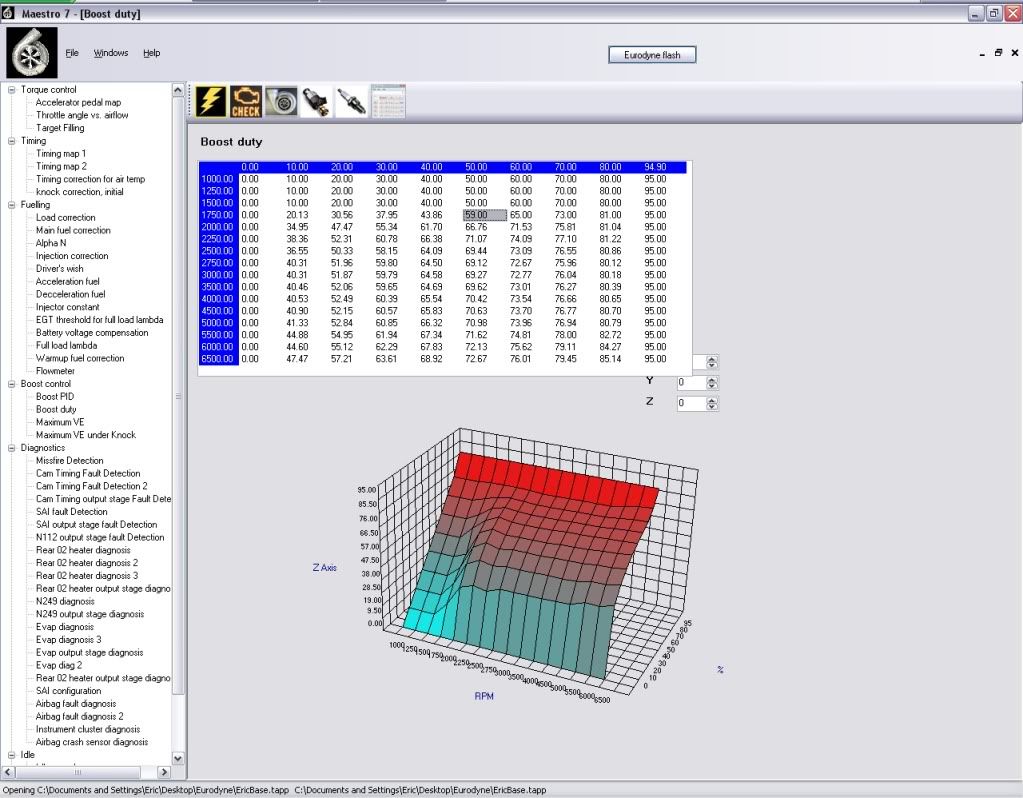 I will amend this thread if I or any of you guys give me a simple run-down off the specific features, and what each means and does; I'm a n00b and I know someone else can probably just rattle off a simple explanation for each.
I really like the extra power from my flashtune but I'm excited to dig into my tuning; my only complaints are about the logging window; it is good but not great, although you can save the image I know that future updates are going to come for the software.
A few suggestions:
I would like the log graph to be available in a separate, full window, I'd like to be able to pick my own line/background colors, labels for most/all the variables in the Log Viewer window would help, and being able to define the values for each axis in the graph (such as psi, *F, CFM, a/f) would kick ass
Maestro guys, please contribute to this thread so we can compile a ton of info to help each other out, and I hope this is informative for anyone thinking about getting the Maestro 7
Here is a picture of a full-throttle 3rd gear run, I can get other info graphed if people want…
Modified by l88m22vette at 6:00 PM 10-21-2009