Hey everyone,
I wanted to document my 2013 Mk6 R, so I can remember and track my progress as well as hopefully provide some useful information for other people.
First some background on myself and where I think I see the car going. From 2012 to 2016, I owned an Evo X, a Scrion FR-S, and a 2000 Miata. The Evo was a fun car that I did a few auto-x's with, but after one track day on it, I was hooked and decided that the FR-S might be better suited to what I wanted to do. Over the next few years, I did 27 track days across 14 different tracks throughout the Northeast, Mid-Atlantic, Southeast, and Central regions of the country. The car was super fun and I was learning and progressing a lot, however I had an unfortunate off at Hog Pen at VIR and ended up totaling the car in early 2015 (it was a very sad day, but I was otherwise fine). A few months later I bought the Miata, did some work to it, drove it for two track days, and then had a lot of life changes that required me to sell the car. So unfortunately from 2016 till now I have been driving pretty boring cars and have not done any track days.
On to the R. I am currently in southern New Hampshire and I bought the car in April 2019 (~ 49,000 miles on it) with the main purpose of being an everyday car that could handle snow (AWD), kids (needed 4 doors), but also be a fun track car. That narrowed down the list of options considerably, but I was able to find the R pretty close by for a good enough (at the time) deal. The first few months were a bit rough, as I felt like I was replacing things every other week. The car was in an accident before (known when purchasing) but seems to have been repaired well enough (got it inspected). However, the maintenance history was pretty sketchy and the previous owner had done enough mods in the "stance" theme, so there was a lot to do from a maintenance and drive-ability perspective. I try and do as much as I can myself, but unfortunately I do not have a garage so some work is harder to do in the dirt/gravel then others, or just basically means I need to take it to a shop.
First up was replacing the stretched wheel/tire combo and super-low and cheap suspension. I went with Sport Edition A16 (Tire Rack house brand) wheels in 18x8 with some basic summer tires that were on a steep discount (winter tires are on as of this writing) along with KW V1 coilovers and a Rennline wheel stud conversion kit. The wheels looks pretty good and are reasonably lightweight for what they are, but they'll eventually get replaced down the line once I get heavy into tracking the car again. Installing the coilovers is also where I learned that having the right/special tools for working on German cars was absolutely necessary!
Everything below are also items that I did between purchasing the car and about July 2019 (just about everything for the 60k service):
- coolant refresh kit from ECS
- the timing belt kit from ECS
- HPFP and cam follower
- spark plugs and coils
- re-installed the rear wiper blade
- IE intake and camber plates
- engine, transmission, bevel box, haldex, rear diff oils
- diverter valve (was leaking along with the recirc hose which was giving me underboost codes)
The brakes were in need of replacement so in October 2019 I did:
- ECS's two-piece rotor kit, front and rear
- TyrolSport front caliper stiffening kit and stainless steel lines all around
- Hawk HPS pads for street (still undecided on what track pads will be)
- Endless RF600 brake fluid (great wet and dry properties, second best to Castrol SRF, but apparently it is/was in a national shortage)
The brakes were not really as daunting as I read in some places. The fronts are pretty standard, with more work because of the caliper work, but the rears were okay. If you are thinking of DIYing them and need to get to the torx bolts, just unbolt the top suspension mount (I believe the upper control arm) and then you'll have enough room when the whole suspension falls a little and with the car high enough off the ground. Having the twisting cylinder retraction kit is also necessary. These brakes are not going to be as easy to swap track pads when required, so upgrading the brakes even more will probably happen within the next 2 years. I decided on the ECS rotors though because they are really the only ones that make something for the front and rear that is both lighter weight and has curved vein vented rotors (and I got them almost 20% off).
ECS claims 17.5 pounds less weight, with the majority from the fronts, and I would have to agree. The rotors weighed what they claimed (~ 66.5 lbs), and I weighed each stock front rotor at ~ 25.5 lbs and each rear rotor at ~14.5 lbs, for a total of 80 lbs. ECS claims the stock rotors weigh 84 total, so I could believe 4 lbs of material might be lost from 60,000 miles of use. Once I get out on track in the coming year I will update on how they seem to hold up, as well as how they deal with being driven in NH winters.
Second, the pedal feel after the TyrolSport stiffening kit was AWESOME! I realize I changed literally everything at once, but the pedal feel should be more a factor of the bushings, lines, and fluid. I absolutely recommend them, and plan on giving them as much money as I have for the rest of their mods!
This initial post is getting long, so I will wrap up with a last few things. The clutch just started slipping recently, so I am going to be replacing the stock clutch with a South Bend Stage 2 Daily Kit, which should hold up to the power I plan on making eventually, as well as drop a few pounds from the dual-mass flywheel. While they are there, I am also planning on installing a front Wavetrac LSD. I am pretty excited about that, but wish I had some comparison on a fully stock setup first.
As an edit to my initial post, if you are close enough to southern NH, I have a VCDS that I am willing to lend out to people/help out if you need it.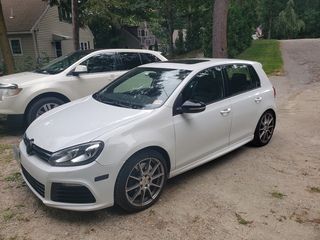 Editing post to have a running update of current mod list, as the signature doesn't have enough space:
Go:
- APR Stage 1
- IE intake
- HPA catback
Stop:
- ECS Tuning 2-piece rotors (front/rear)
- Stock calipers
- Hawk HPS pads (daily)
- Carbotech XP10/XP8 (track)
- Tyrolsport SS brake lines
- TyrolSport front caliper stiffening kit
- Endless RF 650 brake fluid
Turn/Chassis:
- KW V1 coilovers
- SuperPro LCA's
- IE camber plates
- TyrolSport front & rear subframe deadset kit
- TyrolSport Stage 1 hatch brace
Wheels/Tires:
- Sport Edition A16 - 18x8
- Falken Azenis RT615K+ (summer)
- Bridgestone Blizzak WS80 (winter)
- H&R 70mm wheel stud conversion
Other:
- Wavetrac front LSD
- IABED billet rear main seal
- IABED oil cooler
- South Bend Stage 2 daily clutch kit
- Clutch Masters billet slave cylinder
- Steel shift forks
- ECS engine heat shield