Hi My Name is Ben
Welcome to this build which ultimately has turned into a full 4-Motion Conversion from the MK5 R32
To say this build has been a fight to the finish is a bit of an understatement but were getting their :thumbup:
If it wasn't for some good mates and the forum cheering me on i might have given up a long time ago and especially after getting hit by a car but,
you all helped me bounce back so thanks for the moral support and its a pleasure to be on the forum sharing
the love and journey of project building!
I live in Australia
I have been building this for 4 years now
An American made vw Caddy or should i say 'Truck'
PAGES 1-12 not a bad read if not just for the fun meme's guys been putting up :thumbup:
PAGE 13 ONWARDS worth skipping to
Full MK5 R32 Swap with Mk5 R32 Drivetrain and Suspension from Donor Mk5 R32 More Tube Less Body
11-8-2013
the project has gained renewed direction
so i just put this little edit in here to
explain what it is and have also taken a few irellevant pics out along the way
that related to some older ideas of what the caddy was going to be.
ok so whats been going on!
I literally spent 2 hours standing in front of this thing
just before going crazy with the grinder and thought WHERE is this Going!
I needed some help to get clarity and even a push over the edge.
So i rang a mate up and said you know i keep looking at this engine bay and thinking
i want to bust the grinder out and cut it all of !?
and he knew exactly what i meant.
So it was done...
I guess up until now i have been trying to mash a few different worlds together and
it was starting to look like a Mish Mash.
Now it's decided - Mostly Motorsport inspired machine -
No Smooth bay
No Classic looking steering wheel and seats
No whatever else i still had rattling around in my head form the
start of this build lol.
Will be driving it to hill climbs and track days for fun.
Finally feeling good about where its headed.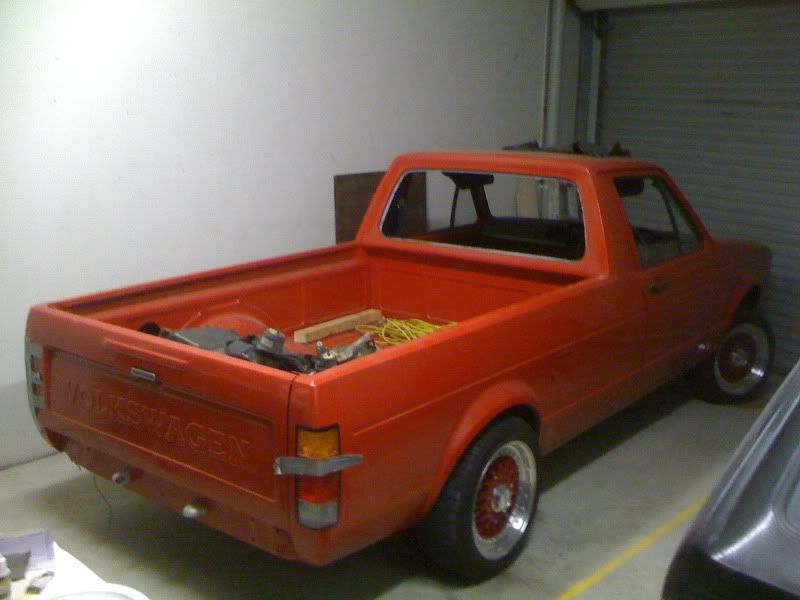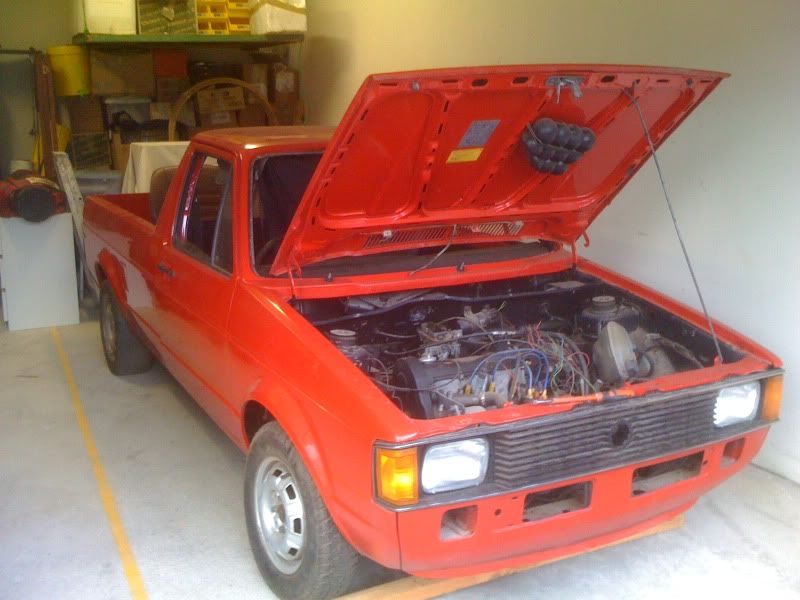 Update 20/1/15
Finally … Its HERE
Update 2/6/2015
Had an Certifying Engineer Look at the project today.
It was a big meeting but I felt relieved and a nice sense of achievement after we were finished.
After experiencing the Engineers Approval on the build and Stepping back it looked more like a machine than something that was cobbled together.
It was a good time in the project to get an Engineer in on it as i need to
-complete brake circuit
-complete steering linkages and adapters
Having an Engineer look at your work is Required here in Aus to pass pretty much most serious mods for registration.
Its a good safeguard to make sure vehicles built have an acceptable level of build quality and roadworthy-ness for peoples safety.
After His Visit it looks Like we will be going ahead and engineering it as an ICV (Individually Constructed Vehicle.)
He was very happy to see the progress so far. He determined that the amount of modification to the chassis means
its going to be an ICV.
This is a MAJOR task and will not be cheap.:face palm:
This will mean that
- The whole Chassis will end up at his workshop to be torque tested and measured for the flexibility of the chassis.
This will produce a graph showing the amount of flexibility at different pressures applied along the length of the Chassis.
Other Tests include
-Brake testing on specialised equipment (in the workshop not on the road)
-Brake Testing under failure of the dual circuit (workshop test equipment)
-Noise test at 74Db limit under acceleration (Track)
Apperently most vehicles fail this test due to induction on the air intake not due to exhaust.
So he has asked if i can use the OEM intake box to help guarantee a pass on this test.
-Brake Testing (Track)
-Stability Testing (Track)
-the list goes on …
if anyone is interested i can post a decent list and some of the engineering requirements and certification that
is produced from this project as a result.
The Good News is I am not limited as to the turbo to be used!
As the chassis will be tested and proven to handle determined amounts of power and duress that comes as a result of it.
Also I can incorporate more tubing into the cabin!
More good news i can pretty much have any track width and wheel size and width that I LIKE
So Bring it on
Other things we covered
Track Width
(I may be converting the track width to suit OEM driveshaft lengths)
(or to suit a specific steering rack)
Wheel arch construction
Fuel tank in the rear tray bed and possibility of vapours (a good reason to have a net and not a rear tray)
Steering and bump steer (their will be some modifications to the steering rack and its position even)
Brake booster location and the angle that the booster sits at so that the brake fluid volume rests is as intended in the resivour .
Turning Circle (another good reason to increase track width)
Air box location
With The steering column i need to maintain the collapsable aspect of the column
(a lot of people take columns and shorten them in the wrong place, I need to keep the collapsable part so that if in an accident the column can still collapse)
Being a Pickup this project will still be classified as an Commercial vehicle for registration and certification.
Load Rating of Tyres and Rims for a Commercial vehicle.
(the OZ Racing Rims will still be suitable for use) phew i would hate to have to pass them up .
UPDATE 8/6/2016
Yep its a new direction for the MK1 Caddy and it will be getting a complete overhaul...
Introducing for Round 3 i think were up to (and hopefully the final knockout round)
The quickest, the safest and, hopefully the lightest way forward.
Currently the Caddy is in the corner getting its lungs pumped out and everything MK4 Related is being thrown into the Bin
After Comparing the MK5 and the MK4 front end...
I decided on the Mk5 R32 for its use of Aluminium subframes and i believe the control arm design is better suited to taking loads under cornering,
The MK5 has electric steering, I can use the HPA GEN2 controller for the haldex and a few other things I'm considering
I Reallly like the engineering in the MK5.
Although history was made with the MK4 R32 I think that if you strip both cars back to just their drivetrain and suspension the Mk5 is a better package
and well suited to a feather weight would be MK1 Project like mine.
AS many would know
The Mk5 R322 weighs in 1477kg
The Mk4 R32 weighs in 1530kg
My target weight is to build a Mk1 Caddy that comes in under 1200kg
The MK5 R32 hitting the operating table for Dissection!