Discussion Starter
·
#1
·
I would like to start this topic to keep all my findings regarding the Mk5 Jetta/Golf 4motion conversion. I am going to focus on the TDI engine, as this is what I currently drive.
It appears it should be way easier to make the conversion in mk5 then in mk4. Here is a comparison of FWD and 4motion rear suspension:
This is FWD rear suspension: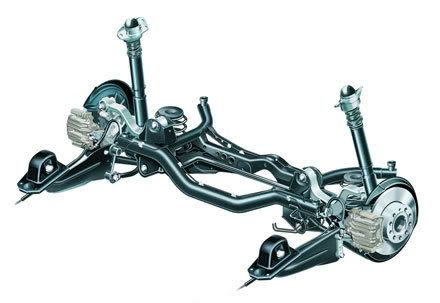 And this is 4M rear suspension:
It appears the bolts attaching the whole thing to the chassis are in the same location. What is more important I can confirm there is a cavity over rear suspension in my Jetta that should allow Haldex to fit in. In other words: the FWD and 4Motion chassis APPEARS to be the same. Which should make any potential conversion really easy.
Here are two pics of the rear side of the drivetrain with the rear drive splitter (or whatever proper name of this thing is). One is from Passat B6 (most likely BMM engine code - Passat B6 shares lots of components with A5 Jetta/Golf), the other one is from mk5 R32.
Passat B6 4motion:
Mk5 R32:
The BRM engine that is in US Jetta TDI has a similar turbo setup: over the exhaust manifold. Again, this means there should be enough space to fit in the splitter.
Here are three pictures of the rear suspension: Passat B6, Mk5 R32 and Mk5 Golf TDI 4motion (available in EU and Mexico AFAIK):
Passat B6 4motion:
Mk5 R32:
Mk5 Golf TDI 4motion:
In addition here is the picture of the FWD Mk5 Golf suspension:
As I mentioned: there is a cavity in the Jetta chassis that should fit in Haldex.
One thing that also needs to be changed is fuel tank. I still look for the pictures of fuel tanks in Jetta, Golf and Golf 4motion.
I would be grateful for any info regarding 4motion conversion in mk5 Jetta/Golf, especially from the EU forums.