Discussion Starter
·
#1
·
Well, with my car just turning two weeks old today, I figured it was time enough to start doing more interior work. Most of you may have already seen the first couple of interior goodies I installed, Votex Rabbit monster mats and a billiard ball shift knob.
So, I swapped out the head unit with one from a 2006 GTI. What's the difference? No more silver buttons, and the input to add satellite radio if I choose to do so at a later date.
Here's the new head unit, as well as the shift knob:
Next up? The interior trim is next. Please note all DIY rules apply, I'm not responsible if you try this and break your car or hurt yourself. I'm what you call a professional. Hah! Yeah, right. I'm just an average Joe who is trying something a little different, and that started with me ordering a new tool. What tool? A trim removal tool, and many thanks Hillside Imports for the insanely fast shipping: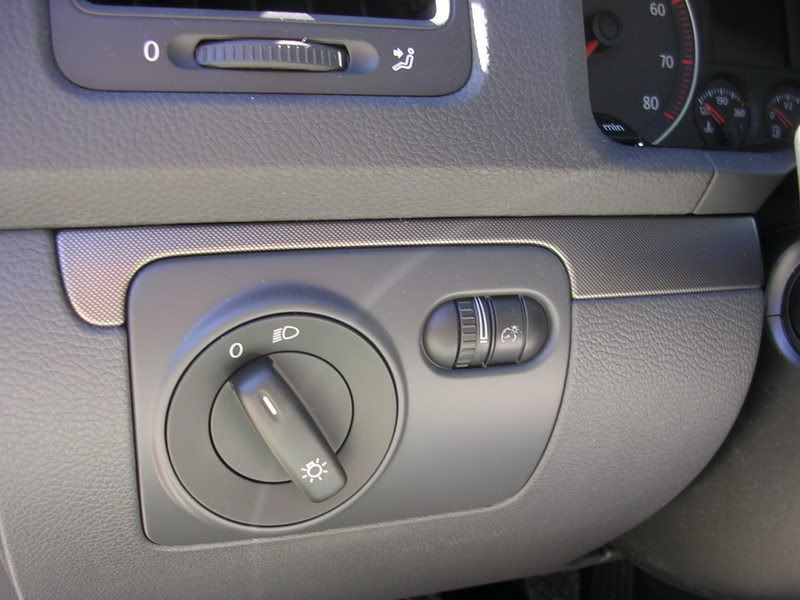 Insert at the end next to the steering wheel, and be VERY careful prying this out: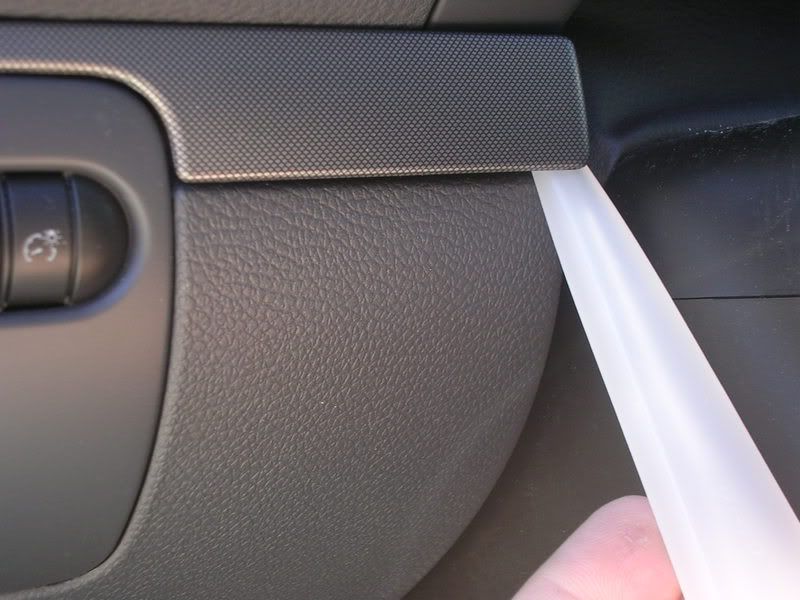 The right side of the dashboard, start at the outside edge of the car, and slowly, carefully, work your way towards the radio:
The doors were a little more difficult. It wasn't anything about removing them, just getting the tool in to start them. I also didn't know which end to start at until I got the first piece removed. Start at the end closest to the hinge and carefully work your way to the back of the door. Here is the right front door: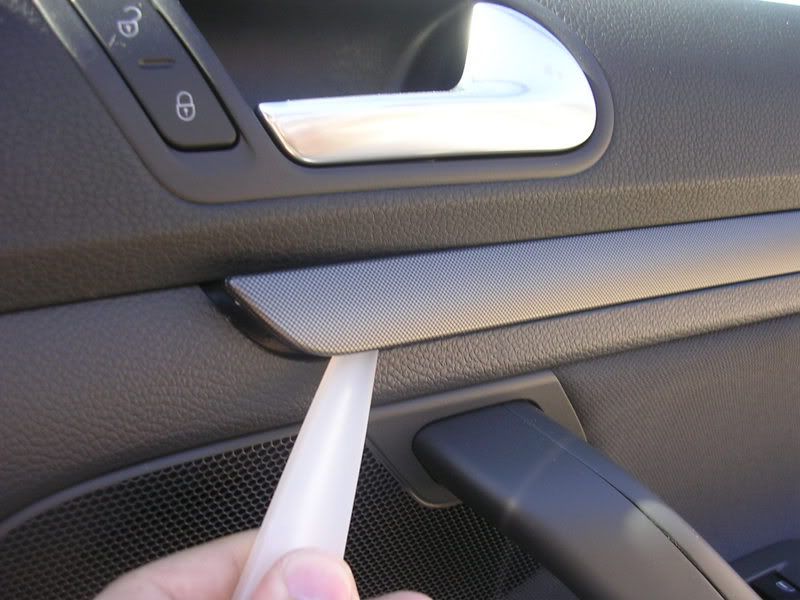 And then the left front door. I had to enlist the assistance of a screwdriver, be very careful in doing this, all these pieces are plastic and easily damaged (no, I didn't damage any):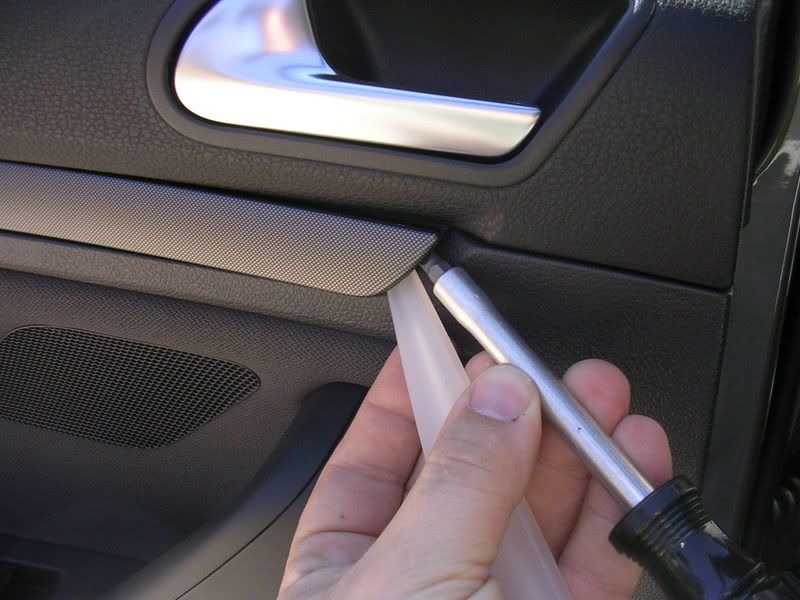 Once removed, your doors are going to look like this: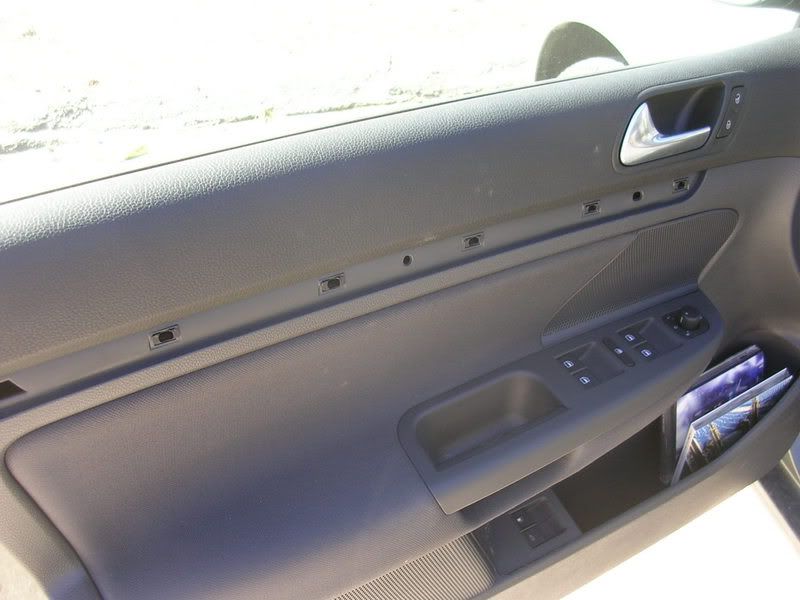 Now, it's time to take all your newly freed interior bits inside. I started to prep the first two parts with some sanding. A lot of sanding.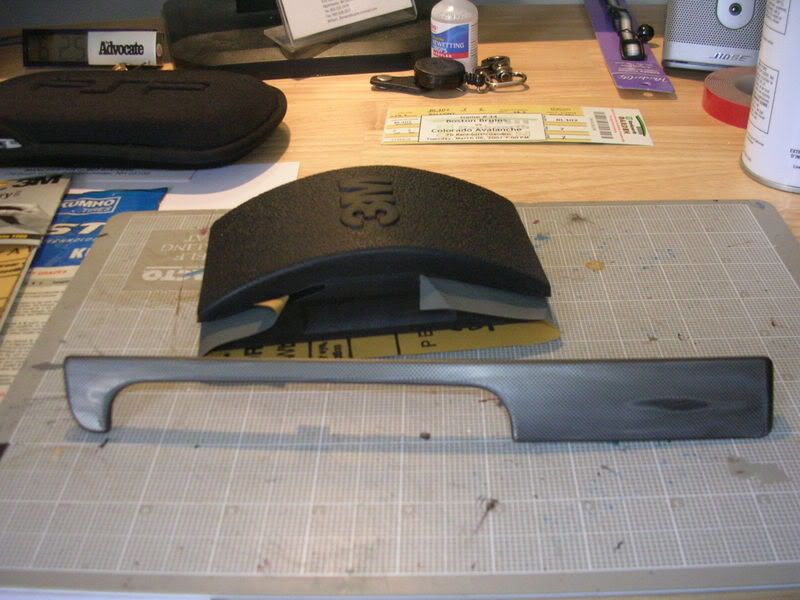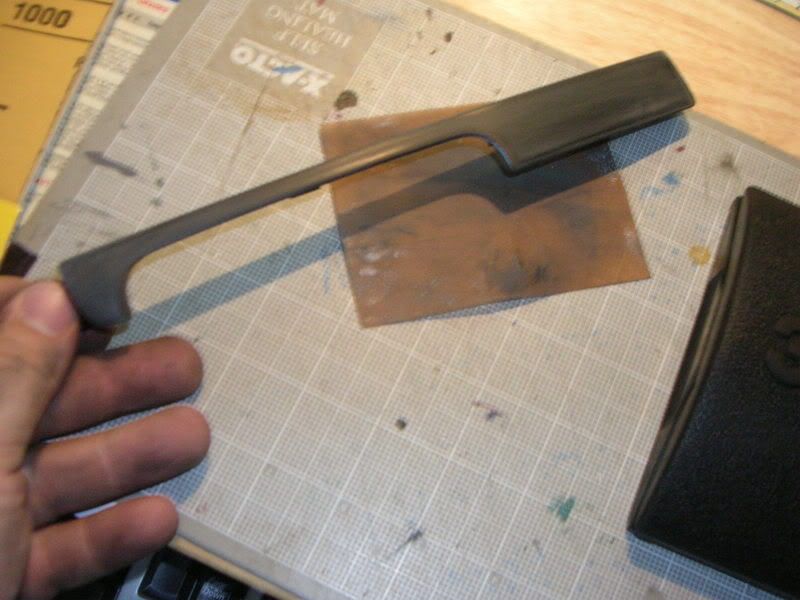 I will admit, while the first two pieces I sanded all the way to bare plastic, the remaining seven pieces that I painted, I only washed them up to ensure they were clean before priming. Next, take the pieces outdoors, and set up yourself in a well ventilated area.
Don't paint indoors unless you're in a spray booth please!
I don't want to hear any stories of anyone getting harmed by fumes. I did my painting on my balcony, and the first couple of coats I left the sliding door open behind me. Yes, the fumes started coming inside. Once I noticed that, all my subsequent trips outside were followed by closing the door behind me to keep the fresh air inside. Also you may want to keep in mind wind, dust, dirt, and so on. Fortunately I had a very nice day to get this done.
First up is the paint. I picked this up from my local dealer, it retailed for $17.95, and that price includes both the 4 ounce can of color and the 4 ounce can of clear coat. I ordered a couple sets, I ended up only needing one can of color. However, I did use the entire can. Your experience may be different if you try this at home. I also picked up plastic primer at my local VIP Auto Parts store.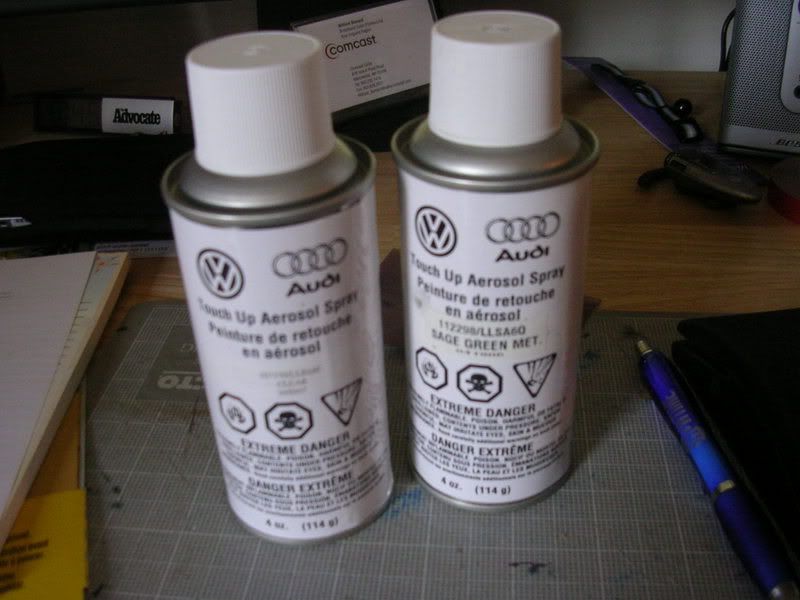 I gave everything a coat of the primer, a very light sanding with 1000 grit paper, then another coat of primer. I followed that with building up the color. While I could have just painted everything in one shot with one coat of color, my model building experience taught me that one heavy coat looks like ass, while many
very light dusting
coats build up and make for a better finish. I applied a total of
FIVE
coats of the Sage Green paint. I then followed that with three coats of clear on the interior pieces, and either six or seven on the corner markers, since they're exterior parts and I was trying to get as close as possible to the finish on the car. I also allowed 15 or more minutes between coats of paint.
First coat: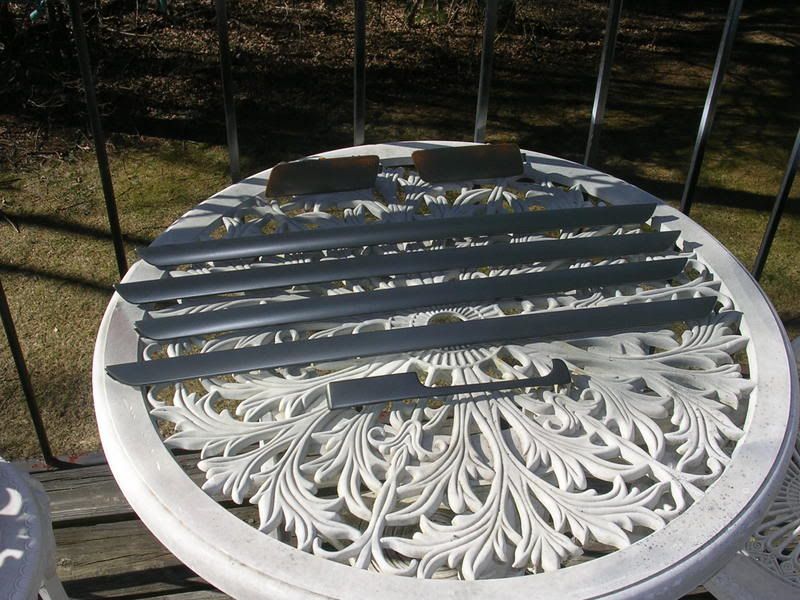 Clear coat done: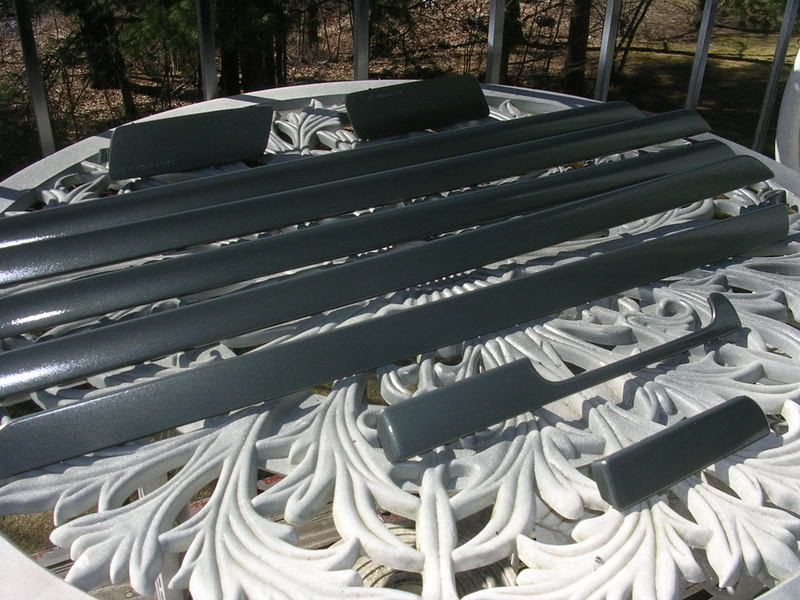 Four doors done, waiting for reinstallation: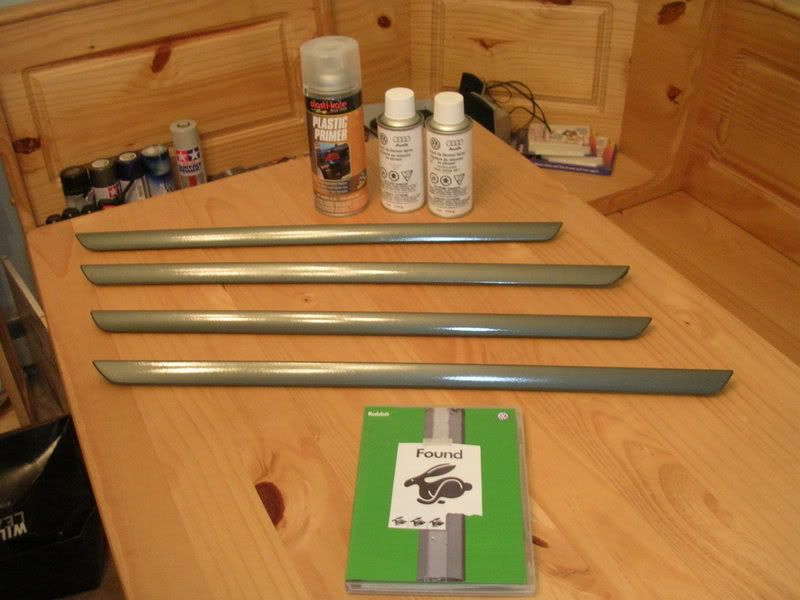 Corner markers done, sitting and waiting for installation too:
Now comes the reinstallation. Simply reverse the direction you removed the parts in, and very carefully line up the tabs and pop them into the holes. Here are a few pictures of everything reinstalled:
Driver's side installed: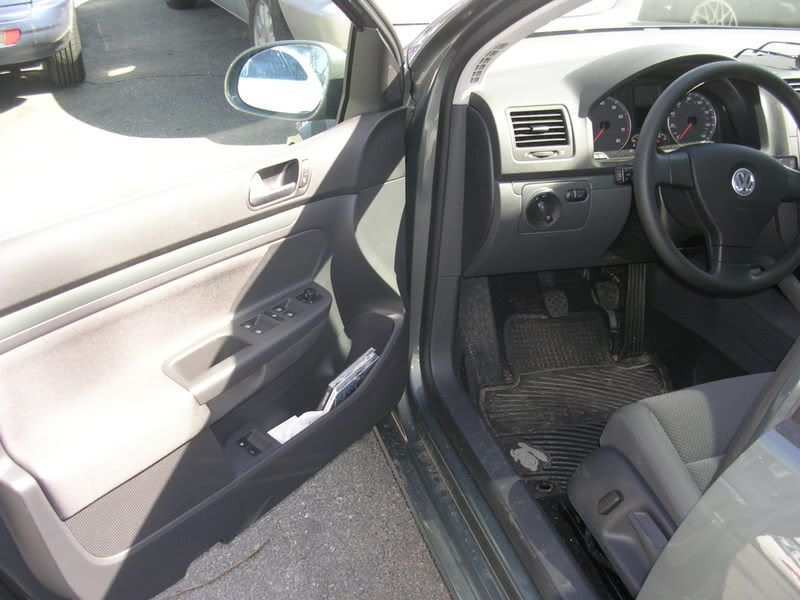 Passenger's side installed: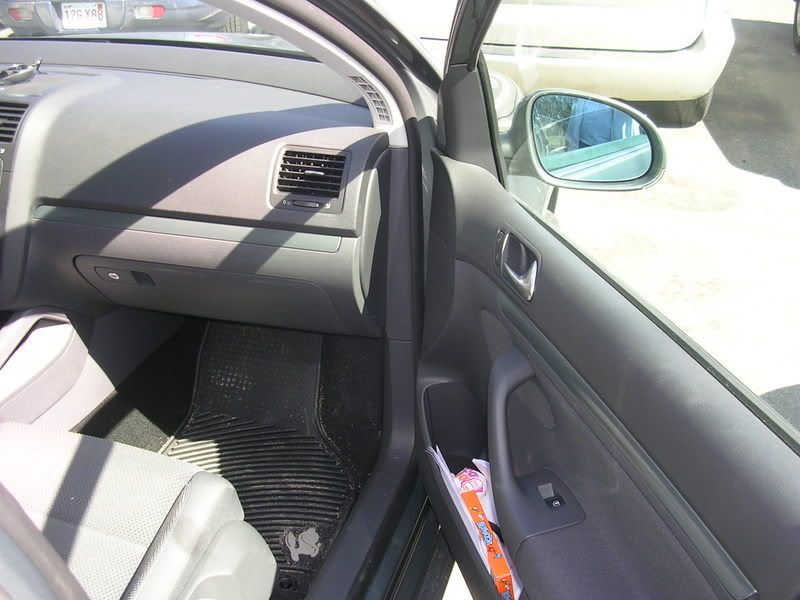 Passenger's side installed, closeup: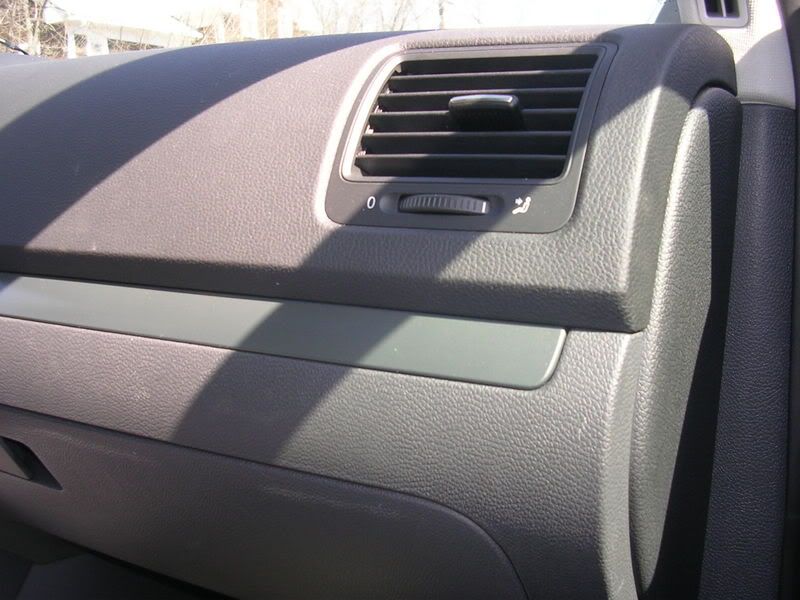 And the corner markers back on the car, too: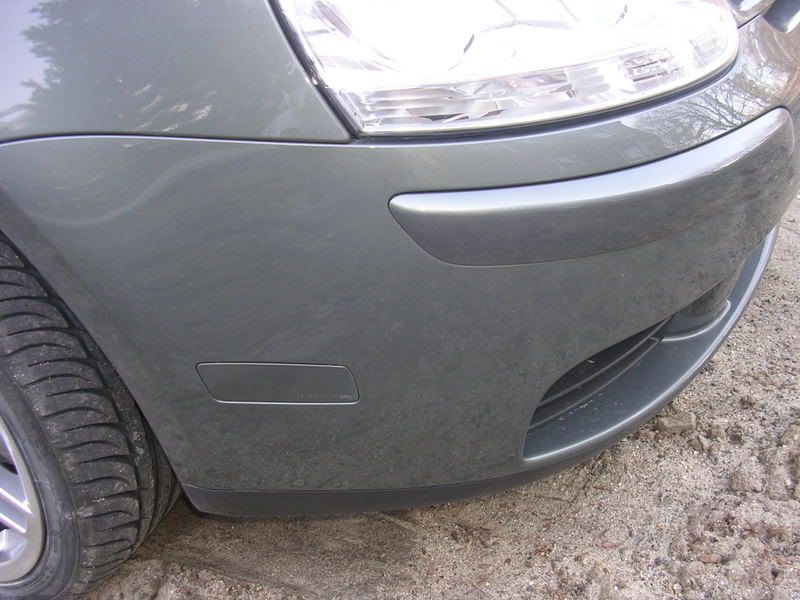 Now just stand back and admire your work and have a
… Thanks for reading!
Edit because I have taken a few pictures, and finally added them to my DIY.
Modified by Elmer J Fudd at 5:11 PM 3-31-2007