1998 Volkswagen golf GL 1997 Volkswagen Golf Joker
So I decided I wanted to import another euro spec Mk3 Golf to build. I sold my other imported CL December 2020, and instantly regretted selling her. I have been looking everyday ever since for another clean, super low mileage MK3 Golf to tinker around with.I literally looked everyday for a entire year and a half across Europe, and finally found her, located in Germany:Nordrhein-Westfalen. Trying to find these super low mileage, clean rust free Mk3's is starting to get very difficult. Thank God for Ivan and Nick for helping coordinate viewings, and picking up the car for me! The car I chose to import is a 1997 Volkswagen Golf "Joker"edition, and had one owner from new, full VAG service history, and only did 11,678 kilometers from new! It was part of a private collection this gentleman had in Germany...He had several Mk2's as well, one with 3k original kilometers!...The guy was insane, but i didn't care about any of the other cars there, I was very focused on securing this MK3 "joker"edition Golf!I knew I had to have her the second I found her.I specifically wanted a "joker"edition as I love the interiors, and the fact they were some of the final MK3's built in Germany!I also love the fact they were a base model with manual crank windows ,and very simple specifications.I had to store the car with Ivan until May 31st 2022, as so the car would be 25 years old from it's original build date. Ivan was so awesome, letting me use his mom's personal garage, as he felt this MK3 was too special to put in the warehouse...Thanks buddy! I used Nick Berry's company, "OAI", to bring her over and the experience was very good! I now consider them good friends of mine.I still have the old white GL as well, still serving as my daily driver, and a room full of NOS rare MK3 parts from Kamei, Votex, Bonrath, Hella, etc etc...This car will be a long term project build, I'm not in a hurry to get her finished, are they ever finished anyways...So enjoy the pictures, and updates as you will. This is the story of my 1997 Volkswagen Golf MK3 "Joker" edition.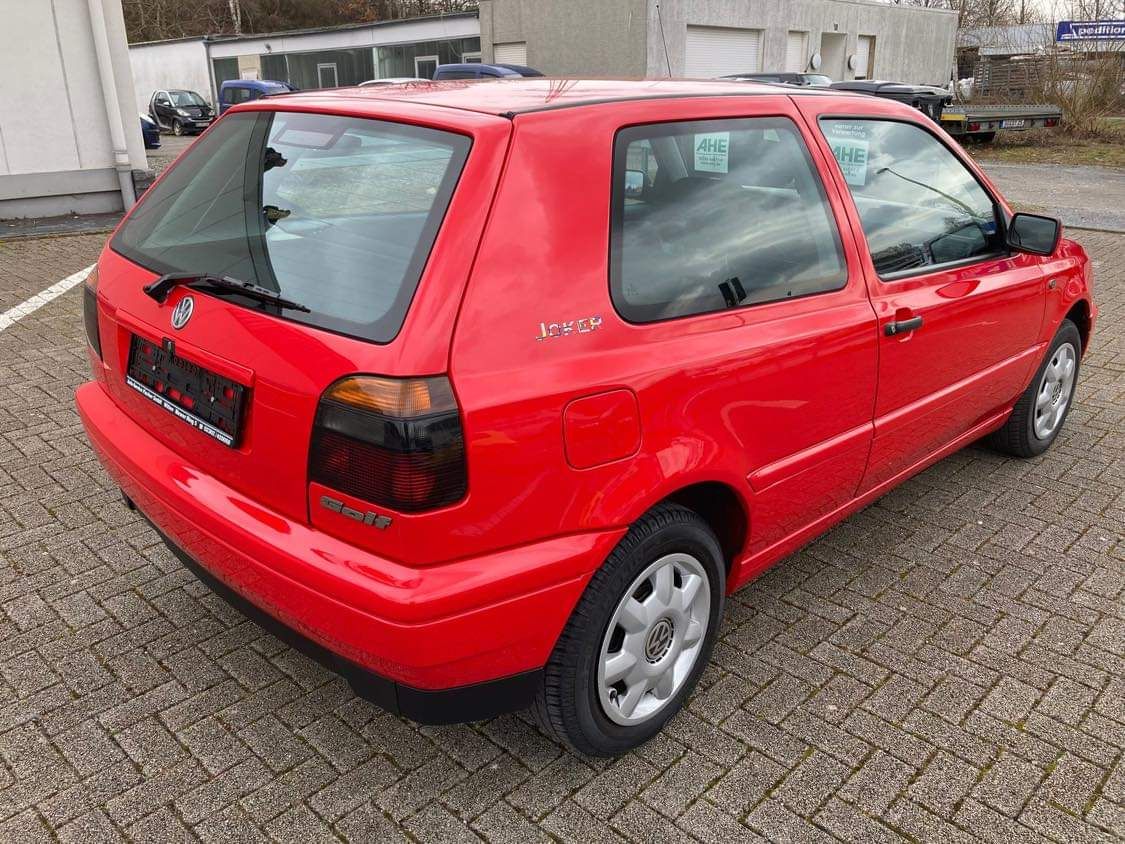 03/16/2022 Communication with the seller has been made via a phone call!
03/17/2022 Payment for the vehicle, collection, and storage sent!
03/23/2022 Ivan picks up the Golf from the seller, and transports her to his mom's house until eligible for import.
05/27/2022 Ivan takes my Golf to the Port of Zeebrugge, Belgium to be exported to the U.S.A. It will land in Baltimore, then shipped to Colorado!
06/15/2022 The Joker has cleared the Port in Baltimore!!!!
06/22/2022 The MK3 is picked up by the shipper,she's on her way home to Colorado!