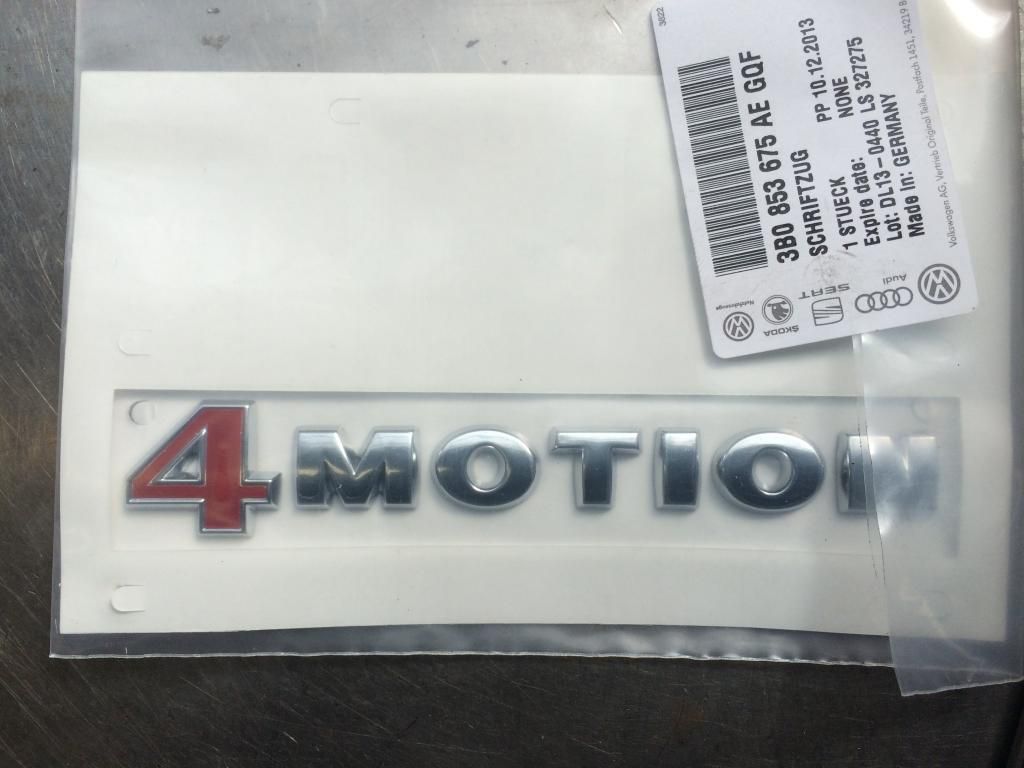 So, where do I start, It's a 2001 Wolfsburg 1.8T, my wife bought this car back in 2006 with 100,384 on the clock and a broken timing belt and 20 bent valves, it was bone stock from the original owners that I personally knew. I Pulled the head and replaced the valves and installed a new timing belt and waterpump and a bunch of other maintenance items at the same time and then we just drove it and enjoyed it for a few years until I got sucked into the VW lifestyle.
It originally had tan interior and slowly over the years received a full black GLI interior including the Recaros (that I retrofitted some seat heaters into to maintain those toasty buns) and also rear sunshade retrofit from a 2000 GLX and a center console with cup-holders from a 2004+.
Back in about 2009 it received an APR performance tune and some H&R sport springs, which I'm still currently rocking even after the recent 4Motion transplant (obviously new rear springs for the new rear suspension though).
2 Years ago, the hood got backed into and munched, so I decided perfect time for a badgeless grill and new hood with filled notch. Also decided to pick up some BORA R Front and VOTEX rear REPLICA bumpers, I know, I'm a cheap bastard but spend a little extra time fitting them before paint and I'm pretty happy with how they turned out. Too bad my wife parallel parks on the mean streets of Seattle, because thanks to all the parking by braille drivers in town, she'll come back out to the car at the end of the day to find new scuffs and scrapes all the time, so now the bumpers have been hit about 1000 times and have some paint cracking from impacts but no structural problems from what I can tell.
Now let's get to the interesting stuff! So this January as we are cruising up the mountain to hit the slopes, we see the traction chains or AWD warning signs and I my wife mentions "Too bad my cars not all wheel drive" and I say "we can make that happen" she say "really?" I say "OH HELL YESSSS!" and then the madness begins.
I found a TT quattro donor car with a blown engine and stripped front end but the trans, transfer case, and full rear end all still intact. So I cut up the car to get my rear floor pan and then sourced a few 04 R32 parts like the center propeller shaft (because it's longer) and the fuel tank (because the TT tank filler neck is different). And then this past weekend I took a few days off from work to perform the entire rear end swap. I swapped in the trans and transfer case 3 weeks earlier but I'll get into more detail with that later. Pictures.............
Before cutting the old floor out but got all things removed including the interior, also notice the original spare tire tub is off center towards the passenger side, the new tub is centered and about 5-6 inches higher up
Difference between the R32 and regular MK4 fuel tanks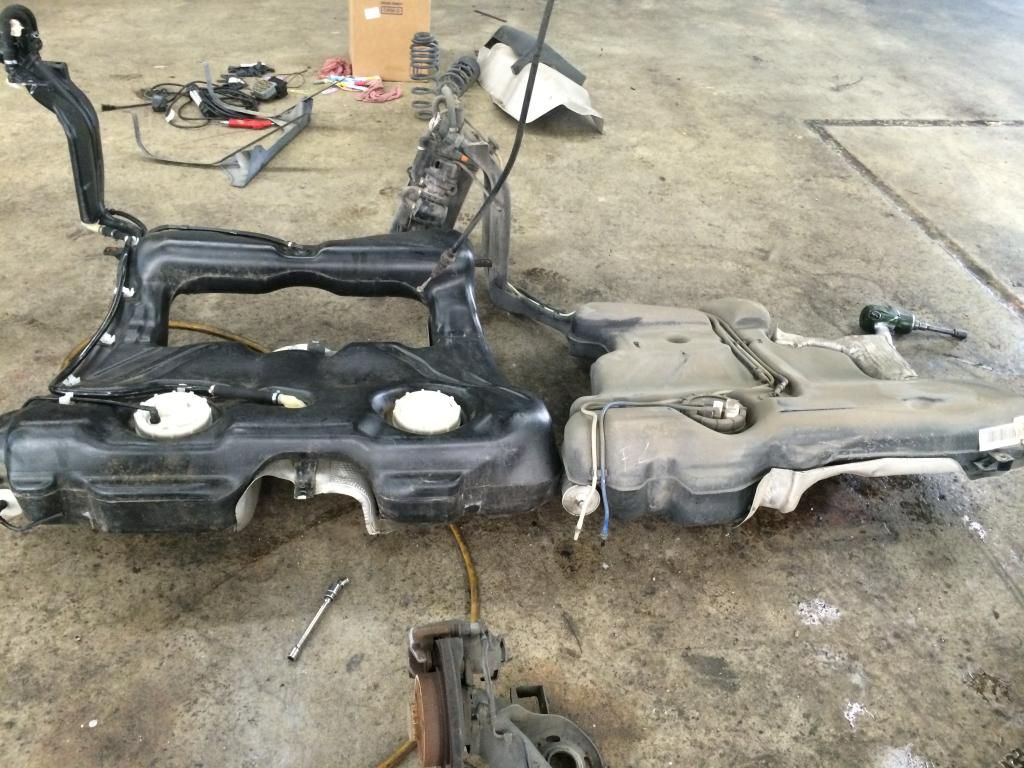 Floor getting cut out
Once you get all the necessary floor parts removed, you have to patch in the rear section of inner TT frame rail so the new rear floor pan and suspension will fit properly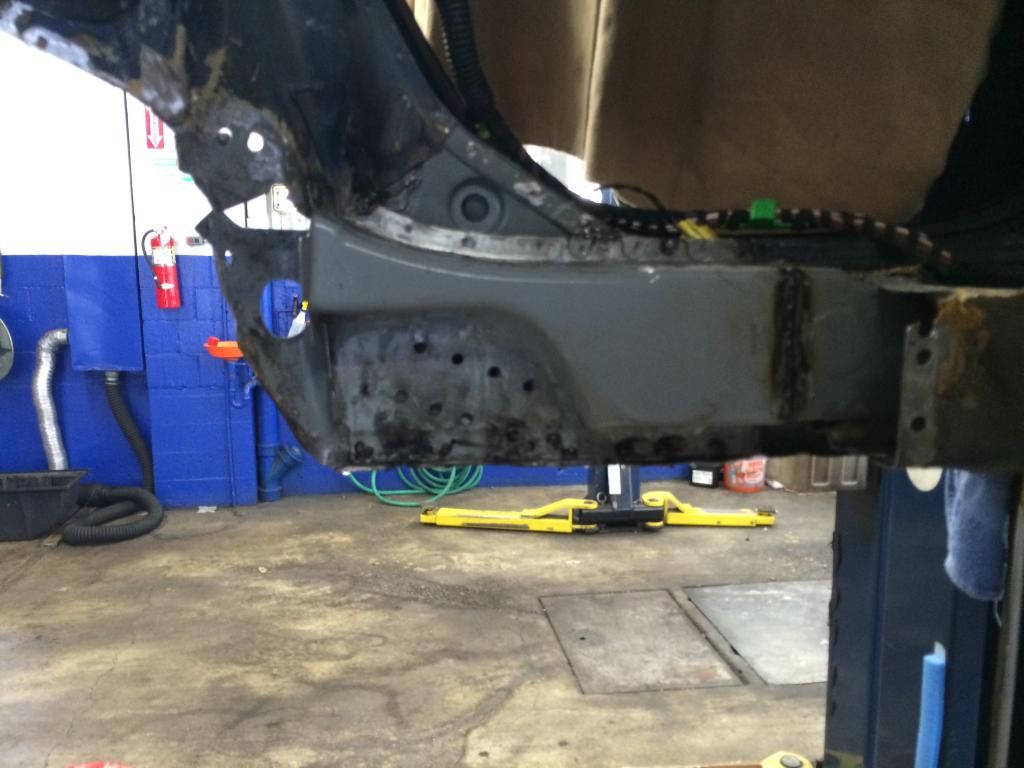 Dont forget to transfer over all the rear seat bracketry if you want to maintain factory functioning rear seats.
New rear floor getting ready to go to it's new home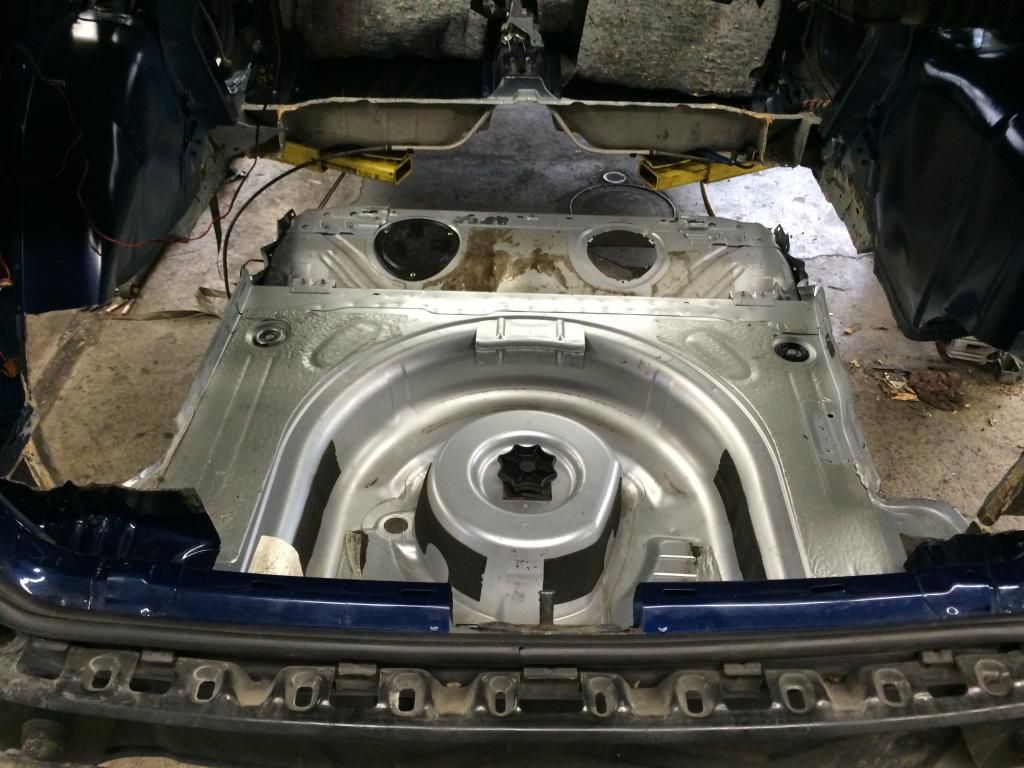 Don't forget to remove these from your donor car and mount them in your tunnel so the center carrier for the propeller shaft has something to bolt to
Once the panel fits up in place, you need to trim your inner fenders, if you were to use a R32 rear floor, you could transfer over the rear wheel wells to make this part easier but since I'm using a TT coupe, they are different so I have to maintain my original inner fenders and just trim them and then hammer them into shape and then weld them to the new floor.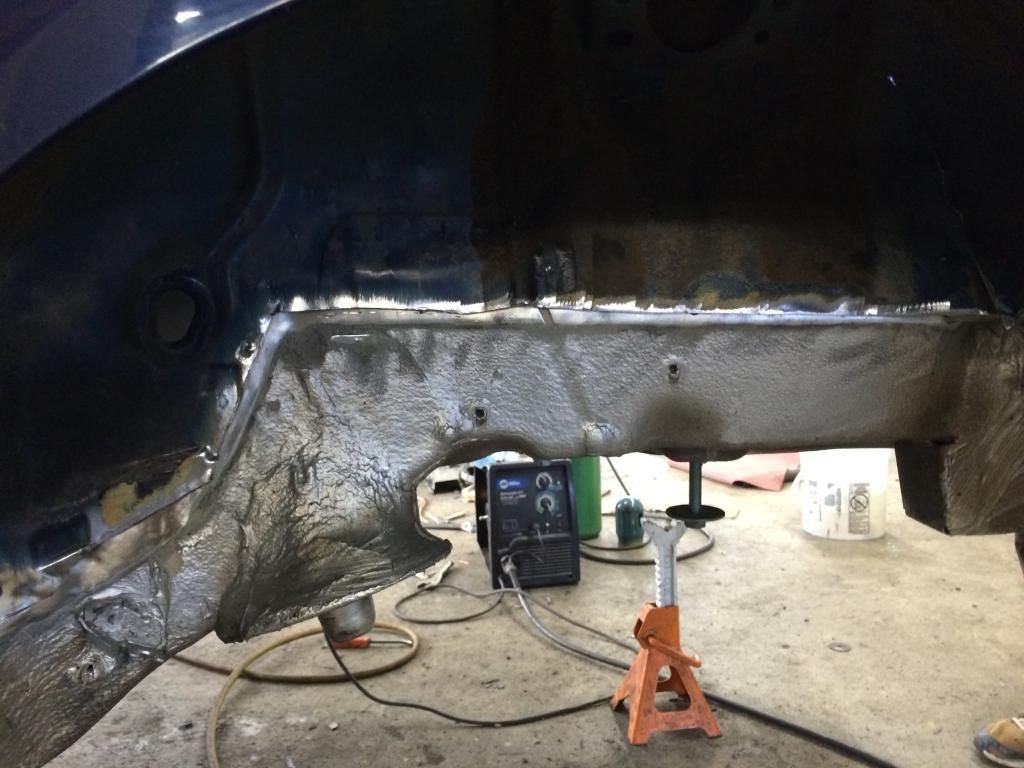 Then I fabricated a new rear section of floor (using scrap from the removed original floor) to flow naturally from the new raised and centered spare tire well back to the original rear inner trunk panel.
A little seam sealer and some dupli-color "color matched" spray paint, because it's going to get covered in dirt eventually anyways. And these are pictures of the sealer and painting process, it's all covered now like in the last picture
\
Look, my rear seats fit back in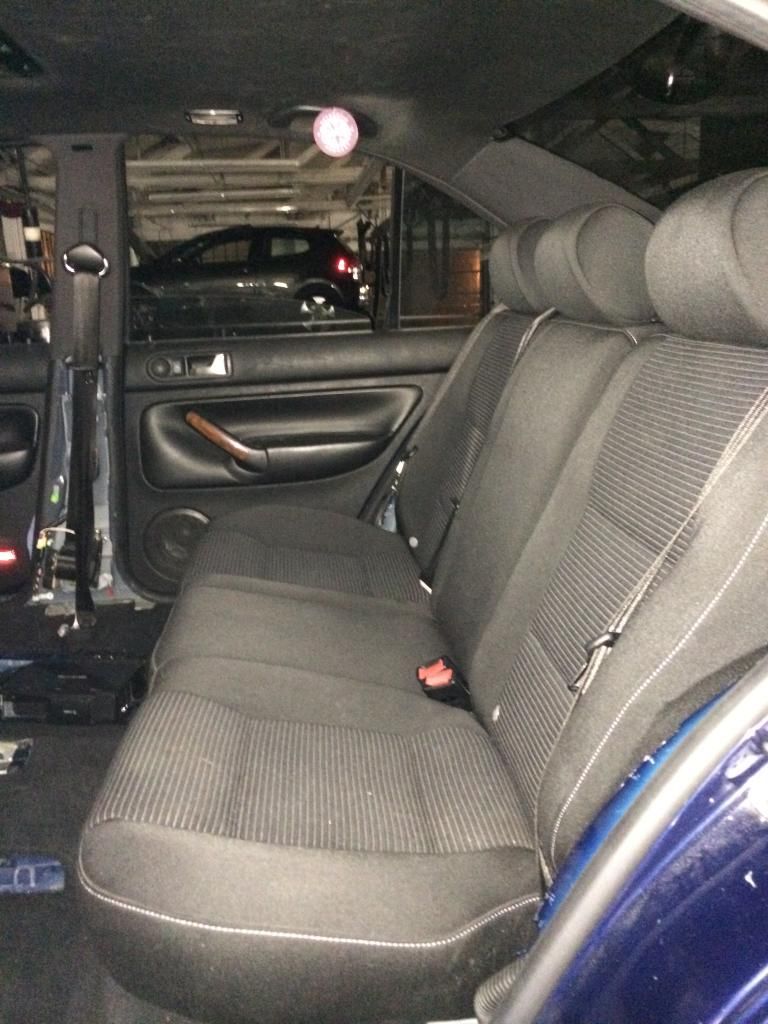 Differential/haldex unit and rear suspension and fuel tank in, and oh yeah, my 04 R32 exhaust with wired up vacuum control solenoid to make the flap function too.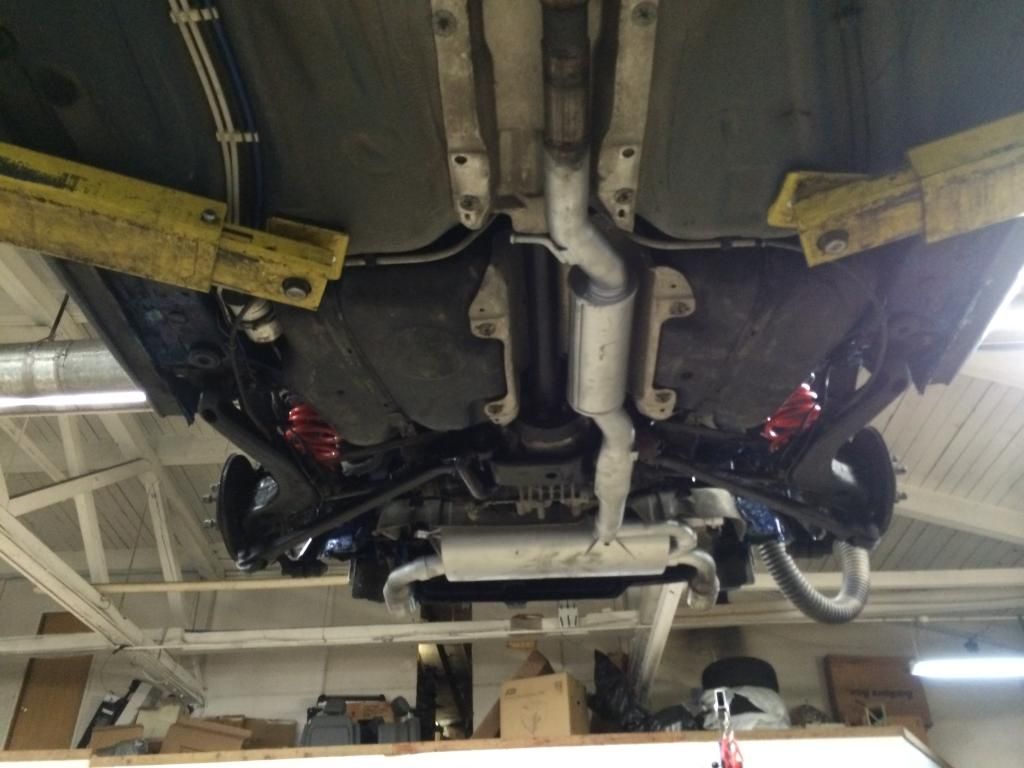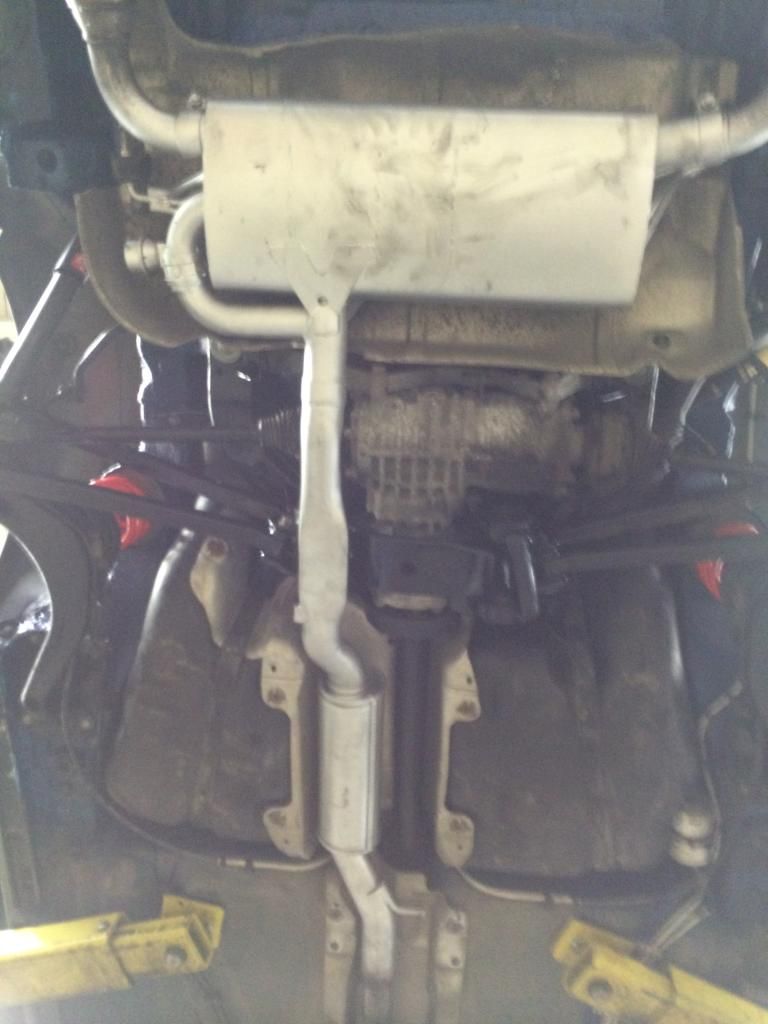 From the rear, I'm thinking of building some small turn-down exhaust tips to replace the factory 04 R32 ones, but for now the tips are just angled down slightly and I feel they don't look have bad hanging out down there. Oh, and forgot to mention the functioning rear park distance sensors too,
Dirty car is dirty!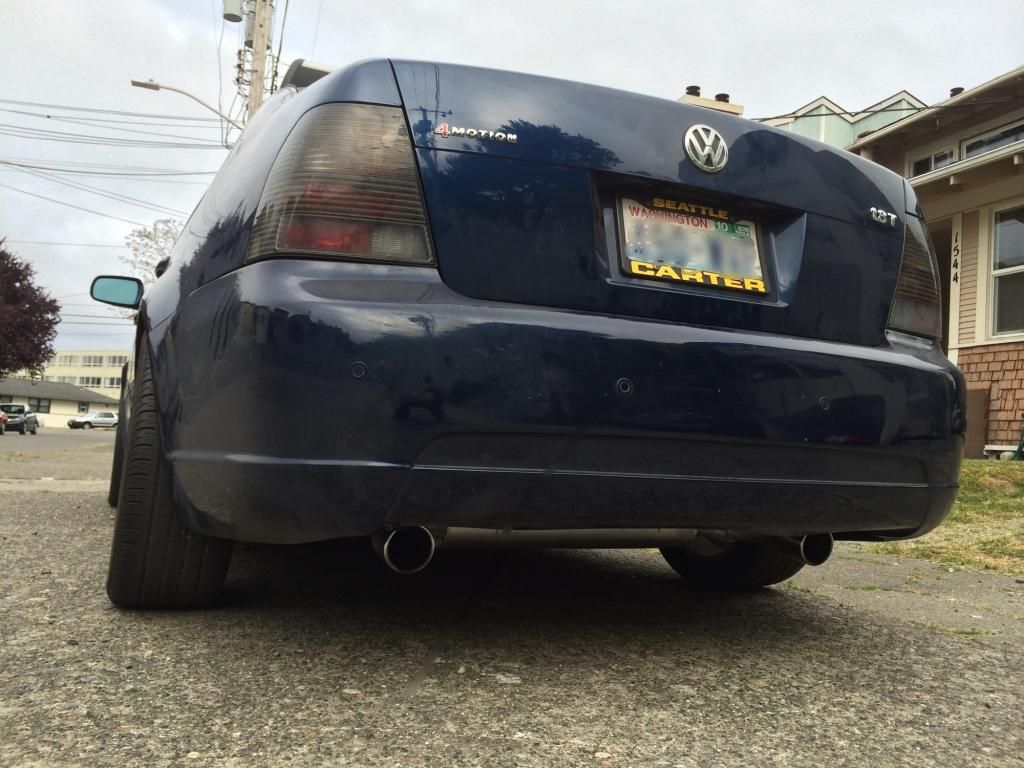 Have about -3° of camber on both rear wheels do to not having adjustable control arms yet but everything is all straight after the alignment, didn't have to adjust anything actually.
How she currently sits!!! Replaced the cracked windshield and now all ready for the Leavenworth Cruise this weekend!
After a good bath of course....