I have collected parts for some time now, and even if it will take some tome to finish I'll post some pics of it.
Some specs:
Front 5x100, wide track, 02M gearbox
Front suspension: Subframe from late (1996) Golf VR6, 5x100
Driveshafts: Shortened 4Motion driveshafts from Wilco.
Front brakes: Big bolt-on kit,
http://www.ecstuning.com/Volkswagen-Golf_III--VR6_12v/Braking/ECS_Stage_2/
Prop shaft: Rallye with 100mm CV's and custom made adapter plates.
Rear left driveshaft: Modded G60 Syncro shaft with CV joints from 4Motion
Rear right driveshaft: Modded G60 Syncro shaft with CV joints from 4Motion
Rear hubs: 5x100 VR6 front hubs
Rear brakes: S3 calippers, 280 mm discs from Corrado VR6, adapters.
Rear trailing arms: VR6 Syncro
The start
Parts from Wilco
In my dreams
My favourites: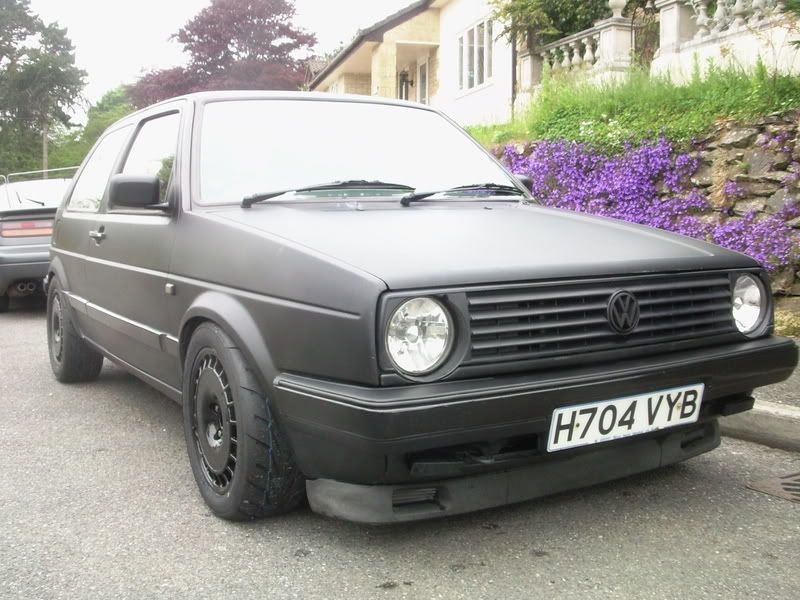 Plenum inlet
Rallye 20 mm. VS Passat 25 mm. rear swaybar. Need to weld a bit to make the bigger one fit.
Front traverse need some reinforcement and alu bushings.
Parts...
Alu bushings VS Powerflex.
IC custom made
CF-hoods
http://www.cftype.com/carbon_f...d=264
Turbonetics T3/T04E-46.
Eksosdel: a/r .63 Stage V, with T3 4-bolt turbine housing. Standard bearing in dry housing.
Vibratechnics bushes, swaybar from Autotech, front engine-mount and bushes from DLI.
http://www.vibra-technics.co.u...d=388
http://autotech.com/prod_susp_swybars.htm#MK3
My engines:
Rear suspension with 25 mm. swaybar from Passat G60 Syncro, front hubs from VR6 to fit rear 4Motion outer c
CV-joints, Powerflex bushes and adjustable toe-out.
Fitting all the parts together...
TO BE CONTINUED.....