Discussion Starter
·
#1
·
I get too many IM's with questions about mods, so I made a formal list and gathered a collection of pictures (most of which are somewhere in this thread) for reference. I'll do my best to keep it updated.
Car:
05 GLI / PG / 6-speed / 48,000 miles
Engine:
GIAC X+ ECU flash
Neuspeed P-Flow intake
Samco turbo inlet pipe
Eurojet Street FMIC
APR R1 diverter valve
4Grounding ground kit
Audi TT fenderliner vent
VF Engineering motor mounts
JayCaps power steering, coolant, washer fluid, and oil caps
Shaved and colormatched engine covers and battery box
Transmission:
Neuspeed 6 speed short shift
Exhaust:
APR 2.5" turboback
Suspension:
Koni coilovers
H2Sport sport spindles
H2Sport sway bar endlinks
TT control arm bushings
Neuspeed 28mm rear sway bar
Neuspeed front upper strut bar
Neuspeed front lower tie bar
Wheels:
OEM 18x7.5" OZ Aristos (Summer)
OEM 18x7.5" BBS RC (Autocross/Show)
...CNC machined BBS center caps
...BBS valve stem caps
...OEM Audi gray lug bolt covers
...H&R 8mm front / 15mm rear spacers
17x8" OZ Superleggera (Winter)
Tires:
235/40/18 BFGoodrich KDW2 (Summer)
225/40/18 Falken Azenis RT-615 (Autocross)
225/45/17 Michelin Pilot Alpin PA2 (Winter)
Exterior:
OEM passenger side stubby mirror
OEM Sharan stubby antenna
OEM Euro 1.8T badge
35% Llumar window tint
Painted red rear tow hook
Painted red front tow hook (Winter)
Lighting:
Helix OEM HID replicas
...Lucid 5000k HID kit
...Sylvania Silverstar high beam bulbs
...42 Draft Designs High Intensity white city LEDs
Hella Micro DE fog lights
...PIAA Super Plasma fog light bulbs
eBay OEM pattern clear sidemarkers
OEM Euro R/R/R/C tail lights
...White LED reverse bulbs
42 Draft Designs white license plate LEDs
All amber bulbs replaced with silver coated bulbs
Interior:
OEM black leather heated Euro Recaro front seats
OEM black leather Euro Recaro rear seats
OEM R32 steering wheel
OEM R32 e-brake boot
OEM R32 shift boot
Black alcantara door card inserts, parcel shelf, sunroof motor cover
Richbrook 4006.10 shift knob
Custom brushed aluminum coin slot cover
AWE boost gauge in center column pod
JayCaps seat knob covers
42 Draft Designs white interior LEDs
Shaved OEM sunglass holder
OEM W8 console
OEM lighted Jetta vents
OEM Euro switch
OEM MKV grocery bag hook
Custom black stained cedar cargo grips
Schroth Quick-Fit harness (Autocross)
OEM black/red VW carpeted floor mats (Summer)
OEM Monster mats (Winter)
Electronics:
KVW100 flash (windows controlled with key fob)
Pioneer AVIC-D3 headunit with Pioneer logo removed
Pioneer CD-BTB200 Bluetooth module
Polk C400.4 amplifier
Polk MMC6500 6.5" component speakers
Polk C500.1 amplifier
Polk MM10 10" subwoofer
Plans:
Winter 08-09:
Refinish Aristos
...medium silver powdercoat
...OEM blue/white VW centercaps
Spring 09:
Repair damaged fender
OEM driver side stubby mirror
Step/WOT Box
Distant Future:
ECS Stage 2v2 front brake kit
ECS Stage 1R rear brake kit
Peloquin LSD
3000k HID kit for foglights
Stiffer shift linkage bushings
OEM Euro front rubstrip with chrome trim
Spoilerless 04.5+ trunk lid
Black Alcantra headliner
Pictures:
Summer:
Autocross:
Show:
Winter (pic from before lowering):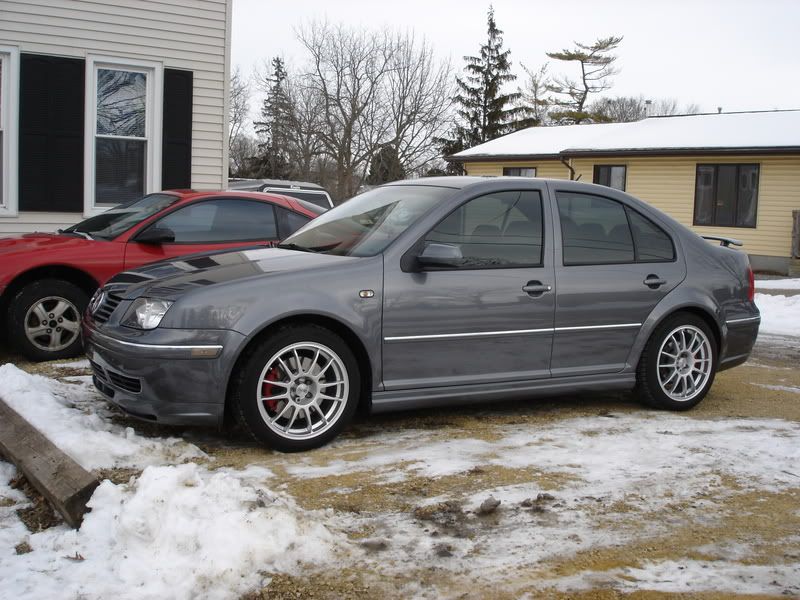 Engine/Interior/Etc.:
Original first post:
Wanted to share with you guys what I've been up to this spring/summer and what I have planned for the rest of the year.
Installed Koni coils, H2Sport spindles, TT control arm bushings, spacers (5mm front / 15mm rear):
Cleaned up the engine bay:
Replaced Alpine single DIN head unit and iPod dock with a flush mounted AVIC-D3 (iPod, Bluetooth, etc.):
Old:
New:
Made a brushed aluminum cover for the coin slots:
Installed/wired OEM heated leather Recaro seats:
Replaced aluminum trimmed vents with OEM illuminated vents (needed the right slots back for the heated seat switches):
Old:
New (the day shot kinda nullifies the illuminated icons):
Rest of the year:
Currently an upholstery shop has my rear seat back. They're filling the armrest hole in the Euro Recaro seat cover with matching leather and installing it with the Euro foam.
Once I pick up the rear seat back I will be dropping off my door cards and rear decklid to be covered with black alcantara. That will get rid of the remainder of the black sport cloth in the interior.
The only other plans for the year are to find a driver's side stubby mirror to go along with the passenger side mirror that's sitting in my room and finding matching headrests for the rear seat. I scoped out a couple of dealerships and found B7 S4 rear headrests to be a good match, but I can't imagine what they'll cost.
I should be back in school when the above list is finished and I'll start saving what I can for tires and brakes in the spring.
I will use this thread for future updates, but won't call it a build thread. I don't move that quickly.
Modified by JettaGetUpandGo at 11:44 PM 11-25-2008