Discussion Starter
•
#1
•
Hi there
Some will remember me with my old 1985 Stubby Jetta as you can see in SNS tuning website with the 8v turbo engine in it.
I can say "oops! I did it again!" as I've shortened another 4 door Jetta II for my Solo and Ice racing project car. Its almost ready for solo now.
Look at the pics:
The original project done in 1998, some has seen it at Waterfest in NY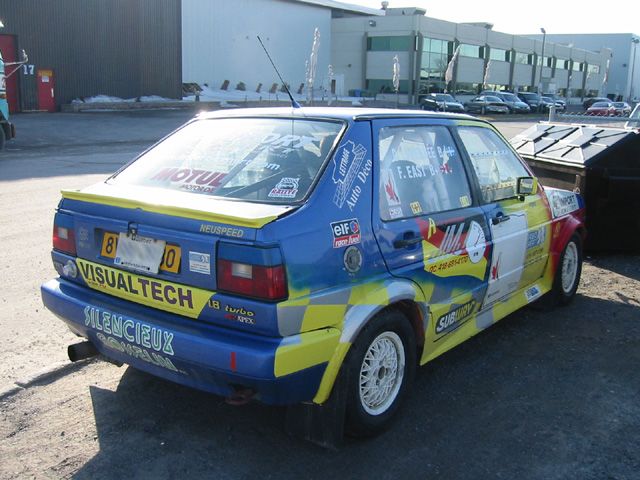 When I bought it in march
I was already dreaming of cutting it again
Then one month ago I decided it was time to cut it:
Opened!
The part to save
The part to junk
A teaser with the Golf bumper and to be sure its short enough
As you see its the same floor as a Golf
Welding and bodywork time!
Welding done
Ooops! my muffler is too long... My trunk panel too!
Now its better like this
I've called some bodywork engineers from VW germany and the've
designed & punched me brand new quarters panels that I've welded
on it... (in my dreams) Seriously after several hours and some plastic
here is the pre-finished look (with chinese tails)
Had to install Eibach and Bilstein for handling and do some good chronos in Solo.
Here it is with 3 out of 4 shocks installed as I had two different generation of Bilsteins rear shocks abs and didn't had the good fine thread nuts (10mm x 1.00) to bolt the right side old gen of shock.
So the rear wheel will lower another inch with two eibach coils on both sides.
Feel free to comment, as I know I'm a little
to do this!
Now you'll understand my nickname!
Frank
Modified by Short trunk Jetta at 3:50 AM 6-5-2006
Modified by Short trunk Jetta at 3:52 AM 6-5-2006
Modified by Short trunk Jetta at 3:54 AM 6-5-2006