Hoping to start my build here soon. After 5 years of driving her around I figured its about time. Progress will be slow at first because this car is my daily. Shooting for spring break to start ripping the motor out. In the meantime, I will be doing some other small mods and OEM+ stuff.
Changing the lists to what I currently have... engine build is done. Now on to other things
Current
Engine/Trans:
Integrated Engineering 2.0 Stroker Kit 9.5CR
Integrated Engineering Tuscan Connecting Rods
ARP Connecting Rod Bolts
OEM Main and Rod Bearings
AEB Big Port Head
Integrated Engineering Street Cams and Spring Kit
Supertech Intake Valves
Supertech Iconel Exhaust Valves
New OEM Valve Seals
New Valve Guides
OEM Lifters
OEM VVT Tensioner
ARP Cam Gear Bolt
ARP Crank Gear Bolt
Integrated Engineering Intake Manifold
70mm S4 Throttle Body
Integrated Engineering 6-Bolt Press-fit Timing Gear
2.0T 6 bolt Fluidampr crank pulley
OEM Oil Pump
OEM Oil Pump Chain
OEM Oil Pump Tensioner
Pag Parts Turbo Kit
Pag Parts vband exhaust manifold
Precision Turbo 5858
Turbosmart Comp-gate 40 Wastegate
Turbosmart Plumbback DV
Front Mount Intercooler - 2.5" piping
United Motorsports Tune
Pro-MAF
Walbro 255 LPH Pump
630CC Injectors
Integrated Engineering Fuel Rail
Integrated Engineering Fuel Pressure Regulator Housing
PTFE Fuel Lines
Billet Coolant Flange w/swirl pot
Billet Heatercore Fittings
Billet Thermostat Housing
Billet Coolant Pipe
GrimSpeed Boost Controller
VF Engine Mounts
VF Dogbone Mount
42 Draft Design Shifter Bushings
Shift Cable Bracket Bushings
OEM R32 Shifter
A/N PCV Hoses
42 Draft Design Catch Can
OEM Audi R8 Oil Cap
Gruvenparts Billet Tensioner Pulley
Gruvenparts Billet "4Y"
OEM 2.0T Coilpack Harness Cover
Interior:
Rear seat delete with false floor and battery compartment
False floor in the hatch with Hifonics amp and MB Quart sub
Brushed Aluminum UniBrace
Tan Front and Rear Diamond Stitched Door Cards
Tan Diamond Stitched Sunroof Slider
Black Suede e-brake cover
Tan Suede shift boot
Black Suede headliner
Black Suede A, B, C pillars
Black Suede lower dash panels
Black Suede glovebox
Black Suede side dash trim
OEM MKVII Shift Knob
OEM MKVII Steering Wheel and Airbag
Suede wrapped 42DD Upper and Lower Gauge Pods
AEM A/F Gauge
NewSouth Boost Gauge
NewSouth Oil Temp Gauge
NewSouth Pressure Gauge
Silver NewSouth Trim Rings
OEM R8 Trunk Light
OEM R8 Trunk Lights for footwell lighting
OEM R32 .:R Floor Mats
Passport radar detector mount with custom display
OEM Euro R32 Dash Panel and switch blanks
OEM Funk Button with Euro Cup Holder Insert
OEM Headlight Leveling Rheostat
OEM Sunglasses Holder
OEM Jetta Vents with red backlighting
OEM R32 Climatronic Retrofit
OEM R32 Brushed Climatronic Trim
OEM W8 Passat Sunroof Switch and Console
OEM FIS Cluster Retrofit
Cluster EEPROM enabling lit needles, miles to empty and accurate temp gauge
OEM W8 Passat Gauge Faces and Needles
OEM MFA Wiper Stalk
FIS Control Box (FIS-Control.de)
OEM Passat Auto-Dimming Mirror Retrofit
OEM Euro Interior Monitoring Alarm System Retrofit
OEM Rain Sensing Wipers Retrofit
OEM Toureg Rubber Cup Holder Inserts
OEM Euro Cooled/Heated Glove Box
OEM Brushed Alum Folding Mirror Switch
OEM Folding Mirror/Window Motor Control Boards
OEM Polo Brushed Alum Headlight Switch
OEM SEAT Rear footwell lights
OEM Fire Extinguisher Trim
OEM Fire Extinguisher Trim
Modified OEM Recaro seats with Power, Memory, and Heated functions added.
Blitztech iPod Adapter
Red Ambient Lighting
OEM Toureg Interior Door Handle Lights
Battery Relocation with voltage display
Heated Seat Switch Retrofit
Modified OEM Defrost Switch
LED Glovebox Light
Brushed Aluminum Seat belt Height Adjusters
Exterior/Suspension/Brakes:
BBS LM145. Polished Lips, Hardware, and Brushed Centers
BBS Design Line Center Caps
Shaved Bay
Wiretuck with 43pin mil-spec connection and tech flex wrapped engine harness
Power steering relocation
Custom hydraulic lines for power steering
Euro Image Power Steering Cap
Billet Brake fluid reservoir cap
Polished A/C Lines
FK Sport Edition Plus Coilovers
OEM R32 LCA Bushings
OEM Porsche 4 piston front brakes
Hawk HPS brake pads
Braided stainless brake lines
AutoTech Rear Swaybar
OEM Porsche License Plate Lights (DIY:
http://forums.vwvortex.com/showthread.php?5520667-DIY-LED-License-Plate-Lights-OEM-Style
)
OEM 3B Passat Side Markers
Helix Headlights
6000K HID Headlights
OEM Headlight Leveling Motors
OEM Triplex Antenna
Triplex Stubby Antenna Mast
Rear Wiper Delete
OEM R32 Aero Wipers
Imola Yellow Painted Mirror Caps
OEM SKODA Mirror Puddle Lights
OEM Euro DWA (Alarm) Horn Retrofit
Front Grill painted black magic pearl
OEM Sharan Rear VW badge
Power Folding and Memory Mirror Retrofit
Modified Bentley Key
Pict-ars.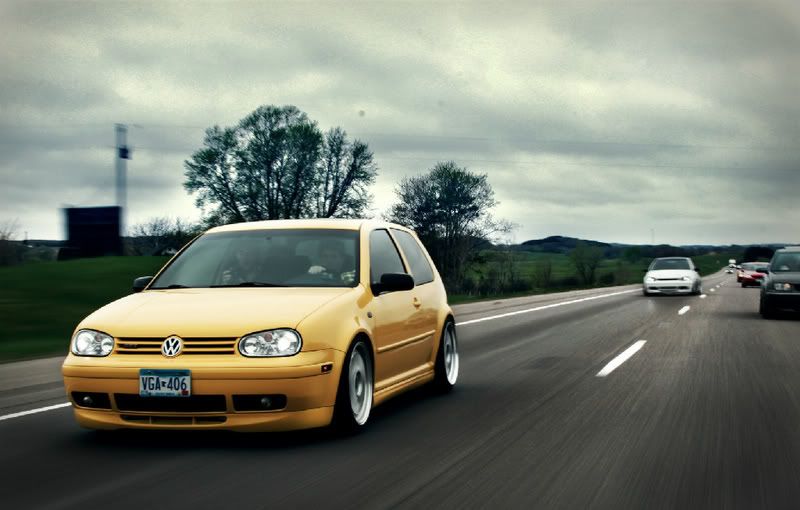 Picture of the foot wells.