Here is my V6 story from when i purchased her to how she is now..
This is part 1 but there is another chapter to follow.
Enjoy
Well it all started in May 09 last year when i discovered the Audi TT Forum in the UK..
I thought the Forum was just for general banter and arranging meets to troll over each others detailing.
But oh no!!! how wrong was I..
Every topic i seemed to look at was..ive got this and i want that.
Well my head was in a spin with all the upgrade products, bling and CF stuff banded about as i was only just beginning to understand that the TTs and Golfs share the same platforms, so there can be some product crossover.
A few welcomes here and there and i was indoctrinated in to the world of TT porn and modding..:banghead:
As im in the NW, Awesome GTI got a bite of my wallet first for some initial mods..
It started slowly at first but then the addiction had hold of me now and Paypal was working overtime to keep up..:facepalm:
I work away from home mostly, so when i go, the indie gets the call to come and pick her up for whatever it is going on next.
Im sure i could keep a small country busy..
I bought her in 2008 and managed to keep my hands in my pockets for a whole year, just enjoying the driving and of course the DSG.. but..
MAY 2009
Audi TT 3.2
V6 54 plate with DSG.
Moro Blue paint,
Red leather,
Colour coded rear parking sensors,
15mph autolocking,
Alarm activated warning,
Bluetooth adapter,
Nokia hands free kit,
Mudflaps.
This is how she was for a whole year and options above were factory or the previous owner.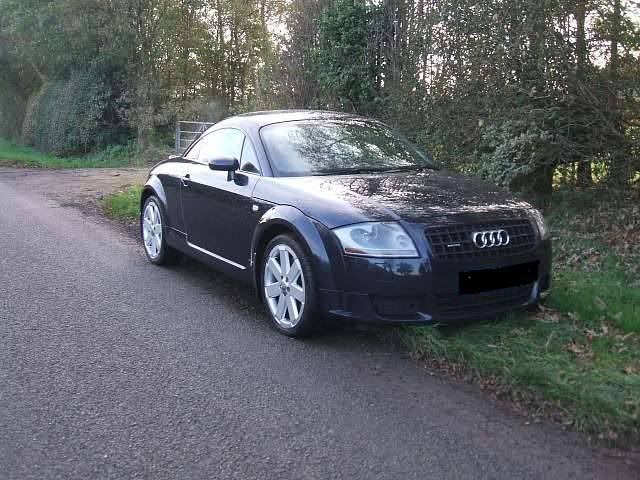 JUNE 2009
New A8 rims,
Pirelli P Zero Rosso all round,
20mm H&R hubcentric spacers.
The rims are not to everybodies liking but i dont care, i liked the reflection they gave in shop windows.
Rubber and spacers gave a slight improvement in road holding, which is always good as long as the doors are closed..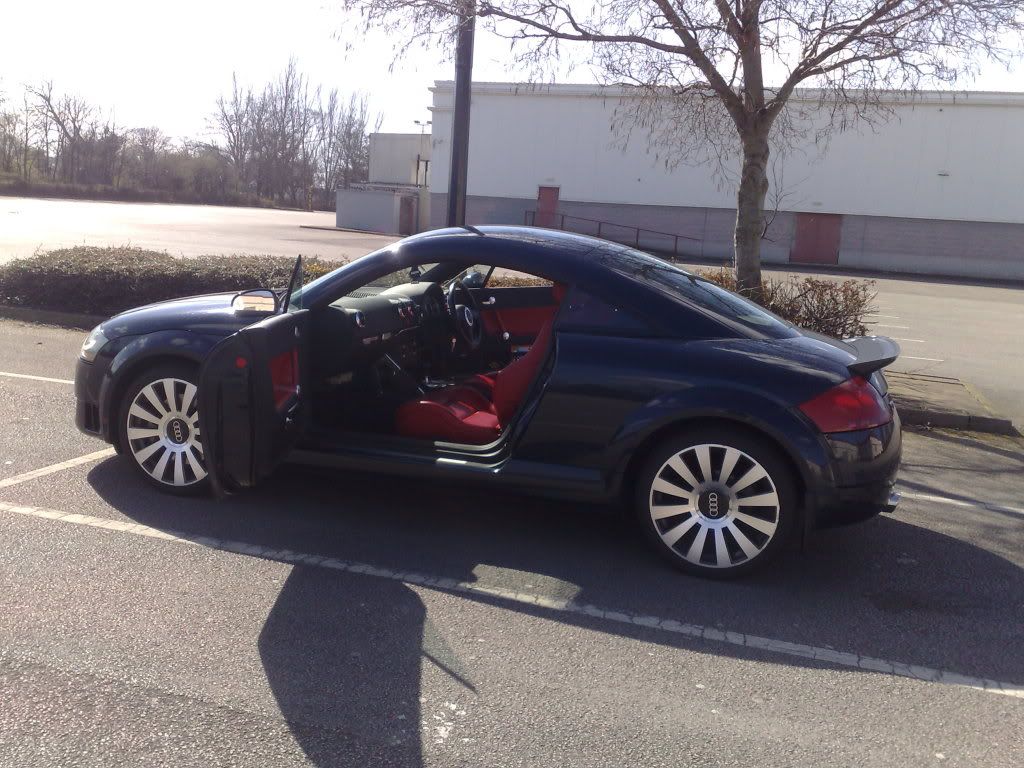 JULY 2009
Spoiler delete,
Complete rear badge delete,
Red leather arm rest,
5 button dimple rings,
Private plate.
She looks wider and smoother. I like stealth as well..
Matching armrest. Not cheap but very functional..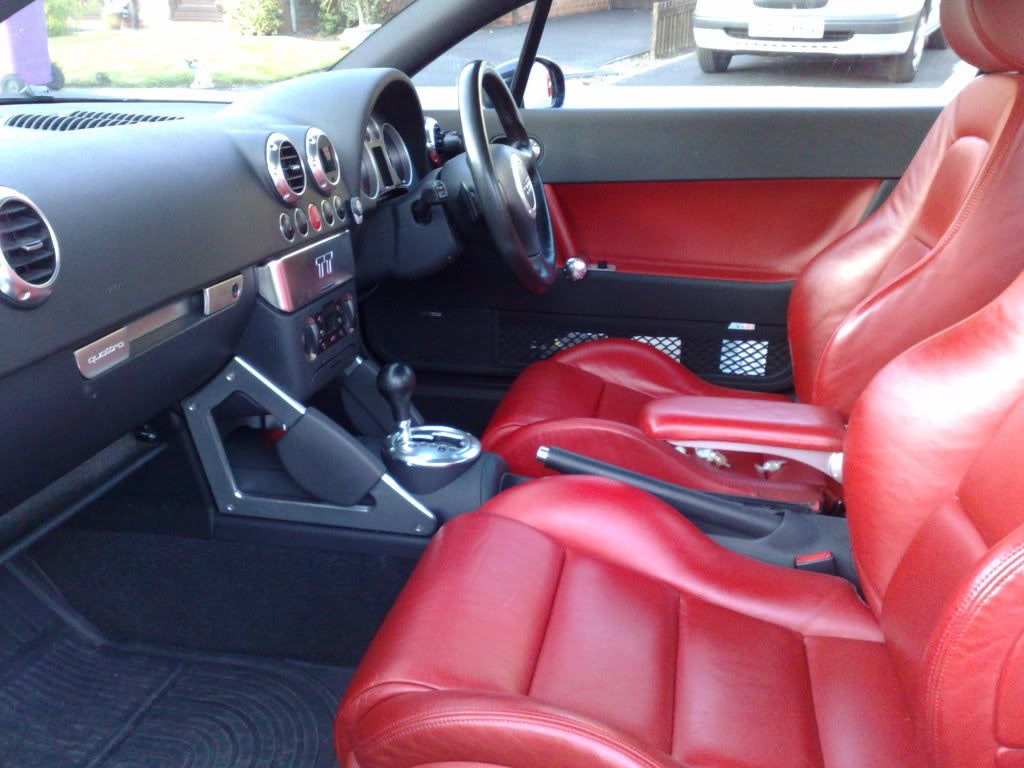 Dimpled rings improve the look of the buttons. The pic does not do justice to the install..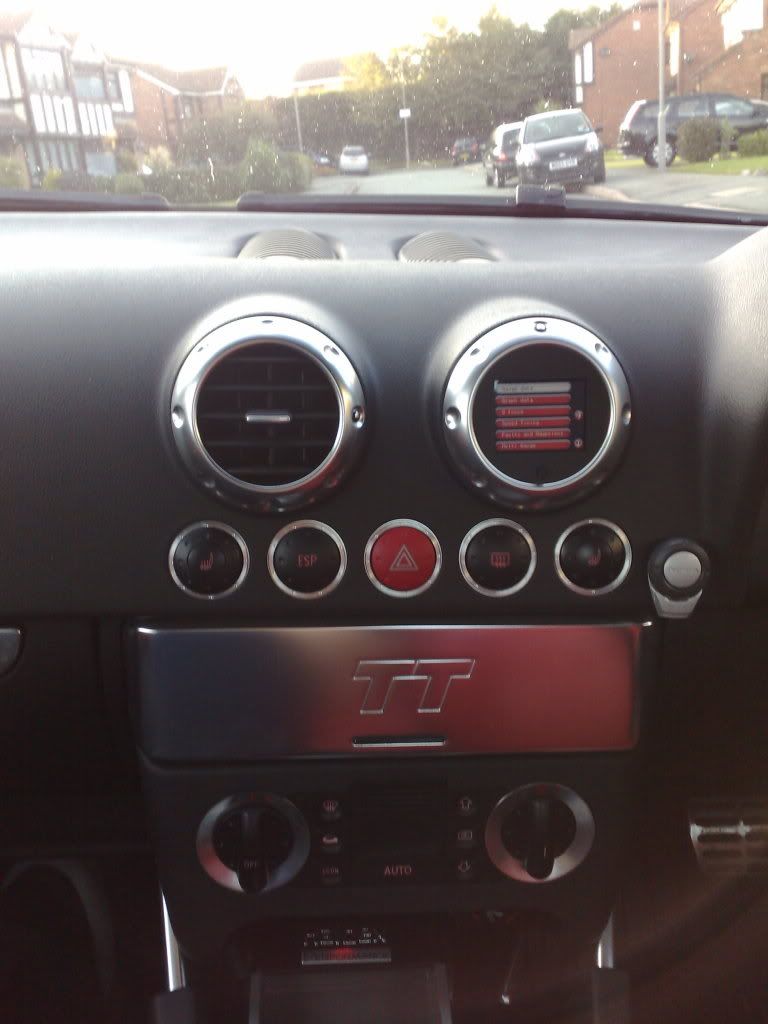 AUG 2009
Team Dynamics Monza Anthracite 18s,
TT lowered on PI springs 25mm, [crap]
Chrome exhaust tips fitted [ barrow like ]
The A8s eventually wormed and they had to go in the end. TDs are a lot better esp with the 4 pearl in the paint as they change colour from silver to blue to black depending on the light hitting them. The PI springs were too Tiggerish and i hated the way the ride felt.
The Exhaust Tips are nice when close to the body but for some reason they've been fully extended in this pic for some reason..
SEPT 2009
Milltek 6 Branch manifold,
Milltek sports cats,
Milltek res section,
Milltek backbox c/w 100mm tips,
4 new lambdas,
GIAC remap
Top 5 mod. Deffo helps the engine breathe a lot better and the noise is more sportier.
Not cheap, but i like..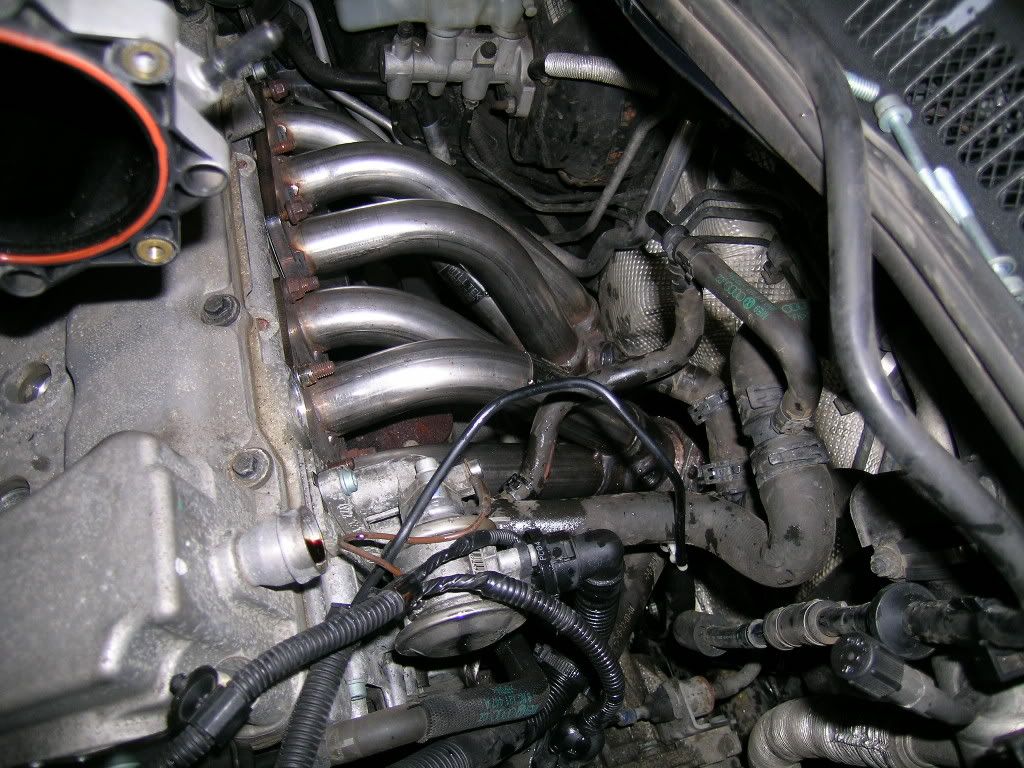 Those cats are so much bigger than OEM. I now have to watch the grass with no heatshield on. See how better exhaust flow has tarnished the back box.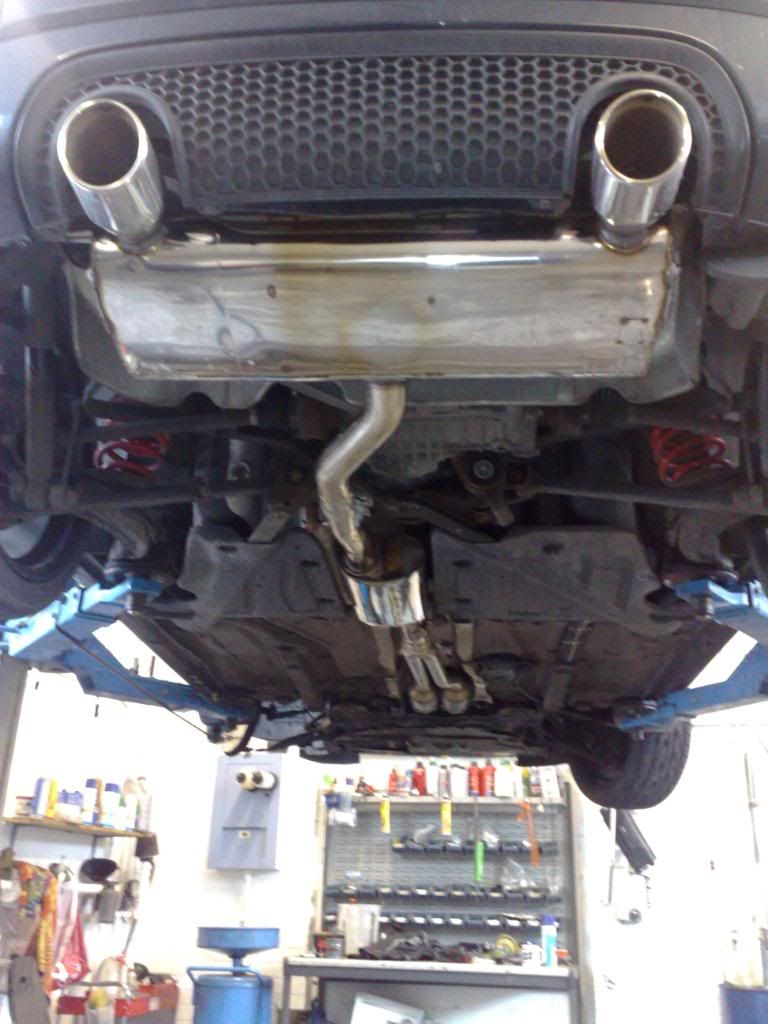 OCT 2009
Carbonio & K&N57i,
Race diagnostics liquid gauge.
Haldex blue performance controller.
Top 5 mod. Breathing is sooo much better and cooler 4C differential between the inlet temp on the Liquid gauge and DIS outside air temp. Its tight fit and there are rubing issues but its in.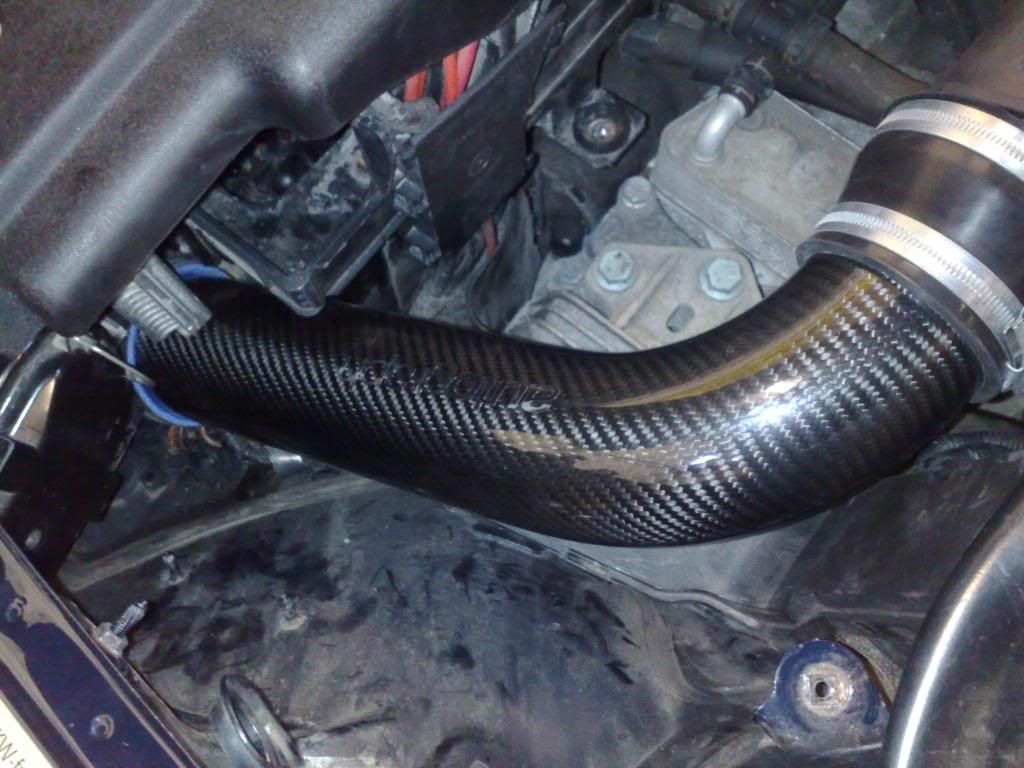 This is a good tool for lots of data and EML fault resets/if i have any..
NOV 2009
ECS discs all round,
Red stuff pads,
Goodridge brakelines
10% improvement in the braking department, dont think that will be enough though..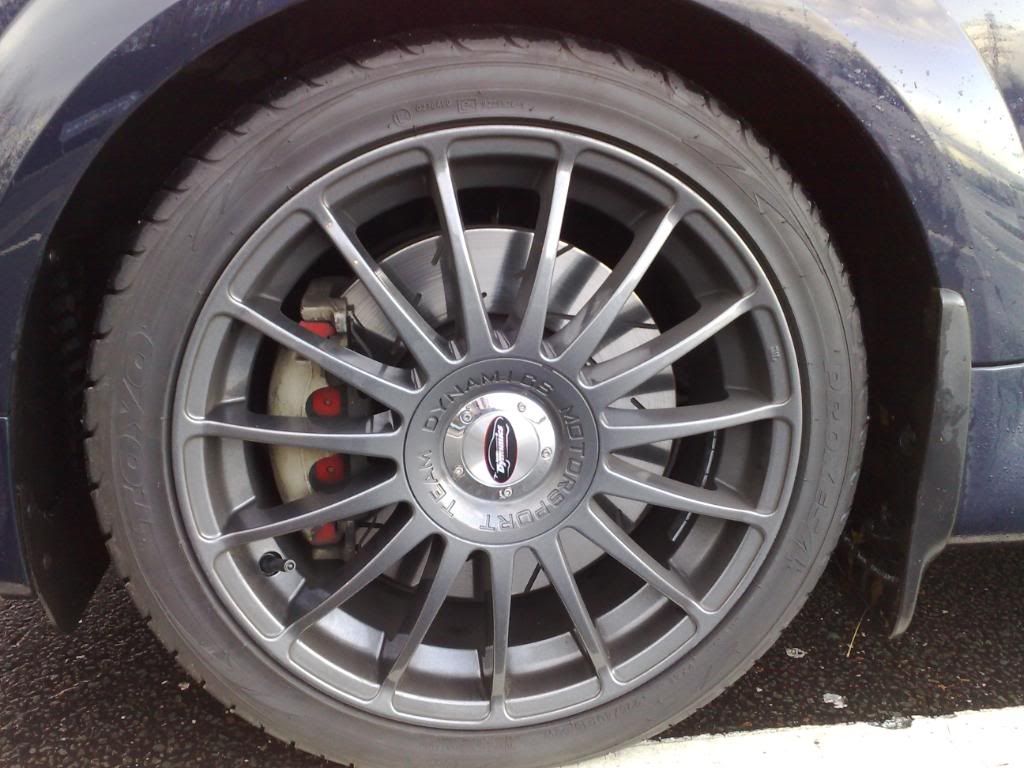 DEC 2009
Full Eibach adj suspension,
AST adj top mounts,
Eibach 19mm rear ARB incl drop links,
Awesome adj rose joint tie bars,
Powerflex bushes.
WOW WOW WOW, its now feeling like a sports car, reduced understeer to become more neutral and it goes round corners very well and compounded by the Haldex which is now kicking in.
Shinny tie bar and adj springs, i like red stuff you know.
JAN 2010
CNC hand polished big valve head,
New VVT ex cam oil pickup, as the OEM one was worn due to fouled oil ways, its a common fault on the VVT exhaust cam.
264/260 fast road cams,
Ultrasonically cleaned injectors,
GIAC remap,
DSG map,
Clear headlight corners,
Headlight inserts colour coded Moro Blue.
Top 5 Mod. OEM head internals exposed. OO look at all that life blood.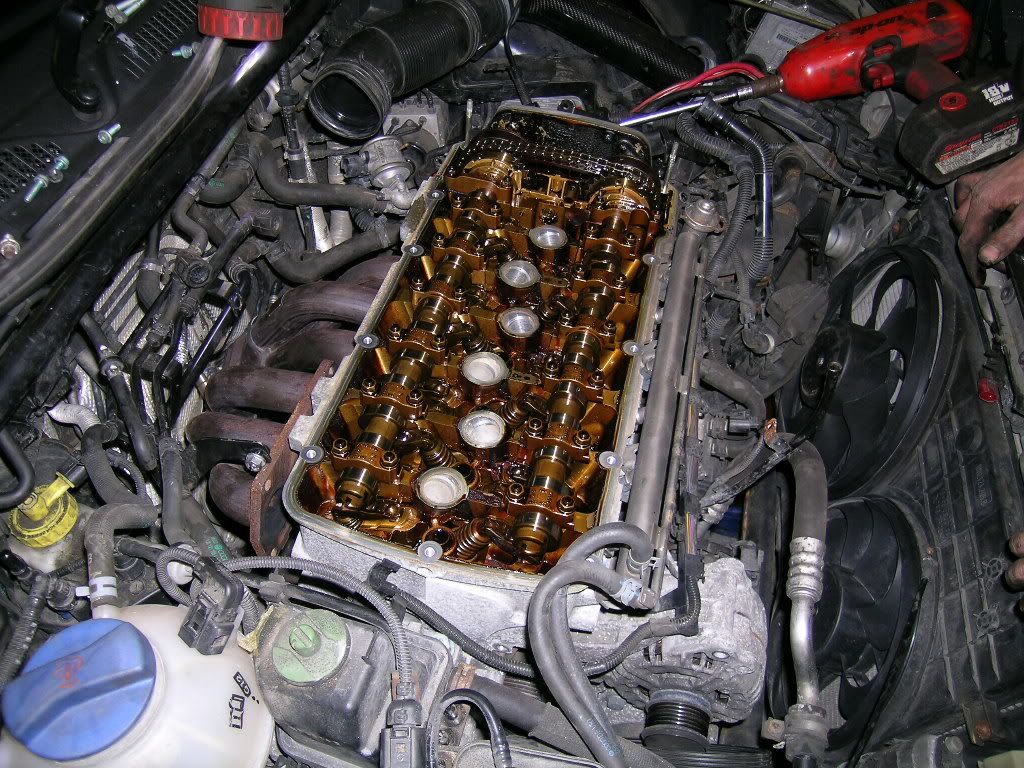 Nice shinny head from CNC.
New seats and bigger valves.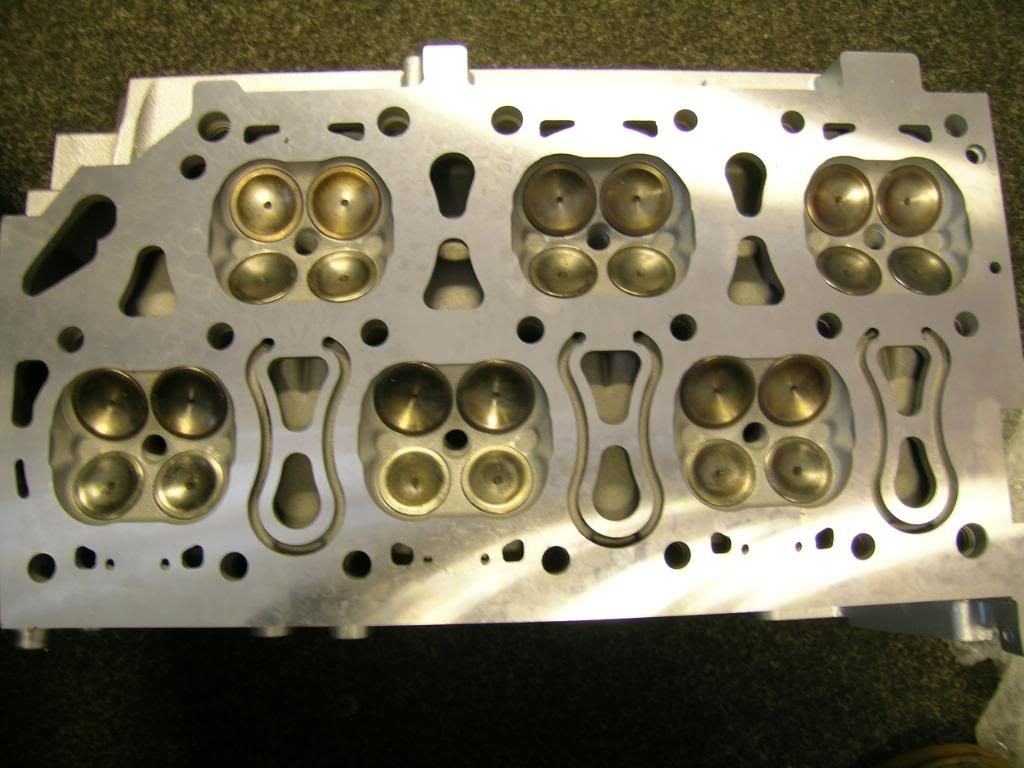 Clear corners and colour coded inserts.
A Santa Pod vid..Its arrived, power is now on tap and feels like my TT has just had some nasal spray to clear all them tubes out.
Click on pic to see the vid..
FEB 2010
Ballast weight off,
Rear towing eye off,
New windscreen,
LEDs in headlights and rears light cluster,
Engine battery cage delete and terminal box relocate.
16kgs of unwanted weight from behind the rear bumper..
Dummy battery cage delete as the battery is in the boot from OEM, the intake pipe can now flex. The terminal box which was on top of the dummy battery box is now relocated and fixed down.
I have made some DIY brackets to allow the battery cover to be refitted.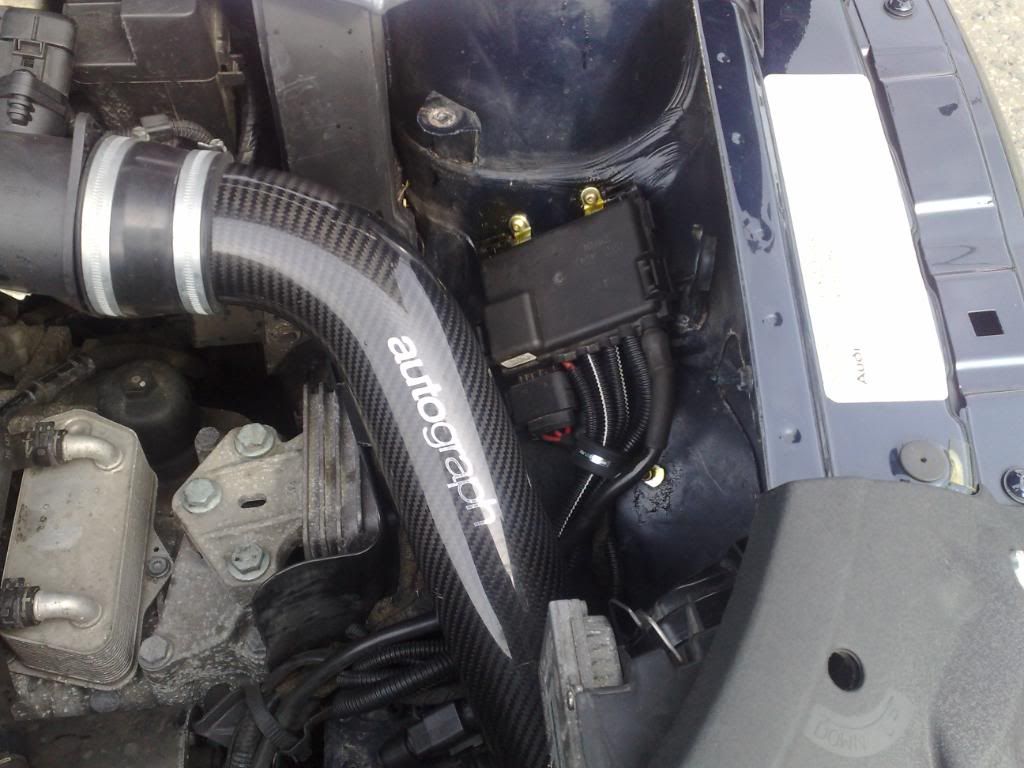 MAR 2010
Tarox 10 pots,
Tarox pads,
Tarox large front 2 piece discs,
Tarox large rear 2 piece discs.
Tarox rear caliper height extensions.
Off..what a chunk of weight that is. Sold to a 1.8 forum member,that should slow him down for a while.
Then on..oops, im drooling. Ive got good braking now..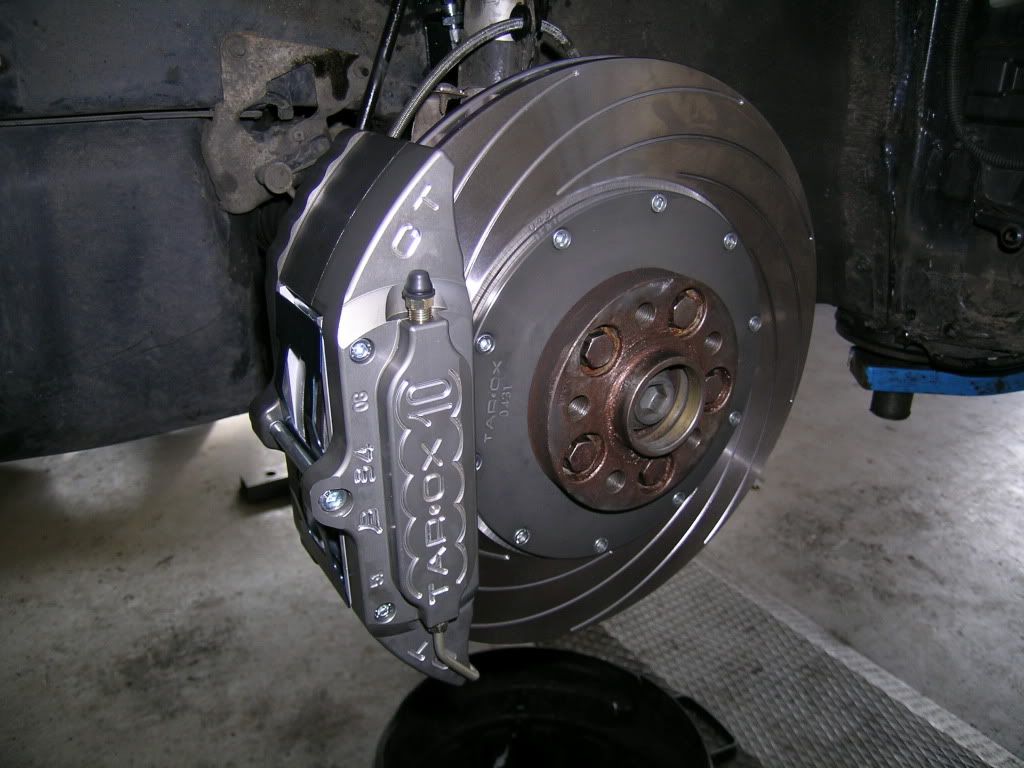 Here is a size comparisson of the rear discs..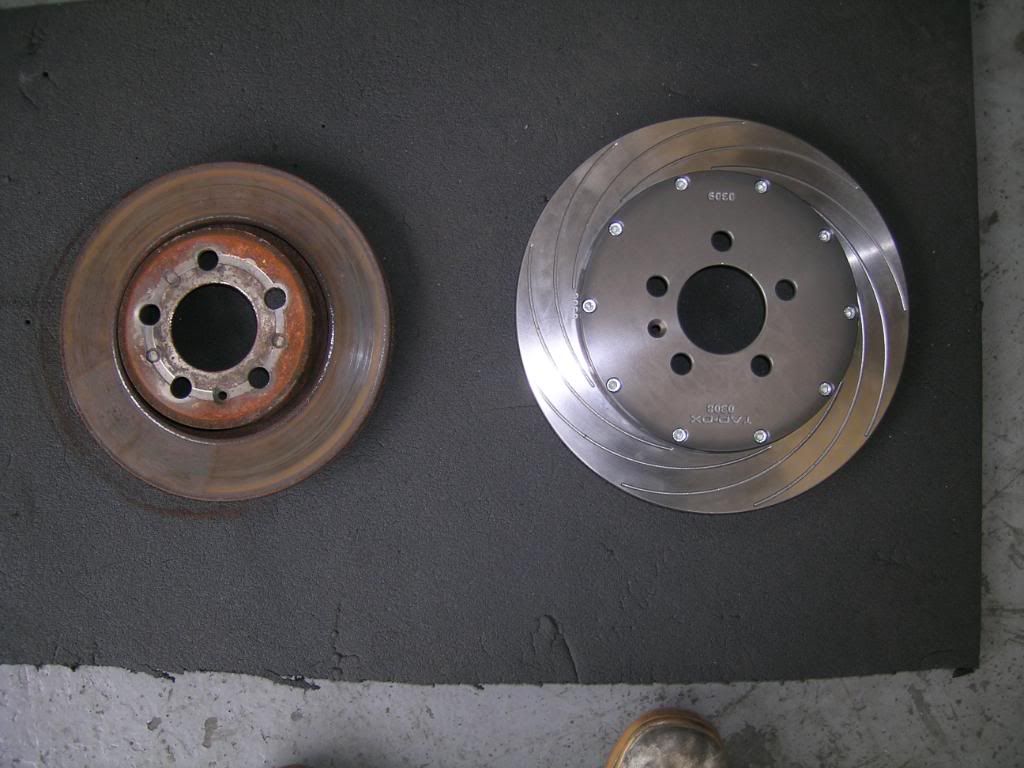 The power mods have dried up now unless i wanted to go radical with the engine and still keep it N/A which would have been so so expensive.
I phoned Andy at Autograph and arranged a meet. We discussed the options available and discussed SC v Turbo.
I liked the idea of the SC but it is would be a tight fit on the TT, as i had issues with fitment and heat from the exhaust as the SC does not fit in the same place as the Golf boys. Autograph hadn't done a SC on a TT so i went to go and see Ronald over in Holland and had a look round his place and see what was on offer SC wise. He had a TT on the ramps which was nearly finished getting its charger.
No! No! No!. The charger is underslung behind the engine and pipework is so tight and bespoke that i had to cross this off the list as an option. Some nice work he does though, but weird looking with those eyes..:stoned:
Back to Autograph it was to discuss Turbo.
They knew i had concerns over heat issues as the TT was not designed to have a Turbo fitted between the engine and bulkhead. They reassured me that any affected pipework would be re-routed a different way and heat treating of components would be used to keep heat issues to a minimum.
They set to work on a quote..1 week, 2 week,3 weeks went by..
APR 2010
Another private plate,
OSIR Orbit ring,
Engine bling, Forge strut brace, R8 oil cap, Neuspeed Ally expan res cap, Washer bottle Ally cap, Ally trim fixings..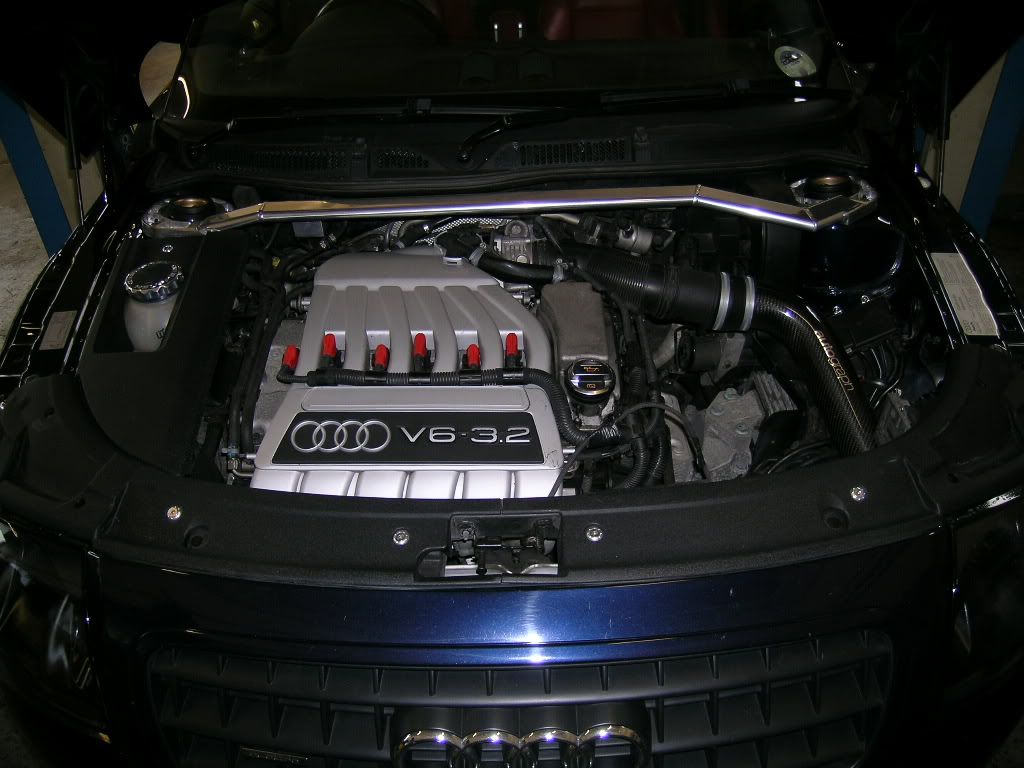 Now that what i call a plate, not very stealth but i think it makes a certain statement..
Nice addition to the interior at night, feels like im in the Starship Enterprise now.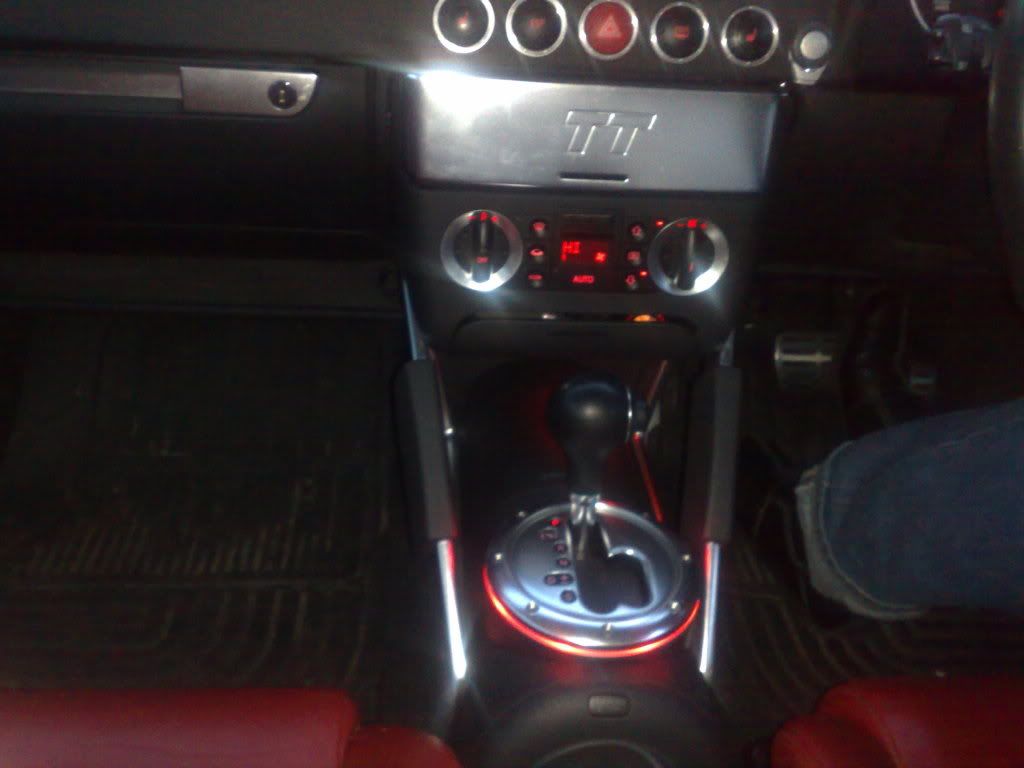 Quotes in, falls off chair. Must be mixed up with someone elses. OMG OMG
Decision time, yes no yes no OMG OMG
Hide the quote from the GF quick.
2 days pass. Im sweating on it. Cant hold on any longer...
Yes Yes Yes. Gave them the go ahead. 6k deposit. Added my own specific requirements to the list and hey ho.
Better get some overtime in for this next mod.
Parts list compiled and design clarified.
MAY 2010
Badged up for the Italy Trip
Milltek non res section fitted.Tunnel Time..
30+ TTs all driving to Italy for a week..fantastic..we all had the decals with individual names in the shield.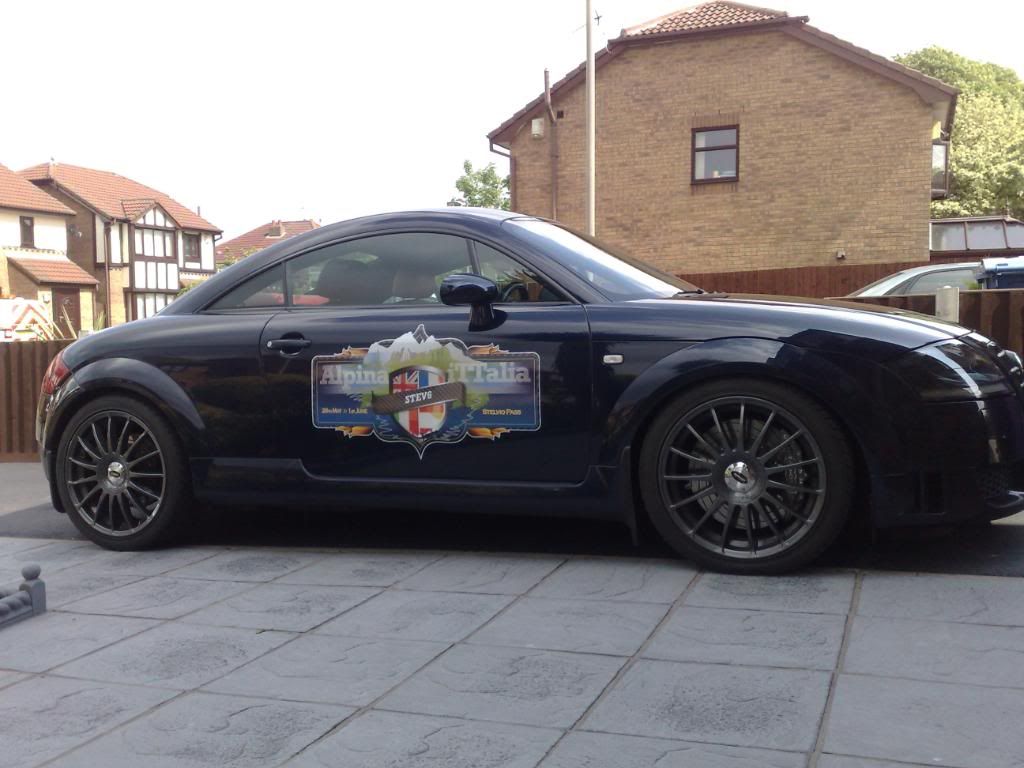 A little extra stripe and gecko for the fun of it. Private plate went down a storm.
Nice and dirty, the way i like it, in the mountains. OOOOO those passes and the banter..fan bloody tastic.
Tunnels were the best. TTRSs,TTSs, 3.2s and 1.8s, oh what fun and i won a certificate for 1st domestic of the trip when trying to turn 2 lanes into three. Scarry. 2500 miles.
JUNE 2010
Some CF to fit,
Rear light white symetry mod,
Mudflap delete.
Get that bloody stuff off the table, she sezz.
2 out of 3 fitted. Feel a song coming on. I like Meatloaf.
Spats on and flaps off.
JULY 2010
More CF fitted. I like to get to grips with that. Not cheap this CF stuff.
AUG 2010
I have agrred to swap bumpers with this forum member and it is currently in the spray shop where the fogs are being deleted along with the xenon headlight washer doors.
I will try to get the next part up soon as ive got to do some work now..
Steve