.:Naters10 *picture/build* Thread...Neat!:.
So I'll start with a little intro here: Got a bit inspired by some build threads and figured I should start one for myself. I am sure many of you have seen my car around a bit on here so it might be a bit familiar. I am nineteen years old, twenty in a few months. I live in the great Pacific Northwest, and work at a local Carwash! I have been in the Euro seen for about three years now, and still consider myself very new to the scene.
For this thread I will try an update as much as possible. Let me know what you all think, and hopefully this can be a big help and motivation for me too:thumbup: Thanks:thumbup:
Edit: 1. ( Photos of Jesster's Mk4 build pg. 2.)
I was first into the Older bmws, owned two e30's, and an e28:
Second e30- 1987 325is
Third-1982 e28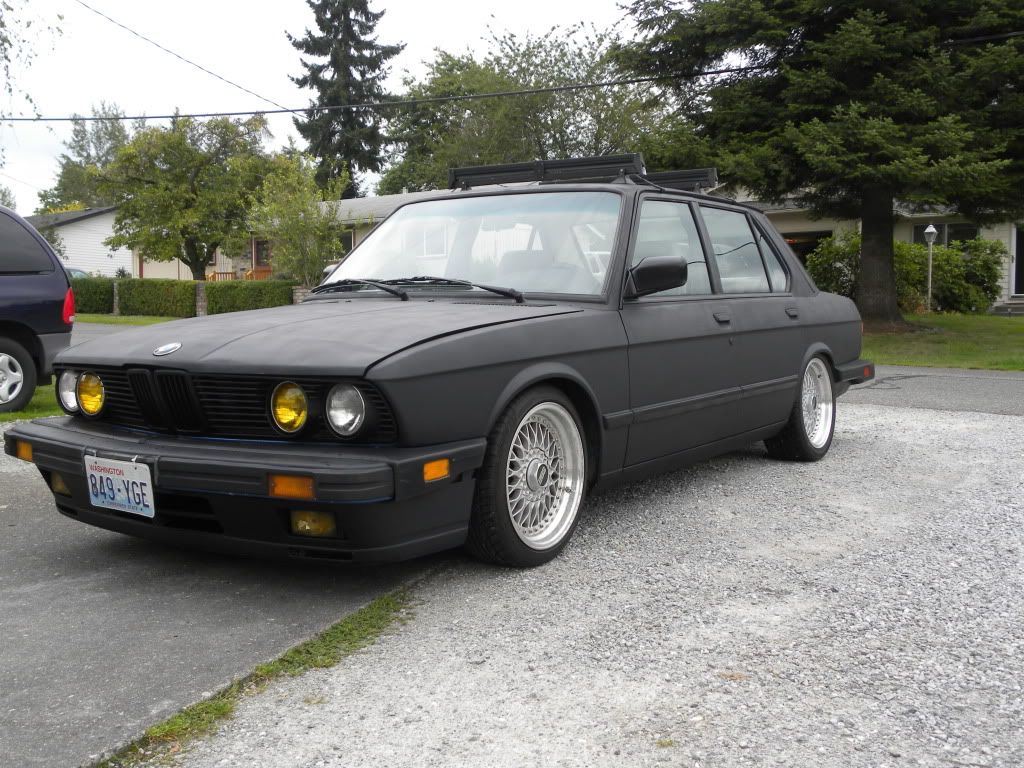 Had a lot of fun with the bimmers, but I did not have the money to put into them, and fix them up to be decent daily drivers. Hopefully one day I will own and build one up.
Then an opportunity opened up and I was able to buy and make payments to my friend/neighbor "Jesster" for his Mk3 Gti.
1998 Gti vr6
Loved the car, and had a lot of fun with it, but it wasn't practical, and I wanted to do my own thing to it, but it was too custom and I didn't like driving someone else's build. So I traded it for my current vehicle:
2002 Jetta 1.8t
This is how I got it, and was able to keep my wheels in the trade. 17" Mahdi's. There a JDM wheel and are pretty rare. They were re-drilled to 5x100.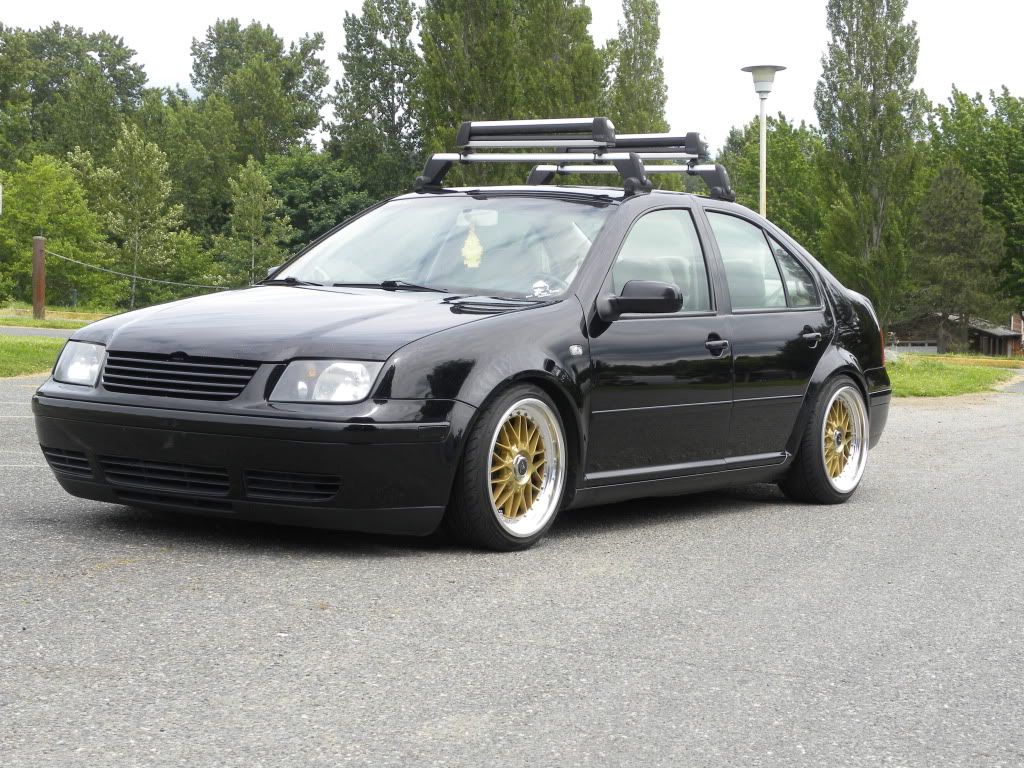 The car came with FK coils, but they were blown and possibly the worst riding things EVER:facepalm: I took off the license plate. And the tires were a bit too small for the car, so I picked up a set of new tires, some raceland coils, and called it good for the time being.
New tires and coils on. Backs are cranked down all the way with just the springs, front I want to go a little lower but need to cut sway bar out here soon
BFGoodrich(204/45/17) tires almost new for $180.00 from my friend jess
thanks!: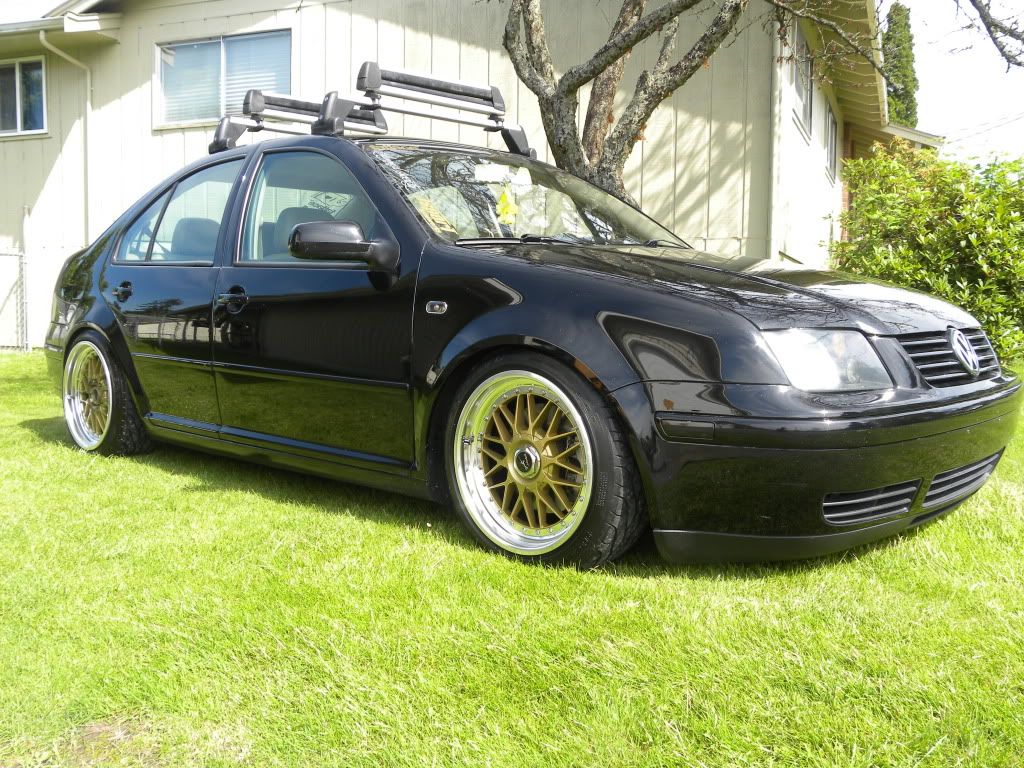 Also threw on the stock grill. Hood notch was bugging me
Next I was sick of the gold centers and gold overall, so I switched to white and painted the centers, and threw on some white stickers, and painted the front emblem: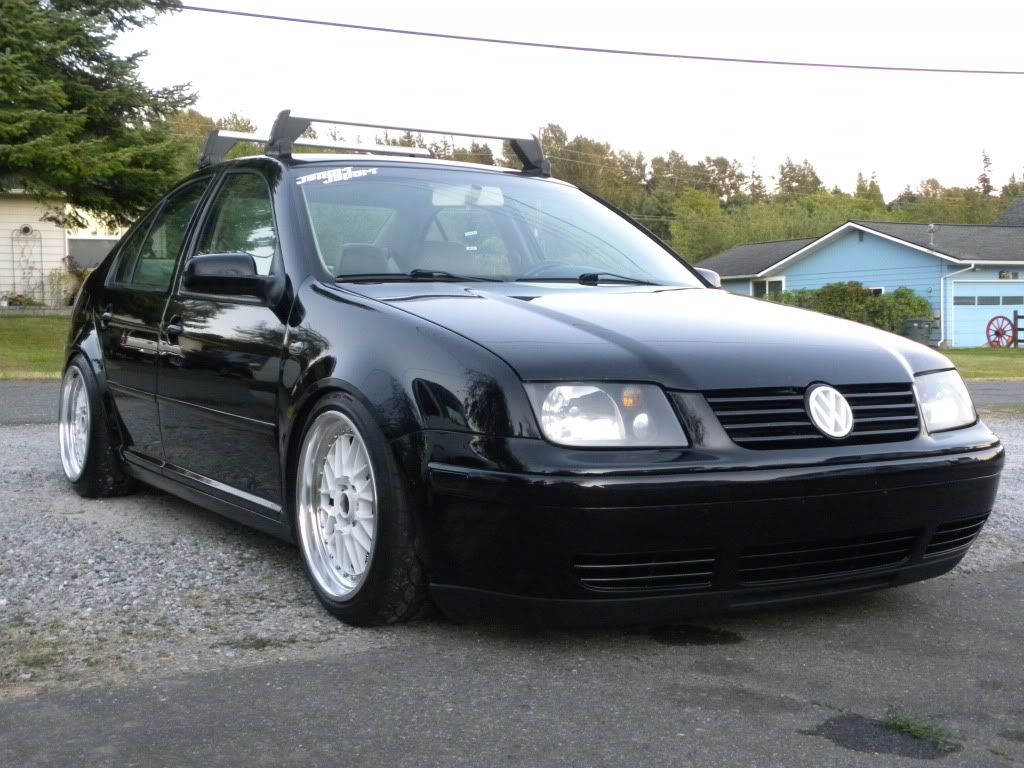 Next I put the front license plate back on, wanted to avoid getting a ticket
and was bored one evening and had some fun building a flat wood roof rack: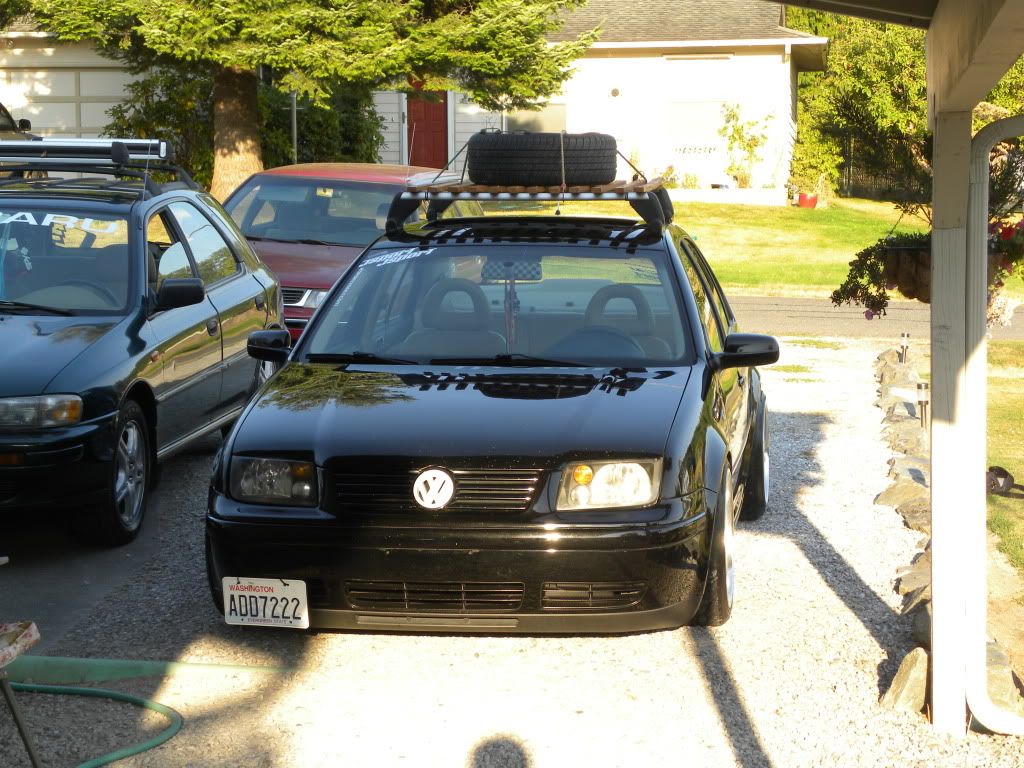 Center caps if you've noticed are missing, me and previous owner each lost one
, so I took them all off
Underneath wood rack. Used bolts and washers, and then zipties to hold on to rack. Didn't want it permanent.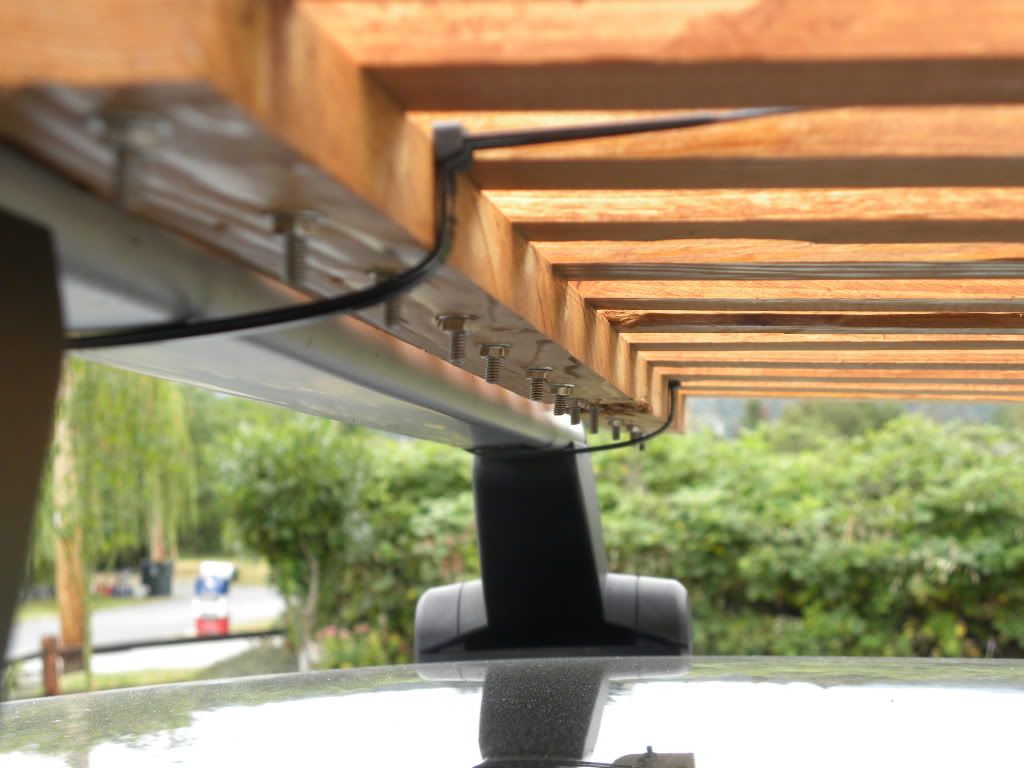 Picked this little guy up from the Great Canadian Show in Langley, BC for $5.00.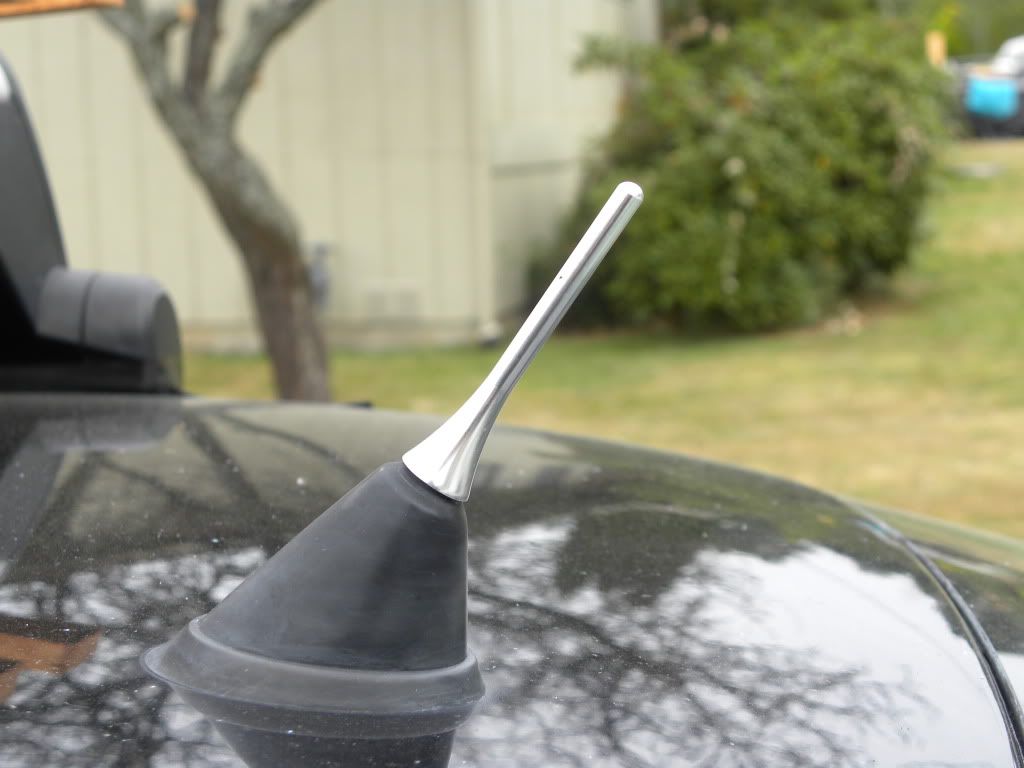 Getting trendy
Photo from Stanceworks gtg in Kirkland, WA.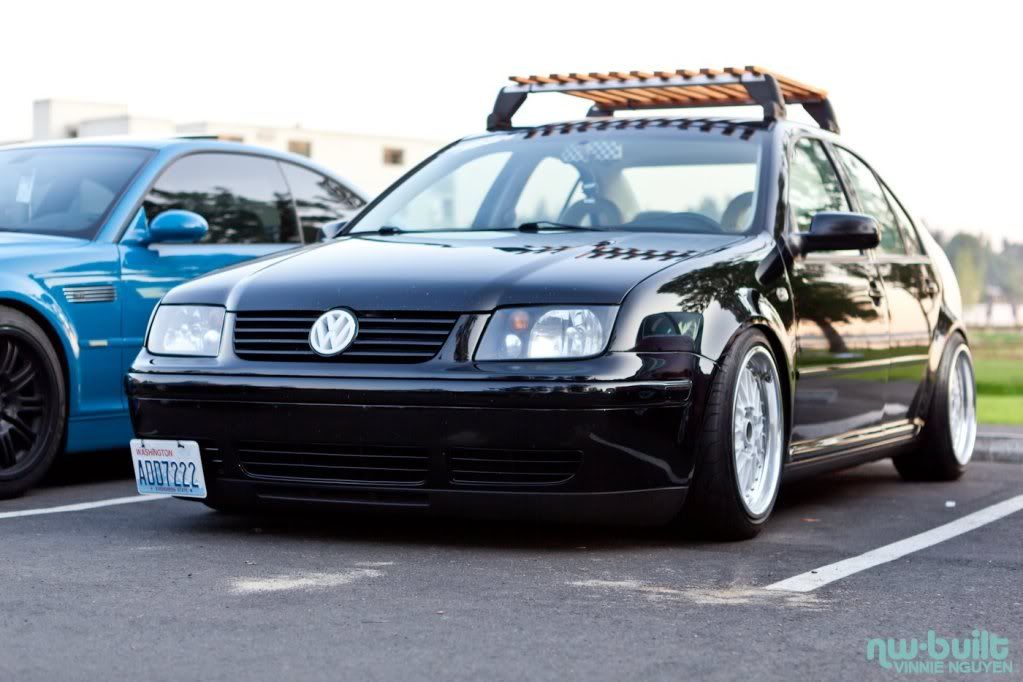 Local show in WA
And in my driveway!:
Overall the car is definitely not perfect, and there are many things I would like to do different. There's always something new that I want:laugh: but with a some payments I have to take care of it will be a slow process to getting it where I want, but I will try and update it as much as possible:thumbup:
Maintenance wise I've got new Brembo rotors, and new pads. Broke oil pan, so got a new pan
other than that just the small basics. Car has 115k on it, and previous owner did quite a bit of work, so timing belt is brand new, and turbo was just rebuilt:thumbup:
And other miscellaneous work was done by him which is good so I don't have to do it since I am not very mechanically inclined
working on it though!
Let me know what you all think! Thanks:heart: