Discussion Starter
•
#1
•
Over the summer I hit my goal of 142whp running a TT288* cam and a custom tuned TT chip. Then my work commute changed from 15 miles to 100 miles a day. Add to that the high (at the time) fuel prices, they had to come out. So after rockin the stock cam/chip since September, I got....well...bored again. It was enjoyable while it lasted, but lets face it; You can't go from a 288* cam and custom tuning and drop 30whp and
not
miss it. So, I started looking through the classifieds a few weeks ago in search for a nice small cam. Something in the 256-260 range. Still wanted the smooth, stock 820rpm idle, but wanted something with a little more lift and duration. As we all know, the stock cam loses its steam after 4500. So Im looking around, and come across a guy parting out a G60 motor. He's got a "8v 260" for sale. I shot him a PM asking who's cam it was, and he replied "BBM". They don't make cams, they re-sell Techtonics. At that point I realized what the part number meant...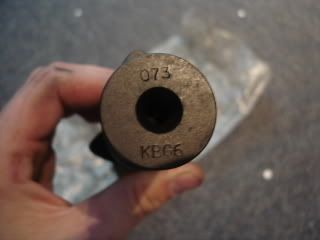 It was TT's stage-II blower cam. 268*/260*. $75 shipped and it was mine. (they usually sell $150 used)
It's been in for a week now. I love it. Got it advanced like 3-4*. Low end is the same, if not better than the stock, and I run out of rpms (because of the stock chip) before it stops making power. (Im sure the SRI and head help with the breathing past 4500). Idle is very, very slightly lopey. You can barely tell though. Still smooth IMHO.
Then my other toy got came Monday.
Black Forest Ind. Stage-I chip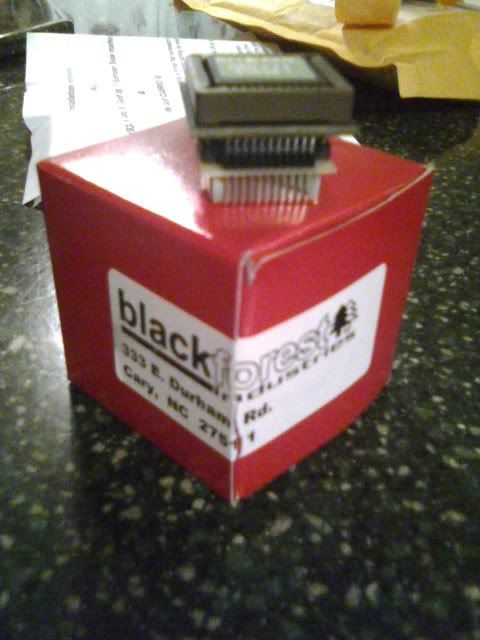 Got word of the chip a few months ago during development. Saw the results and knew I had to get one. Codes out the SAI and the rear O2 sensor all together and automatically passes them in readiness. Plus the power output from the chip and cam alone were 14whp with a ESS 268* cam. (.440" lift, 113* LSA's) Figured the blower cam I got is close enough, so Im sure Im back in the upper 120whp area. I filled back up with 93, and Im gonna keep track of of the ignition and AF with my data aquisition stuff. It will be nice to get more than 16* of timing on open-loop driving! Im also going to start dropping octane levels to see how much of a cheap bastard I can be before the motor starts to complain. I'll let you all know how I like it. It's double the price of the competition, but C2 engineered/dyno tested it. Worth it to me. In fact, I wish I had this over the summer. Oh well. Chip is installed. Idles at 890rpms right now. A little high....Im hoping it settles once it adapts.
I got a Scangauge-II to keep track of my ECU vitals, like ignition advance, open-closed loops, temps, mpg, ect. I also have a wideband to keep track of my A/F. Here are the differences between the stock chip vz the BFI PEM:
Stock chip idle: 820rpms
Stock chip advance @ idle: 12*
Stock chip advance @ cruise: 24*-28* (load-dependent)
Stock chip advance @ WOT: Never more than 16*
BFI chip idle: 880rpms
BFI chip advance @ idle: 7*
BFI chip advance @ cruise: 38*
BFI chip advance @ WOT: Starts at 25* and works its way up
This thing cruises all day at 38* ignition advance. I literally watched my gauge go from 32-34mpg to above 40mpg at stead-state cruising. Can you say better gas milage? I can. Once you jump on the loud pedal, it drops down to about 25* and then goes up from there. I noticed it runs a little leaner on closed loop. Stock chip hovered around stoic more, the BFI chip seems to be dipping leaner (into the 15's) more. So both the fueling and hot ignition in closed loop is going to give a lot better fuel economy under normal driving conditions. Amazingly, my open-loop A/F didnt change...meaning that Im still in the same range from the stock to the BFI chip.
Driving on the hiway, the acceleration still in 5th gear is almost comparable to dropping to 4th with the stock chip. You press the pedal and it just goes. Its awesome. Ripping through the gears is twice what my old TT chip felt like. This chip has no holes or flat spots in it, unlike the way my old TT chip felt. (had it's good days and bad days)
All I can say is, those who don't have a chip yet, get this chip.
Those who already have a chip, throw it away and
GET THIS CHIP
!
That is all.
Trav