Car purchased 2/28/2015 from Brian Munoz at Hansel VW in Santa Rosa CA. It is a launch car and I got the car at invoice so it was worth the flight up from Los Angeles. I just am using this thread to keep my postings centralized, something I should have done a while ago but oh well.
Before taking delivery I had the dealer tint the windows with Pinnacle Ceramic - 40% on sides, 30% on the rear window and Llumar airblue80 on the windshield. I also had them wrap the roof in an aluminum finish which was awful and I removed it a few days later. Lastly they had a detailer apply Opti-Coat Pro.
Current Mods:
Engine / DSG:
APR Stage 2 ECU
APR TCU Tune
APR Intercooler
Milltek Non Resonated, non valved cat back with velvet black tips.
Spulen Turbo Inlet pipe
Wheels/Brakes/Suspension
SuperPro Engine and Trans mounts.
Exterior/Interior
Euro LED Tail Lights
Euro Mirror Caps
Cars P3 Gage
[URL="http://forums.vwvortex.com/showthread.php?7242945-nikhsub1-MK7-R-Progress&p=96732137&posted=1#post96732137]VWR RL Carbon Hatch Spoiler[/URL]
Now for some pics - chronological
Delivery day!
A couple of days after getting her home - removed the roof wrap and installed the BBS LMR's
:heart: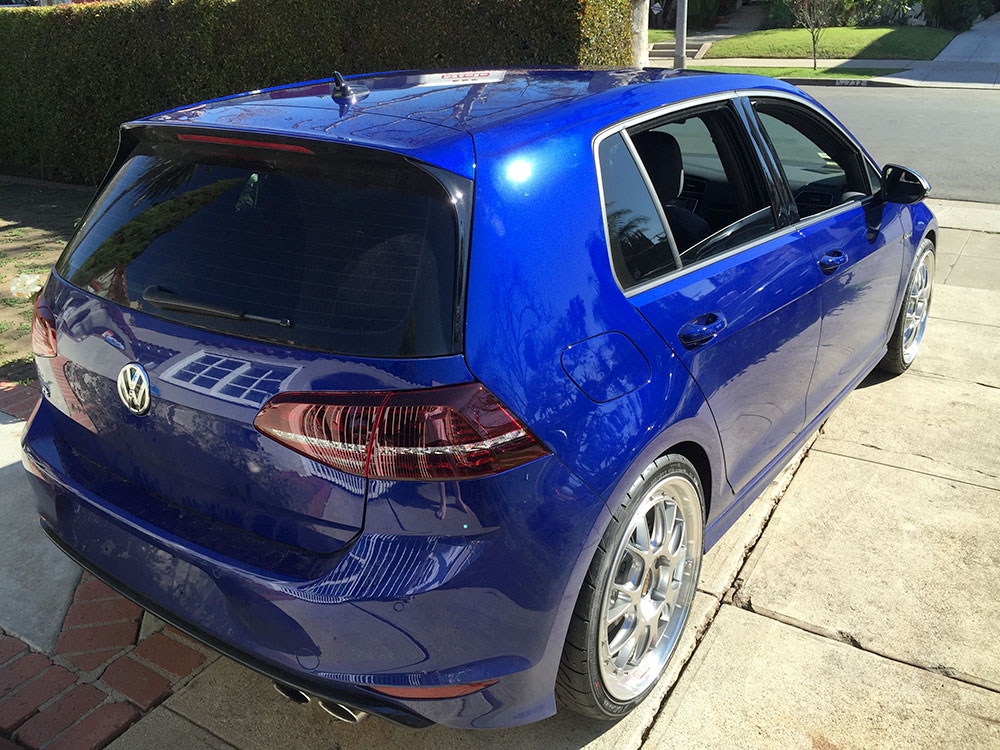 VWR Intake installed!
A couple of days after the VWR springs were installed:
And the alignment:
S2T Paddles
Milltek DP waiting to be installed:
VWR BBK Installed (this is a carryover from my MK6 - they were red I made them black):
Fastivus 2015 Track Day:
Euro HIDs installed! No more orange! w00r!
Painted rear bumper reflectors. Subtle but me like:
034 Motorsports Dogbone insert installed:
Here are a couple of shots from the "Last Sunday" get togethers which happen here in LA the last Sunday of every month:
Future mods:
Intercooler - Waiting to see APRs offering but an upgraded unit is a must in the summer when pushing the car.
Big Turbo - Waiting to see what is going to be available.