It's been nearly a year since my 2018 Golf R left us, and aside from occasionally wishing I had something to take out for a fun drive, I don't really miss having another vehicle in the garage. The Toyota has been an absolute pleasure to own - not fun per se, but amusing enough thanks to it being much quicker than anyone would expect. It's also very comfortable with a great interior, and it's literally done everything we have asked it to do - and that list is pretty substantial, including towing my boat to the lake once a week in the summer in 90 degree temperatures. While I don't love driving it, I do LIKE driving it, and it's earned my deepest respect and trust. In many ways, it's earned my admiration as much as my old Suburban 2500s did - which is high praise. It's the right size for us, it has an occasional-use third row, decent storage space, and it can tow without being a massive truck. It is a great car. Or maybe I should say it was....
The lease on the Highlander ends this March, and since it's our only car, we need to replace it. I have watched the launch of the new Highlander, and while the XSE adds a little sportiness, it's not moving the needle for me this time around. We wanted more.
With the Golf gone, we made the call to push the budget and get one car that really could "do it all". Could we keep the utility and the comfort, and add enough performance for me to keep me entertained, without getting something enormous and unwieldy? It needed to be a daily driver, special, and fun, but not a museum-piece. It will get used hard as much as it will be waxed and pampered. And when I drive it, it needs to be able to paste a
[email protected]
$$ smile on my face. Oh, and it needed to tow.
It's a tall order, but not impossible. Thankfully the proliferation of SUVs have resulted in some very nice options. Here they are in ascending order of attractiveness:
Range Rover Sport
Nope. It's a Range Rover. The end. Next.
.
.
.
.
OKAY, OKAY. I didn't care for the interior, and the electronics (not to mention lack of service places near where I live) left a lot to be desired in terms of responsiveness. It also leased like crap and the dealers were not interested in negotiating on anything that wasn't a lease-spec special on the lot. And I just didn't like it. We passed for…many valid reasons.
Porsche Cayenne S
I had initially dismissed this, but the truth is the middle child S is actually a very appealing option, and once I test drove it was blown away. The new twin turbo V6 is damn fast, and the handling is completely otherworldly. I can't believe they squeezed this much performance and capability out of something with a 7,000 lb tow rating. Air the suspension down and it feels like a super-hot hatch, which is high praise. The dynamics would flatter a proper sports car. In fact, it IS a proper sports car….just with a SUV body on it.
What did this car in for us was two-fold - First, we really wanted a third row, even a tiny one, because there are times where we put some poor sap (usually my wife) back there when we have family in the car. And two: THE OPTIONS. Good god, man, the options. There are so many, it's hard to understand what would make the car a good spec or not. Even using restraint, I added nearly $20,000 to the MSRP of the car. Also, Porsche caps the Residual at a certain dollar amount. Options above that dollar amount do not residualize, and even sticking to performance-only options blows that cap very quickly. That's before we talk about the lease rates, which are not even remotely competitive. So this car in reality is a full price class or two above these others, which is really what took the Cayenne out of consideration for us.
Dynamically, one of the best driving cars I have ever driven. No joke. If you don't think SUVs could possibly drive well…go drive one of these. Bring some hot sauce for the words you're going to eat.
BMW X7
Say what you want about the ginormous grille (and I really don't find the face of this thing attractive) but it's a solid 3 row. The I6 in these SUVs are still plenty rapid, but I made the mistake of driving an M50i. Lordy Sweet Jesus Horatio Christ, I don't know how BMW engineered a tactical nuke under the hood, but the performance is NUTS. It doesn't drive as well as a Cayenne, but then again, what does? It was quite sporty, but on the negative side, all BMW interiors look identical, and there's a certain "genericness" to their interiors. Honestly, it feels like BMW went to the "basic German car design" well, grabbed some materials, and designed the interior around it. That's not a knock - they are very nice, but it didn't feel special enough to continue the conversation when the MSRP was over $100K.
But in the end, this car is too big for us. This was more "full size 3 row" (which it is) and we wanted something more Highlander-sized. But that's okay….BMW has something else to look at.
Volvo XC90 T6 R Design Polestar
This was a surprise, and we nearly bought one. The size was perfect. The interior was drop dead gorgeous. The performance was….acceptable. I would have liked more power, and it was clear that the turbo, supercharged, and Polestar-tuned 4 cylinder was working its ass off to move the car down the road, but it was plenty quick. The dynamics were on the relaxed side for me, but it rode and handled nicely. The 22 inch R Design wheels really make for a busy ride and gave me pause, but they look great and complete the look. The interior on this car is what makes the car special….and the seats were far and away the best seats I have ever sat in. The Polestar optimization (basically a tuning program on top of the Turbo and Supercharged 4) added a nice kick of power, but here again…this car really needs a six cylinder engine.
I wanted a Crystal White R Design with a tow hitch and air suspension, and at any given time there were maybe 3 - 5 nation-wide. I did ultimately find one at my local dealer but they were not really interested in negotiation. At all. Which put the price right in line with the X5, and as you can see, I felt the X5 was the better car in a heads-up comparison, especially if price was equal.
It's a nice car, but it's not "take it or leave it" nice.
Volvo XC90 T8 R Design Polestar
Take everything I said about the T6 and add a LOT more instantaneous power and plug-in charging. That's the T8. The electric motors and plug in hybrid capability made the car very appealing - in theory, you could do some quick errands on a full charge without ever using a drop of gas. Put it in sport mode, and the electric motors kick in for an instant, nearly impossible shove in the back. Add the Polestar optimization on top of that, which basically sharpens the reflexes somewhat, and it was a really nice, luxurious ride with plenty of power. I absolutely loved this car, when I actually found one for test drive. I would still love to get one. Buuuuut……
The problems I highlighted on the T6 above plays double for the T8. The T8 is not common or easy to find in northern states. The R Design was simply not available - and dealers could not tell me when they would get one in. And don't ask about lease rates.
I don't understand why Volvo puts a very desirable model out there and then makes it impossible to buy, but that was the situation for me. A pity.
And those seats...man I still dream about those seats….
BMW X5
Presenting Goldilocks.
We started out by driving a loaded 6 cylinder BMW X5 Msport. For a base engine, this thing is freaking spirited. The second I drove the 6 cylinder, the Volvo XC90 T6 was out of the running. The main passenger cabin is a little tighter than the XC90, but not unreasonably so considering most of the time it will carry me, the wife, my son, and a golden retriever/corgi mix. The 3rd row is laughable, but you can fit one adult in there crossways for short trips, which is all we planned on using it for anyway. And the dynamics and drive quality were simply out of this world.
And then I made the mistake of seeing the V8 M50i they had in stock. Why yes, sir, you can drive that one. In my head, a mix of "hell yes!" and "oh sh!t!". One negative- the 3rd row is NOT available with the M50i. Once they started the engine, I didn't care. The exhaust sounded like a stock car in Sport mode, the interior was remarkably well done, and the car had enough room for us. Out on the road, all the good stuff that made the 6 cylinder X5 such a great car was turned to 11 in the M50i. The accelerator pedal would better be described as a nuclear detonation device. This thing was laugh-out-loud fun, and short of a Grand Cherokee Hellcat or a Tesla Model 3 Performance, almost nothing will keep up with it. To hell with the 3rd row…I needed this thing in my life every day.
We were sold. So we started talking to dealers, we made the deal, and here's our new Tanzanite Blue II/Tartufo 2021 BMW X5 M50i.
.
.
.
.
.
.
.
.
.
.
.
.
.
.
.
.
.
.
.
.
.
.
.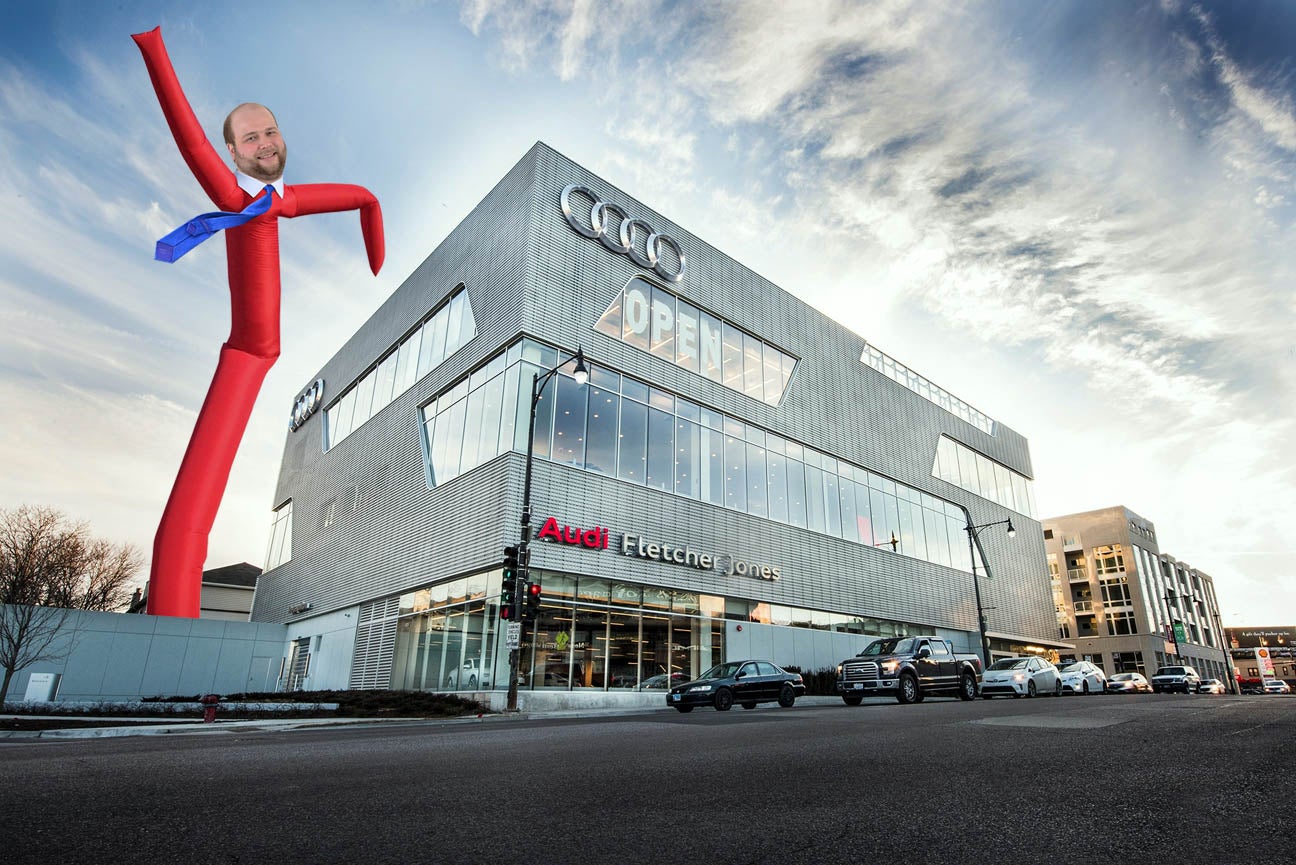 Be honest. How many of you saw this one coming?
For those of you playing the home game, this is the second time I really tried to buy a BMW product, but got derailled.
It all started in Smooremin's RS6 thread. Those of you who were participating likely saw the whole exchange, but I had been watching that intently (because, DUH, RS6), when Brandon posted something that literally made me stop dead in my tracks.
Specifically, this post:
Make Green Great Again; Help me pick what Audi Exclusive...
You see, Brandon had brought home an SQ8 for the evening, and posted a start-up video in that post. Up until that point, I had dismissed the SQ8 because everyone was fawning over the RSQ8 and I had just assumed the SQ8 was merely a sportier Q8 - nice, but probably a tad dull.
That video told me I was dead wrong. It easily sounded as mean as the M50i, and easily had a better interior. And then the real trouble started….while on the Audi website, I had totally forgotten that they ALSO had this package available in the 3 row Audi SQ7.
And you could get it in Daytona Gray. And you could get the interior in Arras Red.
Emails were exchanged, numbers negotiated, and in short, we have a lot to be thankful for this Thanksgiving. Here's our brand new 2021 Audi SQ7.
(Apologies for the pics - the weather here is terrible and I have not been able to take proper pics yet)
Obviously I will follow up with more driving impressions and better pictures whenever we get to see the sun again, but what I can tell you is this thing drives like super hot-hatch. Take a Golf R, add air ride, a third row, and a V8 that sounds like a REALLY angry Hemi, layer on the Audi refinement and luxury accoutrements, and you pretty much have the SQ7. Air the suspension down and it sits like a sports wagon. In fact, that's the impression it gives up close. The drive modes are noticeably different, and Dynamic opens the exhaust up with some serious crackles and pops. In short, it's a hoot. Throw it into comfort, and it's a completely different machine - quiet, luxurious, and comfortable. What it does not feel like is a sports utility vehicle, which was kind of the whole point to this exercise. It also tows 7,700 lbs, so I am anxious to bolt the boat onto it and see how she pulls.
It'd be an understatement to say we're thrilled. It's Christmas morning every time I open the garage.
Finally, I want to give a huge and well-earned shout out to
Brandon Moore
(our own Smooremin here on TCL) as well as
Bill Wierenga
at Fletcher Jones. At each step they went completely out of their way to earn our business, and jumped through extra hoops given the COVID pandemic. Despite all those challenges, they were
relaxing
to work with and zero-pressure.
In particular, Brandon and Bill were willing to do as much as possible virtually or remotely, they were more than transparent and fair throughout the negotiation process - both with the new car and negotiating on my Highlander. As I mentioned, Brandon brought a car to me when I wanted to test drive (on an atrocious day weather-wise), and they even brought the new car out and did paperwork and delivered it in my driveway. And with regard to pricing, well, all I need to say is Brandon was competitive on Day 1. If you want an Audi, as far as I am concerned they are the only Audi dealer you should be working with.
To Brandon and Bill - my deepest and profound thanks for making this happen. You guys are first-class from start to finish. You made the buying experience match the excellence of the car. Thank you.
More to come as we put some more miles on it. In the meantime, I am trying not to look at APR's website…..again……