These are the pieces needed for upgrading a coupe from brake system to use Porsche 996 brakes. This model caliper comes on two different cars, the Porsche 996 or the Boxster S. The 996 brakes are black and the Boxster S brakes are red. It seems that you can get these calipers in silver, now.(2-26-05)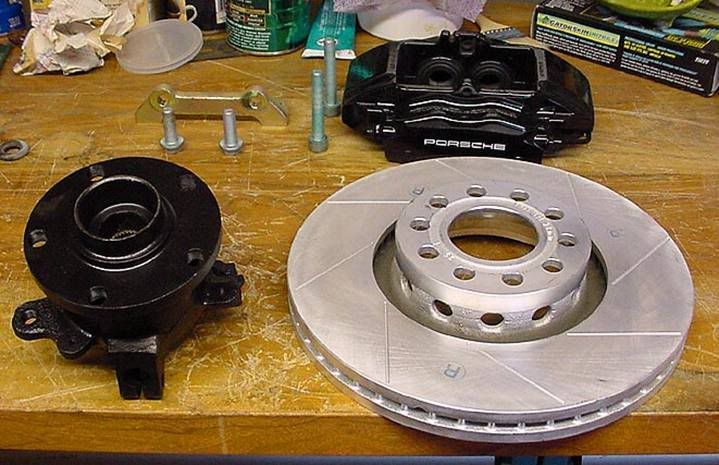 Hub carrier with S2 5X112 hub installed
Porsche 996(BoxsterS) caliper (used from LA Porsche dismantlers)
RS2 caliper carrier (Europrice.com)
314X30 Euro A8 rotor from ECS tuning (in stock) Audi part #441-615-301AA
323X30 A8 rotor from Zimmerman slotted (Audi Part #4D0-615-301A
Carrier to hub bolts - M12X1.5X22mm cap bolts with washer (Stealer)
Caliper to carrier bolts - M12X1.5X72mm hex bolt (standard BoxsterS bolt) (Stealer)
Street Pad - Mintex reds (puremotorsports)
Track Pad - Carbotec Panther Plus (puremotors)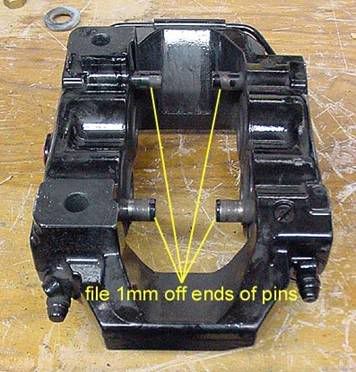 This is the caliper in the standard Porsche setup. You need to file down these pins, because they are too close to the rotor. You need to file about 1mm off. This will give you 2mm clearance on each side of the rotor. This will allow for heat expansion in the rotor
S2 hub installed on the coupe strut. Coupe hub carrier is same as early S2 3B carrier. The bolt holes for the hubcarrier to strut are 12mm. On the later S2/ABY and B4 cars the hubcarrier to strut bolts are 14mm. RS2 carrier installed on the hub with the M12X1.5X22mm cap bolts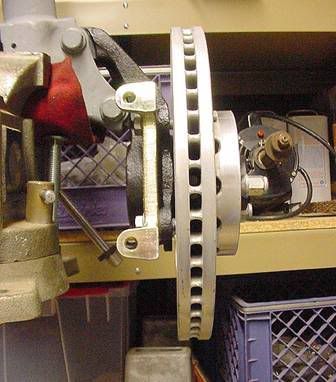 314X30 A8 Euro rotor installed
IMG]http://i205.photobucket.com/albums/bb288/90quattrocoupe/996%20front%20brakes%20on%20audi%20coupe/996brakes5.jpg[/IMG]
Porsche 996 caliper bolts right up to the RS2 carrier with the M12X1.5X72mm hex bolts and fits evenly over the rotor. Spin the rotor and the caliper carrier pins do not hit, even before they are filed down.
IMG]http://i205.photobucket.com/albums/bb288/90quattrocoupe/996%20front%20brakes%20on%20audi%20coupe/996brakes6.jpg[/IMG]
Mintex reds install in the caliper with the upper guide pin and spring
This is a side view of the installation. The pads do not quite cover all of the rotor sweep area. But I think it will be an improvement over the stock brakes.
UPDATE - The A8 323X30 rotor has all the same dimensions as the 314, but is available in the states. It fits the same as the 314s. If you compare the picture below of the 323 rotor vs the picture above of the 314 rotor, you will notice the pads sit more centered on the rotor. The part number for this rotor is 4D0 615 301 A, F or J. According to Ate web site, these rotors have all the same dimensions.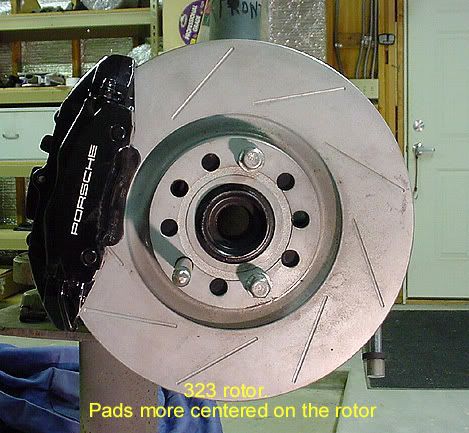 This is a bolt up installation for the USA coupes. For the brake lines you can change out the hard line that curves around the strut and the flex line from the strut to the caliper. You can change this to a pseudo RS2 hard line. You buy a already made 400mm line from VW and bend it to the new caliper. You don't need a flex line from the strut to the caliper, because the Porsche brade pads pull out of the top of the caliper.
This is the way the front brakes look through the wheel installed on the car.
As an update, it is now 2010, and I have been running this combination on the street and on the track. For the track, I use Carboteck Panther Plus pads. They work real well. I have had absolutely no problems with this combo, are for that matter with the rear upgrade listed in this FAQ section.
Greg
Modified by 90quattrocoupe at 10:20 PM 4/29/2009
Modified by 90quattrocoupe at 10:20 PM 4/29/2009