Discussion Starter
·
#1
·
This isn't mean to be THE guide to doing this as my headlights weren't in bad shape at all and I didn't exactly put all of my effort into it. However, I was bored, and decided to see what slight difference it could make and document it while doing so, so as to show the process and what materials you would need to be successful in restoring your headlights to crystal clarity.
So, here goes...
Materials you'll need:
- Painter's masking tape
- 1000, 2000, 3000(optional)-grit WET sand paper
- Bucket with some water
- Buffing Pads that either attach to your drill/PC/rotary or you can do it manually (but it will make the buffing process longer and will require a good amount of elbow grease)
- Polishes (many polishes will do, but in this I used a slightly mild polish) ranging from Menzerna Super Intensive to Meguiar's PlastX depending how much you are going to sand
- Sealant/Wax/Protectant to protect the lenses
So, let's get started...
Begin by taping off the surrounding areas of the paint. You don't want to have to worry about your pad touching it. Here are a couple pics of my headlights before...
(WARNING: Please do not get over-stimulated by the sexy bod in the reflection in the first pic... you have been warned)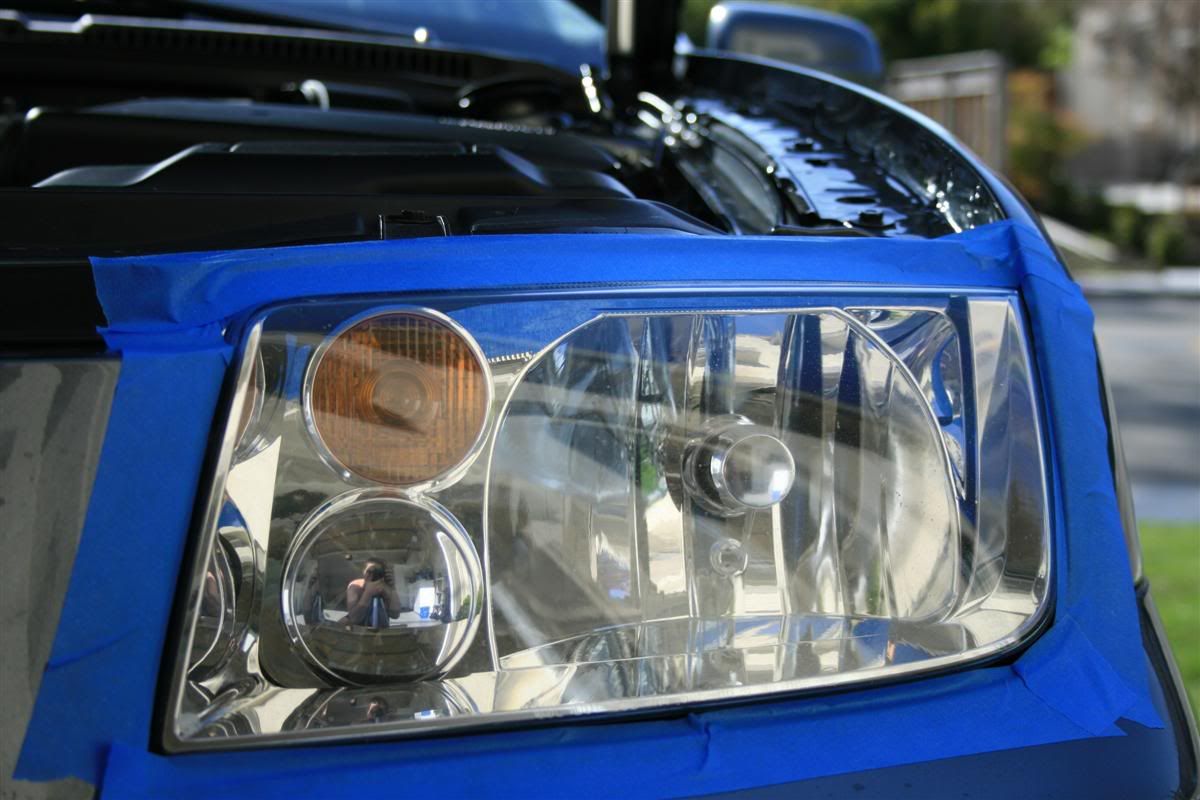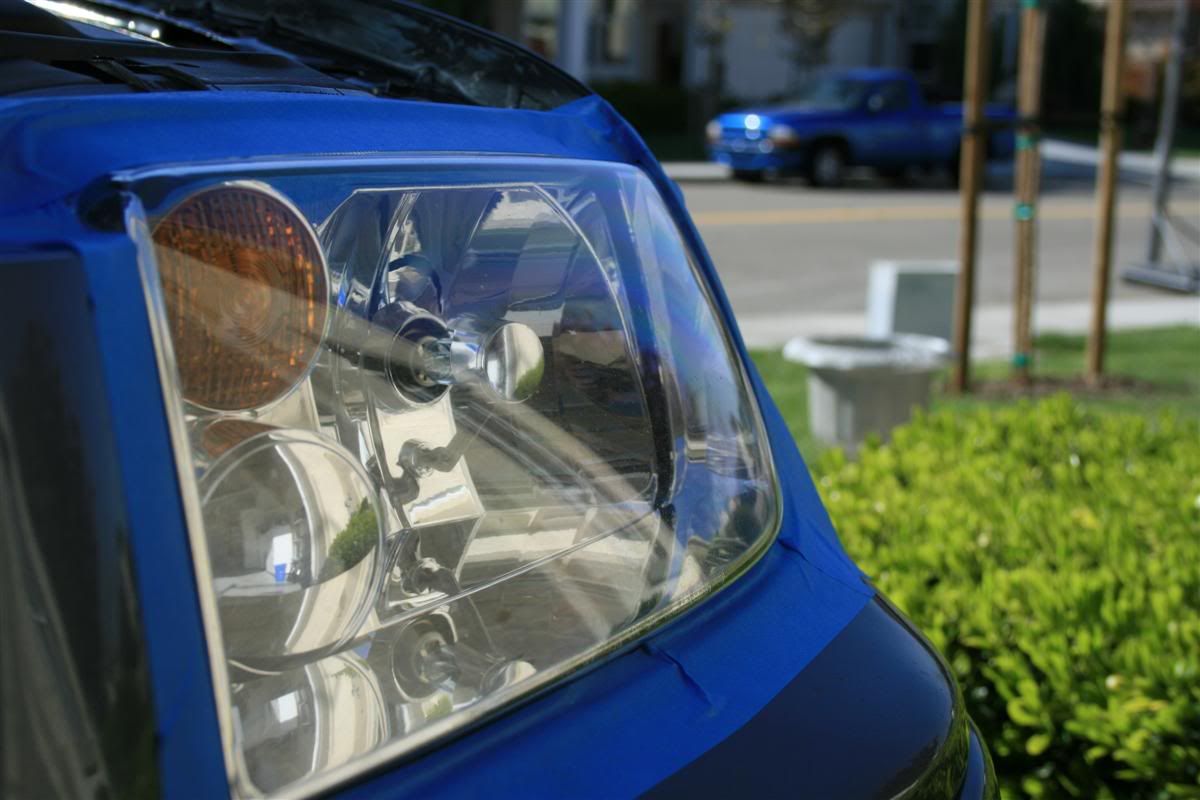 As you can see, not that bad at all. They aren't very hazy, but there are some slight marks, chips, hairline scratches, and embedded bugs. Again, not the best candidates to show a huge turnaround, but they'll have to do.
Top-down view of the crap I'm talking about...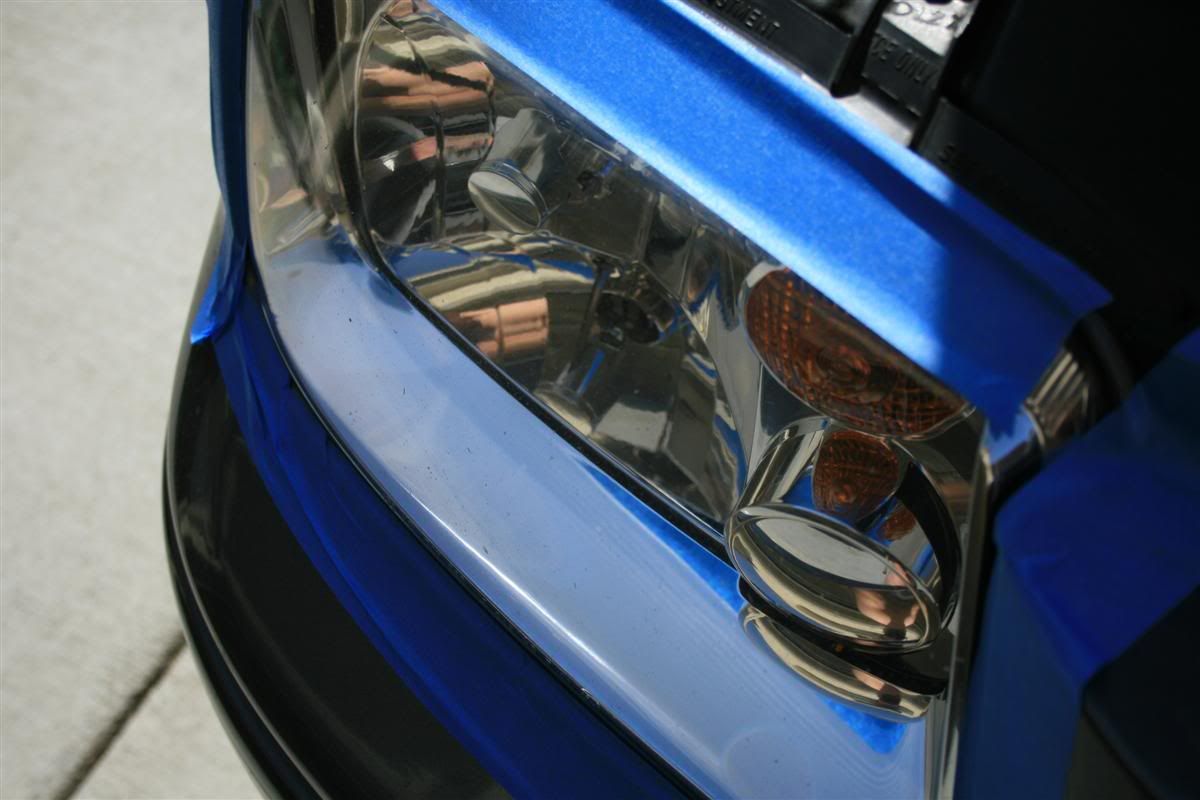 You'll want to have soaked the wet sand paper in the bucket of water for a good couple minutes, at least. Once they are saturated, begin sanding the lenses just like you would your paint, in even strokes in a left to right motion and then an up and down. Now, I can't tell you how much to sand, but I can tell you the objective of this step. This step is meant to remove the majority of the crap from the lens. You are trying to level the plastic down to that of the lowest point of the scratches/divots/hazing, thus making it a smooth surface. However, use common sense here. If you've got one big divot, do not try to sand to that lowest point. We're going for uniformity and trying to get rid of the majority of the imperfections. Most times you can't reach perfection, and that's ok. Once you feel that the surface is quite level, wash the area, dry it, and take a step back and look. It should look something like this...
Obviously, do not expect it to look great at this point. It's going to look like crap the more you sand, which is counter-intuitive to the goal you are trying to achieve. By this point, you want to see an even haze across the entire lens. If you can still see a lot of scratch marks and divots, rinse the paper in the bucket and get back to work again.
Once you see a pretty even layer of haze, you want to move up in grit. Take the 2000 grit out of the bucket and get to work with the same motions and technique. This grit will be much finer and will be much easier to drag across the lens. At this point, you shouldn't feel many surface imperfections. It should feel quite smooth as you sand and will continue to get more and more smooth the more you do it. Once you feel the lens is quite smooth, rinse it off, wipe it dry and step back. It should look something like this...
It is slightly clearer, although still very hazy. Now, the reason I say the 3000 grit is optional is because, depending on the level of cut of polishes and pads you are going to use, you may not need to go any further than 2000 grit as the polish could easily bring it back to clarity. However, if you only have access to a mild polish like PlastX, you will want to repeat the sanding process with the 3000 grit before moving on to the next step (which I did not do).
Now comes the polishing stage. We want to get rid of all of that haze and polish it back to crystal clarity. In order to do so, we must begin with a heavier cut polish and work our way up to a finer cut. The same goes for the polishing pad. I have access to some mild to medium cut pads that I can attach to a drill. However, if you don't have access to something like this or a PC/rotary, you can polish it back to a shine by hand (but be prepared to put your @$$ into it).
Starting with your heavier cut polish, spread it on the pad like so...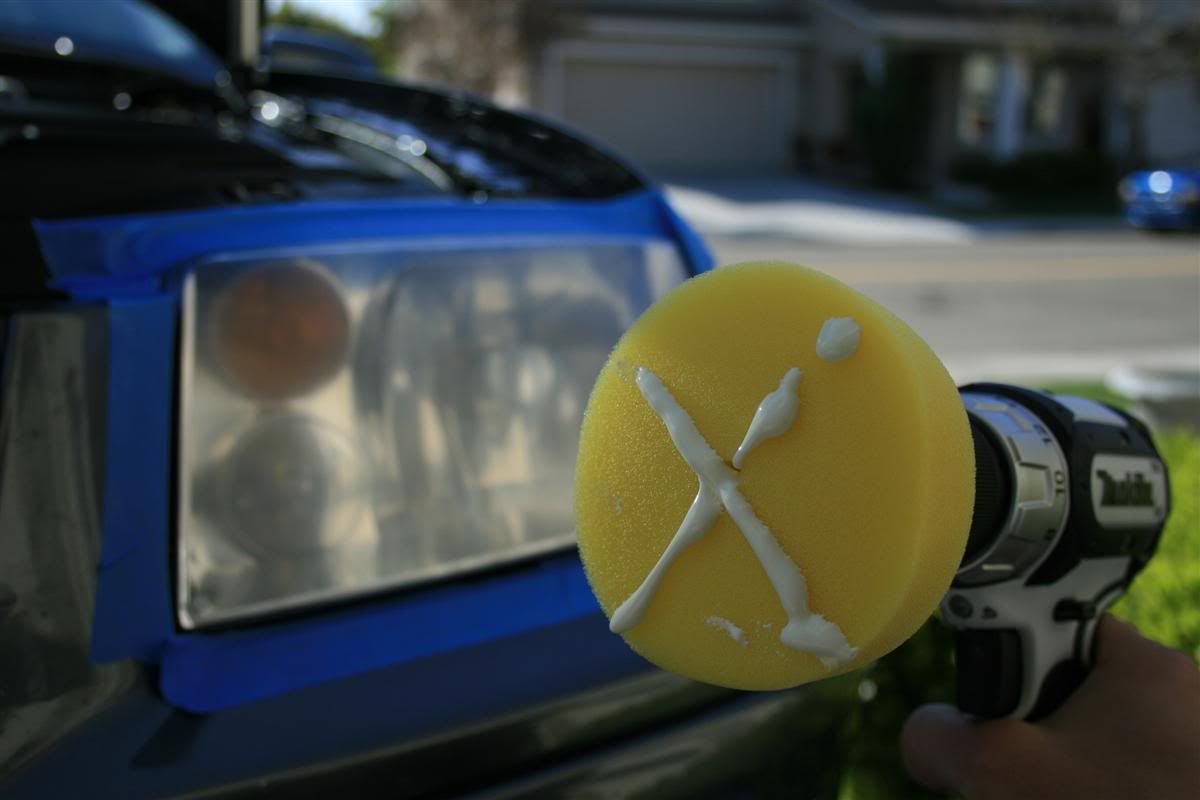 This is a light cutting pad and light(er) cutting polish, so it's gonna take some time to work it in and polish these scratches out. Spread the polish evenly over the surface and make slow passes across the entire lens area, working it in until it disappears (i.e. the polish has been effectively broken down). The objective here is to provide the friction/heat that is necessary to break the polish down and level the plastic lens.
Here is a picture after the cutting polish and pad...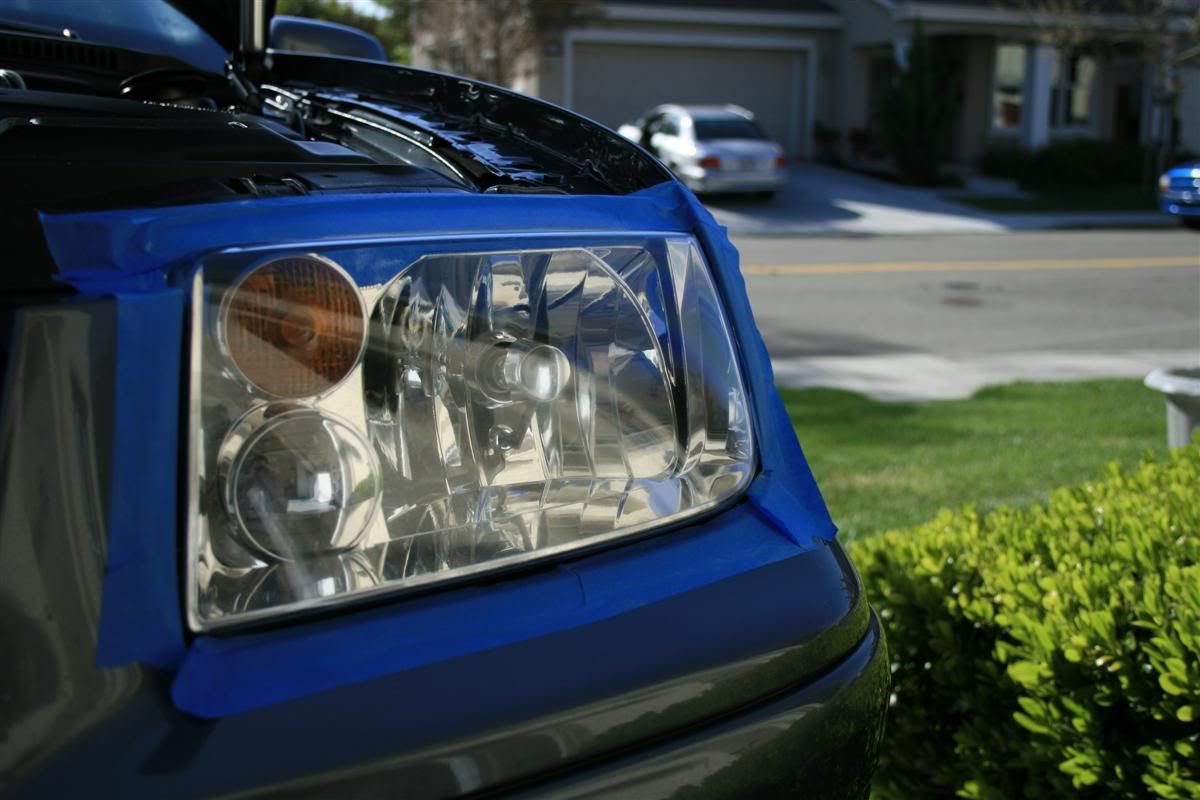 By now, the lens should be much clearer and ALMOST back to crystal clarity. This polishing step should have removed the majority of the sanding haze. If not, repeat until that happens.
Once the majority of the haze is gone, we move on to the finishing pad and finishing polish, to take out that last bit of slight haze and surface scratching. Apply this polish in the same manner as described earlier for the more intensive polish. Apply the finishing polish to the pad and get to work..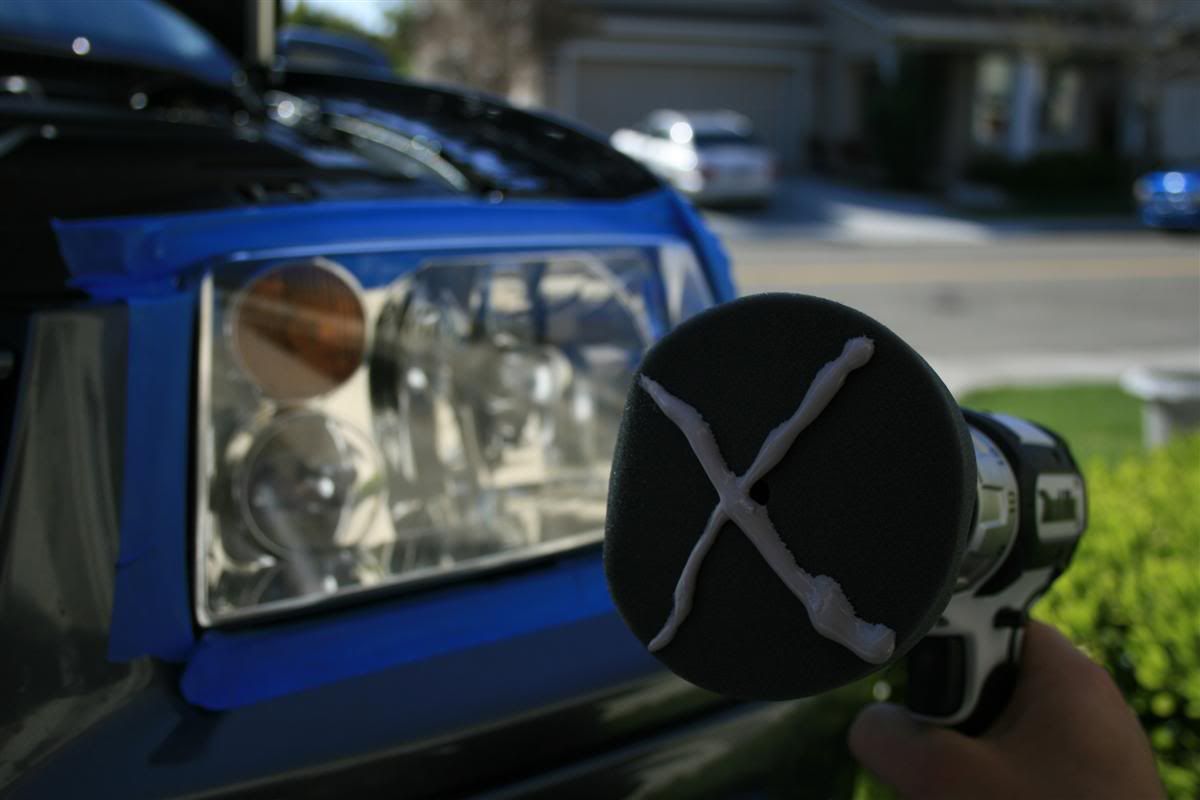 Here is what the lens should look like after the final polish..
It should have substantially better clarity with most, if not all, surface imperfections removed. If it doesn't wow you, well... you probably rushed one of the steps, OR your lights weren't that bad in the first place (such is the case for me). As you can see, this picture doesn't look ALL that different from after the initial polish, but what the camera can't pickup is those last hairline scratches and hazing that was removed by the final polishing step.
Here is an angle view to try and better show the clarity achieved even with my headlights that didn't appear to be so bad. I mean, this wasn't exactly a complete turn-around, but you can certainly tell that it helped...
The last step is to apply your favorite (most convenient) wax or sealant to protect the lenses from future contamination. And, that's it!
Again, this is not the best choice to showcase how beneficial this process can be for your hazed and neglected headlights, but hopefully it can at least provide some insight on the process involvement, the steps necessary, the goals and reasons for each step, and what you can expect to achieve if you take your time and do it properly.
If you have any questions, please post up and ask. This isn't rocket science, but I feel a lot of people are afraid to try it or just have no clue that it can be done. Hopefully this can inspire those on the fence about whether they want to try it or not. And, hey, worst case scenario, you screw them up and you bring them to me to fix them for you
Modified by FliGi7 at 8:55 PM 4-7-2008