Discussion Starter
·
#1
·
This has been together for a little bit, but my cohorts who put this together with me thought it would be fun to throw my build thread from TDIclub on VWvortex. I am finally getting around to this. The MKIV .:R32 forum seemed like the best and worst place to post this, because while my car once was an .:R32, it sure isn't now. Enjoy, and feel free to flame
.
CAUTION: This thread is loaded with pictures. Dialup internet beware!

Before I get into the meat of this post, I would like to give thanks to those who have helped make this whole thing happen. This swap would not have been at all possible without the help from these fine people:
Matt Whitbread (Whitbread on TDIclub) for all of the initial work on my PD motor, constantly supplying custom parts, and for countless hours of discussion/help.
Charlie T (CharlieT on TDIclub) for a significant amount of wiring guidance and some useful charts he made.
Ryan P (ryanp on TDIclub) for the beautiful fabrication, custom 4motion downpipe, and excellent service.
Mike L. (vwmikel on TDIclub) for amazing tunes, wiring help, guidance/troubleshooting, and moral support as I fumbled my way through this swap.
Brian A. (JettaGetUpandGo) for spending tens of hours of his time making wiring charts with me and coming down to hash out residual electrical issues.
Jory (scirockin16v) for so many hours of physically putting this thing together, troubleshooting, and sourcing parts.
Nick (ntq) for putting in weeks of his time and laboring away to get this car on the road. We also used his shop space.
.:R32 converted to TDI
I know this has been a frequently discussed swap, largely due to the fact that it should be relatively simple. When going from a MKIV chassis to another MKIV chassis, one would assume that the swap shouldn't be that difficult. There are two VR6 Jetta Wagons that I have seen successfully swapped on TDI Club, with what seems to be little trouble (although I was not there for are of the swearing that inevitably commenced during those projects).
The R32 has always been a sought after swap for most on TDI Club because it is the only VW MKIV sold in the US with a factory AWD system, not to mention nearly every interior, exterior/body, and electronic (notably Climatronic) upgrade comes on the car from the factory. The MKI Audi TT also happens to be on the same platform as the MKIV VW, which is why some have chosen to go with this vehicle for a TDI swap. CharlieT was able to put together an Audi TT Quattro TDI in a few weeks (with months of planning). The TTq seems to be an overall better choice, as they are less expensive to obtain than the R32 and come with a suitable gearbox to disassemble (more on this later). I went with an R32 because the hatchback made a slightly more suitable daily driver compared to the TTq coupe in terms of space. I also liked the styling better.
One thing that many of you may be wondering is why I didn't just convert an existing MKIV TDI to AWD. The reason that I didn't go with this option is that it involves drilling/cutting the rear floor pan from a wrecked R32, removing the TDI's floor pan and re-installing (welding, aligning) the R32 pan. It is a very large job, and requires skills that I can only dream to possess. I was actually planning to do this to my MKIV Jetta wagon, but the wagon was involved in an accident. I took the opportunity (insurance money) to build an R32 to TDI conversion.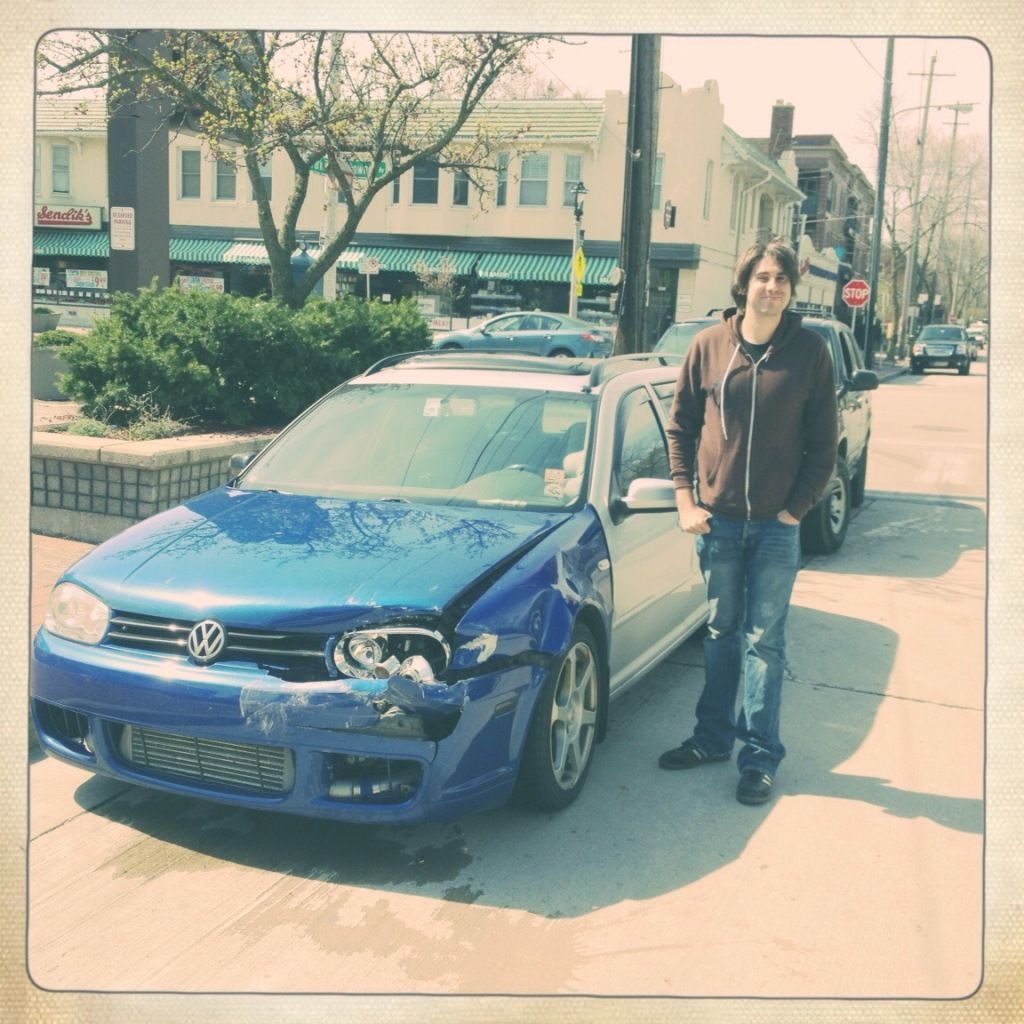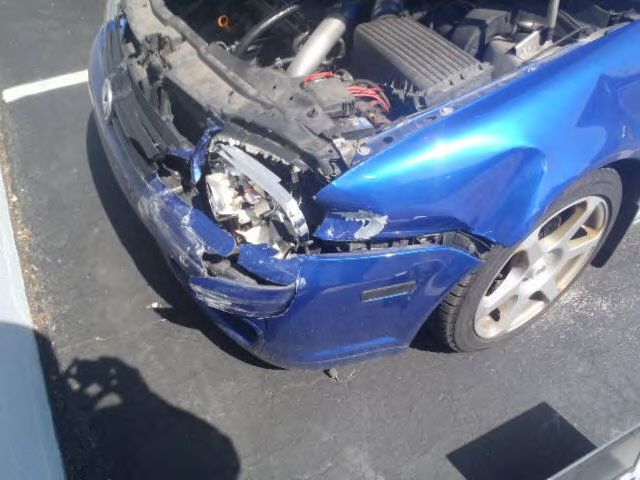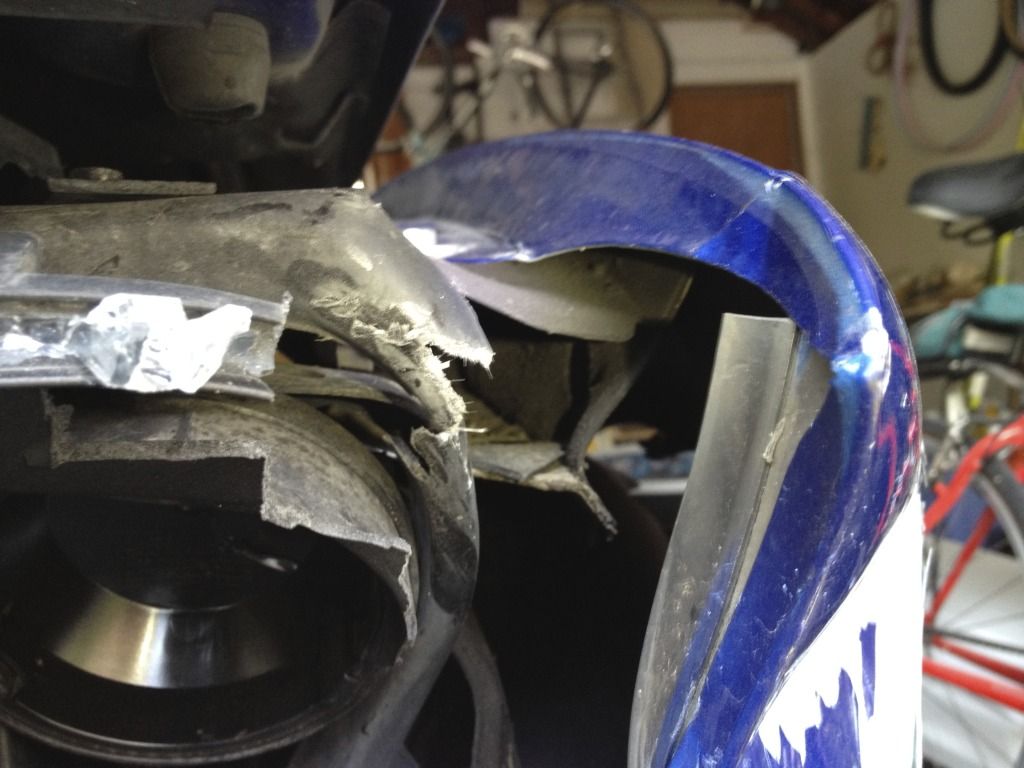 So, assuming that I have a complete 2002 MKIV TDI wagon to pull parts from, what parts and actions are actually required to get turn an R32 into a TDI? Here's a short list:
• Obtain R32
• Transfer TDI wiring harness that runs from rain tray connectors to ECU
• Transfer TDI ECU (immobilizer defeated) and engine wiring harness
• Remove R32 motor and replace with TDI motor, retaining all TDI coolant lines, A/C lines, PS lines, and anything else that might be connected to motor
• Transfer TDI intercooler and piping setup.
• Transfer TDI fuel filter, delete under-car gas fuel filter
•Replace high-pressure in-tank R32 gas pump with TDI pump (more on this later)
• Install 4motion 02M 6-speed transmission that has proper TDI gear ratios and 4 cylinder bell housing (more on this later)
• Replace 6-cylinder motor mounts with 4-cylinder motor mounts
• Replace R32 instrument cluster with TDI instrument cluster (more on this later)
• Swap immobilizer chips from TDI keys to R32 keys
• Wire J317 (relay 109), glow plug, and lift pump relays
• Swap accelerator pedal from R32 unit to TDI unit
• Any other minor wiring or issues that may be present
There may be a couple of small things missing, but overall, this is pretty close to a complete list. As you can see, as far as swaps go, this isn't too bad. It required no fabrication, and minimal wiring changes.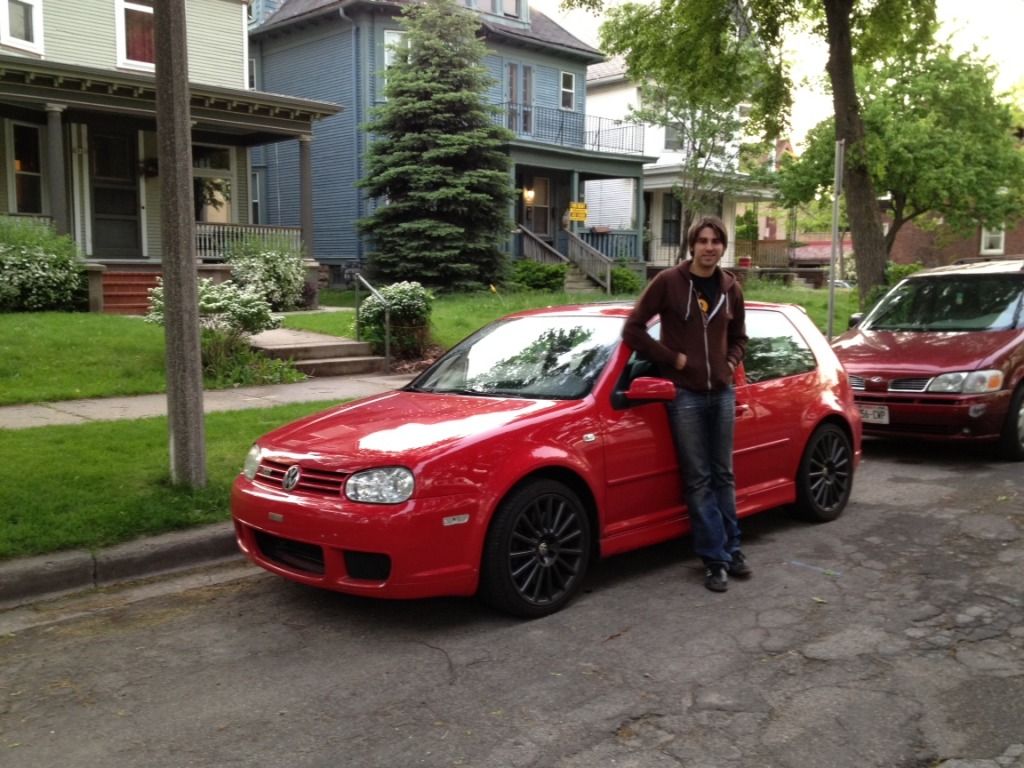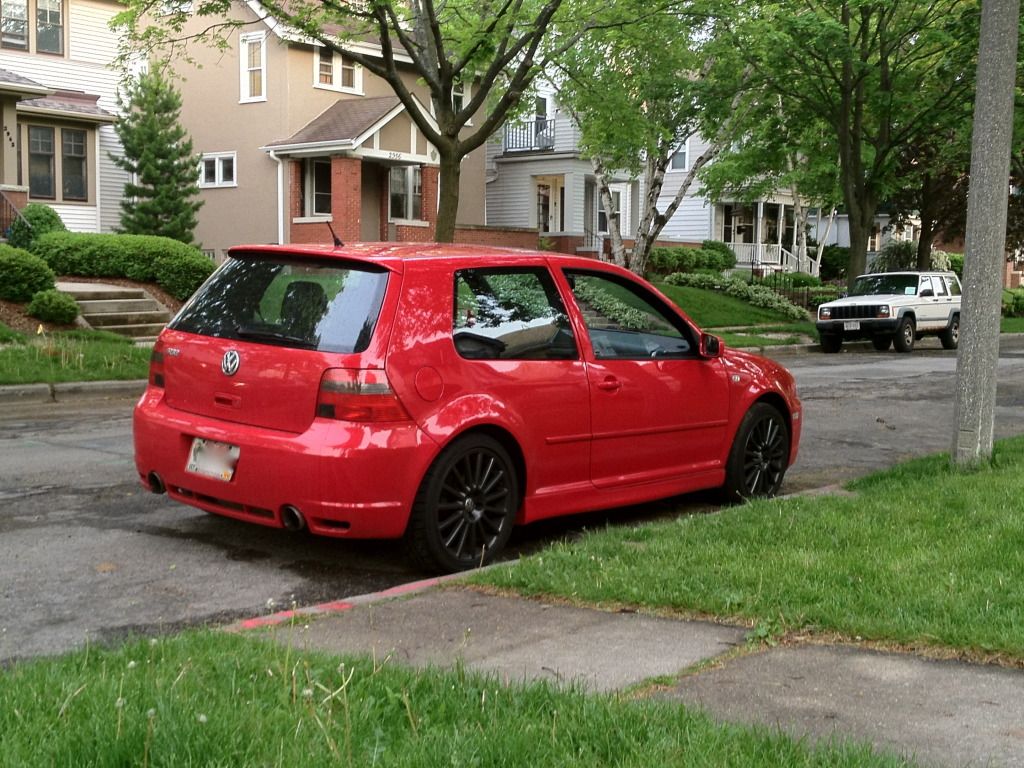 Here is the R32 I bought. It had slightly over 100k miles on it and was in somewhat rough physical shape. As with most Tornado Red R32s, much of the clear coat was peeling. At some point, the car was involved in a front-end collision that resulted in replacing the front bumper and side skirts (painted very poorly, the red is peeling and exposing the original reflex silver paint – at least I know it's OEM). In disassembling the car, I found the front end to be slightly "tweaked" in a way that misaligns the headlights. While this is not the best, this was the most proximal R32 I could find that I had any faith in purchasing. For a car of this kind of rarity and cost, I was not prepared to purchase something without seeing it, nor was I willing to take large amounts of time off work and fly all over the country searching for a suitable R32. That would have increased the price to a point that would not have been feasible, as well as the fact that my job would not permit me to take that kind of time off.
Either way, choosing this particular car put me at a price point that I was very happy with. The motor was in great shape, and I had a local buyer already lined up to drop it into a MKII Jetta. At some point, I plan on replacing the front bumper cover and repainting the whole car.
It was a very odd feeling to be purchasing a rare car with the express intention of tearing it apart. Fortunately, I'm not too sentimental.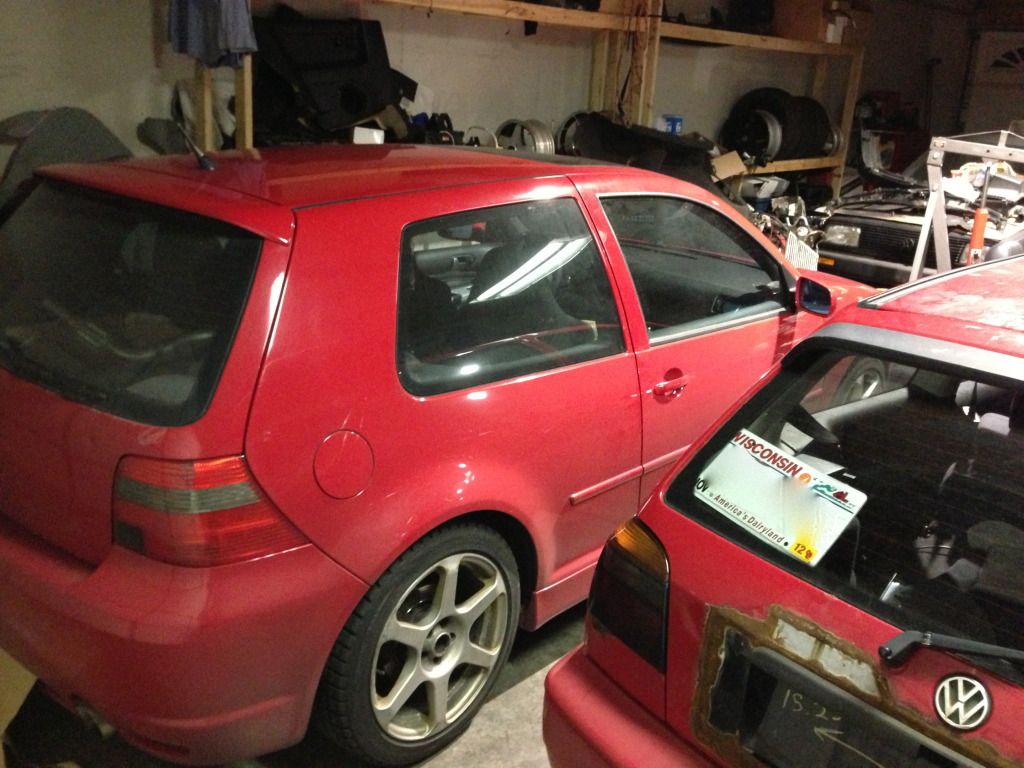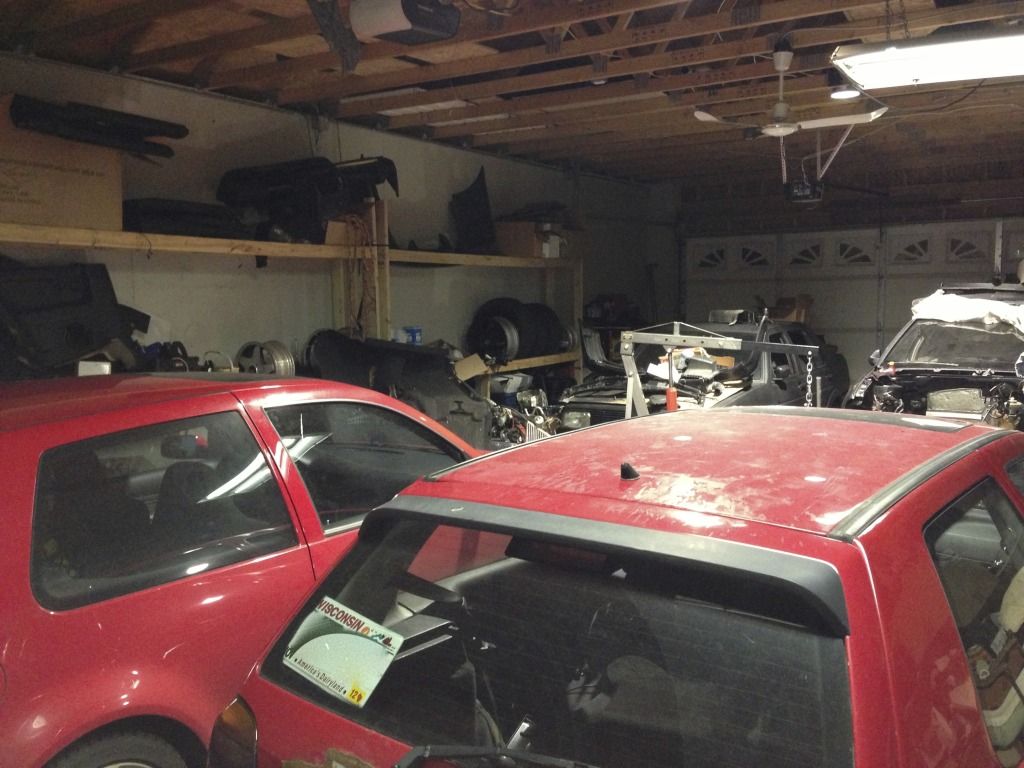 I think the R32 is scared. Looks like a regular VW chop shop.