In Europe, if you order a Phaeton with cruise control, but without active cruise control, you can get 6 buttons to control the cruise control system. In addition to the 4 buttons that we get in North America (on, off, set, and resume), there are buttons marked 'GRA +' and 'GRA -'. These are gradation buttons, and when you tap one, it increments or decrements the set speed in 10 km/h (6 MPH) steps. I had always thought that it was necessary to have the active cruise control system (automatic distance regulation) to get the gradation buttons, however, I saw a Phaeton at the German owner's GTG this summer that had these buttons, but not ACC. So, I ordered a replacement button set for my Phaeton.
Installation should be quite simple - just remove the existing 4 button set, and install this 6 button set, then change the coding of the steering wheel controller (controller 16) from xxx
3
x - which indicates a 4 button cruise control set - to xxx
1
x, which indicates a 6 button cruise control set, but no ADR thumbwheel. By example, for my car, the J453 steering wheel controller is coded to 232, so I will need to change this to 212. I might need to reset the controller after I do this, I'm not sure just yet.
The Phaeton and the Touareg share common steering wheel components, and as far as I know, the coding of the J453 steering wheel controller is the same on both vehicles. So, this retrofit might, perhaps, be implemented on a Touareg as well, though obviously I have not tried it - nor have I ever seen a Touareg with either ACC or gradation buttons. More information about ACC can be found at this thread:
Active Cruise Control - Details and Photos
.
Below are some photos that illustrate what I am talking about.
Michael
European Phaeton, with a 6 button cruise control set but no ADR thumbwheel.
This is the part I ordered.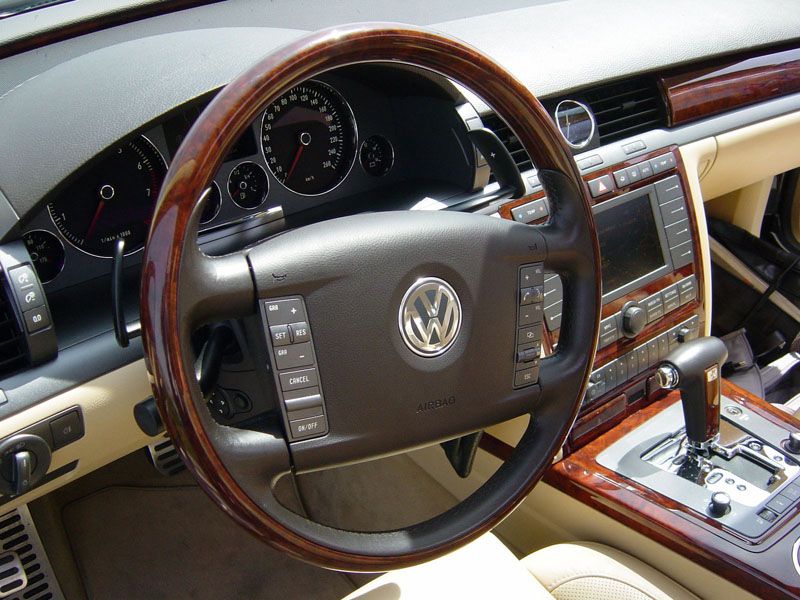 What the part looks like
The part number