After ordering my car in September of 2014, I finally received it on 1/15/15. Its a 2015 GTI Performance Package S-Model 4dr w/ DSG and Lighting Package. I already have a race car and bike that I use to compete with on the tracks, so this will be my daily driver but it will see the occasional Auto-X, track day and 1/4 mile runs. I will share all my experiences, reviews and data with you that I gather as I enjoy reading everyone else's experiences too.
As of today, modifications installed are:
Engine/Powertrain:
-IS38 Turbo installed (factory S3/Golf R unit)
-APR Stage 2+ IS38 93oct Tune
-APR DSG TCU Tune matching turbo software
-APR Catted Downpipe w/ 3" exhaust adapter
-APR Intercooler
-APR Carbon Fiber Intake w/ grille cut-outs
-APR Oil Catch-Can
-APR Turbo Muffler
-APR Boost Tap
-APR IC Hoses
-AWE Touring Exhaust System w/ black tips
-BFI Stg1 Engine and Trans Mounts
-BMS JB4 piggyback stacked that also controls the meth system, adds boost/fuel, tunes/monitors everything using JB4 Bluetooth Connect rev3 to my iPhone JB4 app
-BMS Water/Meth injection kit with under-bumper pump mount using the washer bottle to feed a CM7 nozzle
-BMS Turbo Inlet Elbow
-Denso IKH0124 Full Platinum & Iridium Race Plugs (not the cheaper IKH24's you are used to seeing) with the newer updated BorgWarner coilpacks
-Fluidampr Crank Pulley
-HPA DogBone Mount kit
-Spulen Aluminum IC Pipes (Boost &Throttle) and Intake Coupler
-Forge Turbo Blanket
Wheels/Suspension/Brakes:
-Bilstein B14 Adjustable Coilovers
-034 Solid Bearing Replacement Trailing Arms
-034 Motorsports solid strut mounts
-SuperPro 0007K Aluminum Lower Control Arms for additional caster and camber machined to fit in aluminum subframe
-S3/Clubsport Aluminum Subframe
-Neuspeed 25MM Rear Sway Bar
-SuperPro Front and Rear Adjustable End-Links
-TyrolSport Deadset subframe alignment kit, front and rear
-18x8.5 Enkei RS05RR ET45 (only 18lbs ea)
-255/35-18 Michelin Pilot Super Sports
-17x9 ET40 Signature Wheels, Forged with custom low profile barrels to clear the BBK for drag/Mexico runs
-245/45-17 Mickey Thompson ET Street-R Bias-ply Drag Radials (Street setup)
-26x8.5x17 M&H RaceMaster Slicks (Drag/Digs)
-StopTech ST40 355mm BBK w/ 2pc rotors
-Wheel Stud conversion kit with forged aluminum lug nuts
-ECS 20/15mm Flush Kit for OEM 18" wheels and 235/40 Michelin AS3 (winter setup)
-ECS SS brake lines
-ATE Super Blue racing brake fluid
Cosmetic/Lighting/Interior:
-Full Euro-Spec ClubSport Front-end Conversion
-Clubsport Alcantara DSG Steering Wheel
-Clubsport DSG Shifter and Alcantara Boot
-Clubsport/Golf R factory Euro Spec LED Taillights
-Corbeau FX1 Seats with Custom Aluminum side mounts
-USP Power Folding Mirror Kit w/ Golf R covers
-Custom 3M Vinyl Roof Wrap
-Aggressiv CF Rear spoiler
-CF Rear Diffuser
-Tinted Window Visors
-3M 20% tint on all windows and 5% eyebrow
-LaminX tint cut to fit over amber in headlights and rear reflectors
-Black/Red GTI fender emblems
-Blue tinted Aspherical side mirrors
-VW roof rack, Thule wind guide and Snowboard rack
-deAutoKey LED tag, reverse and turn signal lights
-BadgeSkin gloss black front and rear VW emblem decals
-GTI Monster Mats
-Weathertech Trunk tray
-ProClip phone mount w/ Iphone 6 plus holder
-Rearview Camera Mounted Dual Dash Cam
-NewSouth Boost Vent Gauge
-Odyssey PCM680 15lb Battery with Custom Mounting Brackets
-Forge Washer Cap
Future Plans: I'm building a spare EA888 motor right now with all IE internals and on the hunt for a BT kit and fuel system that makes 600WHP+
.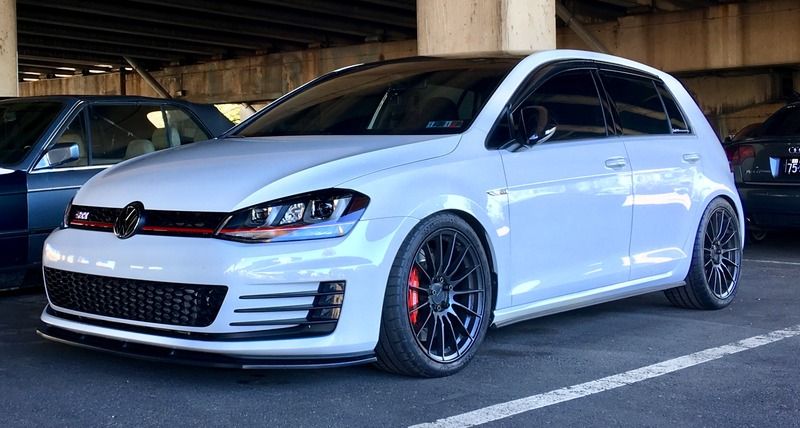 Cecil and Englishtown Aril 2017
Mexico Bound 2/17:
Cecil County Dragway 12/16:
AWE Show 3/16:
Fall Philly Cheesesteak Run - 11/15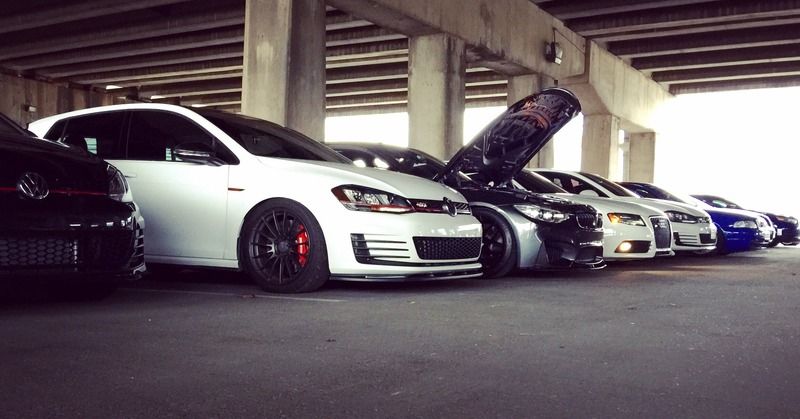 Katie's Cars and Coffee Show