Discussion Starter
•
#1
•
We ran a poll asking 2.5 owners what they would like in a Group Buy for our Stage 2 Turbo Kit. Thread can be found here:
http://forums.vwvortex.com/zer...12619
. The results are in........so a
$1000
DISCOUNT
it is ! ! ! !
Stage 1
Is a non-intercooled system that can be installed in a single day. Attaches to stock exhaust, and comes with everything for installation except tools. All C2 components are hand-built from 304 SS and TIG welded on manufacturing jigs for proper fit and accuracy. Larger injectors and C2 software round out this complete kit for your 2.5L Rabbit or Jetta.
Stage 1 dyno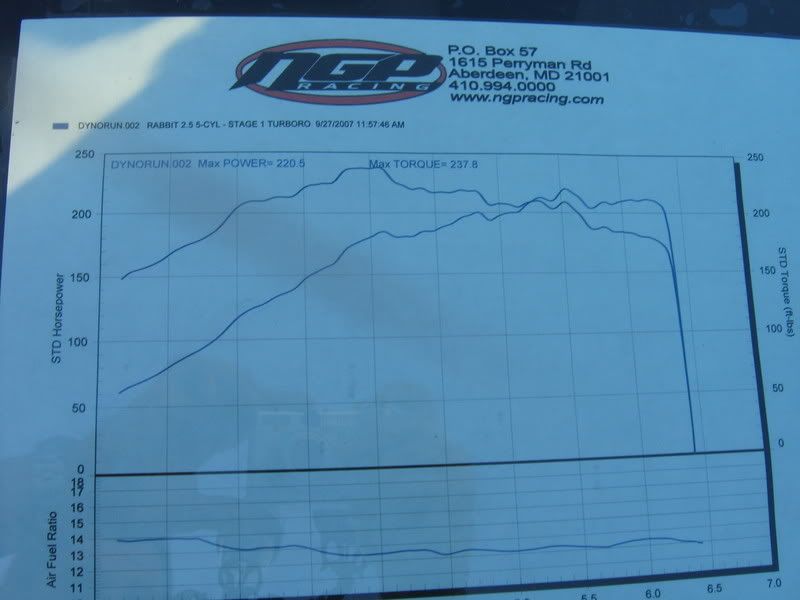 Stage 2
Adds a side mounted intercooler (SMIC) as well as upgraded software to the already powerful Stage 1 kit. The SMIC has been engineered with custom endtanks for a factory-like fitment and no modifications to the body necessary. C2 products are designed with upgrades in mind, so you will only add a couple hours to the already easy Stage 1 installation ....VOILA... it's that easy.
Stage 2 is a direct bolt-on kit
Manual/Tiptronic compatible
2005-2008 2.5l Inline-5 Equipped Cars
C2Motorsports Turbo Manifold
- Hi Temp Coated
- .500" Laser Cut Flange
- Log Style Manifold
- TIG Welded
Precision Turbo
- T3/T4 Turbo
- V-Band Exhaust Housing
- Turbo Gasket Included
2.5" SS Downpipe
- Connects to Factory Exhaust
- Uses Factory Catalytic Converter
- V-Band Connection
Tial 38mm WG
- .5 bar (7.25psi) supplied
- recirculated to DP
SAI Relocation Kit
- C2 Billet SAI Replacement Body
- Remote SAI Mounting
- SS Braided Lines
- AN Fittings
- RETAIN 100% Emissions Compliance
SS Intake Piping
C2 Side Mounted Intercooler (SMIC)
- 3.5" x 9" x 6"
- Custom End Tanks
- NO Cutting Required
- Re Use Factory Attachment Points
Bosch Diverter Valve
Open Element Air Filter
Genesis 415cc Injectors
Injector Harness
C2Motorsports Stage 2 Software**
- Turbo Flashload Software
- Eliminates DBW "rev hang"
- Eliminates Decel Lag
SS Braided Oil Lines
- Oil Feed
- Oil Return
- AN Fittings
NEW oil pan w/ fitting
- VW Factory Part
- Pre-Welded Fitting
- Direct Bolt-On
Silicone Couplers
SS Clamps
Installation Hardware
Estimated 10 hr installation
*NOTES*
- Installation times are estimated based on experience
- C2Motorsports is not responsible for actual install cost
- Professional installation suggested
- ECU shipped to C2 or taken to local Authorized C2 Flashload Dealer for software install
- 4 weeks delivery from time of paid order
* Stage 1 dyno performed
- .7 bar / 10.15 psi
-3" down pipe
-3" exhaust
- CAT delete
Discount Pricing
Retail: $4500
GB Price:
$3500
SAVINGS
$1000
GB Rules
1. Offered for Stage 2 Turbo Kit ('05-'08)
2. GB will run from 3.28.09 to 4.30.09
3. No other specials or discounts apply
4. Min of 10 participants
5. Full payment must be made by the close of the GB
6. Fixed Shipping Charge $100 (continental US)
If you have been wanting to Turbo your 2.5, and were waiting for a reason......wait no longer, here it is ! Remember C2Motorsports is the only company on the market to offer a kit for the 2.5l Inline-5. Don't miss out on your chance to get your car turbocharged with a C2 Stage 2 Turbo kit for HUGE savings
So get the word out to your friends, get the word out to other forums.....we need to get a minimum of 10 people in order to honor the discount structure.
GB Participants: (will update with GB participants)
1.
2.
3.
4.
5.
6.
7.
8.
9.
10.