Discussion Starter
·
#1
·
I pulled my motor last year, just before SOWO and have been slowly collecting parts and I'm just about there. SO I figured I'd best make one of these to help me keep track of what I did and when I did it.
And because I'm not in SoCal anymore. Besides, that thread is, more or less, generally for the car as a whole.
So, what I've done since I pulled the engine and trans...
I tried to take the crank timing gear bolt off,.. without a flywheel locking tool. :facepalm:
I have the engine up on a stand. I put in 2 fly wheel bolts with a 17mm bar between them and the running end on the engine stand and tried to loosen the timing gear bolt. All I ended up doing was stripping out the crank.:banghead::banghead::banghead:
I tossed the crank, have the rest of the internals FS and kept the block.
Maybe a 2.1 later.
So I got a replacement short block. It's 2 years newer and has 20K less miles than my block. :thumbup:
I got my AEB rebuilt.
Nothing fancy, all OEM.
New Cam Chain tensioner.
Billet coolant flange with AN fittings, new seals and sensor.
Hard pipe with welded AN fittings for the heater core
and line going to the coolant globe.
These to go with it.
I also replaced that plastic Y pipe with this.
Billet T-stat housing.
Got me the IE stage 3 timing belt kit.
The list says the kit comes with an OEM pump, I'm gonna call and ask why I got 1 with a metal impeller.
The manual tensioner tool.
Some of this
For some of these.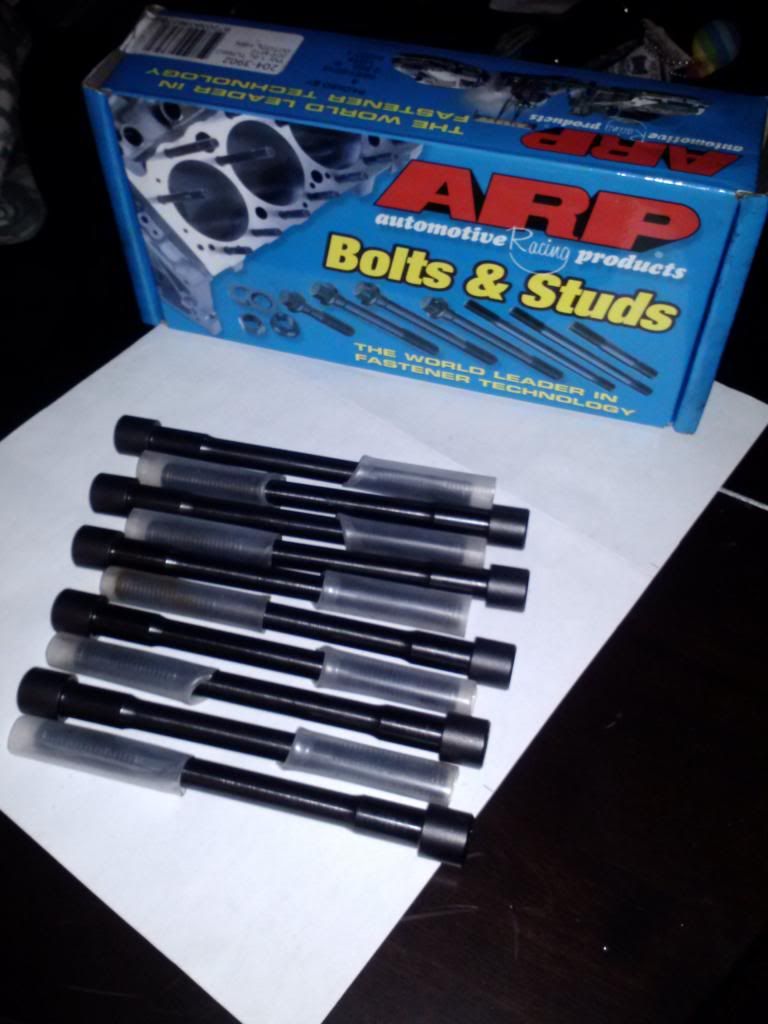 Upgraded to this, so I won't have to worry about it breaking apart.
and this to help with the clutch chatter.
I replaced all of the gaskets, crush washers, stretch bolts, O-rings and seals while I was in there.
Nobody cares about that stuff, so that's all you get.
Also did some free stuff.
I shaved my AWP valve cover and I will be giving it that brushed aluminum finish.
I port matched the intake ports,
I port matched my AWP mani to my AEB head.
The Exhaust ports
The FT Mani was already port matched, good job Doug.:thumbup:
The TB was also done.
For the Transmission.
I got NLS' shim kit.
I also realized that with the FFE billet shifter bracket bushings the OEM bolts barely thread in. They were short 5-8 threads. So I got slightly longer bolts, threw some Nordlock washers on them and cut them down to size.
The stock is on top.
The original length is the bottom and my measured and cut length is in the middle.
I also got my FW re-surfaced and all new bolts for it and the pressure plate.
I have a few more odds and ends coming over the next week or 2 and those will be posted.
My boy Boost.
Ps: Yes I really am doing this in an apartment and on the 2nd floor none the less.
My wife thought she had a dining room.:laugh: