The burner tube is pretty much where it all happens, air is forced in one end, the other end is inserted into the smelter at the base, gas is introduced into a venturi in pipe near the hot end. The air speeds up as it passes through venturi and carries the gas with it, as it emerges inside smelter the air/gas mix ignites and makes the temperatures required to melt the alloy.
The pipe enters at the side of smelter and has the effect of swirling the flame around the walls, passing around the crucible completely on all sides, and exits out the top vent hole.
With the Formica former now removed you can see the hole where the tube will sit.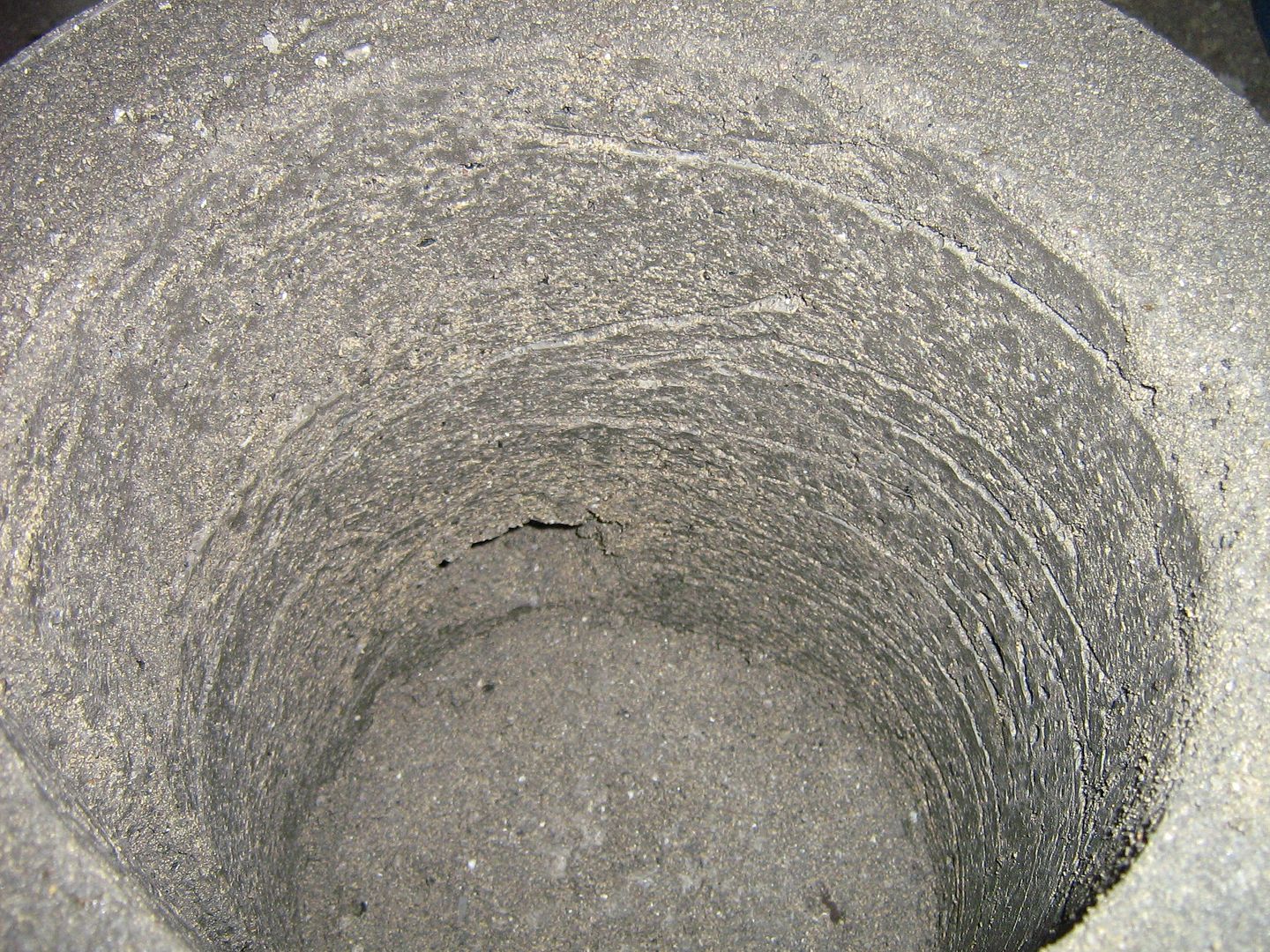 The burner tube is approx 1200mm long, 50mm in diameter, and has a 3mm wall, its is of mild steel.
First, 3mm slots are cut all around to form venturi.
These strips left are tapped in to close slots, and once again, they are recut.
Tapped in once more you can now see the crude but effective venturi formed
This is then welded up, its crude as hell and pretty wide cuts had to be filled in either end but its fine for what it has to do
Welder is then turned up to high and a hole blow through to fit a straight fitting to supply gas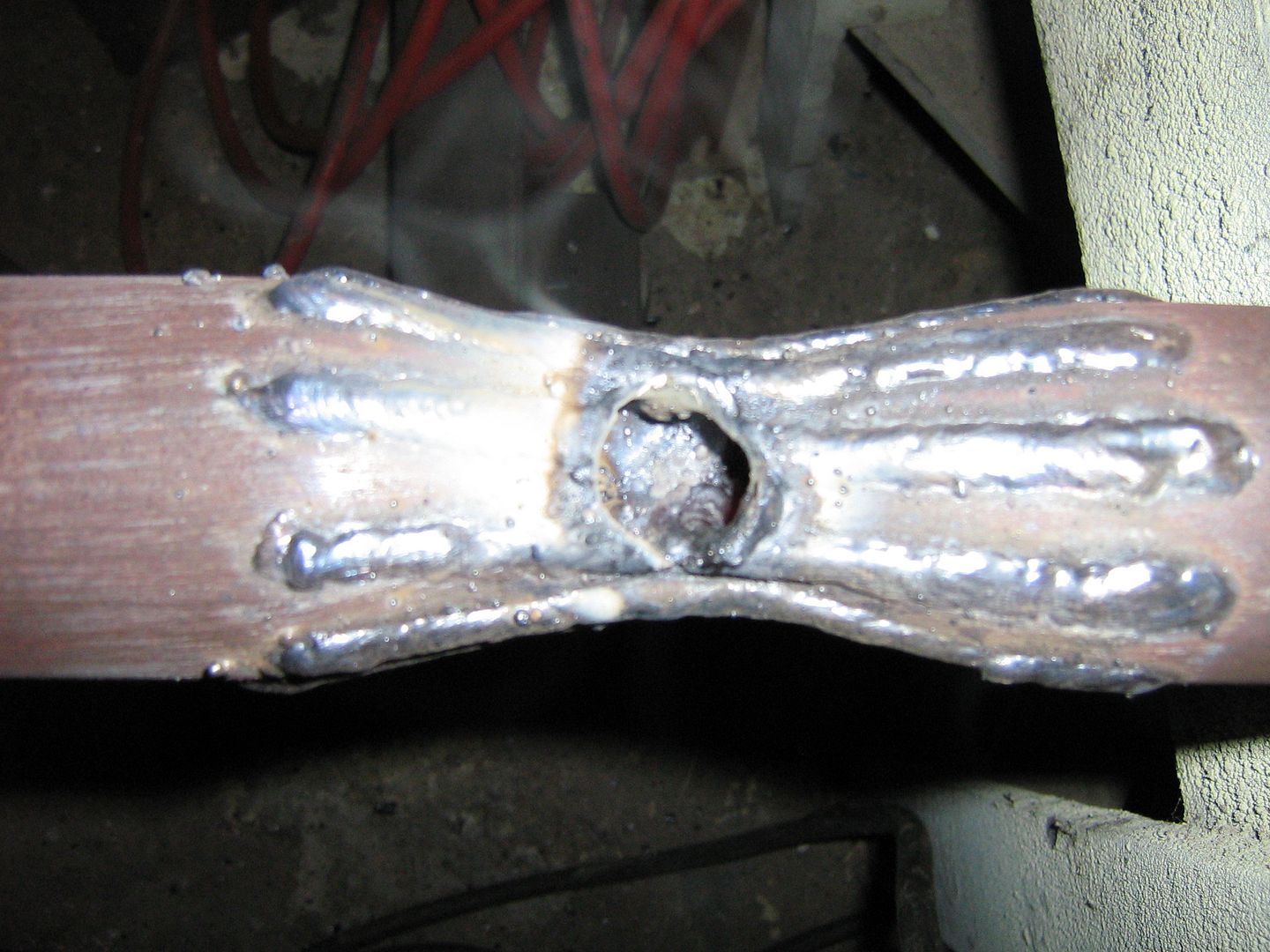 Fitting tacked in
Now the end that sticks into smelter has to reduced down a bit too, few more slots a a bit of tapping and thats it done
Fits like so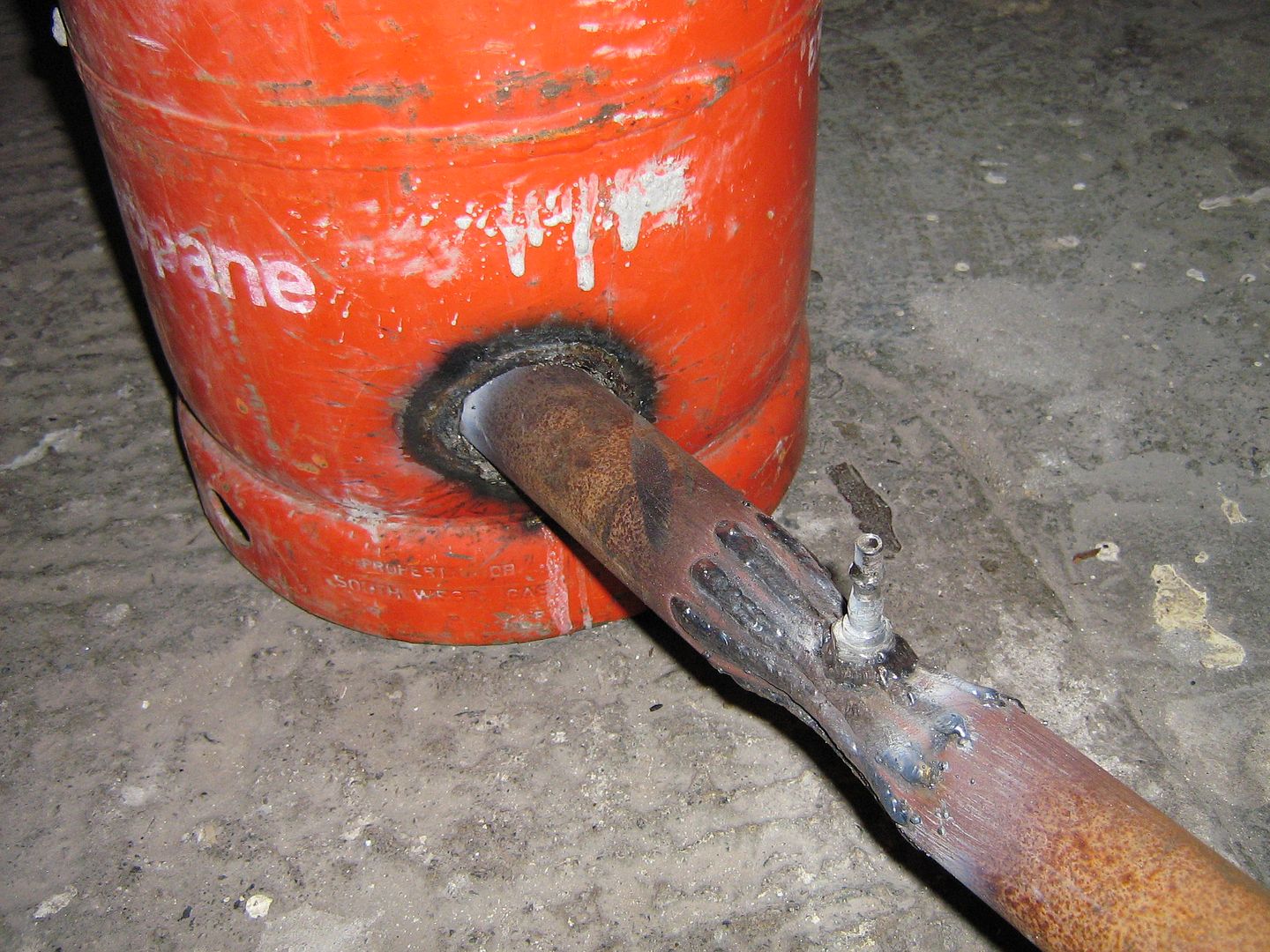 There now has to be some form of way to vary the air from the blower, My blower is the exhaust air from my workshop vac but, it isent vari-speed, so I had to fit a butterfly to burner tube.
I wanted this as handy and as basic as possible so I got thinking, I made it just like a throttle body butterfly, one toyota wheel brace with a slot cut in it, and a disc 43mm in diameter. Job done. I fitted a valve spring and a welded washer as to make a bit of resistance and hold it at whatever position I wanted.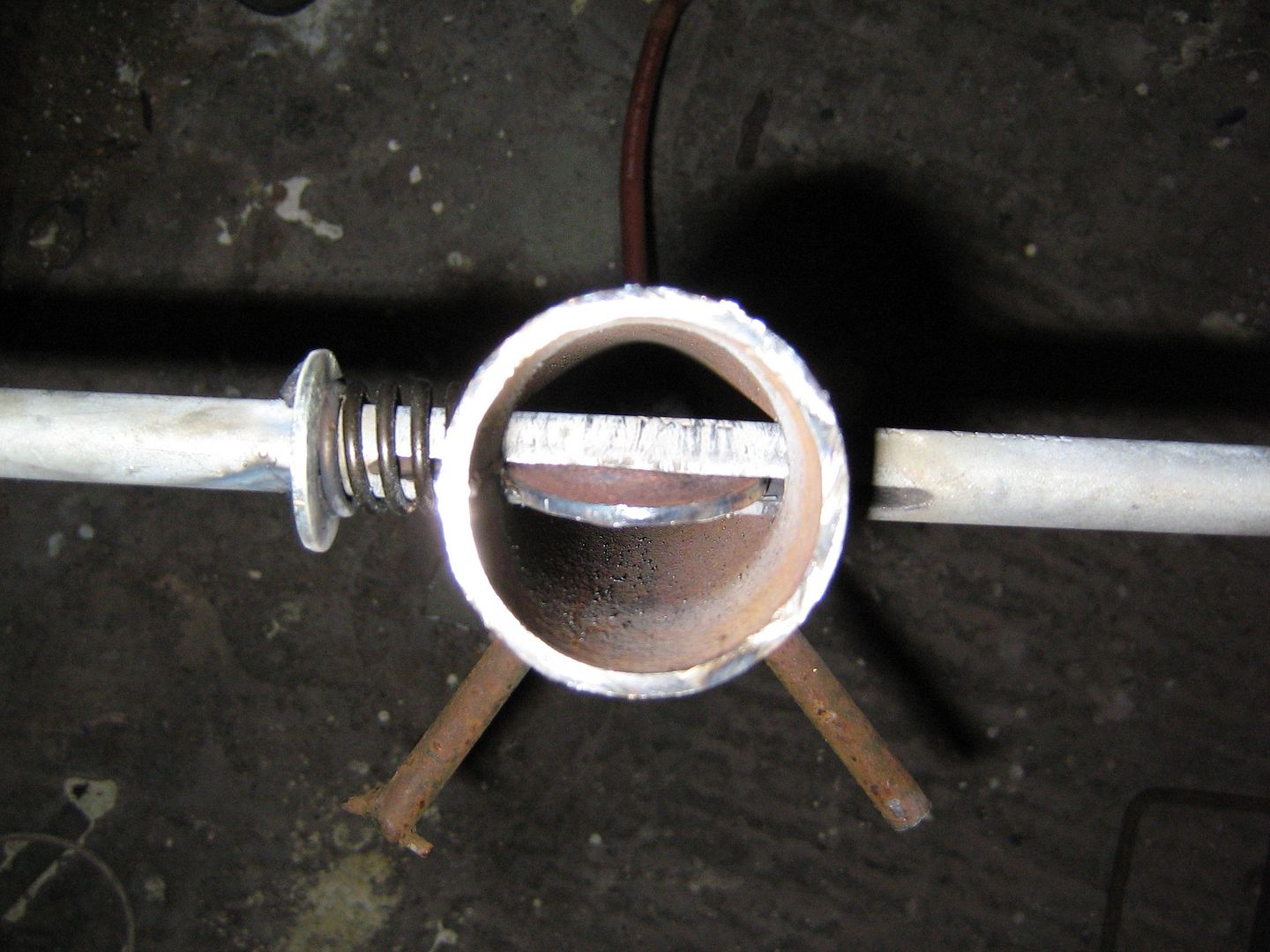 I also welded a leg to tube to hold free end at correct height, the leg is a bit of scrap from the pile and happened to be just the correct size!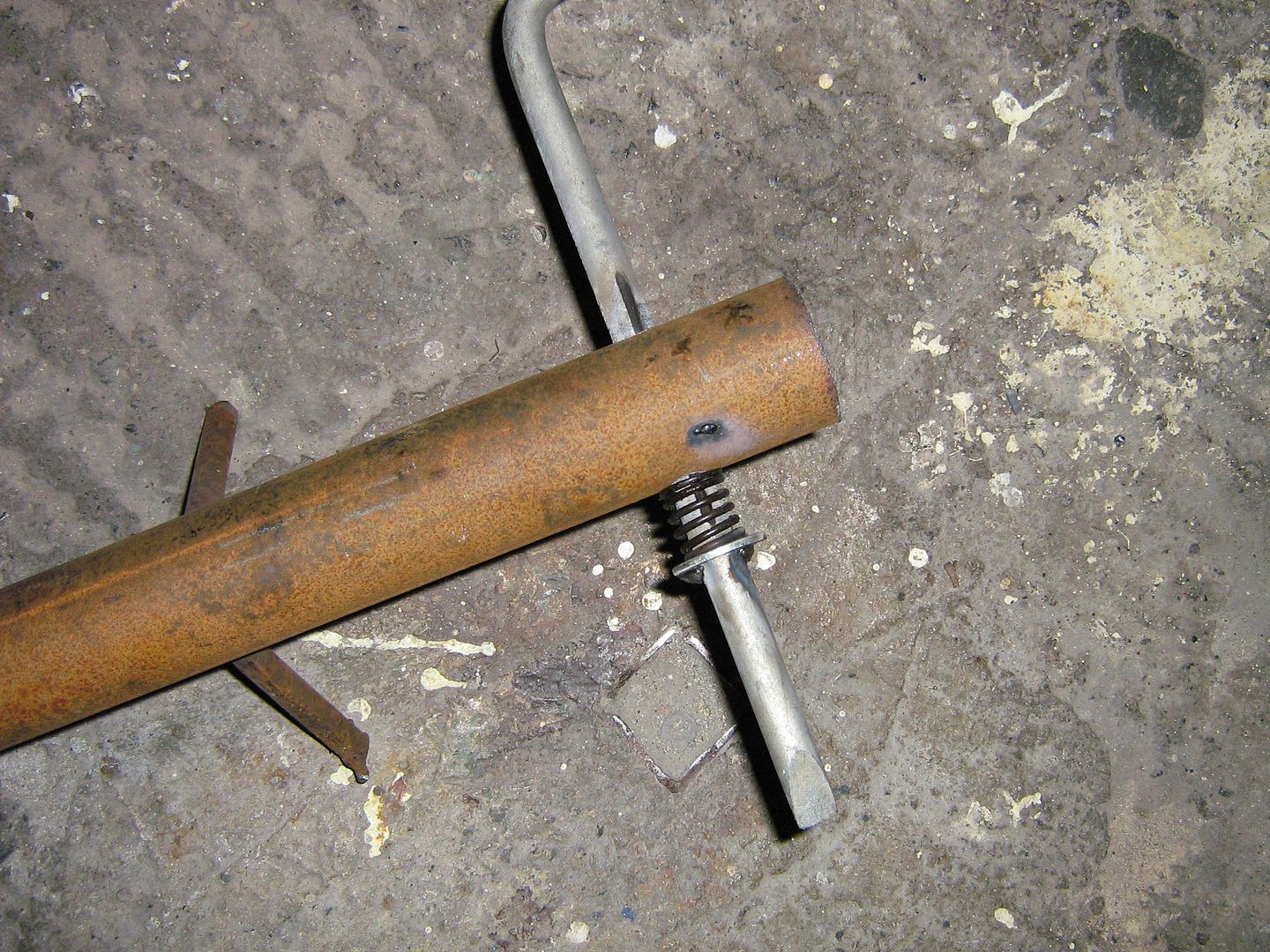 Thats the burn tube done.
Up next, tempering the refractory lining.
--------------------------------------------------------------------------------------------------------
I set the smelter aside for a week to air dry.
If it is dried too fast the lining will crack, and thats no good.
After a week or so, a small fire was set inside of timber off cuts and paper, this was repeated for a few evenings in order to dry out lining further.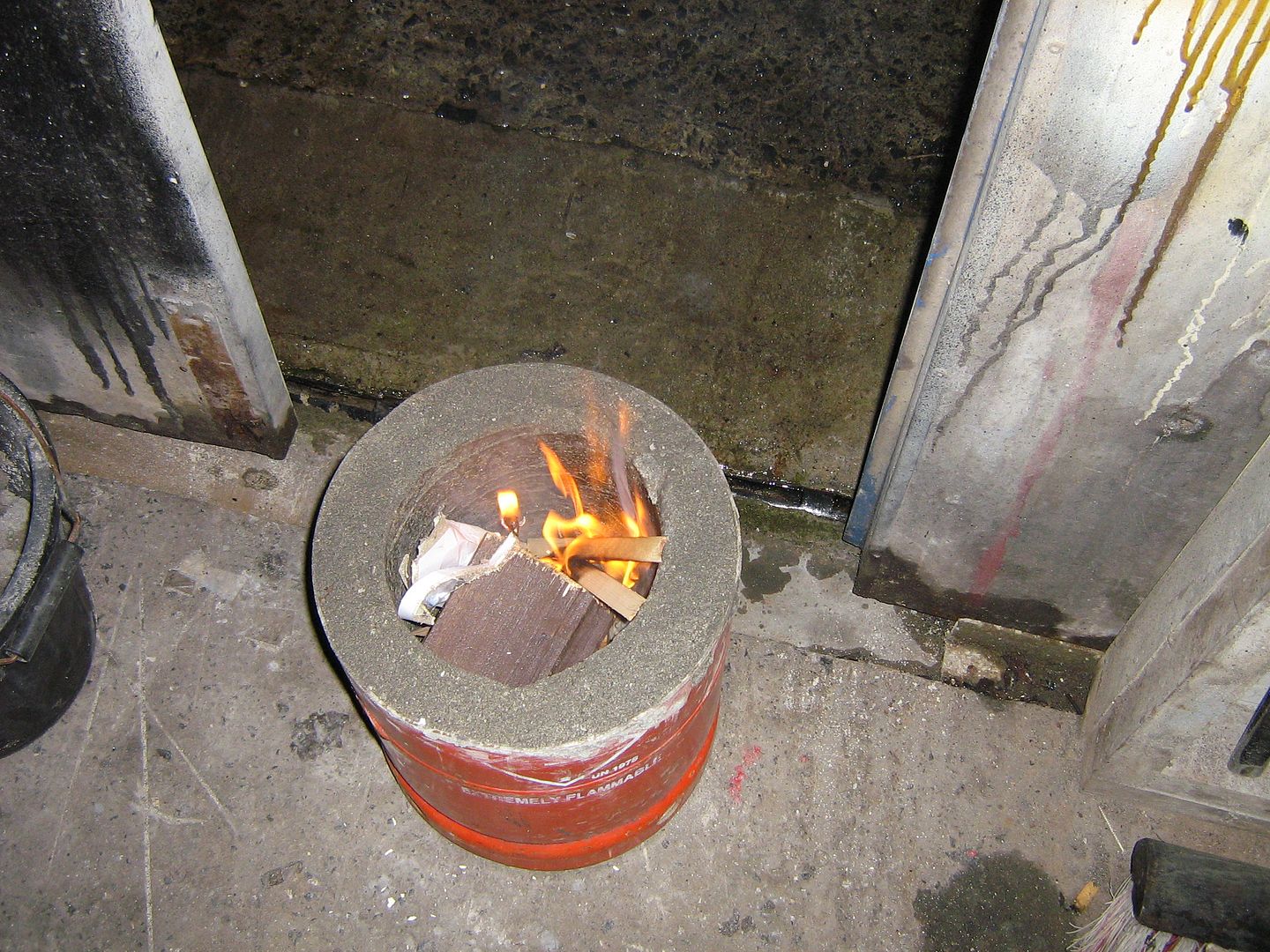 The smelter is now ready for the first run.
--------------------------------------------------------------------------------------------------------
First run.
How the smelter looks after the tempering.
Test fit/run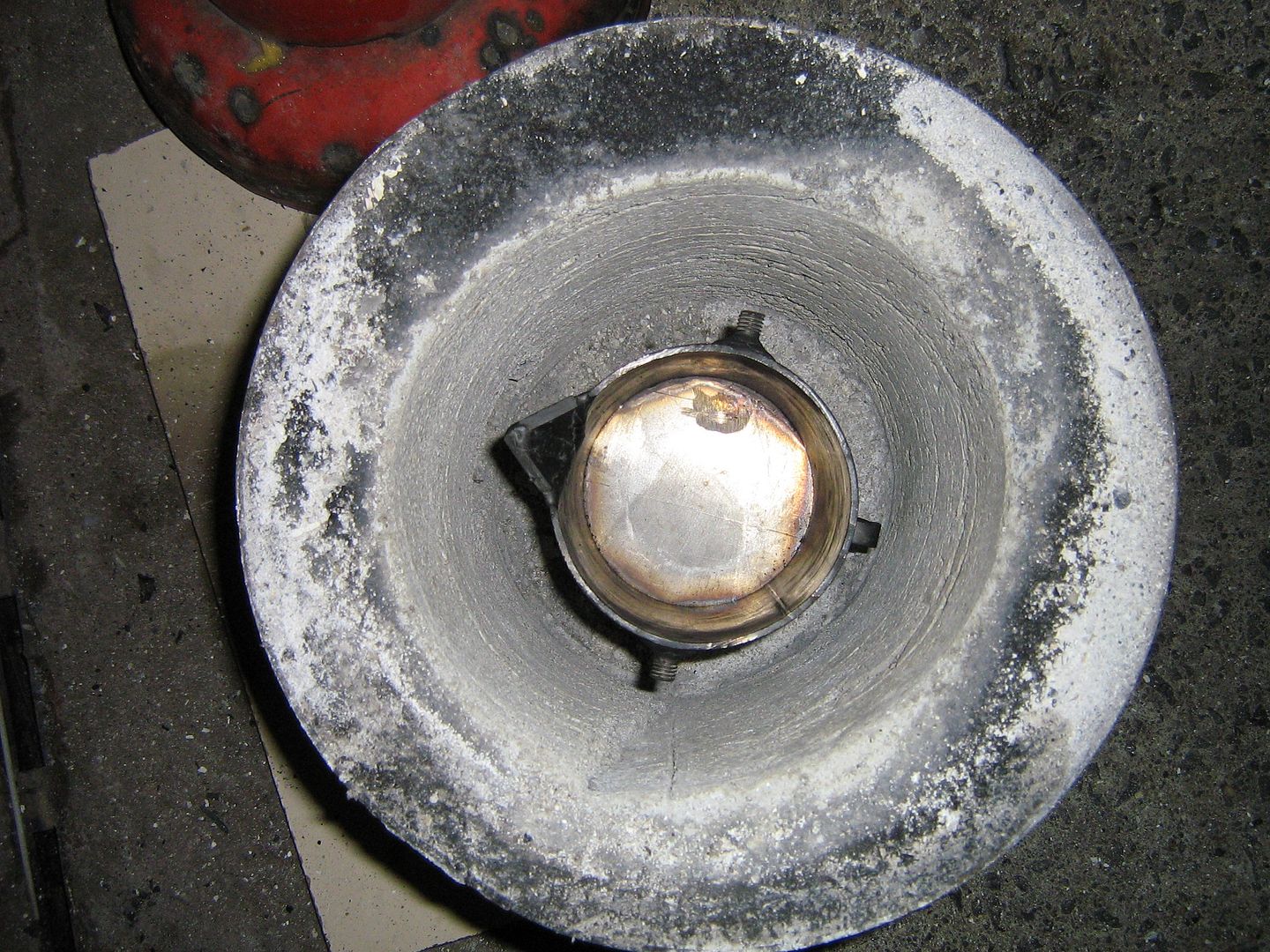 Made up the tongs too earlier, forgot to take pictures, its pretty simple
A bundle of lit news papers are inserted between crucible and refractory wall, blower is turned on, throttle closed, gas is turned on at low reg setting.
As temperatures rise the news papers are burnt, throttle is opened, gas is increased, burner tube sustains ignition by itself and the whole thing comes to life in a fantastic jet engine like roar!
For the first melt I used a few alternator brackets, some water pump casings, and some other brackets. This is a bit of a messy way of doing it as it creates a lot of dross, or scum on top of molten alloy that has to be skimmed off before pour. This dross is the impurities and dirt on the old parts.
Thankfully I have found a spot in Ireland that sells Ingots off the shelf in 5kg bars, they are LM25 which is the exact alloy I need for the cylinder head as it has all the correct properties I need. It is also Idea for all the other parts.
Just warming up, crucible loaded
8 minutes from ignition and all the alloy has now been melted, what you see on the top is the dross, it looks like grey banana skins and is very bad if it makes its way into mould, its pretty easy spoon it off before pour though.
My optical thermometer told me that it was approx 700 degrees in there after 8mins.
I have to say it was pretty cool, and pouring the molten alloy was a sight to be seen, sadly, I dident get a photo as my hands were full.
I poured it into a very crude normal sand mould, just to get it into a shape to be able to be remelted easily. I also wanted to check cooling times, shrink, etc.
The blank when cooled
Notice the shrink at top once it dried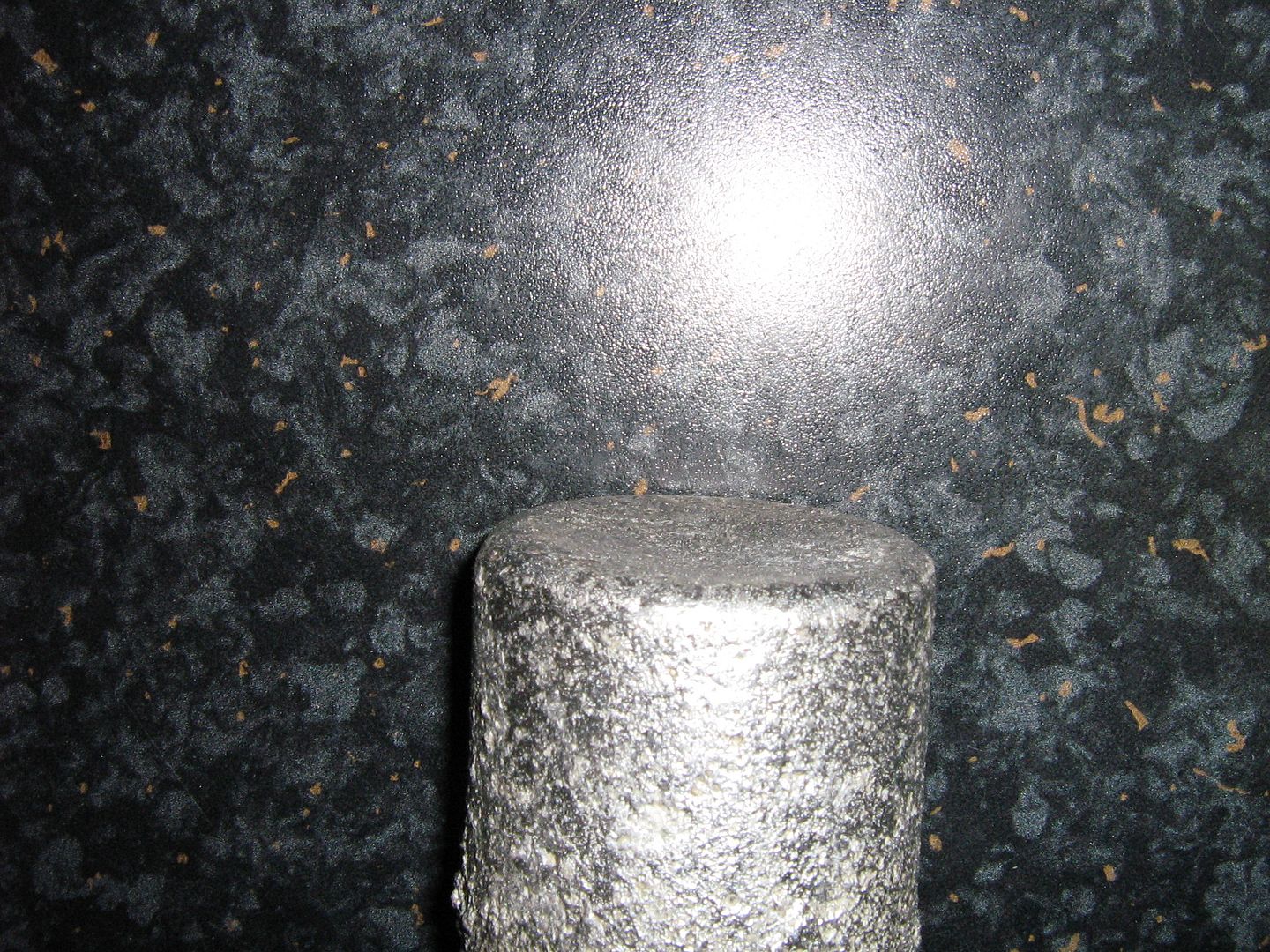 This shrink has to be taken Into account in the design of all parts, moulds, risers, gates, and all other mould aspects.
Youll see about all them in the next part when I make up some moulds for parts and other bits.
I had trouble getting high grade casing sand but I have some located and ill be picking it up sometime next week along with a crate of ingots and a load of other vital bits incl de-gas tabs.
One last shot of the crucible post pour
It seems to be well up to the job and can ''take the heat''!