I have an 8P A3 3.2L VR6, but since not many people do much to their A3's, I figured I'd share this over here too.
I've been playing around with different control arm bushings for awhile now (referencing the front lower, rear position bushing, with the aluminum bracket), and just wanted to share my experiences. I've now tested the basic Golf MK5/6 and A3 2.0T bushings, the S3/A3 3.2L/R32 bushings, and finally the RS3/TT bushings. For reference, I run low mileage OEM S-Line struts, Eibach lowering springs, 034 spherical rear trailing arm bushings, and 034 rear sway bar.
Wow...what a difference these different bushings can make in terms of handling and especially turn-in.
The basic Golf/A3 2.0T bushings (1K0199231J / 232J) are horrendous in terms of performance and handling. They have 4 voids in the rubber, allowing for massive deflection and movement. The advantage is a less noise transmitted, less nvh, and noticeable smoothing out of sharp edges, but that is about it and the ride quality isn't really all that much better compared to the S3 (in fact I found them worse).
The S3/A3 3.2L/MKV R32 (1K0199231K / 232K) bushings are a big upgrade in performance and handling over the J version. They have only 2 voids instead of 4 in the rubber, which causes much less deflection and movement. They create a more connected feel with the steering and the road surface, but more NVH is indeed transmitted, although still minor. I personally found these to be MORE comfortable on the highway than the J version since there is less dive during undulations in the road surface. Turn-in was increased significantly in the twisties, as was maintaining traction through a sustained corner.
The RS3 bushings (1K0199231N / 232N) are by far the most superior in terms of performance and handling. They are fully solid with no voids, allowing for almost no deflection or movement. The advantage is drastically improved turn-in traction (even over the S3), much less wheel hop and dive, and improved reaction time from high speed steering input. I did not realize a simple bushing could improve things quite so much. The RS3 brackets/bushings share the same rubber bushing with the TT-RS, etc, but the A3/MK6 uses a side specific aluminum bracket versus the TT which has a single bracket for both sides. You can press the bushings out of the TT versions and use the A3/MK5/6 brackets, or you can purchase the bushing on it's own for significantly. However, the bushing is only available in Europe, and shipping can be quite expensive and take quite a long time. I had a friend bring me back some from Germany, where they are $6-$7 each, but some places offer them for about $40-$60 a pair.
I have personally not tried the Whiteline or the Superpro WALK, and I also don't really feel this is the correct way to address the geometry changes the car experiences when lowered (spindles and control arms should be done IMO. But this is just about the OEM choices out there, and I've also seen the OEM RS3 bushings take a serious serious abuse (far more abuse than I could ever deliver).
Golf/A3 2.0T
S3/A3 3.2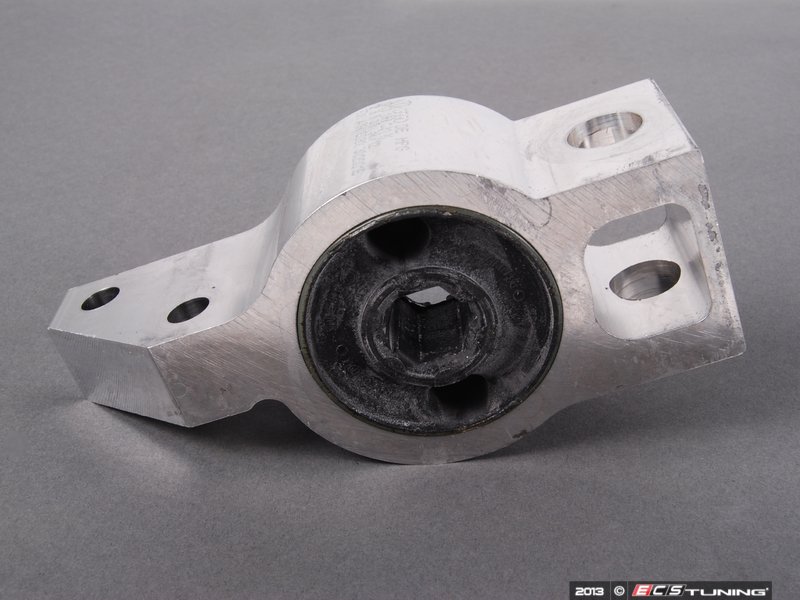 RS3
TT/RS3 bushing from FEBI, part number 33973