The Endless Pursuit: A Build Thread
I've decided to create a thread to document and share with you guys the progress and never-ending build-up of my 2006 GTI.
A little background:
I bought the car brand new in July of 2006 after I had totaled my first car from high school - a handed down '97 Ford Explorer. I knew basically nothing about cars, but wanted something quick and fun. I almost bought a w20 MR2 turbo before Volkswagen released the MKV GTI, and I fell in love literally at first sight. I went to the dealership and configured a package 1 DSG with the 17" Classix and picked it up a week later. I remember driving the car for about 12 hours non-stop after we picked it up from the dealership, it was definitely one of the best days of my life. I got a job working night shifts from 9pm to 3am five nights a week to be able to afford the monthly payments (which were quite a bit for the 0% APR/36 months special offer). I vowed to leave the car stock because it was so much fun right out of the box. Famous last words right?
By the end of the Summer the mod bug had bit me, probably no help from discovering vwvortex... I started out slow, bought a Neuspeed P-flo since that's all I could afford. I scrounged up extra cash I made month to month and made bigger and bigger purchases. Around this time, I also started my own company with my best friend which helped quite a bit on the financial burden of modding a brand new car. With more money to work with, I splurged to make the vision I had for the car into reality.
In the beginning, I was all about having a fun daily driver that simply had a bit more power, sounded a bit more aggressive, and looked a bit more sleek. I started out with the intake, an autotech cat-back, autotech cup kit, painting the stock grill and emblems, color-matched sidemarkers, and a votex front lip.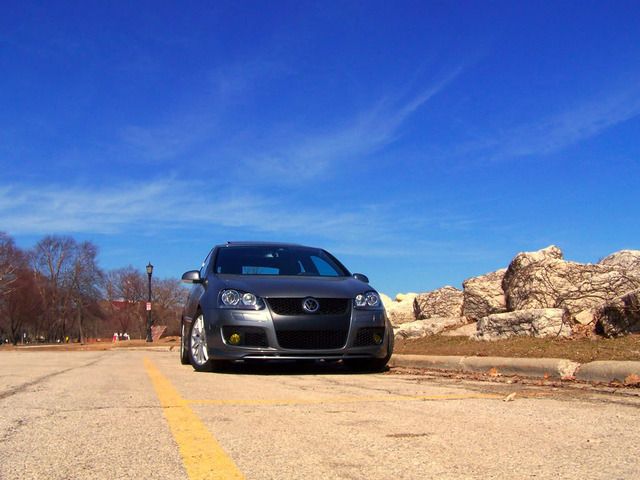 Of course, none of those things were enough for very long. I soon upgraded to a full AWE Turboback exhaust, got a GIAC X+ flash, and Koni coilovers. My goal with the car was still mostly performance oriented, so for my first set of wheels I chose the Neuspeed RS10's which weighed in at 17.8 lbs each.
In the Summer of 2008, I decided to focus more on the "show" side of the car. Back then, everyone was painting stock lowers or adding on votex kits but I wanted to do something that was a bit more original but still clean. I had the headlight washers and sidemarkers shaved and molded my votex lip to the front bumper. The GTI sideskirts were smoothed and painted. I bought an R32 rear bumper, shaved the reflectors and molded it to the stock upper piece. I dropped the car off at Auto works and picked it up a month later. With my new bodywork completed, I headed out to H2Oi for the first time and had a blast.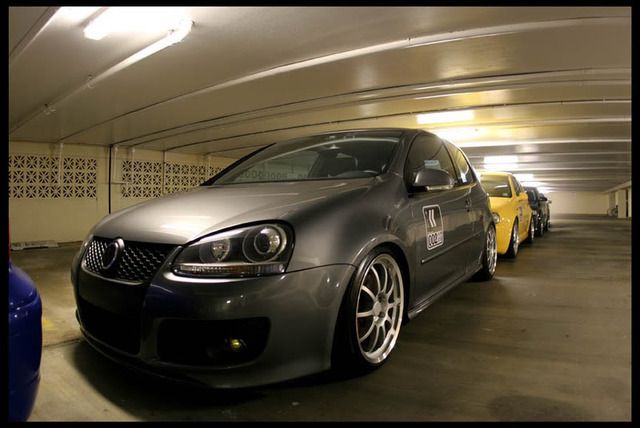 After seeing some amazing show cars at H2O, I decided to focus even more on show, and I was hooked on air-ride. Got in with the second Bagyard group buy over the winter and got myself a set of Supremes. I decided to go with dual Viair 480c's, Easystreet digital management and two 3 gallon tanks just to get away from the single 5 gallon set-up that was fairly commonly done. Keeping with the show oriented goal, I chose to expose the top of the tanks in the hatch area. Thanks to my buddy Larry Appleton for the flawless install.
With the air came the new spacers for the RS10's to get them to sit more flush when low.
However, I wasn't satisfied with trying to integrate the RS10's with the new "show" goal of the car. I started looking for new wheels; a rare 2 or 3 piece wheel that would push the car to the next level. I ended up trying to choose between Stahl S3's and Schmidt PC-lines, ultimately going with the Schmidts because I had only seen 1 other set in the U.S. and the Stahl's had already been done on a MKV. Waiting for the Schmidts to arrive from Germany was agonizing but well worth it.
Had the centers painted Porsche Arctic Silver, full wheel thread here:
http://forums.vwvortex.com/showthread.php?4793674-Oh-Schmidt
. Full specs after spacers are: 18x8.75 et27 and 18x9.75 et34.
Shot of fitment:
I was pretty happy with the car at this point, and not much changed for a while because I bought a condo and the down payment took everything I had. Late that year, I got the itch for more speed again. It was only a matter of time before the "go" goal re-entered my plans for the car, and if there is one thing that I've learned from modifying this car, it's definitely this:
"
When you buy quality, you only cry once.
"
Keeping true to that basic principle, I decided to go all out and was seriously eyeing the APR stage 4 kit, wanting to be one of the first in the country to go that route. However, cost was a major problem as the kit runs close to $25k in parts alone. After a bit of back and forth with APR, I decided against it and pieced together my own kit. I brought the car to my good friends at Further Performance and they helped build me my dream motor. We decided on a GT3076R and sourced it along with a tubular manifold from BSH. My power goal was 450 to the wheels, so IE rods were a must and we did Wossner pistons at the same time. Also on the list was a BSH FMIC, HEP Intake manifold, BSH engine and tranny mounts. Fueling is handled by an APR HPFP, an auxiliary Bosch 044 inline fuel pump, and Audi S3 injectors. To handle the extra power, we decided to upgrade the DSG hardware too, going with new clutchpacks from SSP rated for up to 500whp and custom DSG software from United Motorsport. Unfortunately I don't have any more pics of the motor build right now as they are on a friend's camera, but I'll post those eventually when i get them.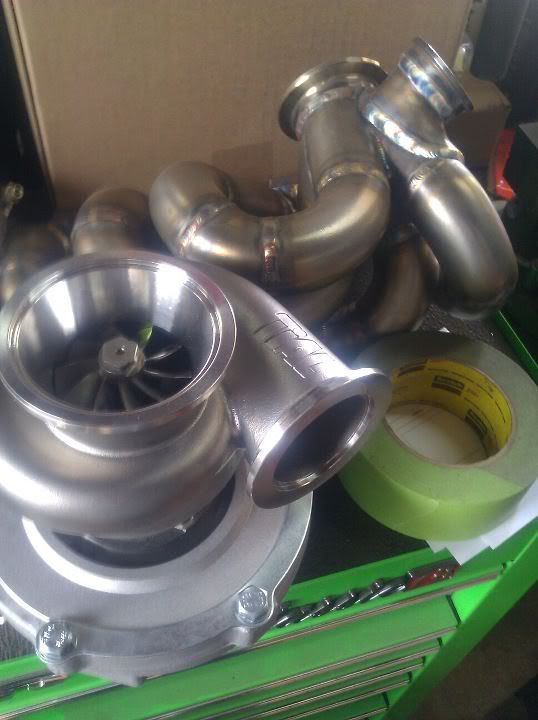 All done:
The night the motor was put back together, I set off from Minnesota to Maryland over the next 2 days, stopping for an oil change and some sleep in Chicago. The break-in tune was a no-boost file - there is a lot of debate about this but it seems to have paid off. The car consumed a little less than a 1/4 of a quart through the 2500 mile journey to H2O and back. When I got a chance to bring the car back to Further, we spent a couple days dyno tuning over phone with Jeff Atwood of United Motorsport. Car is running a conservative file right now making around 325 whp at 20psi and 6500 rpms, the limiting factor being the small diameter of the MAF housing/BSH intake. The next step is to go to a custom 3.5" MAF housing and intake and see where that gets us.
On the rollers:
I will continue to update this thread with anything I do with the car from this point on. After I've reached my power goals, the next step will probably be new brakes and wheels to clear them. After that is sorted out, I will start focusing on my interior, which I haven't touched yet because it was one of the best elements of the car and I was fully satisfied with it from the factory.
Thanks for reading guys. :beer: Full list of mods is below:
Motor:
+ Garrett GT3076r turbocharger (.63a/r)
+ IE forged connecting rods
+ Wossner forged pistons (9.2:1)
+ ARP head studs
+ ARP Opel main studs
+ Calico coated rod bearings
+ BSH tubular exhaust manifold
+ Turbosmart 40mm external wastegate (open dump)
+ HEP intake manifold
+ APR high pressure fuel pump
+ Bosch 044 inline fuel pump
+ Audi S3 fuel injectors
+ Audi RS4 fuel pressure relief valve
+ Stainless steel fuel lines
+ custom ECU tune by United Motorsport
+ custom 3.5" intake w/Vibrant bellmouth
velocity stack
+ Forge supersize diverter valve w/custom return
+ BSH throttle body pipe
+ BSH front mount intercooler
+ BSH race catch can
+ IE billet valve cover
+ IE timing gear
+ custom clear timing cover
+ custom DSG tune by United Motorsport
+ VF Engineering pendulum mount
+ BSH transmission side mount
+ BSH engine mount
+ Snow Performance water/methanol injection
+ BSH 3" cat-less downpipe/custom R32 style exhaust
+ NGK copper spark plugs
+ black anodized billet coolant/washer caps
+ billet dipstick
+ block/trans painted wrinkle black
Interior:
+ custom half roll cage built by Patience Metal Fab
+ Recaro Pole Position seats
+ Recaro sliders
+ Planted seat brackets/side mounts
+ Schroth Profi-II harnesses
+ AWE Tuning vent mounted boost gauge
+ twin Braille B129 batteries mounted in spare well
+ European left-hand mini-glovebox
Exterior:
+ respray in Suzuka Blue Metallic
+ pulled fenders/quarters
+ shaved side markers, headlight washers
+ molded GTI front bumper with Votex front valance
+ molded R32 rear bumper with shaved rear reflectors
+ Audi B6/B7 door handles
+ painted front grill/trim, shaved GTI badging
+ open fog grills, Hoen yellow bulbs/lamin-x yellow film
+ color-matched R32 side skirts
+ rear windshield wiper delete
+ OEM Euro LED tail lights
Suspension:
+ Bagyard supreme front struts/bags
+ Ground Control front camber plates
+ Universal Air air house II rear bags
+ Baaktobasics rear brackets
+ Accuair E-Level management
+ Dual 3 gallon chrome aluminum air tanks
+ Dual Viair 480c compressors
Wheels & Brakes:
+ Schmidt PC-line wheels (painted Porsche artic silver):
18x8.75 et27 w/215/35, 18x9.75 et34 w/225/40 - sold
+Enkei RPF1 18x9.5 et21 w/215/40 all around
+Volk Racing TE37SL 18x9.5et22 18x10.5et22
+Tar*Ox B34-GT10 BBK (340mm slotted/drilled rotors, 10 piston calipers)



Motor teardown/rebuild pics - page 2
Custom intake pics/old Schmidt photoshoot - page 4
RPF1's on - page 7
TE37SL's - page 12
Rear seat delete, BBK - page 16

Teardown begins for... - page 18
Cage complete - page 25