I just want to start this off with a BIG THANK YOU to Vortex & everyone who has bought my parts and sold me parts as well, and also to the peeps who helped answer my noob like questions along the way. Here's to you:beer::beer::beer: If I never would have came on this site i wouldnt even be close to where I would want to be with my corrado. (or near as broke
) All of my parts and including my car have been bought through here. including all the parts I had from my g60 have been sold here. thank you 1 more time to the honest people on here making great, smooth transactions:beer: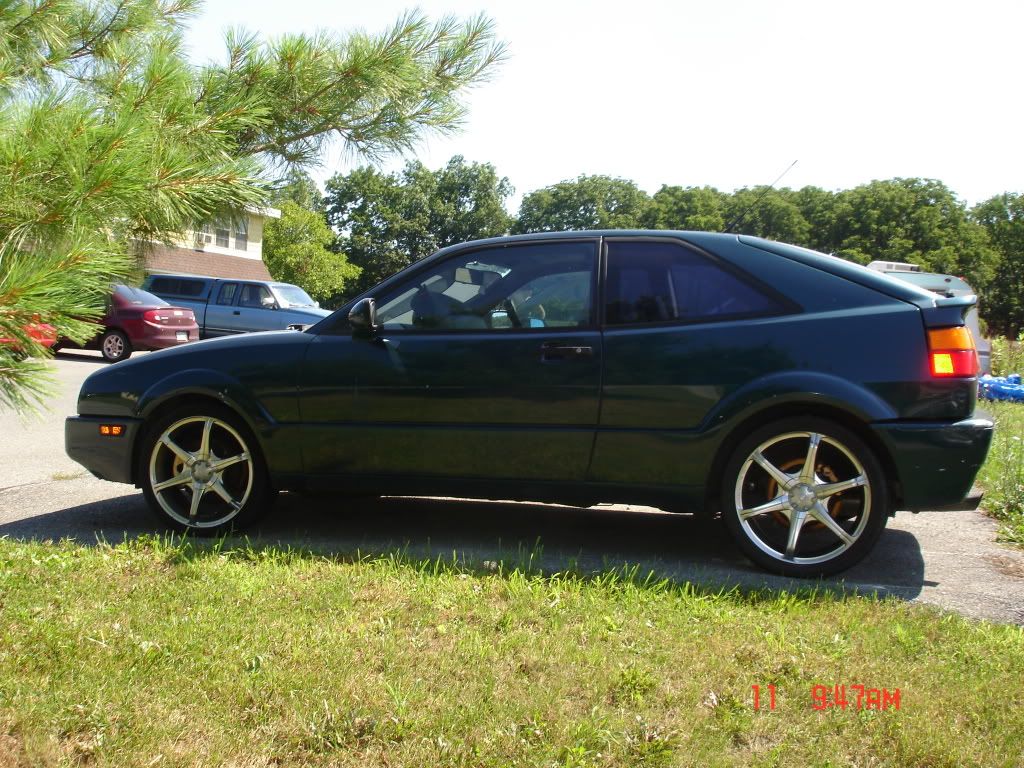 So i bought my first corrado along time ago I was 17 and had no clue what a Corrado was til i laid eyes on it. It was a 91 g60 automatic
the thing was a nightmare the whole time I had it and dropped a lot of $$ into it just to try to keep it alive. I crawled through the hatch to open my doors for about 2 years that i owned it:banghead: Out of the 12 years i owned it, it drove a total of 6 off and on. it sat for the last 5years. I was putting together slowely all the things needed to do a 5 speed swap. once i had everything in place to do so I realized I'd be better off selling everything and buying a vr6
So Januaruy of 2011 I sold the g60 for $1200 and wished the next guy the best of luck. he also had another g60 he just got done bringing back to life, so i was happy it was going to a good home.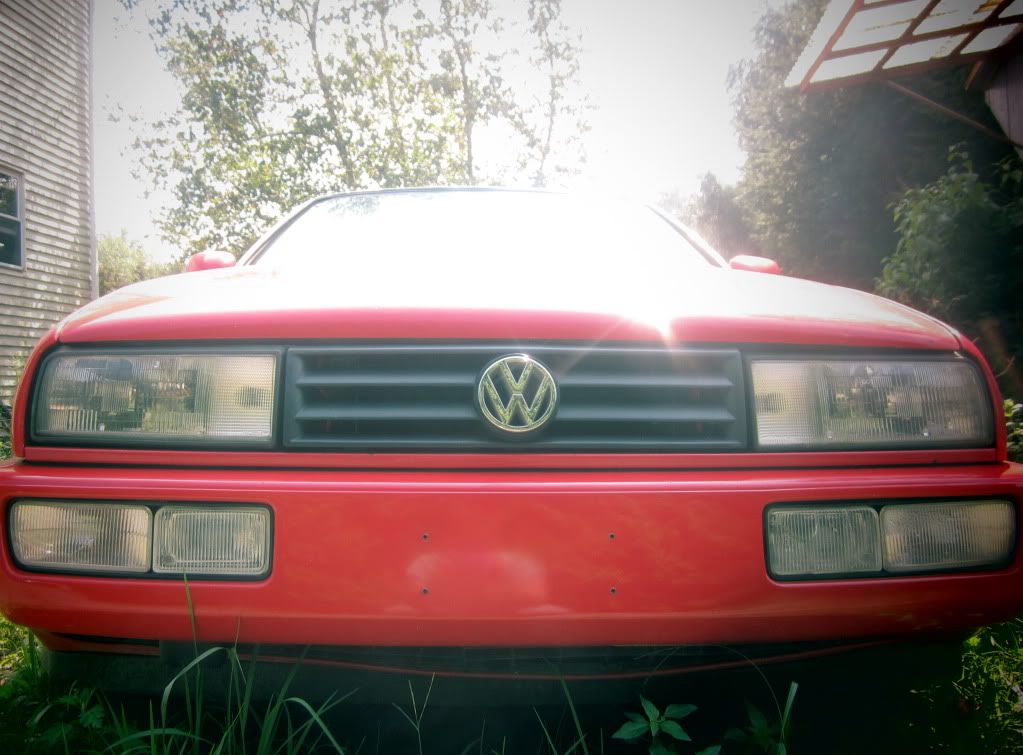 Less than 4 months later in April 2011 I bought a 1993 Vr6 from a guy up in Vermont. i paid $4500 and about $700 to get her shipped down here. Do to getting married to my loving, "understanding" wife she let me buy it, but I had no time to really do anything to it. So i just started buying things i knew it needed and things i knew i wanted
I did kinda rush into getting another one, but i felt like this was the one, and it had to be NOW or NEVER. After buying my new C and lurking around this forum for over a year now i know a lil better. but now it's too late and i :heart: my car unconditionly!!!!!
So my car was in need of some very minor tlc. the interior is just about flawless and the motor seems to be very strong at 138k on the clock. it could use a respray eventually. Things that need to be replaced are the alternator, serpentine belt, front axle, inner/outter tierod assembly, front/back brakes calipers, carriers rotors, ebrake cable, swaybar links, headlights, fog lights, turns, basically the whole front bumper, and now the door handles.
Ive bought so many parts just to end up reselling them for some thing better that i wanted. i ended up buying 3 sets of fogs and reslling them when i found a pair of french fogs:heart: and i first went out and bought a set of lowering spring which i later sold to buy Koni coilovers when they had that christmas special. but in the end everything i bought and have for my car just waiting to put it in place.
ic:
This is the base of my story pics and more will follow. this thread for me is way over due. I came on here and never really introduced my self til now, ohh yeah btw my name is Tony:beer: I just needed to get some stuff started on my car to feel comfortable enough to start this thread. dont worry pics are coming.:laugh: so far last week i got it into a buddies garage and had all the tools needed. needless to say im not much of a mechanic my self but im definetly not afraid to get my hands dirty. last week I replaced my alternator and all of my lights upfront. replacing my fogs with 3k hid's and my TK modded headlights with 5k hid's
Now comes a lil fun and not to mention great seller ratings!
eace
arts I've bought from Vortex and who I've dealt with and helped me along the way!
PARTS
Vortex Member
1. Vr6 engine manual JPawl
2. Corrado Bentley Better World Books*
3. 1993 Vr6 Corrado JohnnyKuhns
4. H&r springs and struts (resold) Brokenbonez
5. K&N air Filter Brokenbonez
6. NA headlights incredible condtion Scotmbb107
7. Corrado logo shift knob
ic: Torsten
8.brand new still in orginal box Kamei Grill spoiler Dirty_vr
9. Rare Kamei Grille Dirty_Vr
10. Mk3 minty Black floormats set VwSporting
11. Clear Lamenix headlights,fogs,turns ?
12. tie rod assembly left,right Mjm autohaus
13.serpentine belt Mjm autohaus
14. Hid kit 3k for fogs Ebay
15. BBS valve caps Vwtechr32
16. Indigo Blue gauge faces and volt gauge Spoonfed Tuning
17. Slc fogs (resold) Gitee
18. New Vw rear emblem Zeblor
19. Front axle Scotmbb107
20. front calipers/carriers*edit: front calipers are garbage too Scotmbb107
21. rear calipers/carriers (rear calipers are garbage)
Scotmbb107
22. new e-brake cable Scotmbb107
23. front stainless steel brake lines Scotmbb107
24. front swaybar links Scotmbb107
25. temporary front/rear brake pads Scotmbb107
26. new cv boot for axle Scotmbb107
27. Front rotors Scotmbb107
28. mk4 rear calipers mad8vgti
29. Black cabrio visors burtondk12
30.Vr6 control arms w/ R32 bushings GotEuroCorrado
31. Yellow bulb caps (up :fs
Hotproperty
32. stock lug bolts great guy--> Punchthefish
33. 4 205/40/16 DiscounttireDirect
34. Koni Coilovers Mjm tuning (i think)
35. vr6 lower spring disc caps (resold) Ebay
36. 10k hid kit (resold) Ebay
37. 5k hid kit DDM Tuning
38. set of long beaches (resold) madrabbit?
39. brand new set of Lb's (resold):laugh: Keystone Dist.
40. new center caps for Lb's (resold) Ebay
41. Slc stock grille minty Keskin615
42. French Fogs Keskin615
43.the wrong alternator:banghead: Keskin615
44. smoked lamenix fogs,turns (resold) Volksracer
45. euro switch VW35i
46. another set of vr6 fogs (resold) 2.8L
47. magna flow high flow cat Amazon
48. resinator and Vibrant muffler Amazon
49. BBS rs 16x8 w 2'' lips (*FREE*) JetrocVR616V
50. ATE slotted rear rotors/ *** rear wheel bearing kit fourseasons tuning
51. VIS Carbon Fiber hood CorradoKing
52. 42DD intake tube w/maf great guy---> electriceye
53. stainless steel door sills (resold) electriceye
54. all rear emblems slc, corrado electriceye
55. red vr6 grille emblem electriceye