This car I've been after for what seems like 3-4 years. It all started on a local GTG thread here on the forums where an aircooled member posted up a picture of an oceanic bleu 76 rabbit on top of a scrap pile. I freaked out immediately and began hounding him for details. "Is it for sale?" "Where is it, is it savable?" The normal reaction to a find like that. It turns out that a friend of his had found it on top of a scrap pile, drug it back to his shop, and had no intentions to sell it.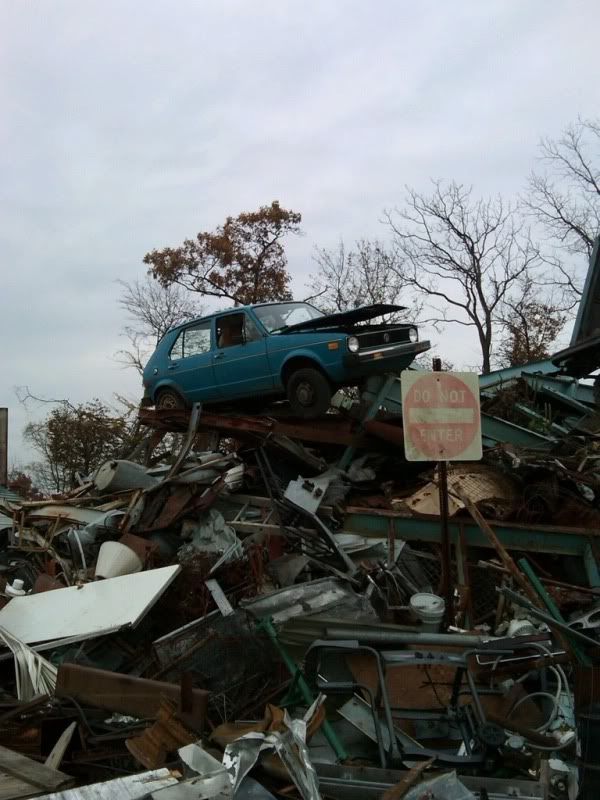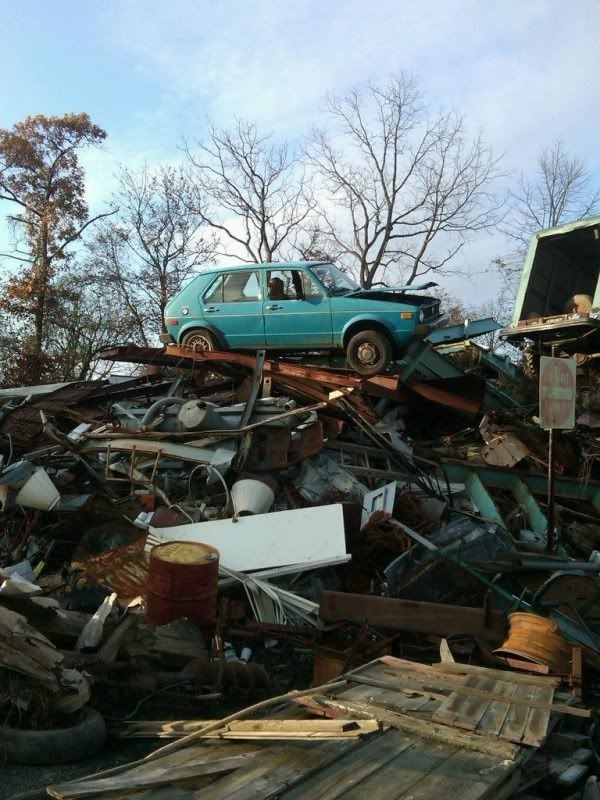 For anyone that knows me well, I always have a list of potential cars and parts deals in my back pocket. I am a firm believer that if you are persistant on following up on a deal on something, it will eventually payback. It definitely pays off for me, time and time again. This car is a perfect example. I kept in touch with local aircooled guy Phil from time to time telling him to remind his friend I'd buy it the second he decided to sell. Well while on a business trip in Boston this past Tuesday, I got the message "He needs money and wants to sell ASAP". I immediately dropped everything, called and sorted out the details to pick the car up Thursday after I arrived home.
The story as told to me by the PO "Josh" was that he was working a job tearing down an old slate roof on a barn, and was looking for a farmer down the road that had a scrap pile where they could unload the old slate. He walked onto the farmer's property and found he had a large pile of scrap. Atop of this giant pile was nothing other than a funky colored blue early rabbit. He struck a deal with the farmer and found out that the farmer had bought a building at an estate sale and all of the contents inside came with it. The car was found stored inside, and hadn't been driven since 1989-ish. Having no interest in the car, the owner put it on top of his pile of scrap, planning to have it weighed and crushed with the rest of his scrap metal. He told Josh his son and him had tried to get it running so they could put a brick on the accelerator and drive it off of a local cliff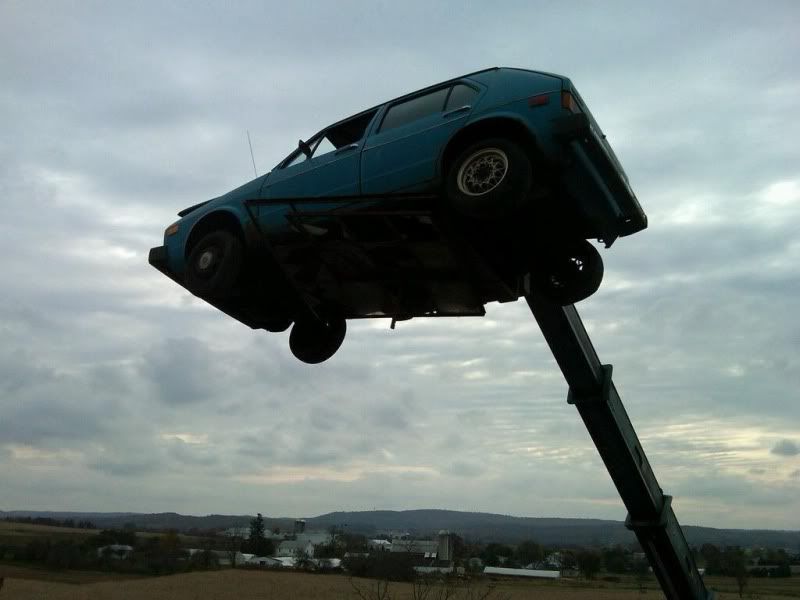 In the process of them trying to "get it running", they wrecked the (what looked to be clean) original "smoothie" hood, and tweaked the core support a little. It seems most of the damage to the body of this car was from the farmer moving it around with his forklift and using "knuckle-dragger" techniques to try and tinker with it
The farmer proceeded to take it down from the pile with his forklift/crane and set it in the back of Josh's dump truck/car hauler and he took it home from there. Josh also found the previous owners son who apparently speaks little to no english.. and wanted nothing to do with the car or to give more info other than it was his fathers car..
So here are the photos from last night towing it home, and as it sits this morning. I have a matching 2 door 76 oceanic bleu car I've been slowly building for like 6 or 7 years. I NEEDED this car to have the matching 4 door sister. It has an interesting color combo with a burnt-orange vinyl interior. It had some interesting options on it. Hopefully some of you early-rabbit nerds like me pick up on some of the stuff in the pictures. I'll update as I dig into it and start bringing her back life!
As far as my research can tell, this color was originally a bug or bus color only and they must have had some extra paint left over in good old Wolfsburg, Germany and they decided to offer this neat color until they ran out of the paint. It seems to be a 1976 model year only color.. with most of them being early 1976 cars with all of the One-Year-Only parts that came on the 1975 model year cars. This makes this already rare early car even more of a find since it is potentially a color that was only offered for a few months!