Discussion Starter
·
#1
·
I want to be very clear about this. This is merely a rehashing of stripethree's grille. I did not invent this mod, nor do I with to take credit for it.
With that said, my grille does differ slightly from the ones that I have seen previously done, and therefore I deceided to write this DIY. I apologize in advance for the length, but dammit I do so love to take pictures.http://****************.com/smile/emthup.gif
Those of you who have seen my previous DIY's will notice that I've not only mastered the word box,
but now I figured out how to make arrows! the world is mine for the taking!
It all started with pretty well the the same basic ingredients as everyone else, but my grille also required the addition of a broken (but new) wheel liner. The liner will make it's appearance later. http://****************.com/smile/emthup.gif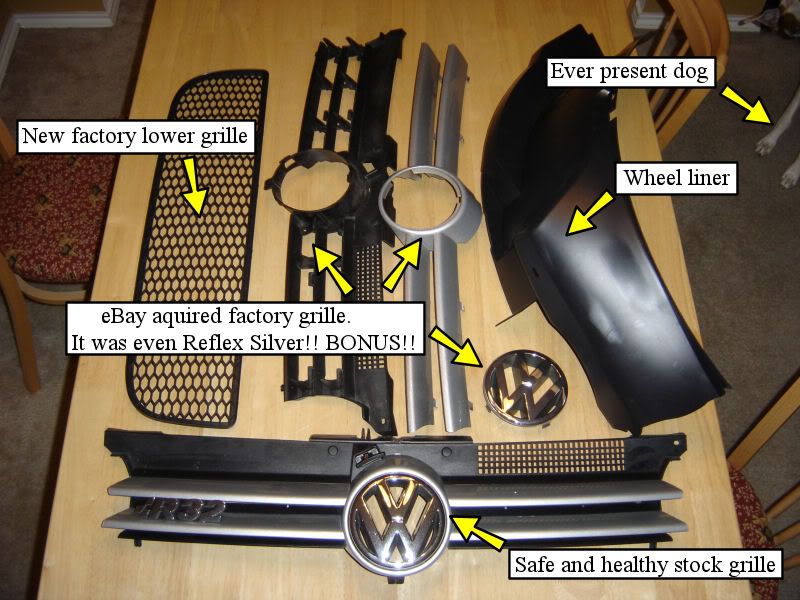 After I had disassembled my eBay aquired donor grille, the first thing to do was start trimming. you have to remove the support structure that used to hold on the painted horizontal grille pieces. I used a hacksaw and a razor blade, a dremel would have worked too, but I didn't feel like busting out the big guns yet.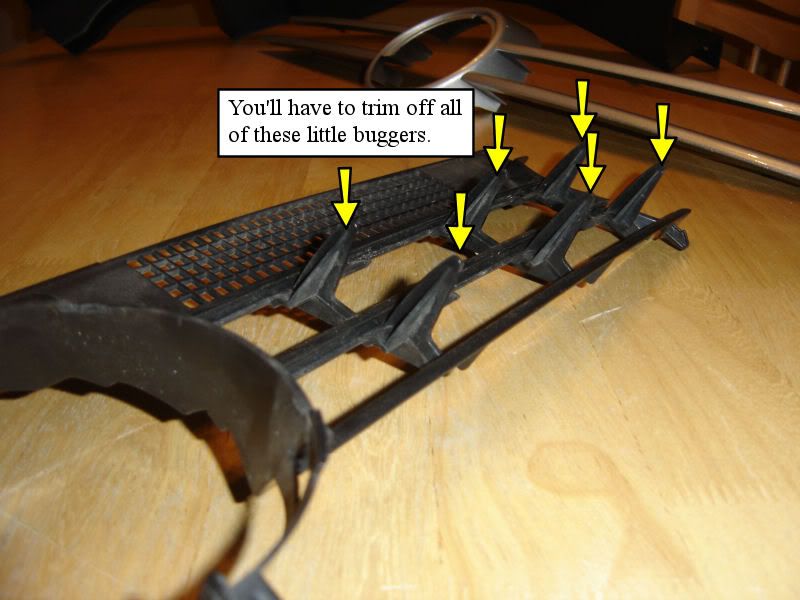 I left the vertical support structures for rigidity, you know 'cause in a front end collision, those supports are gonna save my arse.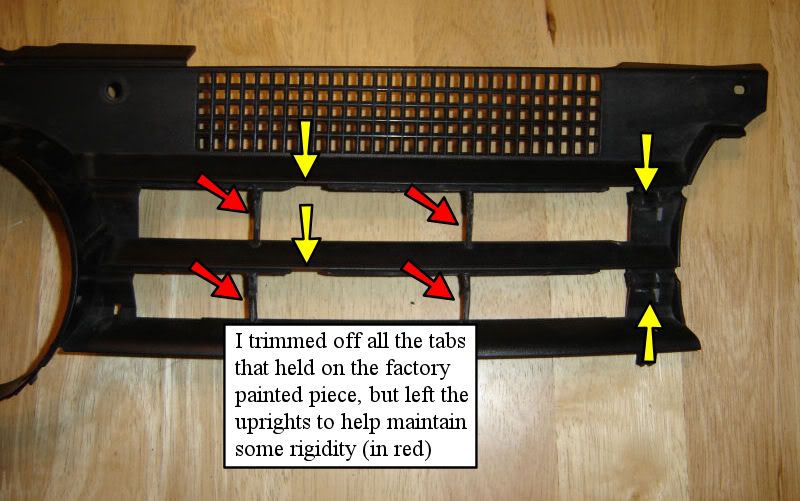 I hacked off the painted wingy thingys (technical term there) with a mini hack saw.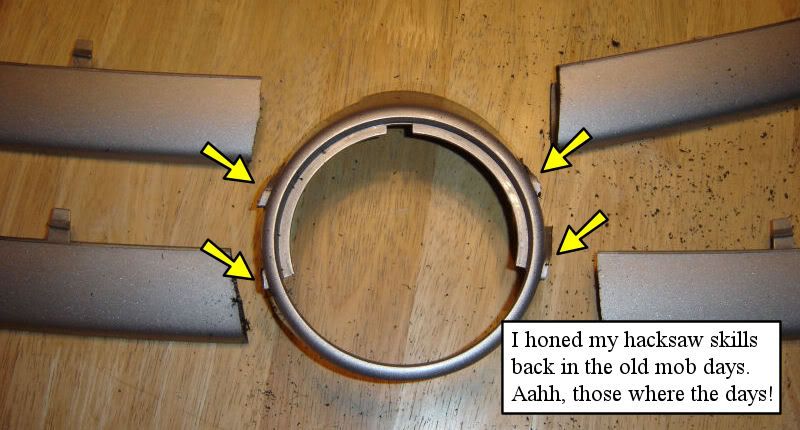 And then trimmed the remains with a dremel.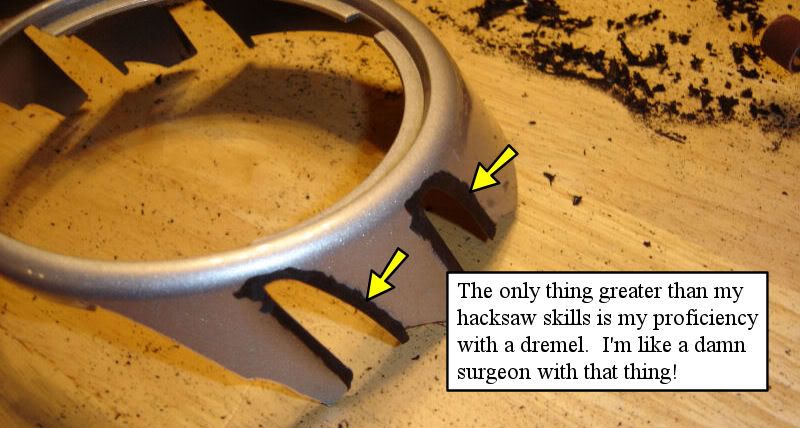 I then disected my wheel liner to begin stage 2. I was looking for a few flat pieces. the damn thing was tough, but nothing my newly aquired tin snips couldn't handle. http://****************.com/smile/emthup.gif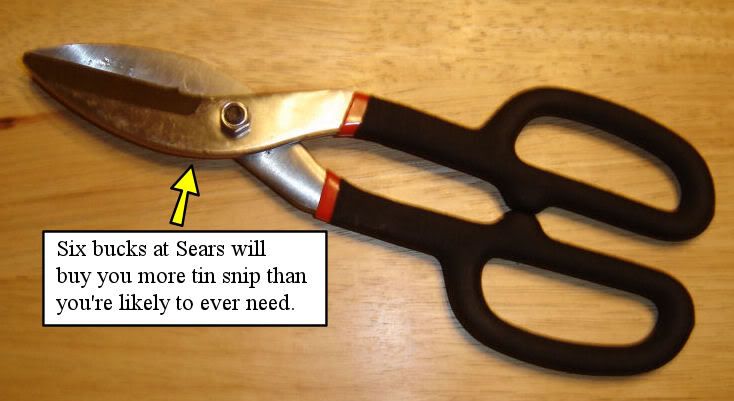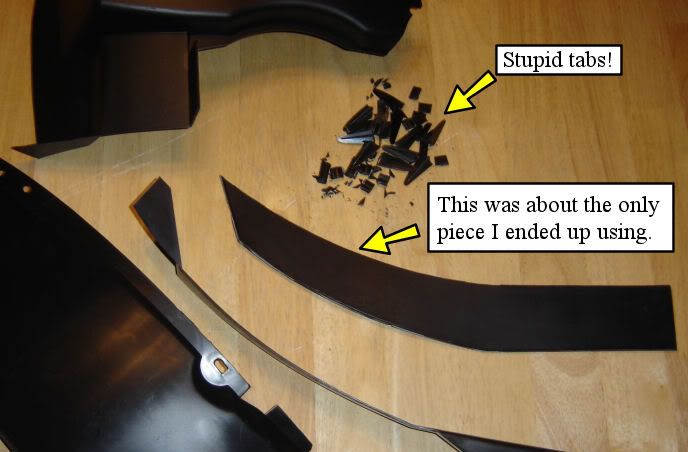 Here's where my grille begins to differ a bit from others. I didn't want to use that mesh screen to cover the holes caused by the removal of the wingy thingys. I deceided to use pieces of liner trimmed to fit instead. I figured I would have to use less bondo, and it would make for a stronger piece.
I started by tracing out the design I would need.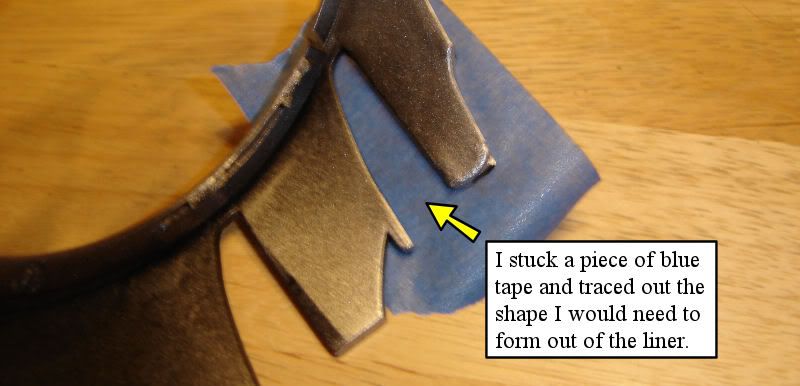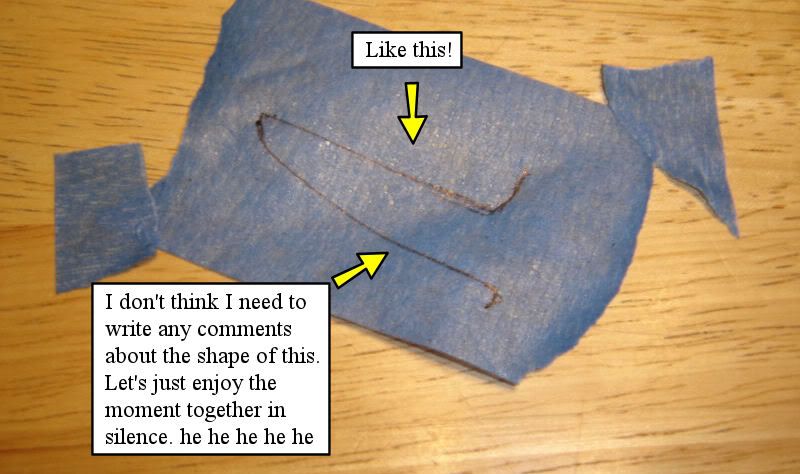 I then just transferred the tape to the liner and cut it out.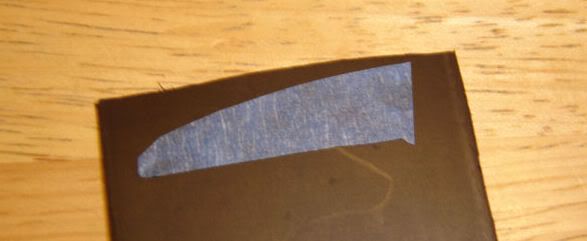 Then it was sanded, shaped and glued into place.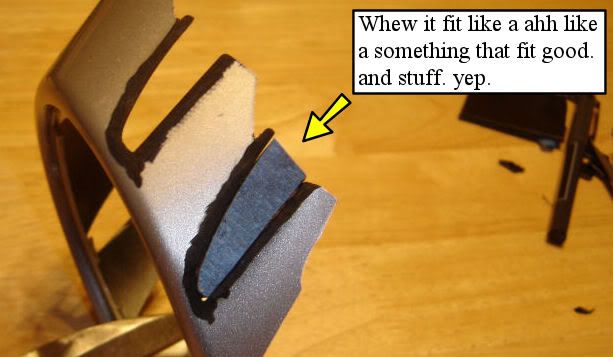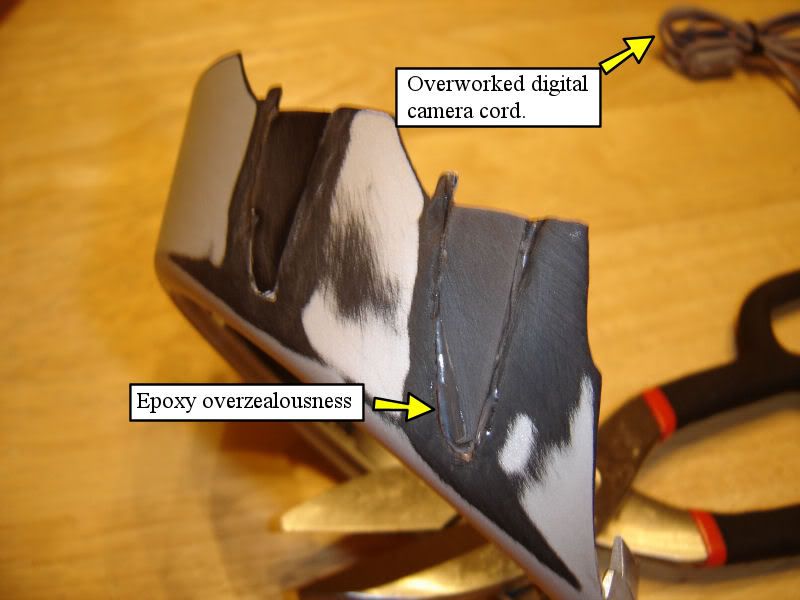 Then it was time for the bondo. Here's a tip for you, I only use playing cards to smooth bondo out on small projects like this. I only used the putty knife to mix the stuff. I suppose you could also use a glossy business card.
cough cough

It took two light coats of bondo and roughy 187 hours of sanding, but I think it came out pretty damn fine.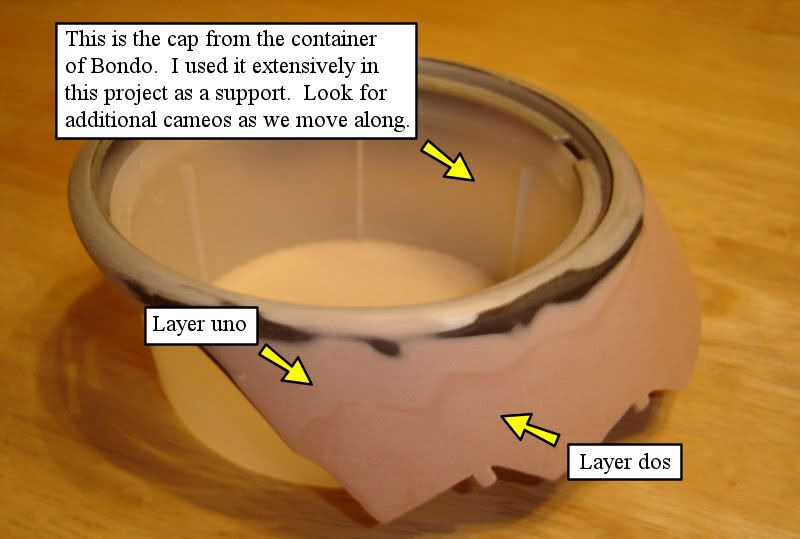 Always with the test fitting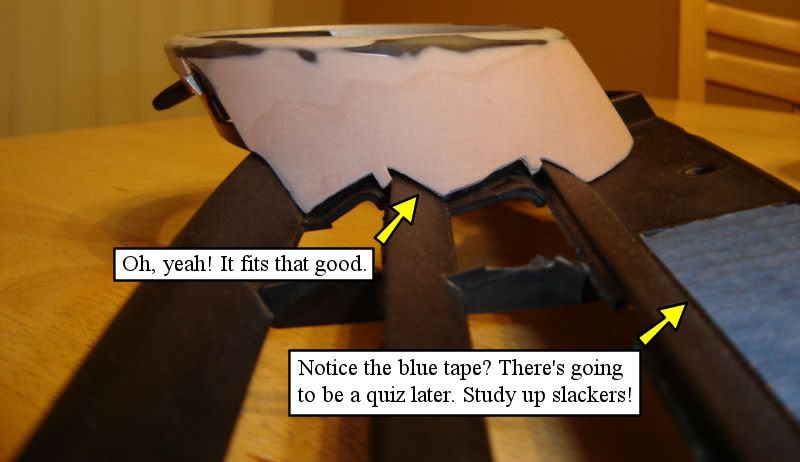 Okay, so the blue tape. Here's another detour. Check out this photo.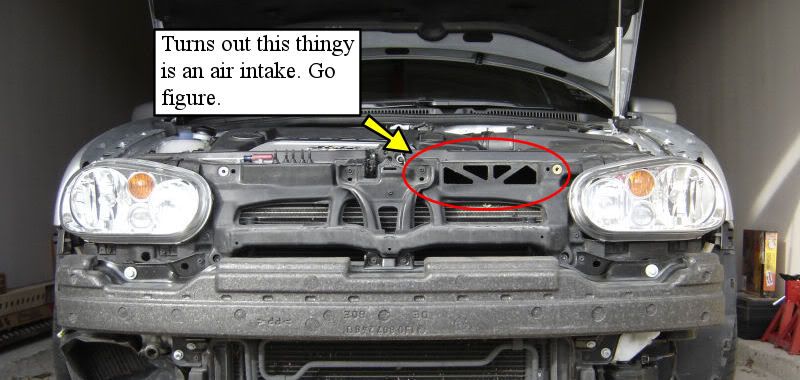 Stripethree was kind enough to let me use a few of his photos and I'm very grateful, so take a look at this one.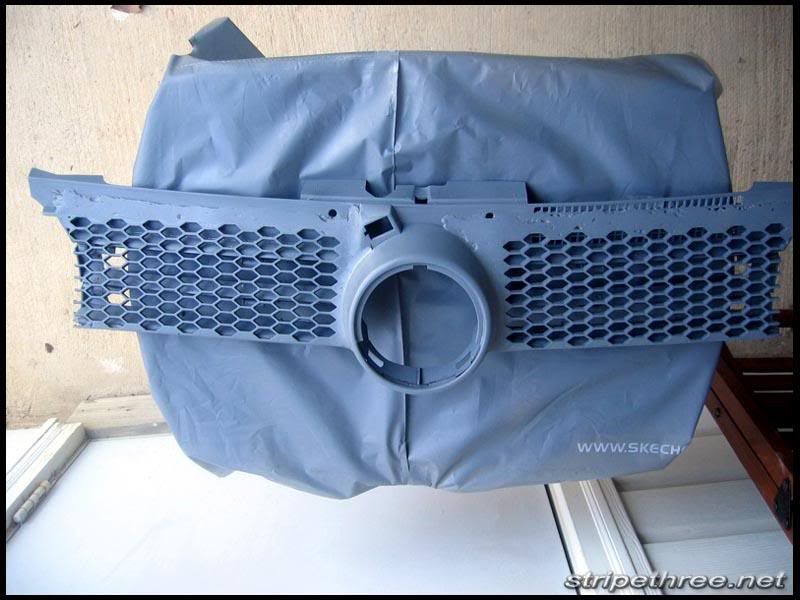 You will have noticed a few things. One, is that stripethree is smarter than I am, takes better photos, and works in a well ventilated area ouside. The other thing you should notice, is that if you blend the grill with bondo all the way up on the left side (right side of photo) you will partially obscure the intake duct. This is NOT in any way meant to be a critical of anyone elses design. But merely to explain my reasoning to do mine differently.
Let me be the first to say, that duct probably doesn't do a damn thing, but it was a reason to make my grille more complex than it needed to be. So I was in!
First to see if my modified intake duct would be visable. So I blue taped the factory inlet (remember the tape class?) and took a look.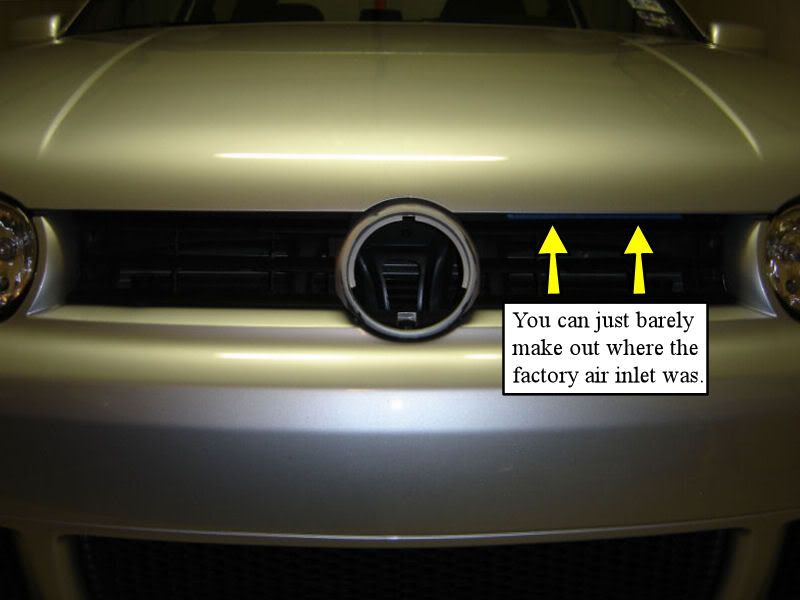 Nope, I was going to pour all this extra work into something no one was going to notice. Perfect! http://****************.com/smile/emthup.gif
I cut out the old mesh with a dremel and soldiered on in my plan to replace parts with small pieces of whel liner.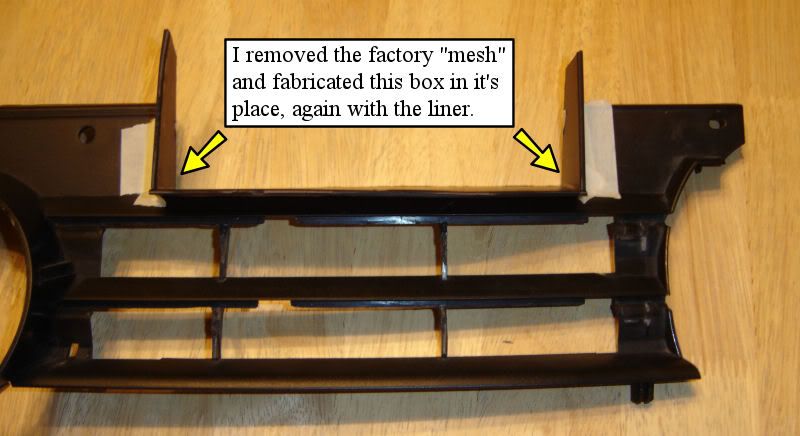 Again with the detour.
Exhibit A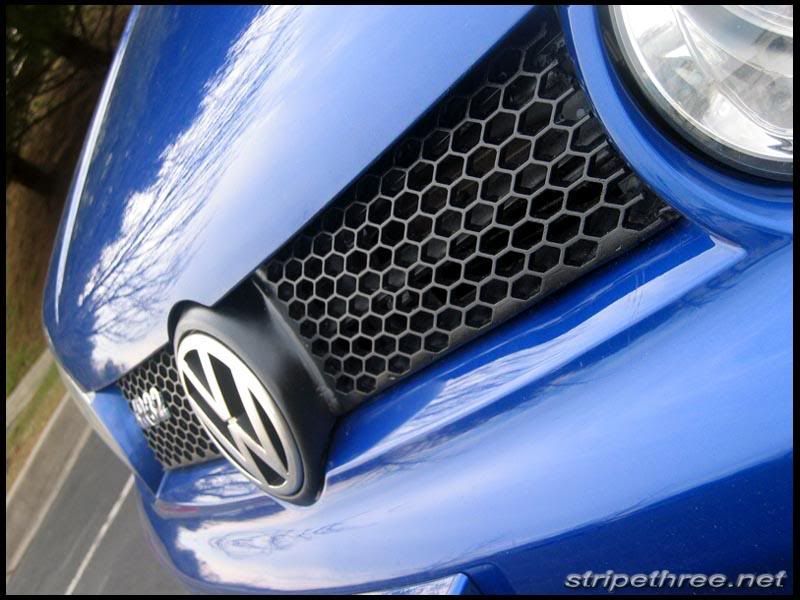 Once again, notice how much better a photo stripethree takes. Oh, and look at the left side of his grille. The other thing I wanted to change was the edge. Every grille I've seen looks like his, the edge is neatly trimmed, and sits almost flush to the painted fascia. It looks fine, but I wanted mine to have a more definitive edge. Back to the liner!!!!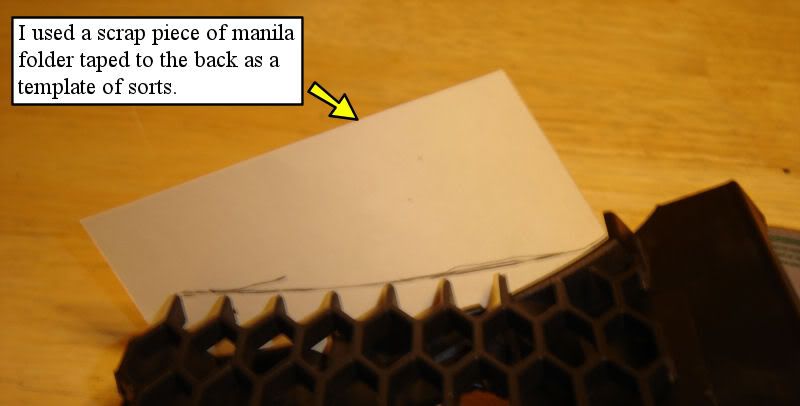 I used the template I made out of the folder and fabbed up the edges. I used a piece of arched liner so I had to do very little bending to get it to fit. By this time I could have made the eiffel tower out of wheel liner. http://****************.com/smile/emthup.gif

I think it gives the piece a nice finished edge.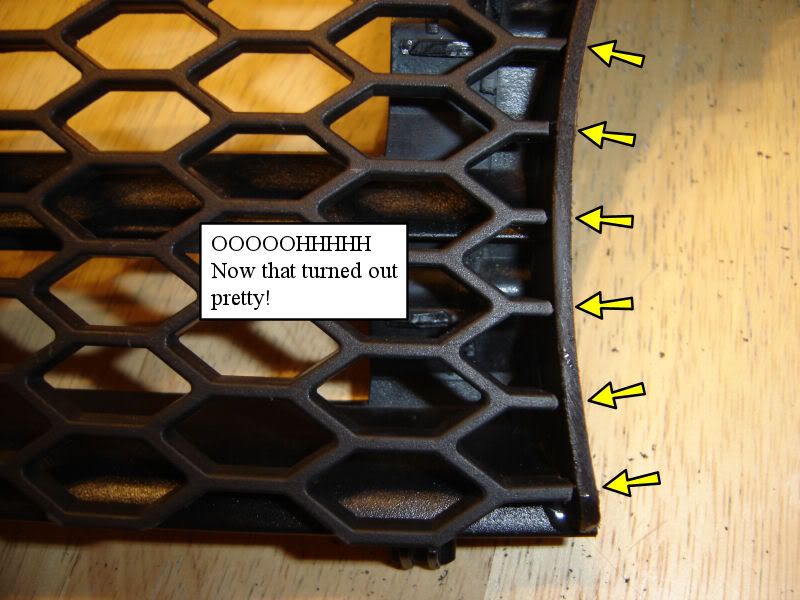 Final test-fitting before the bondo work.

The first of way too may layers of bondo, I was mostly just trying to fill in the big spots at this point. I figured that several thinner layers was better than one super thick layer.

Bondo tip #2, I usually use paper plates to mix bondo on, but I ran out of them, so I had to find a new mixing apparatus. A glass cutting board turned out to be super! You can reuse it immediately, the bondo scrapes right off, and your girlfriend won't get mad at you for using up all the dixie plates. http://****************.com/smile/emthup.gif And it looks stunning in the garage, it really does.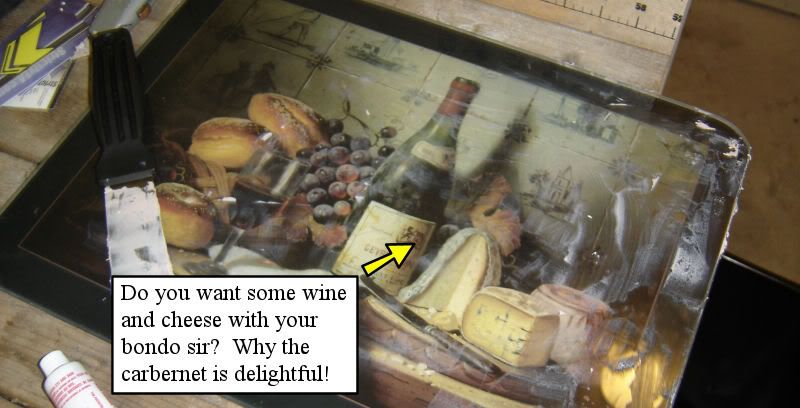 More bondo, another 700 hours of sanding.

I was really hating bondo by the end of this project. I still had two more skim and sand layers after this photo.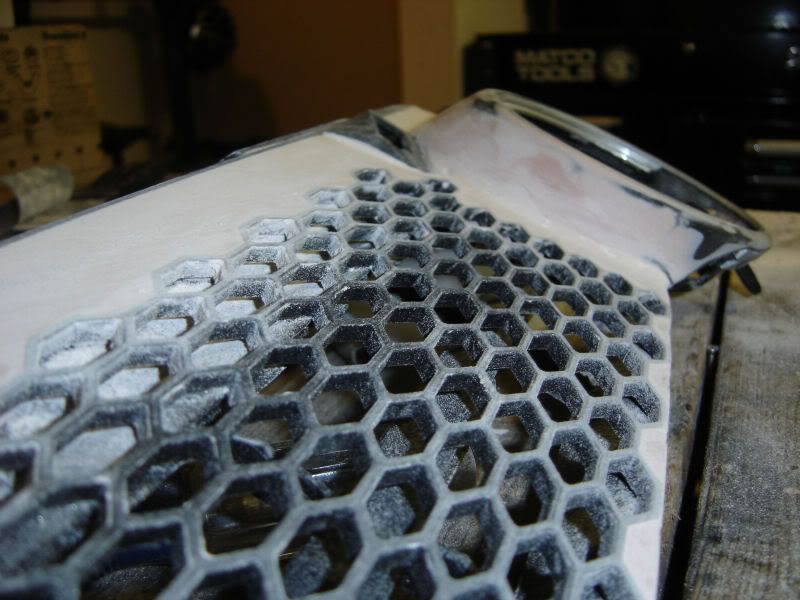 Whoo Hooo I'm finally painting
Painting in a closed garage always makes me feel special
Two coats of primer on each side.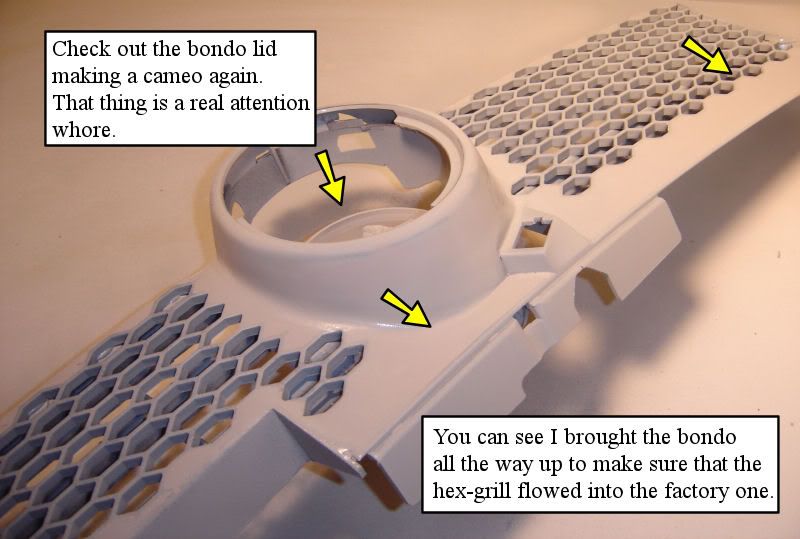 Two coats of flat black paint on the back, four on the front. I was getting woozy.
I slapped on the R32 emblem and it was off to the garage to install it.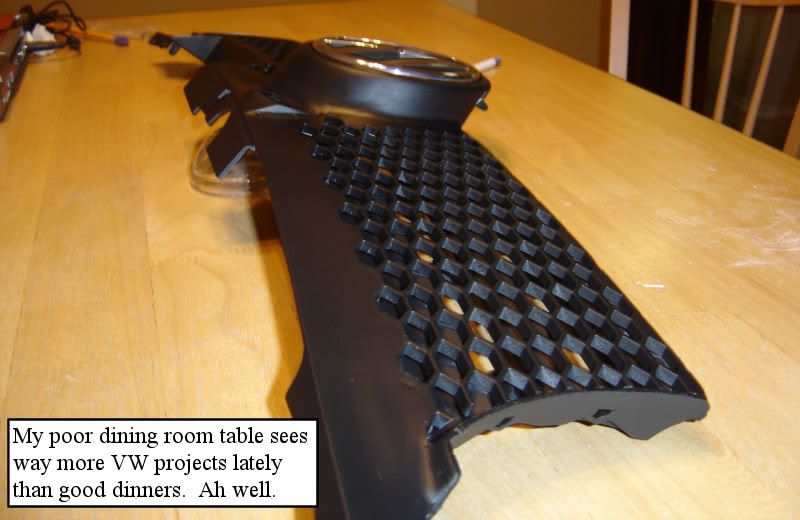 It was finally on!
Time for a cold one!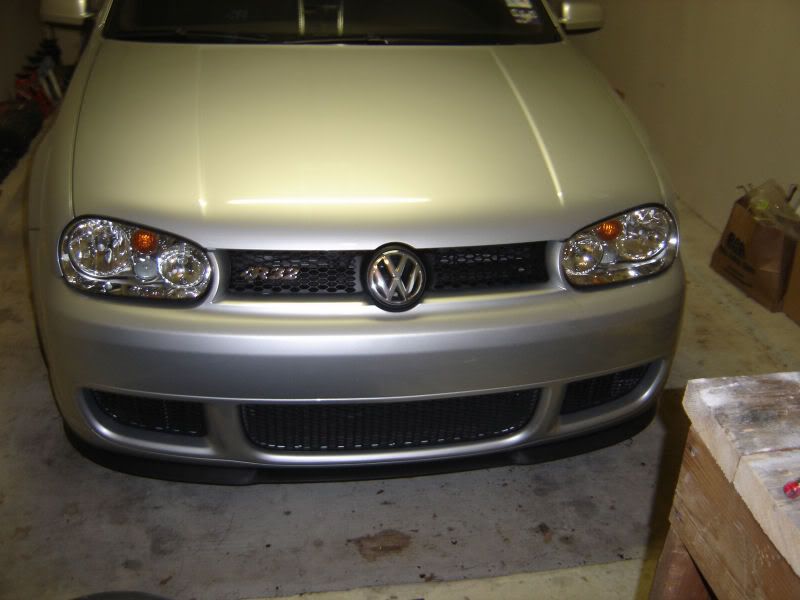 The next morning I was off on a cruise with some fellow dubbers for a little hill country driving! You can still see the dust from all the sanding I did in the garage on my hood.
This photo was taken by one of those fellow dubber before we left. http://****************.com/smile/emthup.gif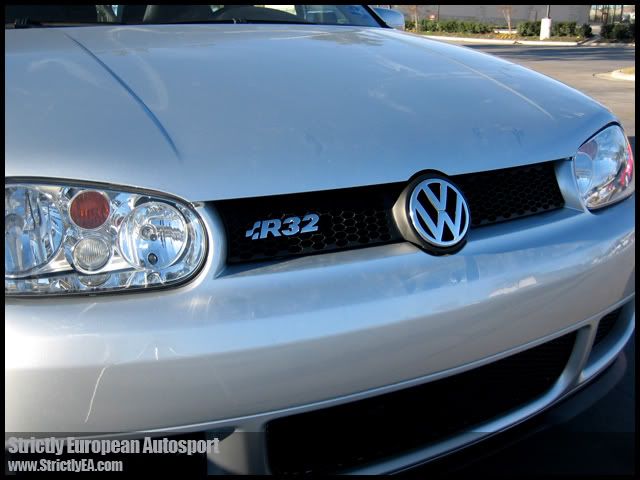 And after I got back
Dirty but happy.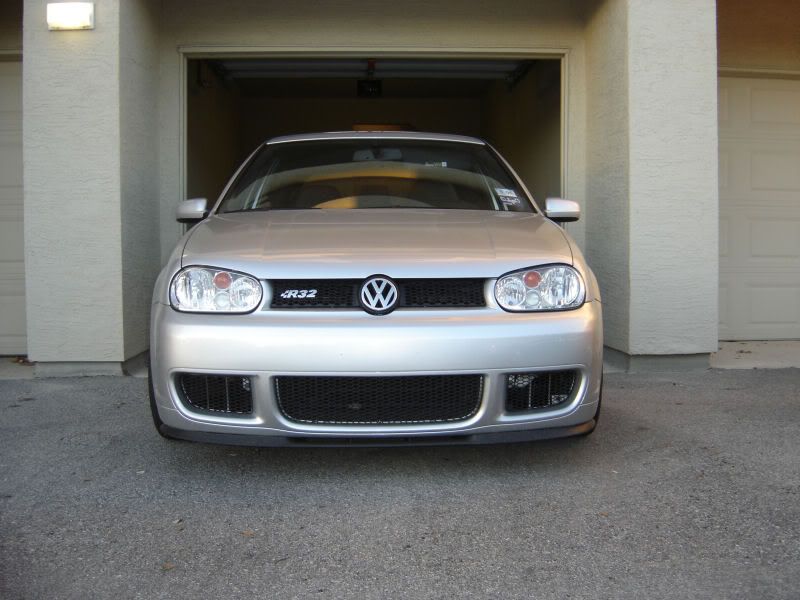 Thanks again to stripethree for allowing me to use his photos, and of course for giving me the idea. http://****************.com/smile/emthup.gif
I'm hardly ever signed in, so please don't PM me with any questions, but If you guys do have any questions, comments or concerns I'll do my best to answer them here, or if you'd just like to send me an offer for some viagra, you can spam me at
[email protected]
Modified by steffenme1 at 9:19 PM 2-4-2006