Discussion Starter
·
#1
·
Believe me, I am no stranger to how annoying it is when people post a question that could be answered by searching, however I just can't seem to find the answer to my issue, and I need the car back on the road asap.
I'm replacing the water pump/timing belt/tensioner following vasillalov's write up, and I'm at the step where I've installed the timing belt tensioner, and I need to set the tension.
Having said that, here's my problem:
The tensioner won't keep its pointer in the Y section when I tigthen it (and I'm tightening it to the point where I'm afraid it will strip the threads). I have read that there is a correct position to set the tensioner relative to the engine block, but I am unclear to its exact location (Pic below depicts where I've got it now) It is also unclear in all the posts I've read how to set the center section. I have used needle-nose pliers in the holes to rotate the center section counter clockwise, which effectively tightens the slack in the timing belt to the point where I cannot rotate the belt 90 degrees between the cam gear and the water pump gear (which feels to me like it's adequate) however, the arm isn't pointing to the Y like it should. Help.
tension in the belt. Notice positioning of timing belt tensioner..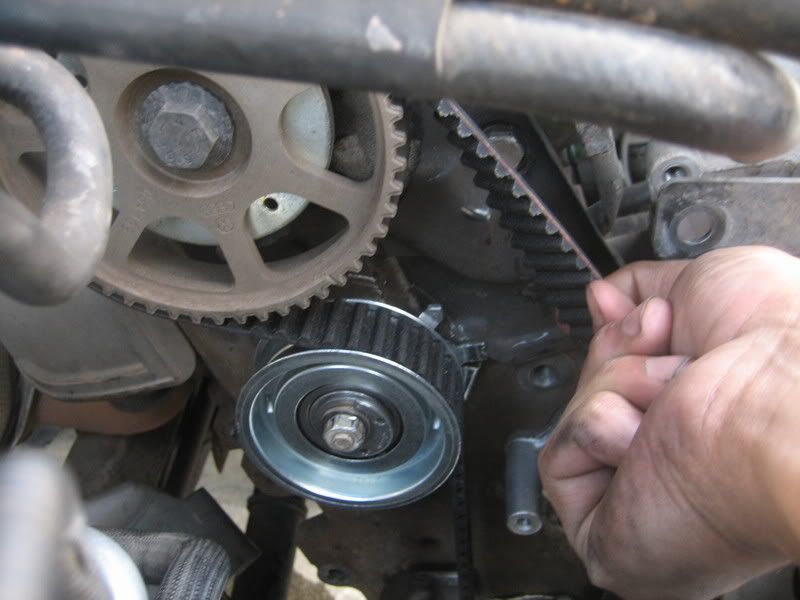 Closer pic