Discussion Starter
·
#1
·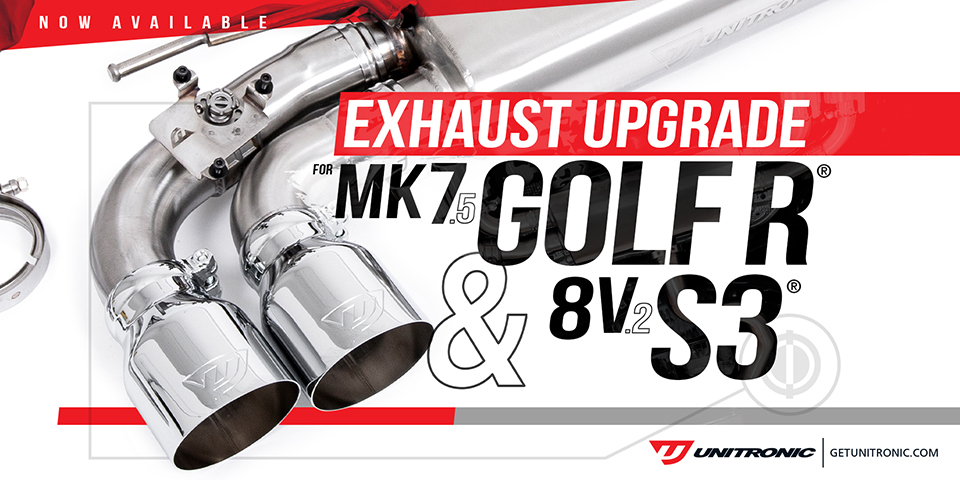 ​
Unitronic® is proud to release its Cat-Back Exhaust System for the MK7 and MK7.5 VW® Golf R® and 8V and 8V.2 Audi® S3® equipped with the 2.0 TSI® MQB® engine. This Valved Cat-Back Exhaust System features 3-inch T304 Stainless Steel mandrel bent tubing, high density, high temperature fiber glass packed muffler with acoustic design inspired by the OEM Audi Sports Exhaust for the 8V.2 RS3, your choice of either polished oval, polished round or black round 4-inch (or 4.5" option for Golf R) slash cut exhaust tips and high quality v-band fasteners with T316 Stainless Steel flanges. These attributes combined with extensive R&D testing, help ensure perfect fitment and maximum performance, while maintaining a comfortable and unobtrusive exhaust tone inside the cabin.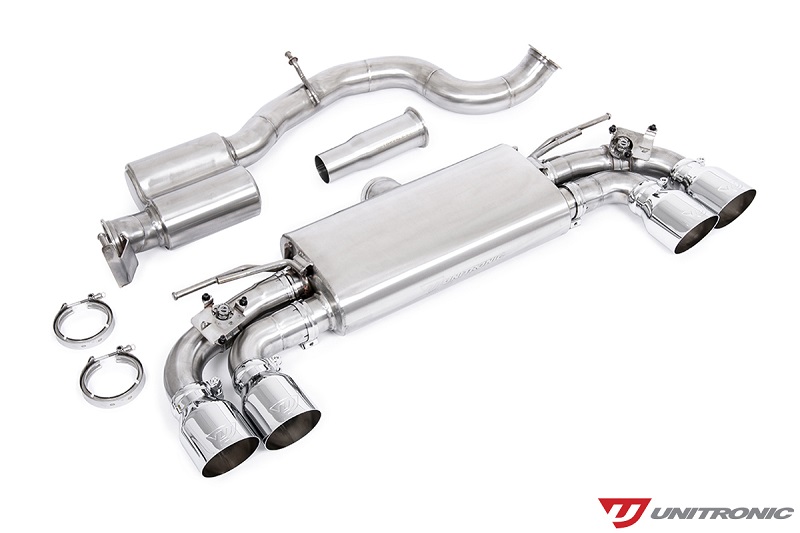 ​
Consistent with all of its performance products, Unitronic utilizes only the latest industry-leading tools, equipment and computer aided design software that are packed with the latest technology from our technology partners at Creaform® and Stratasys®. Operations start with 3D scanning the MK7/MK7.5 Golf R and 8V/8V.2 S3 chassis, exhaust tunnels, mounting locations, and rear diffuser/bumper assembly, along with the OEM components using its in-house 3D scanner. Once 3D scan data has been collected and processed, Unitronic Hardware Engineers then interact with the 3D models to identify fitment constraints, mounting locations, other component locations, etc. to ensure the final product fits perfectly within the "envelope".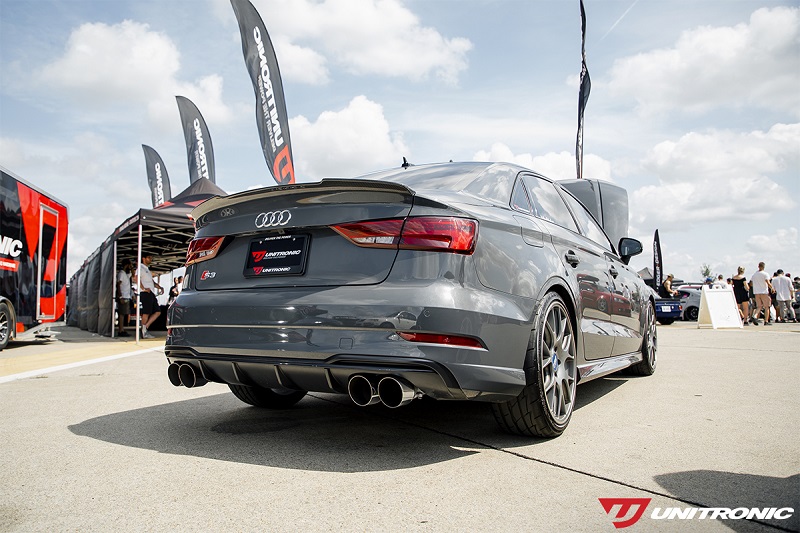 ​
Throughout the research and development phase of this Unitronic Exhaust System, sound both inside and outside the cabin are also very important factors. Unitronic Engineers studied the muffler configuration and acoustics of the OEM Audi Sports Exhausts found on the 8V.2 Audi RS 3 and 8S TT RS, which inspired the acoustic design for this application and feature high density, high temperature fiber glass packing to ensure maximum performance and a sportier sound are achieved while maintaining a comfortable tone inside the cabin.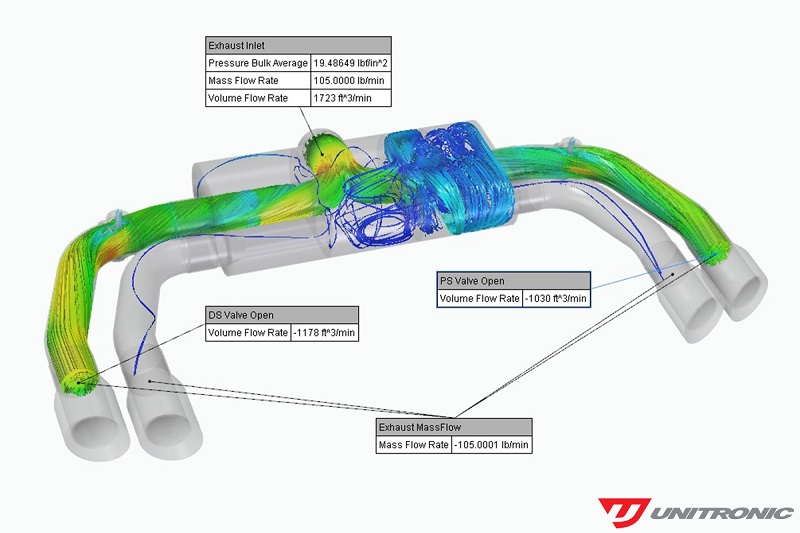 ​
Exiting at the rear, exhaust gasses pass through available 4.5" oval tips for the Golf R or 4" round, slash cut polished or black tips which are compatible with the Golf R and S3 for a more aggressive, motorsport inspired look.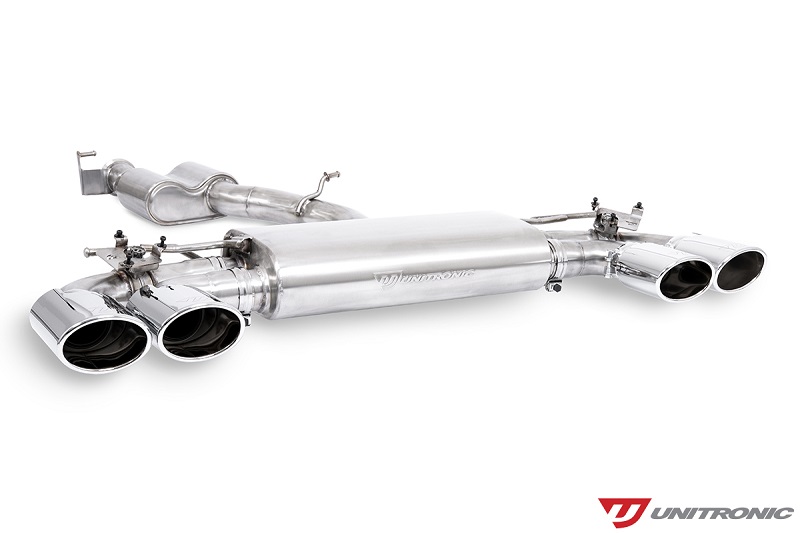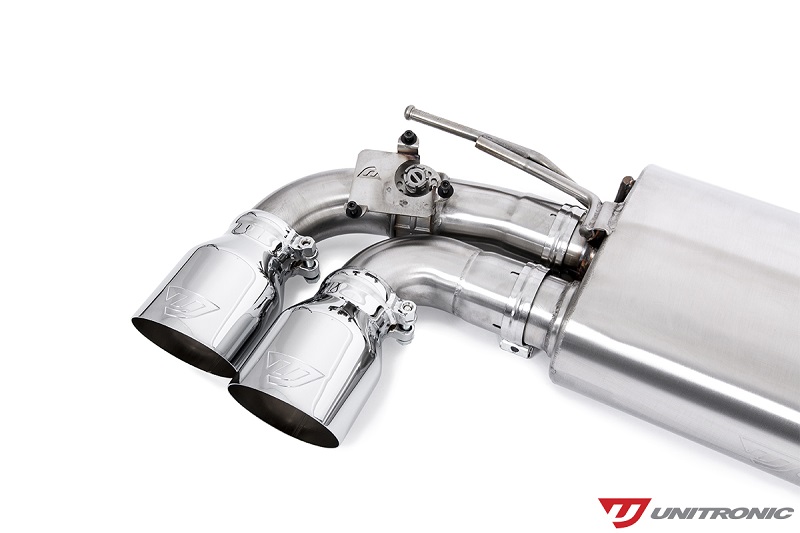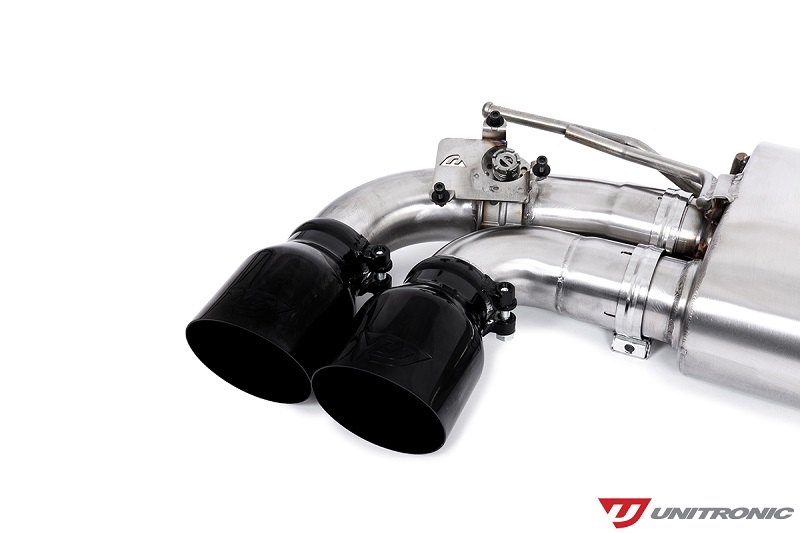 ​
In order to accommodate the longer rear bumper and diffuser of the S3, Unitronic Engineers designed S3-specific tail pipe tubes, which are longer than the Golf R versions and offer the same valve functionality with multiple tip options.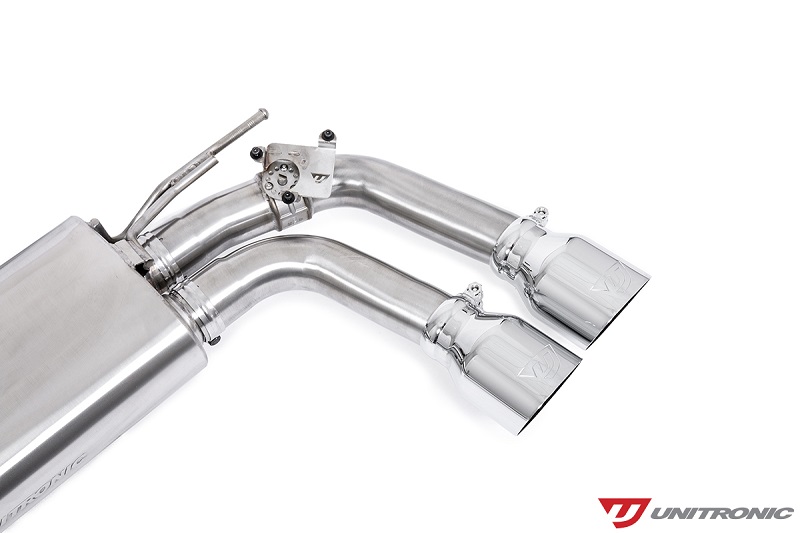 ​
This Unitronic Cat-Back Exhaust System can be easily mated to the factory downpipe, for customers looking to obtain a sportier exhaust note. For the ultimate performance enhancement, Unitronic recommends combining this Cat-Back with its 3" Downpipe, or purchasing as a 3" Turbo-Back Exhaust System, for maximum performance when combined with Unitronic Stage 2 Performance Software.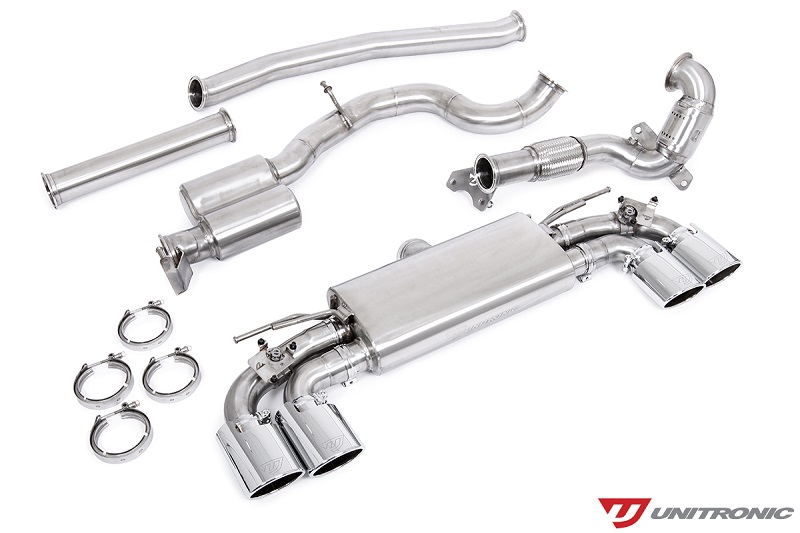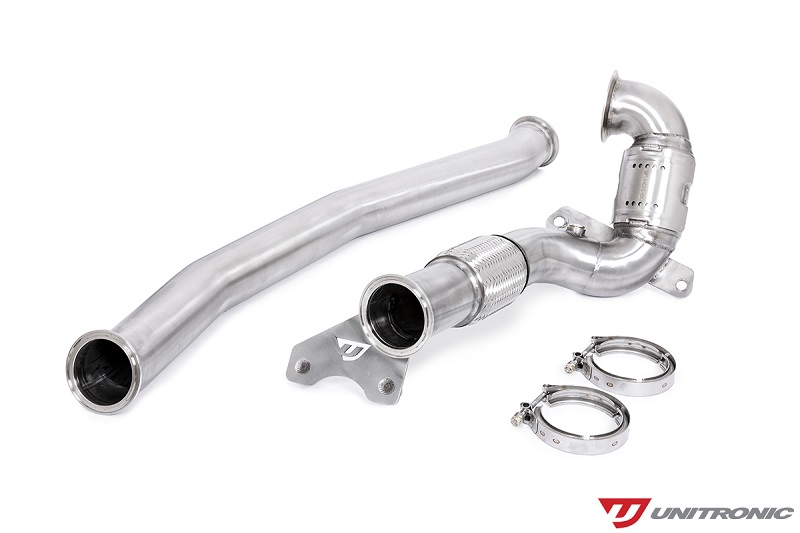 ​
Unitronic Exhaust Systems feature a unique sealing v-band fastening system that uses T316 stainless steel flanges and a locking ring to guarantee a centric alignment of the two v-band flanges which ensures a leak proof connection every time.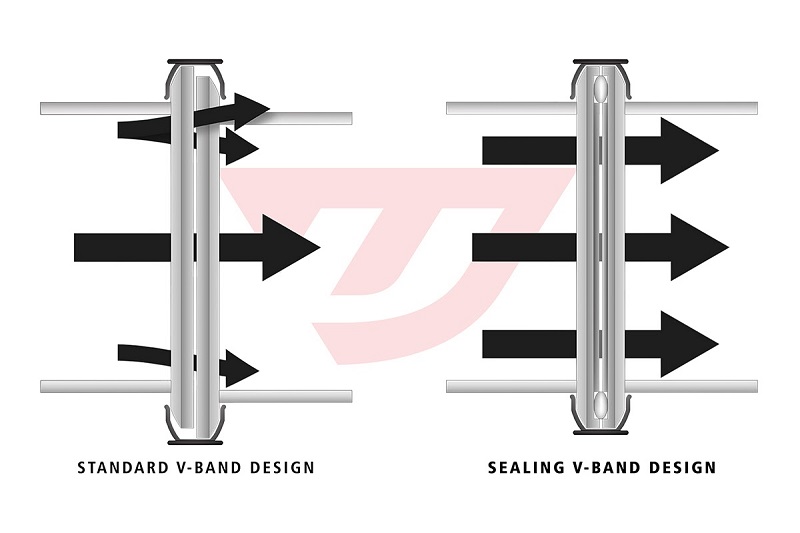 ​
Like all Unitronic Performance Hardware, this Cat-Back Exhaust System offers direct bolt-on fitment, retaining the factory mounting locations in order to simplify the installation process. It also carries a Limited Lifetime Warranty to the original retail purchaser against manufacturing defects or craftsmanship flaws as well.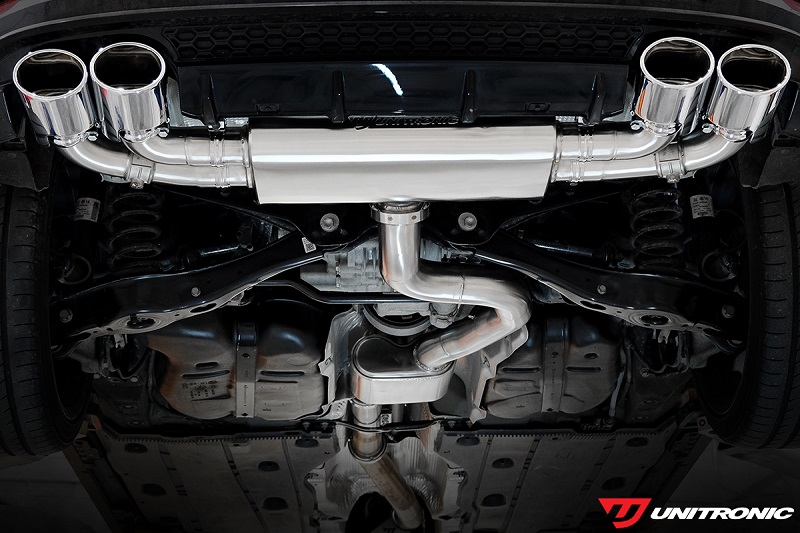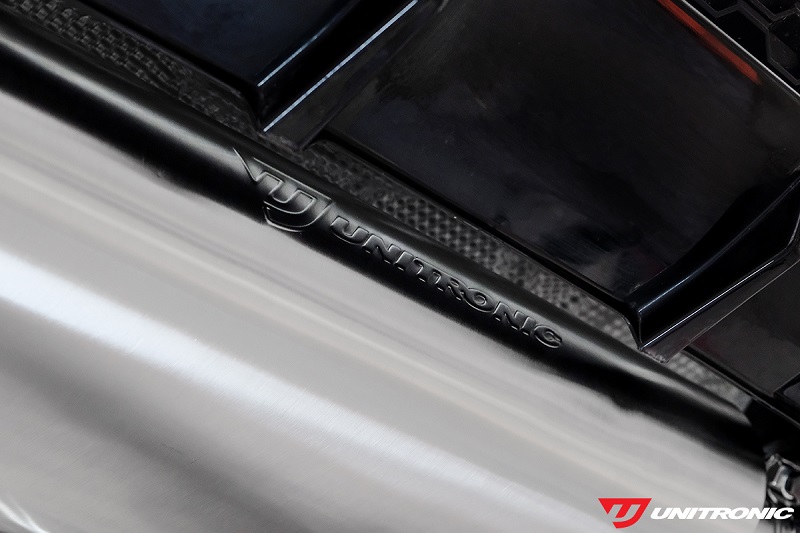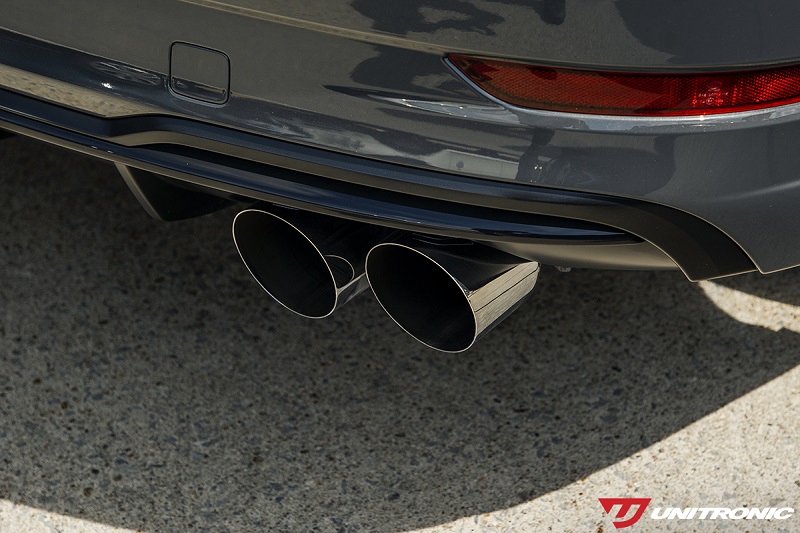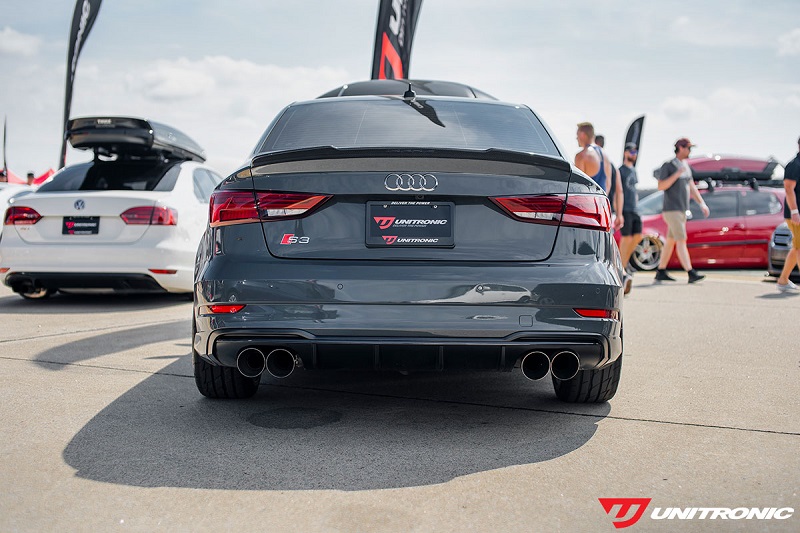 ​
FEATURES
• Direct bolt-on fitment with OEM mounting locations
• Valved exhaust which retains OEM system functionality
• 3-inch T304 stainless steel tubing
• T316 stainless steel flanges
• TIG welded construction
• Unique v-band fastening system
• Sound Absorption Technology
• Straight-through, free flowing muffler design
• Sound Reflection Chamber Technology
• Oval, Polished or Black 4-inch slash cut exhaust tips w/ engraved Unitronic logos
APPLICATIONS
2015-2020 VW Golf R 2.0 TSI
2015-2020 Audi S3 2.0 TSI