AT LONG LAST, WE ARE READY TO ROCK, ROLL, AND COOL YOUR MOST HARDCORP OF PROJECTS!
We took the VW/Audi community by storm by introducing it to the world of Water/Methanol Injection...
Now we're fitting to do it again with our own direct port technology!
Gone are the days of inadequate mixture distribution. With direct port injection you truly have an optimized replacement for racing fuel! Furthermore, we have perfected the distribution with 25cc nozzles exclusive and proprietary to USRT with the industry's smallest orifice size at a mere 125 microns (.125mm)!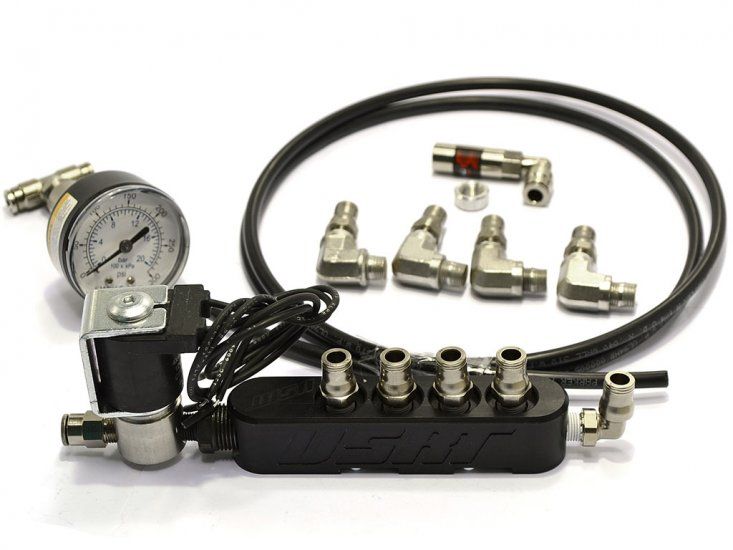 These kits Include:
4x 25cc Nozzles (for 6cyl there is an option to add 2x extra nozzles)
1x Distribution Block
1x Solenoid
4x (feet) black High-Pressure Line
1x Tuner's Pressure Gauge
1x internal 40-micron filter
OPTIONAL BRACKETS COMING SOON:
We're even taking it a step further and offering "4PLUS1" and "4PLUS2" kits. Incorporate these kits with your existing Single or Dual nozzle Snow Kits or try something new like pre-turbo injection!
With pre-turbo injection, you spray directly in front of the compressor nut. This increases thermal efficiency and mass flow of your turbo. Is your turbo giving you all it's got? Are you sure? Pre-turbo injection will make it flow like a larger turbo so you get just a little more!
Click the kit image to order yours today!