By James R. Healey, USA TODAY, 10/11/11
VW Wants To Be The People's Car Again In The U.S.
A car company hoping for mainstream success in the U.S. has quality problems and earns a sales-damaging reputation for unreliable vehicles.
Image uploading. Refresh page to view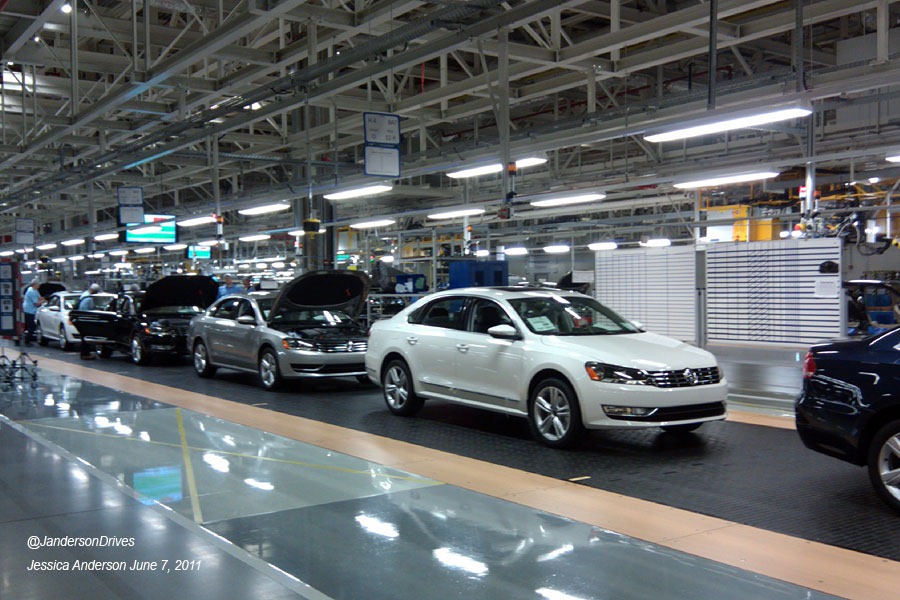 Fighting to keep a handhold in America, the automaker does a deep dive into American tastes and rolls out some larger, better-equipped, but also value-priced vehicles that sell like crazy. That sounds like the saga of South Korean automaker Hyundai, which evolved from invisible in the 1980s to seemingly unstoppable now, after improving the quality and jazzing up its designs. But it also describes Volkswagen. "VW is one of the most promising brands for the rest of this year and next year," says Jesse Toprak, in charge of forecasting market trends for auto researcher TrueCar.com. The purveyor of interesting, German-flavored vehicles that are getting more American all the time is riding a streak of hefty monthly sales increases.
In the first nine months of this year, VW brand sales are up about 22%, more than twice the overall market rise of 10%, according to tally master Autodata. And VW just launched two high-profile 2012 redesigns — Passat and Beetle — that should keep the pot boiling. VW also swears its quality and reliability are improving quickly, though that's not fully reflected yet in third-party report cards from Consumer Reports magazine and consultant J.D. Power and Associates. Warranty costs are dropping 10% a year, VW says, and other arm's-length studies show that owners love their VWs, even if something might still go wrong.
VW also has the mainstream diesel market to itself. Fuel-stingy diesels are 22% of its U.S. sales. The only other way to get a fuel-efficient diesel in the U.S. is to pay Audi/BMW/Mercedes-Benz prices, or buy a truck. Most important, the VW brand will make an operating profit in the U.S. this year for the first time since 2003, according to VW U.S. CEO Jonathan Browning. Plus we will report a full, all-in profit in 2013, he says, even counting the U.S. brand's share of costs for the new $1 billion Chattanooga, Tenn., factory that now makes Passats and will make other vehicles to be identified in the future.
Do the monthly sales jumps and the developments make VW the new Hyundai?
"They could be. They have the potential to gain market share, pull in first-time buyers sitting around in the netherworld of pent-up demand," says Rebecca Lindland, veteran auto-industry analyst at consultant IHS Automotive. The obvious difference between the two automakers' market trajectory is that Hyundai earned its way up the ladder of success in the U.S. over just more than two decades. VW, in this market more than half a century, had it, lost it and wants it back.
Can VW success last? And it seems to be succeeding — but for how long? "You take volume from everybody. That's how you grow," Lindland says. "I'm not sure Volkswagen is situated to do that."
For one thing, other automakers won't make the mistake they made with Hyundai: paying too little attention to a small blip on the radar that quickly became a big threat to their sales.
For another, VW might run out of ammo. By the end of this year, dealers will be well-stocked with the redone Passat that hit the market a few weeks ago and is selling about three times as fast as the old model in recent years. The full remake of the iconic Beetle, also now on sale, seems quick out of the gate, though it's too soon to judge. Next year, VW will roll out the headline-grabbing hybrid version of the hot-selling redesigned Jetta compact that's been on sale a year.
Then, for a few years, it will have to depend for buzz on introduction of some specialty models, such as high-performance "R" versions of some cars and a Beetle convertible, plus some mild updates to other vehicles. "You almost have me taking out the handkerchief, it's so negative," Browning says sarcastically, dismissing such a dire scenario. He acknowledges some troublesome dead spots in VW's product array: "There are certain opportunities in our lineup, but those are quite some way in the future." Still, he says, "I expect our growth rate to be at least as high again next year" as this year.
Browning, 52, was promoted from running VW's national sales operation to CEO of Volkswagen Group of America and president of the VW brand in the U.S. Oct. 1, 2010. He worked for General Motors and Ford Motor before that, mainly with their European operations. VW Group, which in the U.S. also includes Audi, Bentley and Lamborghini, has 3.4% of U.S. sales, mostly VWs and Audis. Audi is doing well and made money last year, Browning says. "The Volkswagen brand is the missing piece." Continuing the VW brand's sales momentum is critical to him. He's under orders to boost the brand's U.S. sales to 800,000 by 2018 — from a predicted 330,000 this year — as part of parent VW AG's drive to sell more vehicles than any other automaker on the planet.
VW AG, based in Wolfsburg, Germany, was No.3 in 2010. It lagged behind only General Motors and Toyota Motor, which were virtually tied for first, according to the International Organization of Motor Vehicle Manufacturers. Based on midyear sales trends, VW might wind up in second place globally when the trade association's yearly tally is announced next summer.
Love, American style:
The Americanization of VW models seems successful so far.
•The 2011 Jetta compact sedan, on sale since last October, was the first Yank-mobile.
It started at about $17,000, some $1,700 less than the 2010. It was stretched about 3 inches, providing more legroom.
Sales jumped about 30% immediately, and have been close to twice those of the old model in some months.
•The 2012 Passat, on sale in September, is nearly $7,200 less for the base model, and is 4 inches longer for much more leg and kneeroom.
Even though it wasn't in showrooms the entire month, its September sales of 3,176 were four times the old model's a year ago. If that rate continues for a full year, the new model will triple the past year's Passat sales.
•The 2012 Beetle, on sale in September, is 7 inches longer, 3 inches wider than the old model called New Beetle and discontinued in 2010. Its base engine has 20 more horsepower, and the base price of around $20,000 is unchanged.
VW says the Beetle is a mixed blessing. It's the reason many people know VW. But if it's too much of VW's identity, buyers will dismiss Volkswagen as a quirky boutique brand and not notice the value-price, mainstream models. Browning also sees VW's Tiguan compact crossover SUV as a potential home run in the U.S. Even before a 2012 freshening and despite prices starting at $25,160 for two-wheel drive with automatic — vs. $22,705 for a similar Honda CR-V rival — Tiguan sales had begun to jump.
A fully Americanized Tiguan, meaning enlarged and priced lower, will take a full remake. That's likely to be several years from now and require a shift of production from Europe to Mexico or the U.S. to allow VW to bring down the price. Browning has his eye on expanding the line, such as with a version of the Bulli concept model that's been displayed at auto shows. It resembles the old VW Bus, but is smaller and has conventional sedan doors, not side sliders. "A reinvention of the Micro Bus — it's a program that I'd like to see the light of day in the marketplace," he says.
Serious about the U.S. That would require a decision from VW AG, which he says is more interested and committed than ever to U.S. success.
About three weeks ago, "We had the whole of the global leadership team at Chattanooga, all brands, all divisions; 400 of them, in Chattanooga, focused on what does it take to win in America," he says. That gathering of the brass "only happens every two or three years," and the U.S. focus "is an indicator of how serious the company is" about North America.
Perhaps heretical in the product-obsessed auto business, Browning says VW's success in the U.S. "isn't just about bringing product into the marketplace. The product is very important, but what you're really doing is opening the door to a much larger group of customers. We weren't previously on their shopping lists" because of VW's reputation as expensive and troublesome.
VW's growth outline is:
•Improve quality.
•Boost customer satisfaction.
•Be a top employer, to attract the best workers.
•Average 8% gross profit.
Even if it succeeds, analysts such as Lindland don't foresee VW hitting the 800,000 U.S. sales target. "More like 700,000, though that's close," she says.
She says the brand must not lose the main ingredient that makes it appealing in a rush to hit the numbers: "They can't give up their 'Volkswagenness.' That's what makes them stand out; that's why people like them."
Link to actual story in USA Today:
http://www.usatoday.com/money/autos/story/2011-10-10/vw-hopes-for-mainstream-sales/50724312/1