*one month update added below images*
Doing a little review on the
New WRD Coilover System
. Hopefully some of you were smart enough to snag these at waterfest from APTuning @ a great price :thumbup: Otherwise
WRD has a great price running on these, act fast cause who knows how long it'll last.
I Bought mine a couple weeks back and had them installed Sunday. I was previously on Gen 1 Ksports which finally gave way thanks to some blown out rear struts. Ksports rode like dog $hit even with the fronts set to soft there just was no give and every bump, dip, pothole or man hole cover felt like the end of the world. Needless to say I was more than elated when my WRDs showed up.
I want to say installation was a breeze but unfortunately this was not the case. Issue wasn't with the product, I'm thinking it may have been because the strut base on the Ksports were smaller in diameter than the WRDs, but getting the front shock body to seat was exceptionally hard. My spreader tool simply wouldn't spread the knuckle far enough apart. I was able to combat this by putting the wheels on both sides and going for a ride until I heard each side seat. Then came back and installed the pinch bolts. ***DO NOT SHAVE DOWN THAT TAB MAKE SURE YOUR COILS SEAT AT THE BOTTOM OF THE KNUCKLE***
Other than that, the installation was straight forward.
+Package arrived well packed as expected and better yet efficiently packed in a smaller box.
+Build quality was spot on and as expected everything looked great; the finish is very clean looking in the wells
+Low: I've had to raise my rears twice now, I had 7 threads in the rear and I was tucking almost a half inch of tire!! these go low. Fronts get you just low enough to tuck tire (I've got roughly 5-10 threads up front) Rears are now at 14 and I'm sitting pretty.
+Ride is better than I was expecting. Of course, everyone who buys budget coils realizes that they aren't getting KW V3, H&R, Koni style performance but I will say the ride exceeded my expectations. I haven't been on OEM suspension in so long that I can't remember what it feels like. But seriously, feels soo much better than my Ksports; I have no noise coming from my suspension at all (which has me so #ucking smitten
) Ksports had twanging, clunking and god only knows what other sounds it made
+While this most likely applies only to my car, my rear suspension set up now feels vs before feel so much tighter. (before my rear ksports blew out)
At the end of the day, the 200+ miles I've put on them have me convinced that for day n day out driving, these coils are more than adequate.
CarNut84GTi is a good guy; huge help while I was deciding what coils I was going to go with :thumbup::wave:
:beer::beer:
Photos will have to wait till the am when I can get some clear shots of my current stance
Fronts have since been lowered & rears have been raised Below is 7 threads rear, ?? Front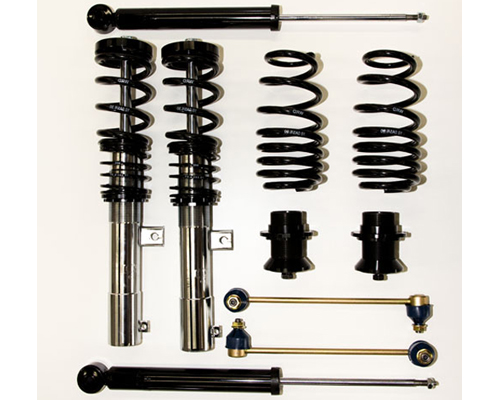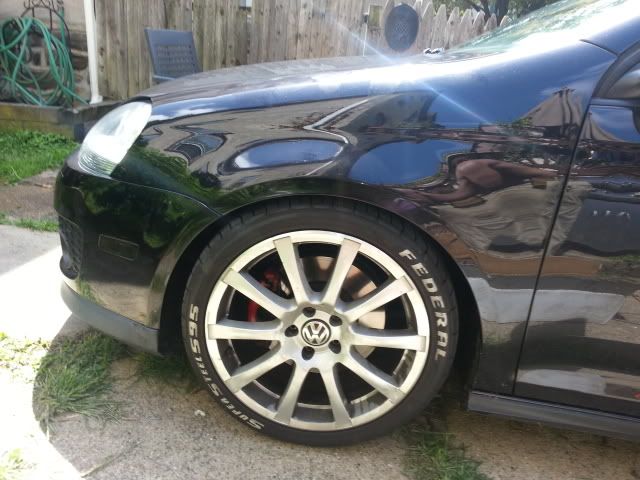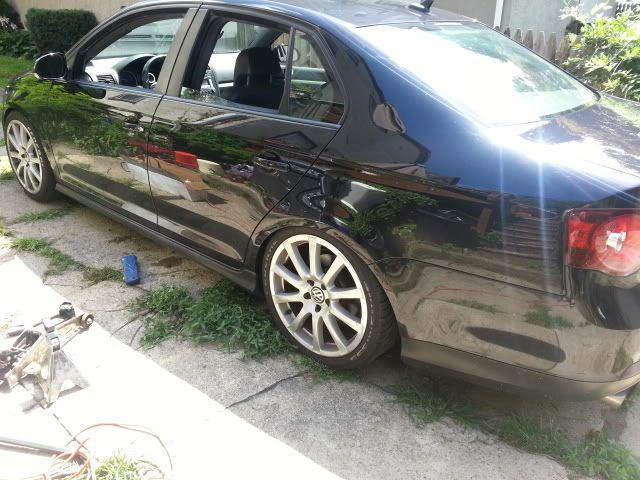 Again that is all I have for now, my phone battery was dead during the install and I was so beat up after the install (98 degrees while I installed) that last thing I wanted to do was look at the sweaty palm marks all over my fenders and quarter panels. :laugh:
**1 month+ update**
It's been just over a month since I've posted my review on my wrd coils so I figured Id provide an update. Coils have settled, still haven't gotten in there to lower the fronts and raise the rears to where I'd like them but that's because I'm a lazy POS.
The ride is spot on, not too harsh and not too jarring. Gives you that great stiff flat feeling when cornering and soaks up bumps in bends just fine.
Overall I am satisfied with what I received for the money spent. I think they're priced just right around that $500 mark and what you receive is a good entry level coilover system. My next set of coils will have dampening control as I'd like to stiffen them up a bit but the dampening settings they come with are spot on for daily driving.
Well done WRD :thumbup: