Having been working on this project for the last few years, I have thought of many thread titles but decided to keep it straight forward. "VRT MK2 With a Twist" always seemed to fit. But anyways.
I'm scramble brained. I don't have time or money like I used to when I started the project. This thread will include updates of my customer cars, other projects, camping trips, dogs, beer and maybe a debut at Wuste 2012. Something about starting a family really ate into my car hobby time. I plug away on this project as I can, miss deadlines about every time I make a deadline, usually end up creating more problems than solutions because I am set in my ways. I was the head tech at Tomas Sport Tuning for the last 7 years, and recently left there and got a boring job that pays more and has benefits and retirement stuff. Yawn.
Some history - my parents bought me an 89 GTI 16v when I was 16. I went through several changes on that car - 1.8 16v, then 2.0 16v, then ABA16vT, then VR6 (actually a handful of vr6's), and then turbo vr6. I was addicted to power. I was full time at Tomas Sport Tuning, had no living expenses, loved my car. It was easy! Schimmel 3.0L with big valve head. DTA standalone (chip tunes were no good back then). Quaife 6speed trans. Wilwood brakes. Air ride, coilovers, rims here rims there. Resprayed by Bryce Anderson (2deepN2dubs). I did what I wanted with that car. Best dyno number was 575wph. With the gearing and final drive I had, I was able to top the car out at GPS indicated 198mph, later gear calculator confirimed. Melted a piston. Put a junkyard block in there dyno'd 550whp. Did another top speed run - melted cyl 5 exhaust valve and destroyed a few other expensive things. Put junkyard head on with a little bigger cam netted the same power.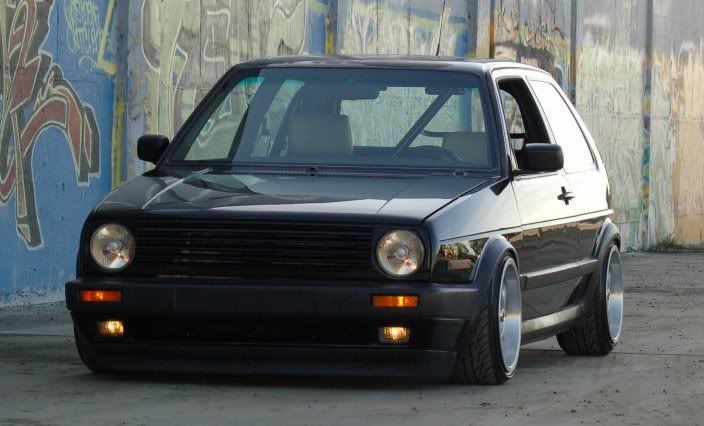 So what do you do when you have a 550whp GTI that doesn't get traction until ~110mph, ****s out expensive axles if you put drag radials on, and is all around everything you wanted? you change it. Decide you want AWD. not some sloppy clapped out syncro drivetrain that you already sourced and purchased. You want Quattro.